I'm so keen to get myself a cowboy shirt I almost ordered from a cowboy outfitter online, but you'll be proud of me for restraining myself. I'm think­ing it would be safer to go with a fashion brand on this one. Any suggestions?
How the West was Won, Shouson Hill
The Dictator rules: Oh, come on! Does it really take you people so long to catch on and then let go? Western shirts were popular for spring/summer 2018. And, yes, there are still some around for autumn/winter 2018, but do you have to? This is one of those items that can too easily cross the line from fashion to fancy dress if you do it wrong.
OK, fine. Since you're going to do it anyway, let's make a pact that you will only wear one cowgirl piece at a time. That means no boots, hat, etc, to go with your new shirt. Isabel Marant does a stylish one in black or red paisley print, with the appropriate pearlised snap buttons and two front patch pockets (HK$4,790 [US$610] to HK$5,590).
We are digging the glamour of Alexa Chung's fitted Western shirt in cream satin poly with yoke detailing, concealed buttons and sleeves that puff out ever so slightly at the cuffs (HK$2,935). Note the modern interpretation of the often loud and flamboyant original. We also like the crisp green shirt by Need Supply, featuring a Western-style yoke, snap buttons, contrast piping and two-tone design (HK$5,299).
The maximalist response to that would be Maje's green, black and white satin shirt decorated with floral appliqués and the words "dream tomorrow" emblazoned across the chest (HK$1,885). We're also wild about the Western-inspired shirts by MSGM, Toga Pulla and Haider Ackermann.
---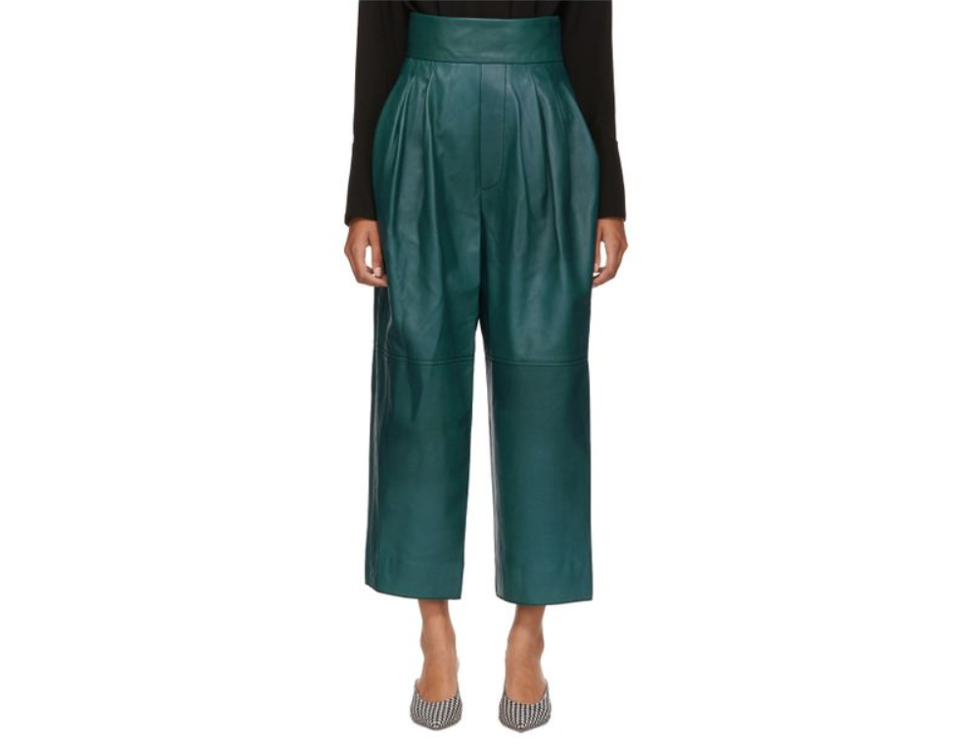 I've been into the wide-leg/culottes look for a while. Thinking about winter, I can't face wrestling on my leather leggings. Where can I get wide-legged leather trousers?
Far and Wide, Central
The Dictator: Wow. Some women's ability to create the most unflattering combinations never ceases to amaze me. As if wide-leg trousers didn't shorten and fatten most of us already, someone had to add the stiffness of leather to them. I shudder to think.
Let's pretend you have the legs of model Karlie Kloss to get through this. Marc Jacobs fulfils your wildest dreams of leather culottes this season with the extremely-wide-legged, high-waisted leather trousers and voluminous but slightly tapered styles in black, purple or teal leather (HK$11,800 to HK$13,700).
How wide would you go? Frame Denim has played with the silhouette for some time now. Last season, it issued cropped black leather culottes (on sale for HK$3,297; nordstromrack.com) while this season, it has a voluminous leather track pant with wide, palazzo legs (HK$8,404). Vince's high-rise, cropped leather culottes come in seamed, black lamb leather (HK$8,400; neimanmarcus.com).
Self-Portrait's aren't strictly culottes, nor are they real leather, but its straight-legged, black faux leather trousers with eyelets down the sides are worth your attention (HK$2,500; Lane Crawford). You may, like Stella McCartney, prefer to live without animal products, in which case you might like her Alicia sweatpants in black "skin-free-skin" faux leather with elasticised waist and hems (HK$9,200). Nanushka offers wide-leg Africa trousers in several colours of vegan leather, including black, red, and a few croc print versions (HK$3,314 to HK$3,541).