After all that fashion week palaver, the watch column is back! What do you mean you barely noticed it was gone? Anyway, while I've been away, I have been mostly enjoying the following: Arsenal's winning streak, Bojack Horseman season 5 and Kanye West comically ruining his legacy. And here are the things that have kept me awake in a constant state of terror: the very real possibility that we're all going to die by 2040 due to catastrophic global warming, robotics company Boston Dynamics introducing a robot that can do parkour and the distressed-denim trend coming back. The bad outweighs the good, sadly.
Ever the professional, I've also used this downtime to look over some new watch releases and check out some trends and I'm happy to report that bronze is still a thing. The bronze trend – that is watch cases made from the metal alloy – appeared a few years ago with particularly fine releases from the likes of Oris, Panerai and Montblanc. In a way an augmenta­tion of the retro trend, the use of bronze gives the watch case a patina or "been around the block" look and, coupled with classic styling and a well-worn leather strap, looks great. We haven't reached Peak Bronze yet, thankfully, and this week we'll look at three more pieces that cut the mustard.
Spinnaker is a young brand I haven't featured all that much before but the Tesei Bronze Edition (above) is its first "Swiss Made" watch, and it is quite simply gorgeous. The 43mm aged-bronze case accentuates the 1940s/50s dive-watch design, although, let's be honest, you're never going to take this bad boy for a swim even though it is water resistant to 300 metres.
Features include a unidirectional bezel, a date window and, inside, a Swiss Selita SW200 automatic movement. This is a chunky and heavy watch (it is bronze, after all) and comes with a thick-cut Italian leather retro strap, so you'll always be aware of it on the wrist.
Released on October 18, the watch is priced at US$850 (there's a special pre-order price of US$599), which makes it Spinnaker's most expensive timepiece to date but the Swiss Made badge, the movement and, of course, the great use of bronze are worth the premium.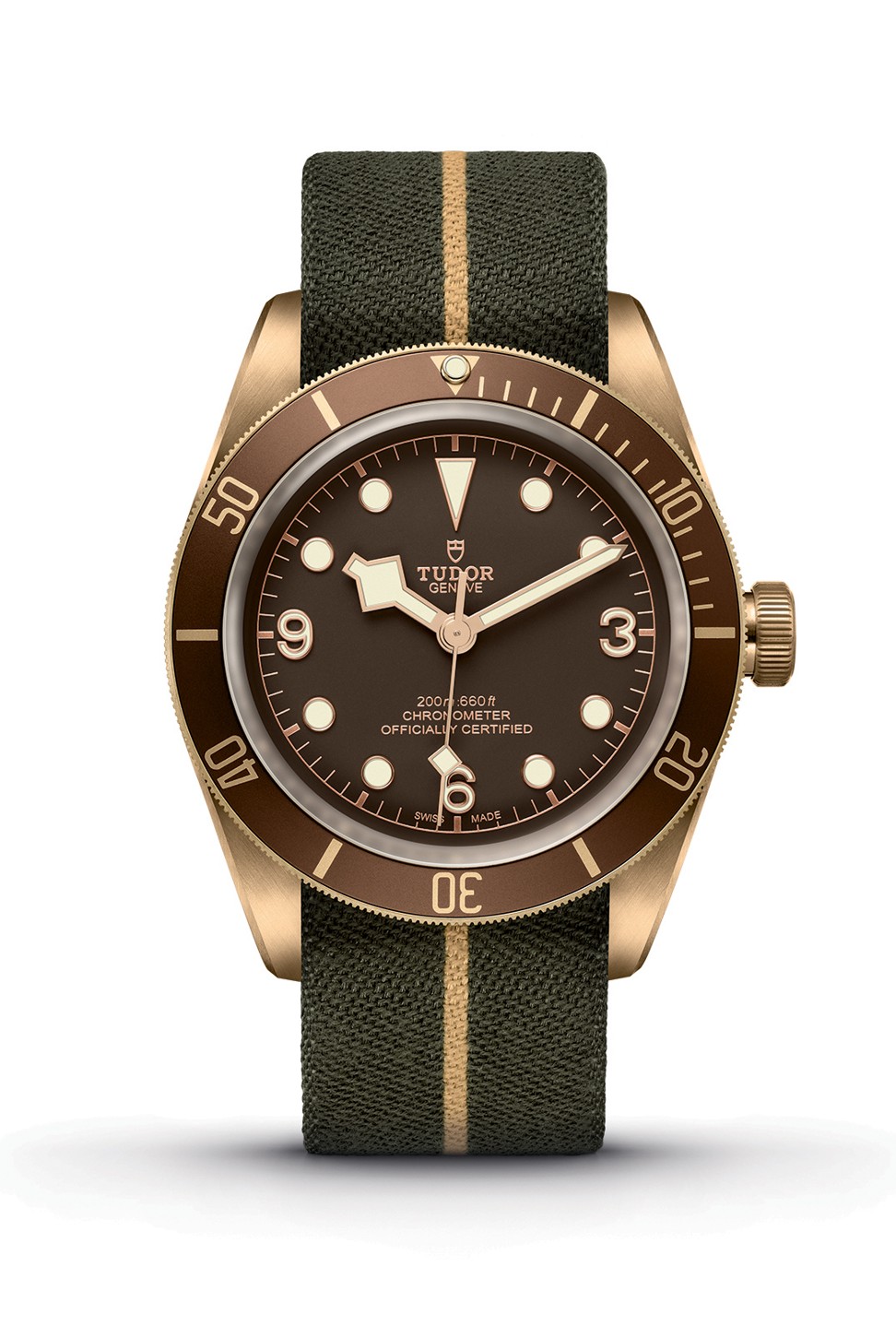 Tudor was among the watch brands that leaned into the bronze trend early and with gusto and, arguably, it has created the best bronze watch of recent times, the Black Bay Bronze. With impossibly handsome David Beckham on board as an ambas­sador, Tudor is pushing the Black Bay Bronze again even though it's been around a while but who can blame it? It's a modern classic!
The case measures 43mm and houses the MT5601 Tudor-made movement with 70 hours of power reserve that's COSC certified and responsible for a sizeable chunk of the sticker price. But it's the looks of the watch, notably the bronze case and the brown of the dial and bezel, that have made it such a critical and commercial hit, giving it both a vintage and achingly modern feel.
Again, nominally speaking, this is a dive watch, so the bezel rotates unidirectionally and there's 200 metres of water resistance, but again it's unlikely this will ever plumb the depths. The Black Bay Bronze is priced at HK$28,500 (US$3,600).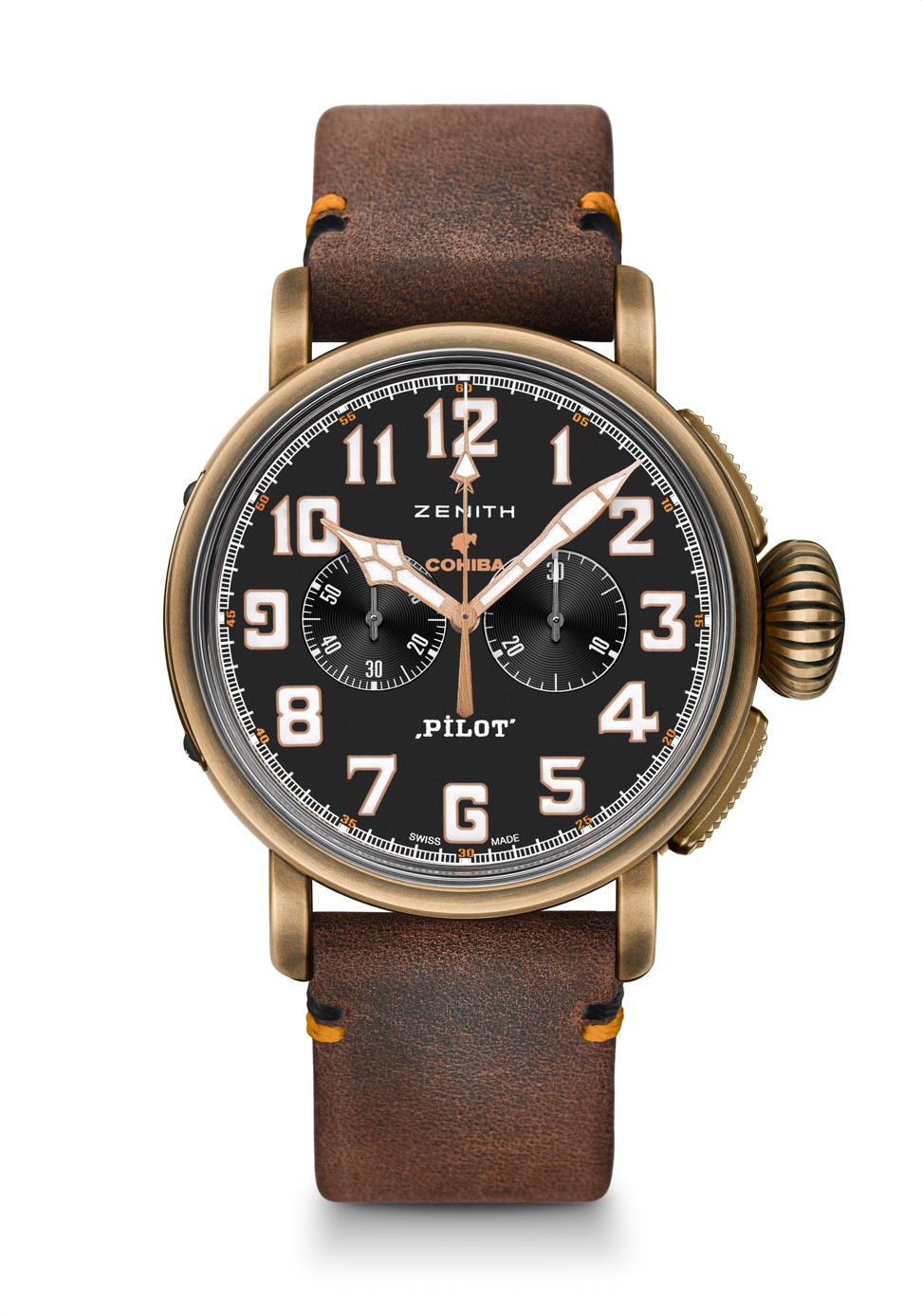 Finally, we have a bronze pilot's watch, the Zenith Pilot Type 20 Chronograph Extra Special Cohiba Maduro 5 Edition. OK, that's a ridiculous name, but it speaks to a limited-edition run (150 watches) Zenith has done in collaboration with cigar maker Cohiba. Leaving aside the Cohiba thing, the watch itself looks great, the bronze being a novelty in aviation watches (it's more of a nautical thing, for historical reasons).
Sized at 45mm, the Type 20 is a huge watch with room enough for oversized numerals that dominate the dial. Inside is an excellent El Primero 4069 movement with 50 hours of power reserve. The main feature is the chronograph and the watch comes with a vintage-style thick-cut leather strap. This watch is priced at HK$61,500.