Cars! It's been a few weeks since the last watch column, so I thought I would come back and reclaim my territory with something aggressive and manly, and what's more aggressive and manly than automobiles! Yes, a Prius can be manly. And yes, it's true I can't drive, but that doesn't make me any less of a man, right? It makes me useless in an end-of-days zombie apocalypse scenario, but no less of a man. Probably.
OK, I'll concede cars aren't all that manly, but watches inspired by cars certainly are! Boy, I bet you've all missed these tenuous segues into watches – but, really, this is a thing and even though it sounds a bit lame the watches themselves are pretty great.
My perennial fave collection when it comes to motor racing-inspired watches is Chopard's Mille Miglia, named after the famed Italian endurance race featuring classic cars. There are lots of gems in this large collection but I'm a big fan of the new Mille Miglia GTS Power Control Grigio Speziale.
Priced at HK$63,000 (US$8,000), the Speziale is a real head turner, with a lovely grey colour scheme featuring as it does on the dial, the titani­um case and even the fabric strap. The anthracite-grey dial colour is perhaps my favourite thing about this piece and it provides a great contrast to the red elements on the dial.
The watch is sized at 43mm and features are pretty simple, with only a power-reserve indicator and a date window but, to be honest, this timepiece is like a Jaguar – more of a looker than a performance machine. Inside is a Chopard-built 01.08-C movement that's COSC certified and has 60 hours of power reserve. The watch is limited to 1,000 pieces.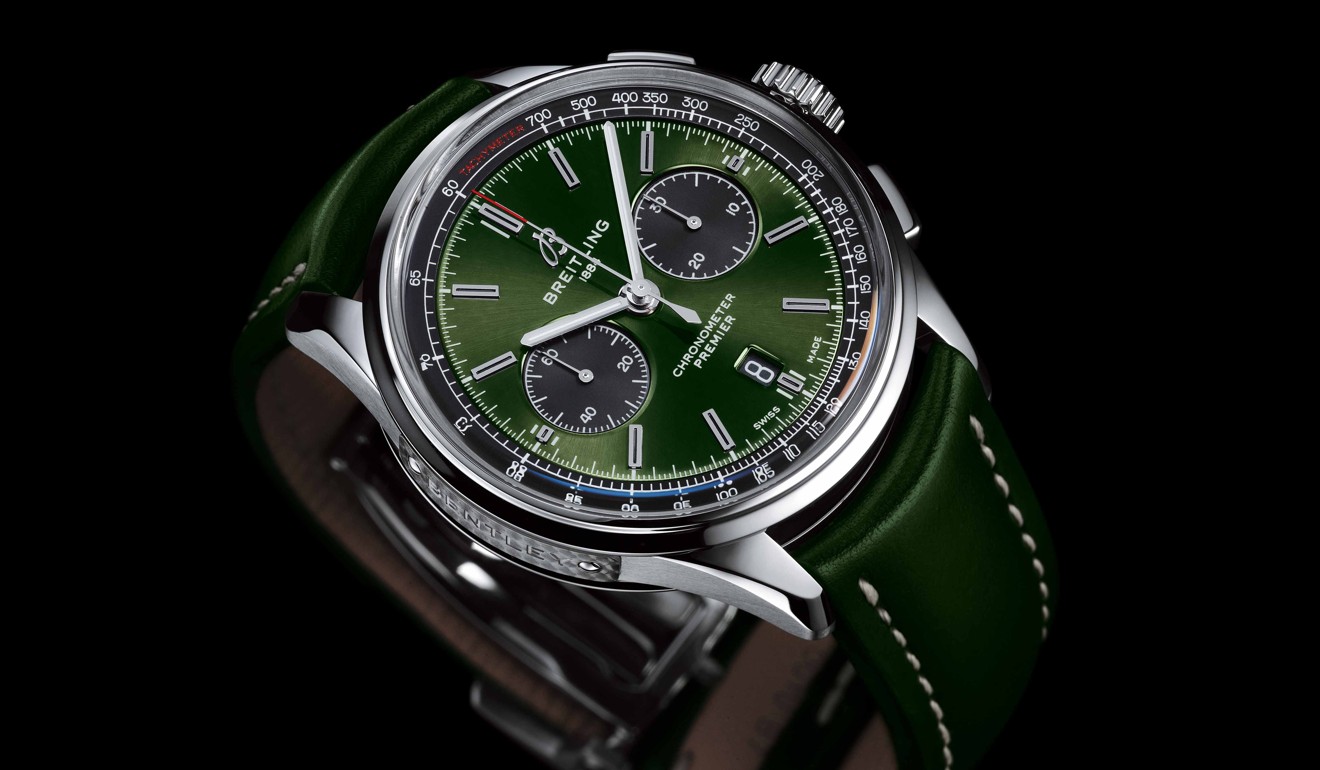 There are a lot of car companies that have extended their brands to other products such as clothing and, of course, watches, and in my mind those extensions can be excruciatingly bad. There's nothing more tragic than a Tesla owner wearing a hat or a T-shirt adorned with the brand's logo. We get it, you own a Tesla. The correct approach, in my humble opinion, is the Breitling and Bentley way, where the British luxury carmaker has given the Swiss watchmaker total control over creating the timepiece that still leans heavily on the marque's heritage.
The Premier B01 Chronograph 42 Bentley British Racing Green is a watch with a long and very-on-the-nose name but it encapsulates everything good about this collaboration, a beautifully made piece with an excellent movement that still has subtle links to Bentley through the colour scheme, the logo place­ment and the overall build quality.
Much like the Chopard, this Breitling picks a colour, in this case racing green, and uses it for the dial and elsewhere, with only the steel 42mm case breaking things up. The face is busy in terms of design, with two sub dials and the typical Breitling tachymeter scale. Features include a chronograph and a date window, and inside is Breitling's work horse calibre 01 movement with an excellent 70 hours of power reserve. This watch is priced at US$8,500.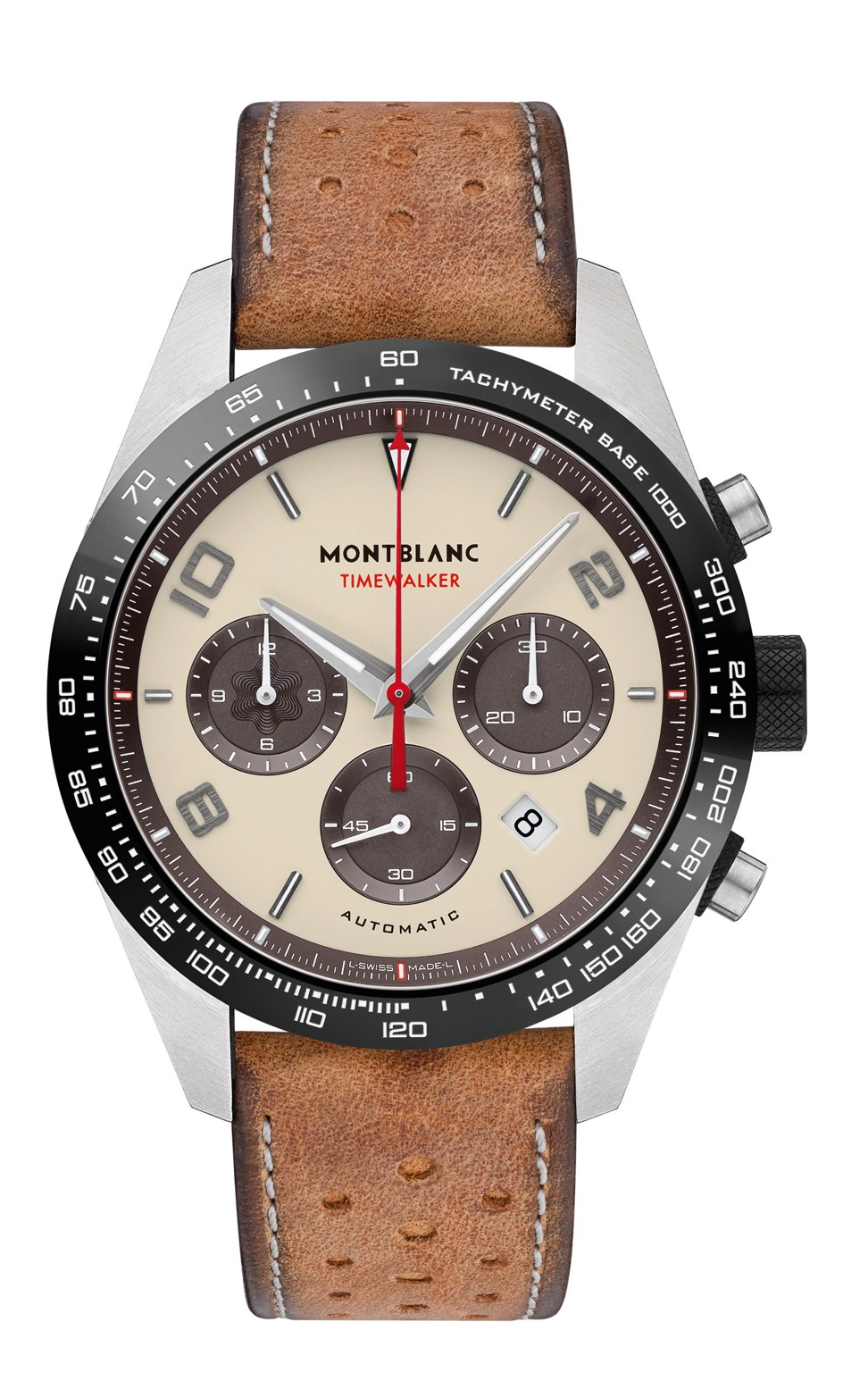 Finally, we have the Montblanc TimeWalker Manufacture Chronograph "Cappuccino" limited edition, which the company has released to celebrate its partnership with the Goodwood Festival of Speed in England. I've featured the TimeWalker series before and previous iterations have divided watch enthusiasts – you either love the slightly blunt and practical design or you don't.
What this version does is soften the edges of the TimeWalker with the vintage-like cappuccino colour of the dial, the darker brown "panda" sub dials – something of a throwback to sports watches of yesteryear – and the rough-cut brown leather racing strap. The steel case is sized at 43mm, so it's a watch with a bit of size and heft and inside is a Montblanc manufactured MB 25.10 move­ment.
Features include the chronograph, of course, but also a date window and the tachymeter scale that no one ever knows how to read but always gives a watch a dynamic look. Limited to 1,500 pieces, the watch is priced at HK$37,827 on Mr. Porter.