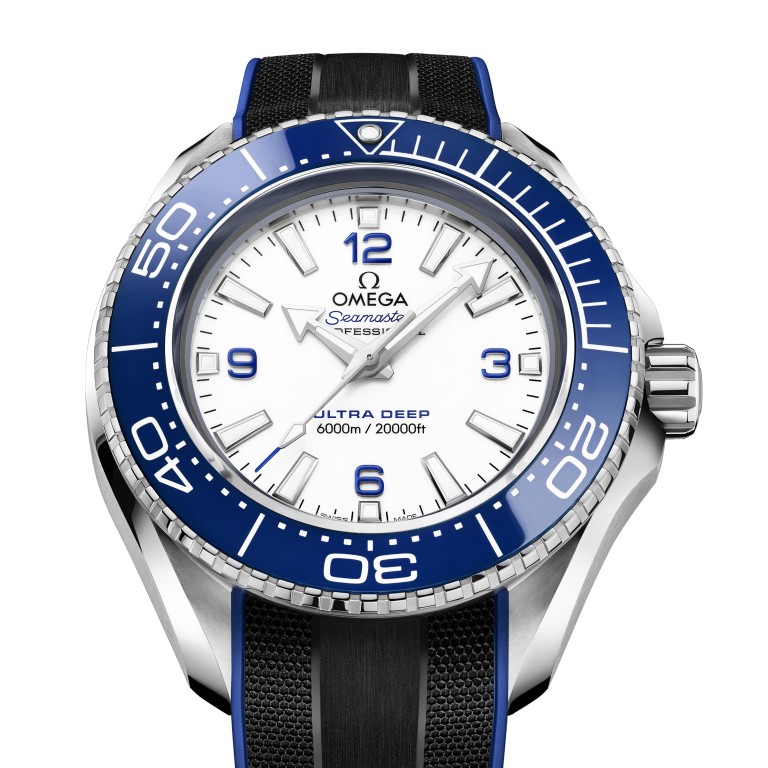 POST EDIT: New Omega Seamaster collection unleashes watch tech from record-breaking dive
The Seamaster Planet Ocean Ultra Deep collection is built on the watch technology that accompanied the 2019 Mariana Trench dive
The seven 45.5mm models are water-resistant to 6,000 metres, with six models made from Omega's new O-Megasteel and one with sandblasted grade-five titanium
In April 2019, explorer and submersible pilot Victor Vescovo made history when he dived to the bottom of the Pacific Ocean's Mariana Trench, the deepest place on Earth any human has ever reached. The watch that accompanied him on this record-breaking journey was the Omega Ultra Deep.
Now, the dive watch technology that supported Vescovo's ambitious quest is available to the public, in the form of a watch collection that is water-resistant to 6,000 metres. Paying homage to Omega's dive watch legacy, these 45.5mm models – officially known as the Seamaster Planet Ocean Ultra Deep – are made using high-performance materials and patent-pending designs.
Renowned as a pioneer of dive watches, Omega launched the world's first commercially available examples in 1932. The Omega Marine featured a double case design and offered superior water resistance, which led to the brand becoming a favourite among divers and explorers.
It followed up in 1948 with the first Seamaster and then, in 1957, with the Seamaster 300 – its first professional divers' watch. Omega continued to build on its dive watch heritage with the Seamaster 600M, Seamaster 1000 and Seamaster Diver 300M, of James Bond fame.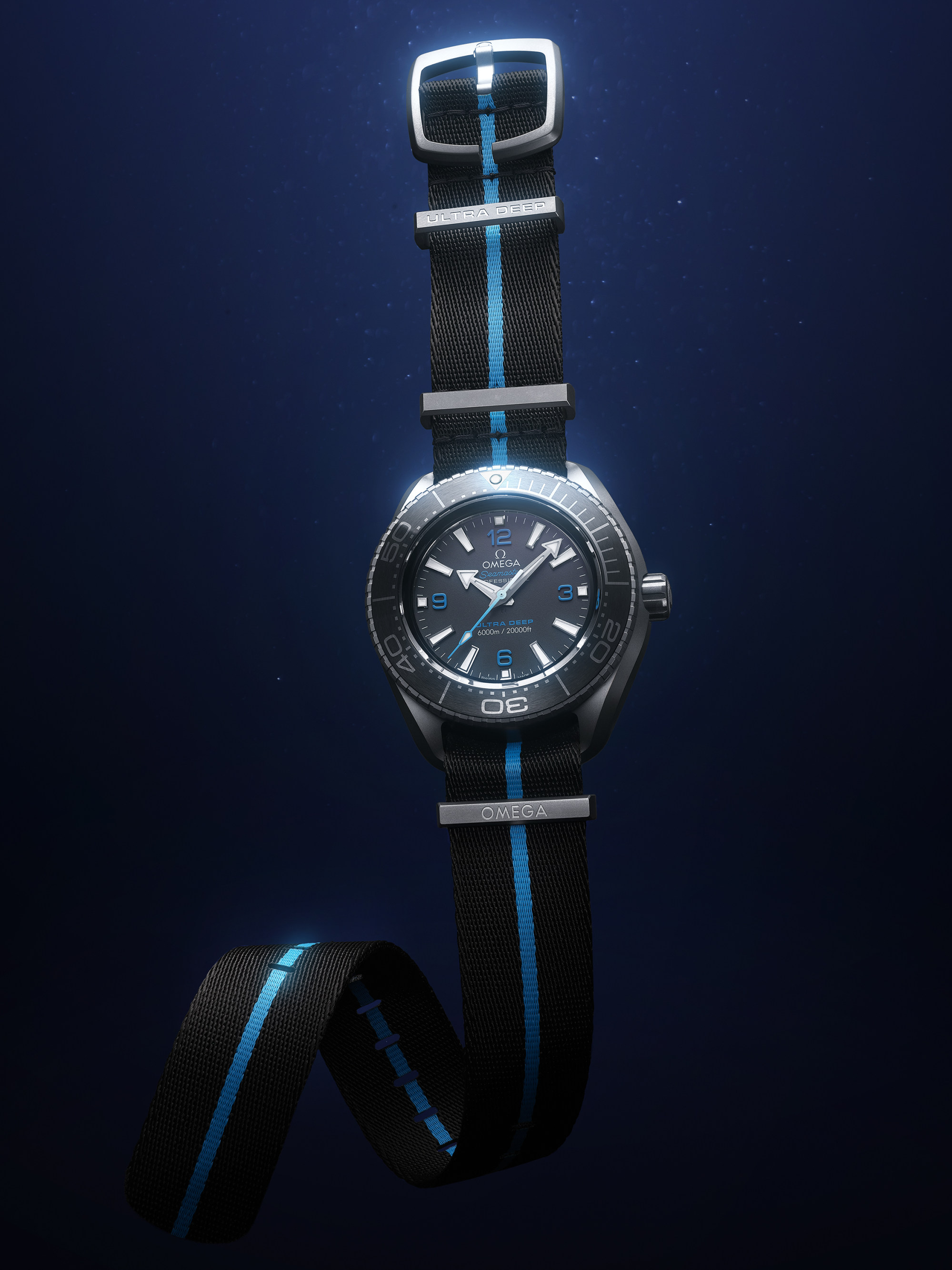 The Ultra Deep watch was completed in 2019, just in time for Vescovo's endeavour, which was part of his Five Deeps Expedition, during which he visited the deepest points of the world's five oceans. The Seamaster Planet Ocean Ultra Deep Professional represented a culmination of Omega's oceans experience combined with impressive technology, its features including a grade-five titanium case, robust "Manta lugs" for secure attachment and a sapphire face that resembled the viewport of a submersible.
One of these Ultra Deep watches was attached to a data-gathering device, and two more were fastened to the robotic arm of Vescovo's submersible. During the dive, Vescovo and the watches reached a depth of 10,935 metres – the deepest any human or watch has ever ventured to – and all emerged successfully from the 12-hour adventure.
Everyday divers can now lay their hands on an adapted version of this record-breaking watch, with Omega having recently launched a collection of seven 45.5mm models that are water-resistant to 6,000 metres (the watches were ocean-tested in the Mariana Trench in 2021 to a depth of 6,269 metres).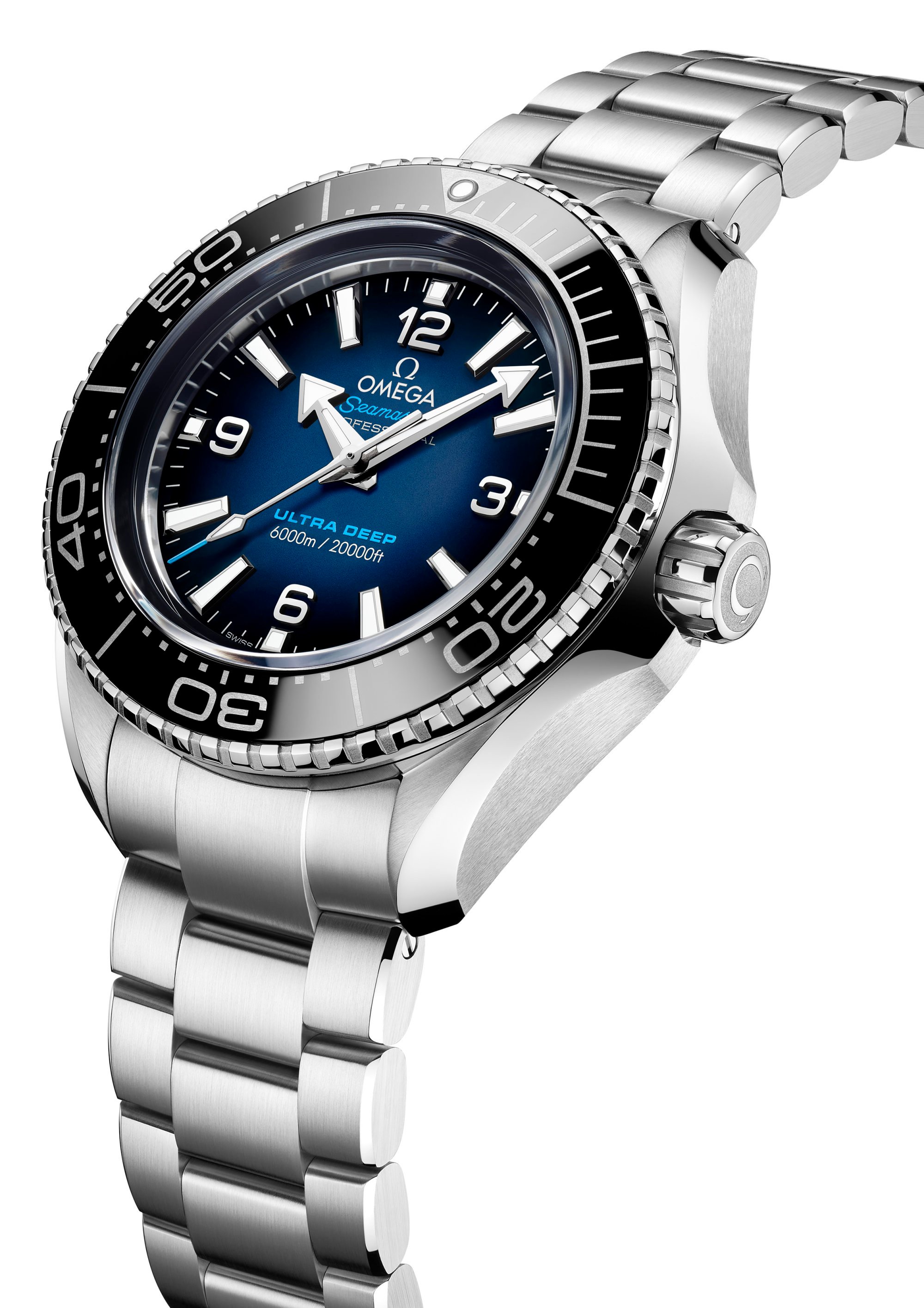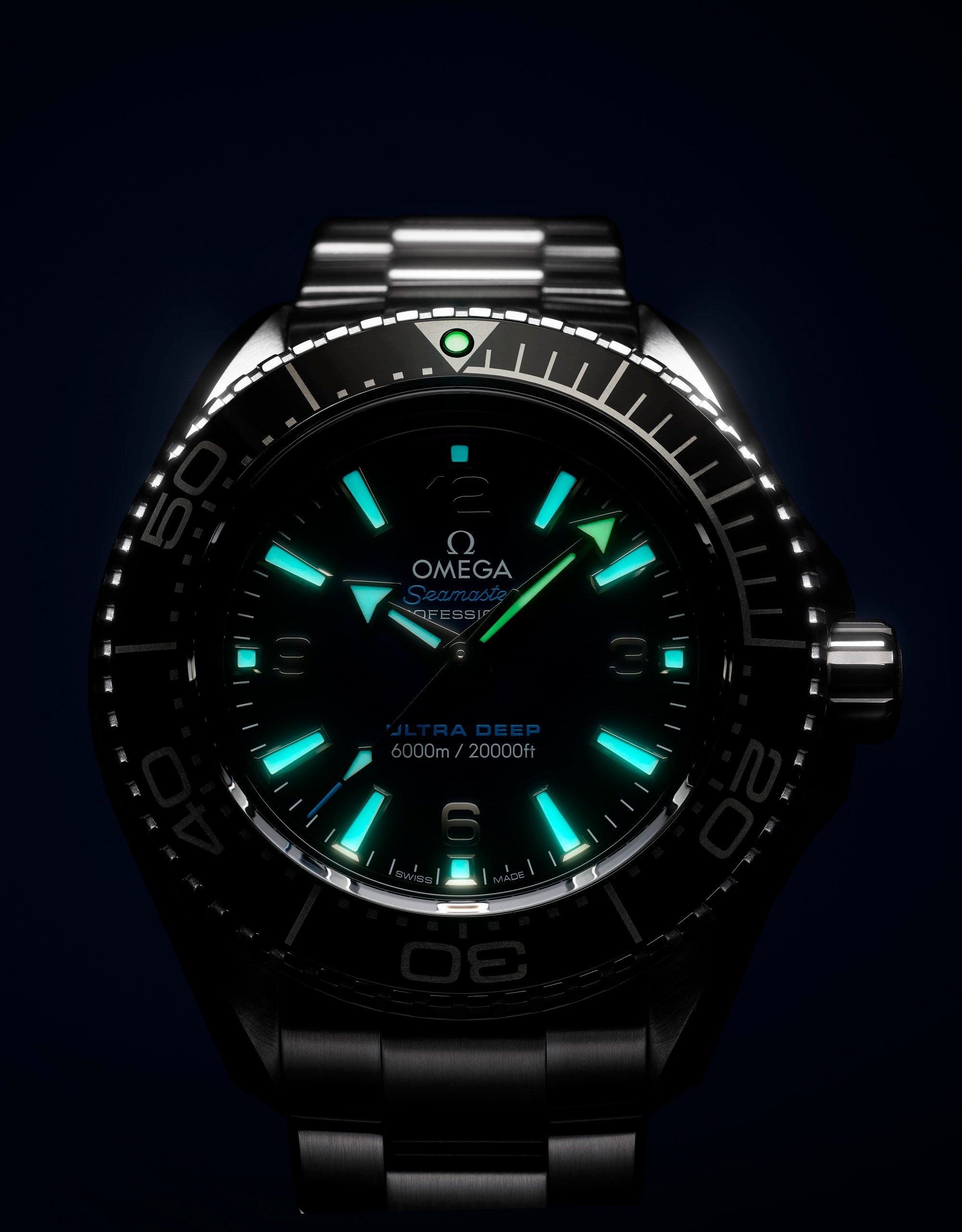 Driven by the Co-Axial Master Chronometer Calibre 8912, which is certified by Switzerland's Federal Institute of Metrology (METAS), each of these Ultra Deep timepieces is a diver's dream. The Ultra Deep collection also meets the ISO 6425:2018 standard for saturation divers' watches and "for saturation diving" is engraved on the back of each piece.
The collection includes six models made from the brand's new O-Megasteel and one created with sandblasted grade-five titanium. O-Megasteel, a high-shine, high-performance stainless-steel alloy, offers superior strength and resistance to corrosion, guaranteeing durability and long-lasting function and appearance.
These watches are framed by a black, blue or orange ceramic bezel featuring a diving scale, and each crown guard is integrated to the case to ensure that it remains protected in various underwater conditions. The deftly bevelled and domed sapphire crystal on the watches is also designed for maximum strength under pressure.
Buyers of O-Megasteel watches can choose between white or gradient-effect dials, which offer a grey-to-black or blue-to-black colour transition. Adorning the glossy dials are 18-carat white-gold hands and indexes coated with white Super-LumiNova, and behind each watch is a grade-five titanium caseback with a black laser-engraved Sonar emblem featuring Omega's iconic seahorse.
A full stainless-steel look with a matching O-Megasteel bracelet is available, featuring the brand's extendable foldover rack-and-pusher, an extra diver extension and a complementary length adjustment. Alternatively, complement the stainless-steel case with a rubber strap that has an O-Megasteel buckle and a technical diving suit structure on its upper surface.
The sandblasted grade-five titanium model comes with a brushed black ceramic bezel that highlights Omega's Liquidmetal diving scale, an asymmetrical case and "Manta lugs", similar to those on the original Ultra Deep watches that accompanied Vescovo. The lugs support a black and cyan Nato strap that is made from 100 per cent recycled fishing nets and has a grade-five titanium buckle.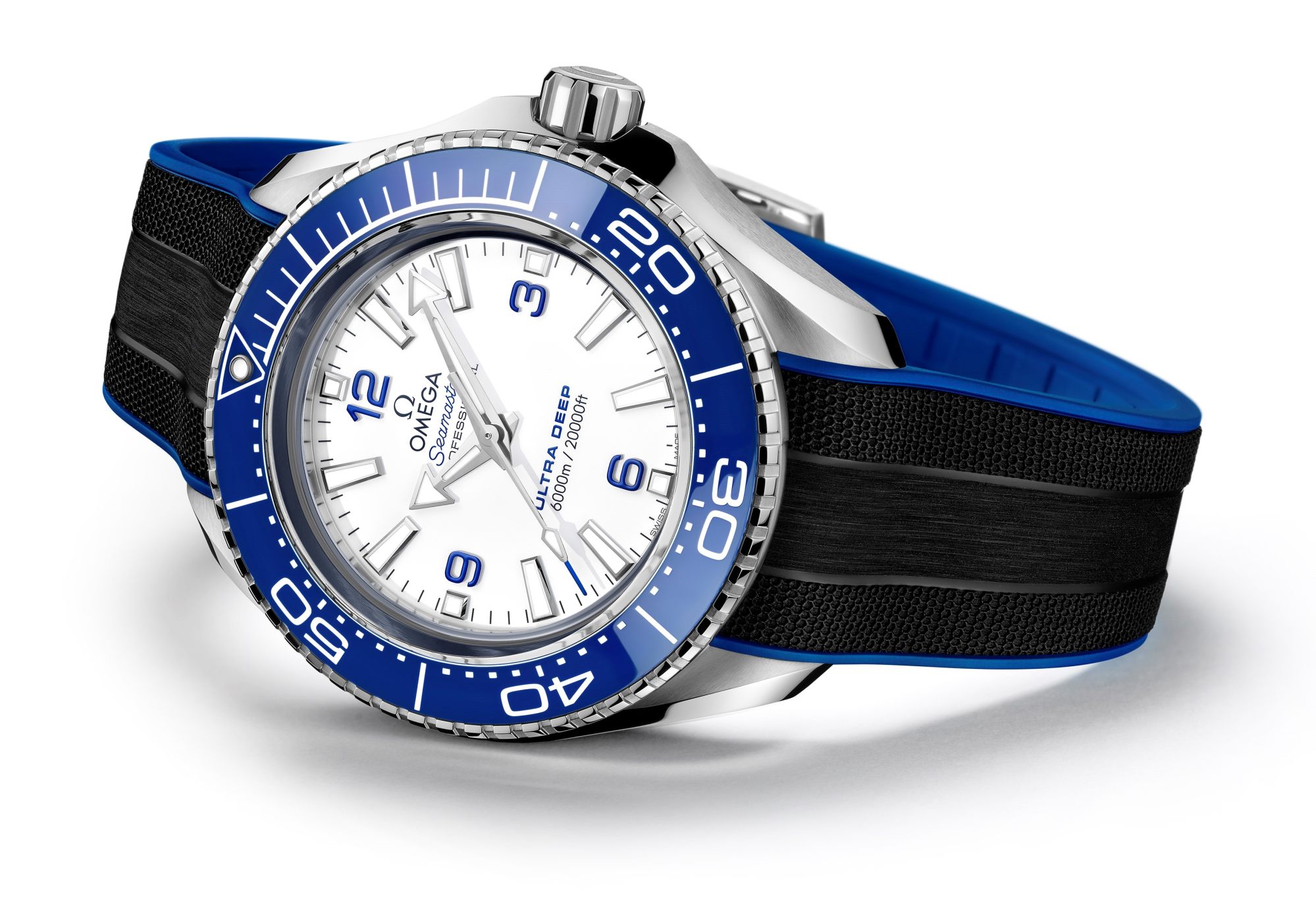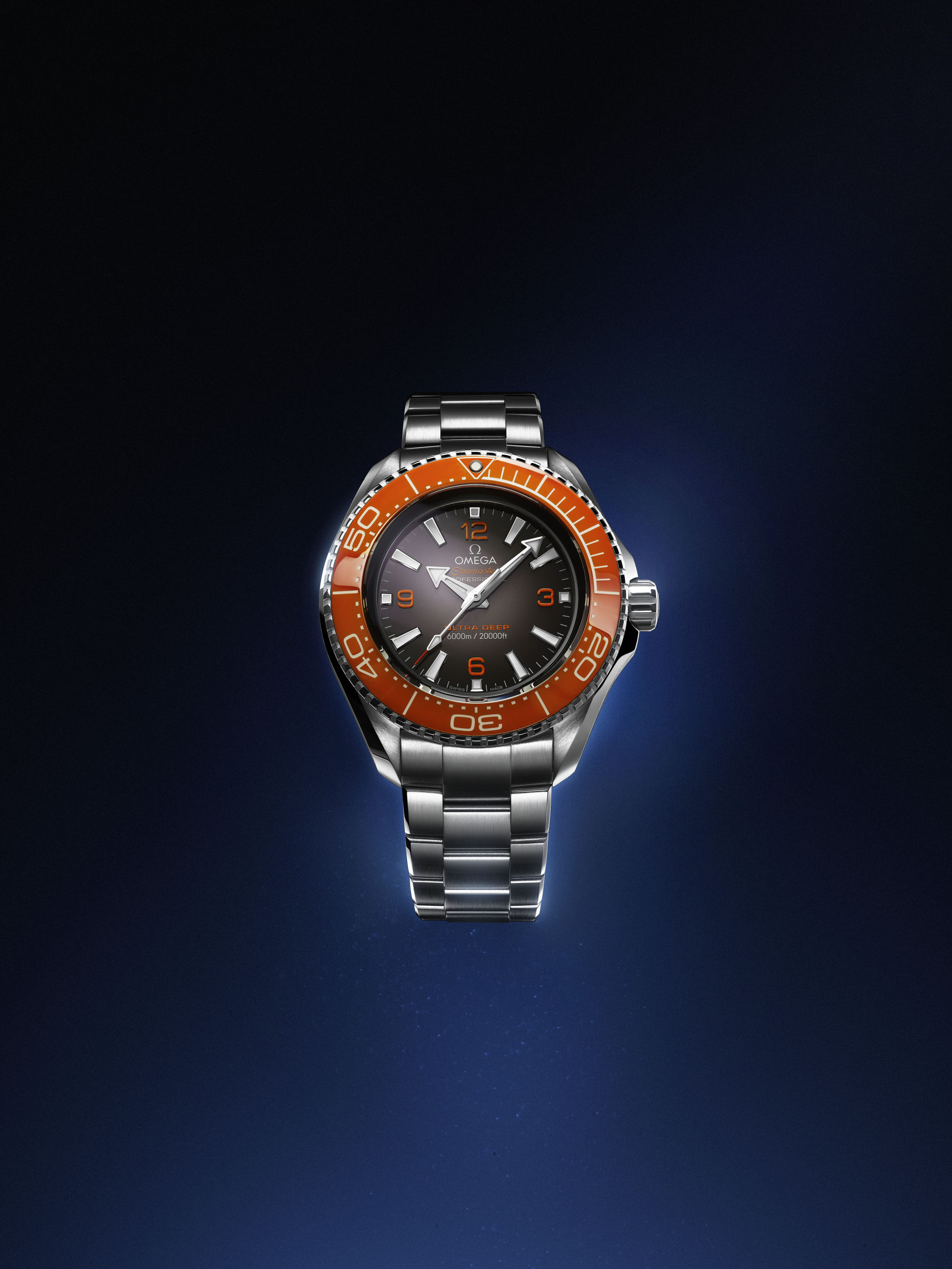 The watch's dial is made of black ceramised titanium and features cyan Arabic numerals and a gradient white-to-cyan central seconds hand. Hour markers and hour and minute hands are 18-carat white gold and coated with white Super-LumiNova, in common with the other six models.
With this new collection of Ultra Deep watches, Omega continues to build on its legacy while honouring its record-breaking feat of 2019. Impeccably designed for diving, the Seamaster Planet Ocean Ultra Deep is set to become a classic among deep divers and watch collectors alike.
This article is presented by Omega.