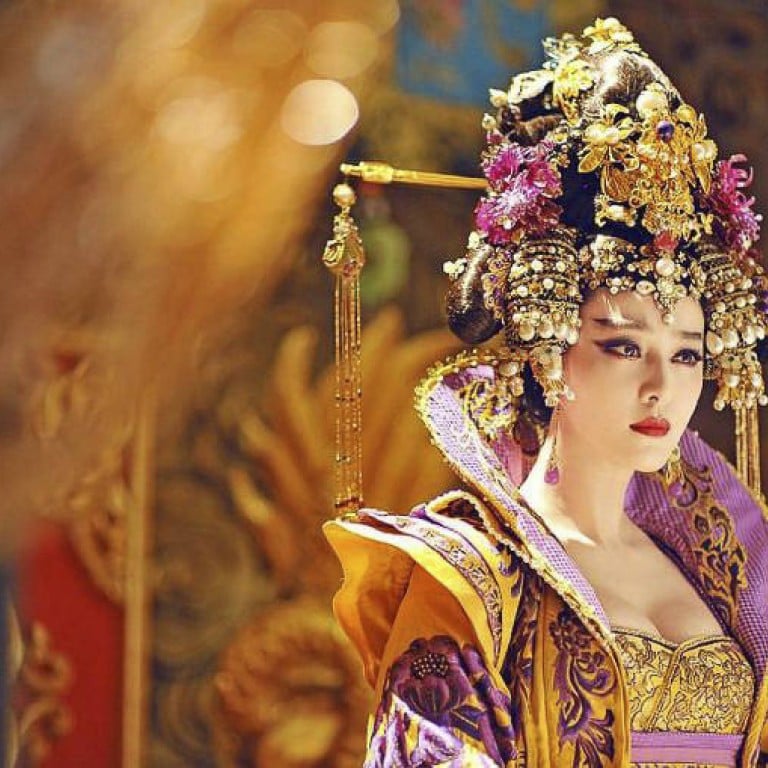 Actress Fan Bingbing on becoming the new 'empress of China'
From billboards to screens big and small, Fan Bingbing is ubiquitous in China. In a free-wheeling chat, the only non-American on Forbes' 10 highest paid actresses list talks about becoming the 'empress of China'.
It's almost impossible to avoid Fan Bingbing in China. Her slender figure is used to promote sportswear on billboards across the country and as the cast for Barbie dolls bearing her name while her snow-white skin, full lips and long raven hair serve the multinational makers of beauty products well.
On the big screen she triumphs in many genres, while on television she sweeps through sets dressed in the clothes of ancient dynasties. And on the most prestigious catwalks of the world, designers invite her to imbue their creations with elegance. As if all that were not enough, she's ubiquitous on the radio, too, her velvet voice giving life to mellow pop songs.
The highest-grossing actress in China has, according to the United States' foremost business magazine, now become the only non-American on the list of the 10 best paid on the planet. Having become an idol of the masses in the emerging superpower, where she boasts 42 million followers on the social network Weibo, her role in last year's helped her earn an estimated US$21 million and rise to fourth position in this year's rankings. She has become the very definition of success in 21st-century China, summarised in the newly minted expression " ": white, rich and beautiful.
After throwing herself onto the couch in her suite at the Ritz-Carlton in Shanghai's Pudong district, Fan shows herself to be sincere, candid and friendly, too. She has matched a checked black and red skirt with a simple white shirt, and assures me that she eschews make-up "whenever possible". That is why she has asked not to be photographed during our conversation.
What she will allow, however, is a free-ranging interview. To the obvious consternation of one of her three assistants, I do not have to follow an agreed script, as has become the norm with Chinese stars.
She begins by placing her mobile phone, in a grey furry cover with huge bunny ears attached, face down on the table, the gadget almost continuously vibrating as WeChat messages arrive in quick succession.
"I got interested in acting when I was 11 or 12, and saw a TV series based on the empress of China [Wu Zetian]'," says Fan, in Putonghua. "I found her character fascinating, and I promised myself one day I'd incarnate her."
Despite being born into a military family in the coastal city of Qingdao, Shandong province - both her grandfather and father were in the navy - her acting talent was allowed to blossom.
"My father was a singer and my mother a dancer. They both loved the arts, but the Cultural Revolution buried their dreams of a career in that field. They understood how hard to bear that is. So, while parents in China are not like those abroad, where they are often treated as friends, I always had the understanding and support of mine."
Fan learned to play the flute and piano as a child and later enrolled in the Xie Jin Film & Television Art College of Shanghai Normal University, making her acting debut at the age of 15.
"In China, to be successful, it is often not enough to have talent and earn merit. Some [connections] is almost always necessary. But when I walked into the entertainment industry, my family had no . So I knew I had to risk failure and bear the consequences alone."
However, luck was on her side and "it was an unexpected shock for me and my family" when, just a year later, in 1997, she found fame in the TV series .
Since then, Fan has starred in about 90 films and soap operas on three continents. She has found commercial success with movies such as , the highest-grossing film in China in 2003, but also won the approval of international critics thanks to (2007) and (2010), both directed by her friend Li Yu. Furthermore, she has realised her dream of playing Wu, China's only empress.
"My parents are proud," Fan says, with obvious satisfaction, before modestly adding, "My success can be summarised with a Chinese saying that is very international: 'Being in the right place at the right time to do the right thing.' Of course, beauty helps, as it does elsewhere in the world, but looks alone are not enough. It's important to accumulate experience, work hard and love what you do despite the difficulties that may entail."
At this stage of her career, she'd be forgiven for slowing down a little, but, at 34, she has recently picked up the pace: in the past two years she has acted in 11 films, appeared in countless advertising campaigns and even taken up the role of a judge on CCTV's new talent show, .
She has been criticised, however, for the quality of the projects she has been involved in and a lack of consistency in her career. The naysayers claim she veers carelessly from teen comedy to sci-fi movie to social drama and that she's lost her way.
Fan smiles.
"In China, it doesn't matter how well you do things, there will always be someone who criticises you."
Li's movies are a case in point. Many accused Fan of being disloyal to the nation for participating in productions that are critical of Chinese society. State censors decided to withdraw while it was on its way to a box-office record because of the sex scenes, which included a rape. To prevent the same thing from happening with their next project, the director played it safe, but still the censors forced her to rewrite the script for , taking issue with a scene in which a trio of rebellious youngsters - including the character played by Fan - try to derail a train.
"It isn't the movie I'd like to have made," acknowledged Li, before the premiere, the director being one of the leading exponents of the "Sixth Generation" of Chinese filmmakers, a group who style themselves as urban and committed to social causes.
On the other hand, some critics say Fan is too partial to superficial melodramas such as this year's (another with Li at the helm) and goofy comedies such as (2013), which sees Fan's character try to discover which of three men made her pregnant and is full of slapstick and innuendo.
More recently, Fan's version of - with a 300 million yuan (HK$360 million) budget, one of the most expensive TV projects ever undertaken - has attracted controversy. This time, the censors were alarmed by the amount of cleavage on show, including that of the leading lady. The production company, the actress' own Fan Bingbing Studio, tried to justify the 3,000 costumes used in the 96-episode series by pointing to their authenticity - that was what was worn during the Tang dynasty (618-907) - but to no avail. Scenes in which women are seen from the front had to be re-edited, to hide their busts. Although most commentators mocked the government's puritanism, Fan did not escape unscathed.
"In many cases, those who criticise me want to put themselves in the limelight. I think it's very different from what is done abroad, where flattery is more usual," she says.
In recent years, Fan has been able to compare first-hand the differences between the film industries in China, Hollywood and Europe - in 2011, she acted in French drama .
"I found that in my country it's harder. Ours is a profession that is not protected in China, and it requires great sacrifice. Often we work 24 hours straight, and we can't rest either physically or mentally. Furthermore, the pressure from incessant rumours in the media is exhausting. In Europe there is a lot of freedom, independent films succeed and you can breathe in an atmosphere of great inspiration. It's similar to what happens in South Korea. In Hollywood, on the other hand, I felt that there was greater professionalism, and everything is prepared to make the actors' work as smooth as possible."
Fan was the first Asian hired to star in the saga. However, she is aware that she wasn't chosen primarily for her acting talent.
"The strong economic growth that China is undergoing makes many American productions want to try to win over the public by including elements of our culture," she says, imitating the sound of money with a sharp "ding". "In the case of , they needed a Chinese face. Director Bryan Singer had seen some of my films - I guess he liked my work - and when we met at the Oscars, we closed the deal in less than an hour. It was quick and simple; very straightforward."
The makers of the Chinese version of took this idea further, adding scenes shot in China and featuring Fan to the original movie to increase its appeal in the country and to facilitate the placement of products made by Chinese companies with generous budgets. Many laughed at the shoddy way in which the new scenes were introduced, but it's obvious the commercial interests of Hollywood in China provide an opportunity for home-grown stars to reach out to the rest of the world.
"Still we must be calm and careful with our choices," Fan warns. "Although the worldwide audience may end up knowing me for these blockbusters, of course I'm aware that maybe I'll never be given a leading role in Hollywood and that most of my audience will always be in China. It's a great experience that I can learn a lot from but I'm not going to lose perspective," she says, fiddling with her two diamond bracelets.
On the plus side, Fan believes, considerable opportunities are opening up in China.
"We are copying the American model, with a lot of money invested in some movies. The technical skills and resources are world class. The problem is that many investors have no idea what the movie industry is, so there are many bad stories and the market has not yet matured. Maybe that's also the reason why our films don't succeed abroad."
And that's why she decided to establish the Fan Bingbing Studio.
"As an actress, I always participate in films that offer me an interesting role, regardless of what I get paid. As a producer, I delegate financial matters and focus on the creative side, looking to offer something different to the audience.
"I prefer social films. Li Yu's movies are a good example. They focus on real people with real problems. They are believable stories, but I'm afraid that isn't what the Chinese public wants to see. On one hand, because they tend to have low budgets and the audience has grown accustomed to large productions. On the other hand, because the Chinese are under great pressure, with large work loads and family, and prefer stories that let them escape and have a good time. That's why comedies or kung fu movies have so much punch among the Chinese.
"However, the audience is evolving, and the independent market is growing. I am convinced that, in the future, the quality of Chinese movies will be much higher."
In any case, it is Fan's international profile that makes many think of her as the female face of Chinese pop culture, ahead of compatriots Gong Li and Zhang Ziyi.
Fan's appearance at a new Adidas store in Shanghai the morning after our interview offers a good example of her standing. Accompanied by myriad bodyguards, she cannot roam the store. Even before the mall opens, workers have gathered to squint at her from a distance, phone cameras at the ready.
"She's a goddess," an overexcited teenager tells a friend.
"She still looks great in person, her chin is so slim," the other agrees.
Not much attention is paid to Fan's boyfriend, actor Li Chen, who is polishing his look in one of the shop's mirrors. He may be a star - having acted in movies such as (2006) and (2009), as well as - but she's the big draw. And, when the barrier is lifted at 9.30am, security guards have a hard time holding back her fans.
A few have been selected to have their merchandise handed to them by the golden couple and some leave in grateful tears. Fan indulges everybody with a warm smile.
actor who served as ambassador to the world," says Fan, in her hotel suite. "It's an honour for me to be granted that role, which I feel is because I've had a lot of international work lately. China is growing and gaining power, and I am glad that the world is paying more and more attention to us."
Perhaps, to achieve global conquest, all Fan needs to do now is polish her English.
"The language barrier is a headache for me," she concedes. "But I'm too busy to study. I have a tutor, but she hasn't had the chance to give me a lesson in six months."
What Fan does say in English, though, is "Goodbye".
​
This article appeared in the South China Morning Post print edition as: Your royal highness