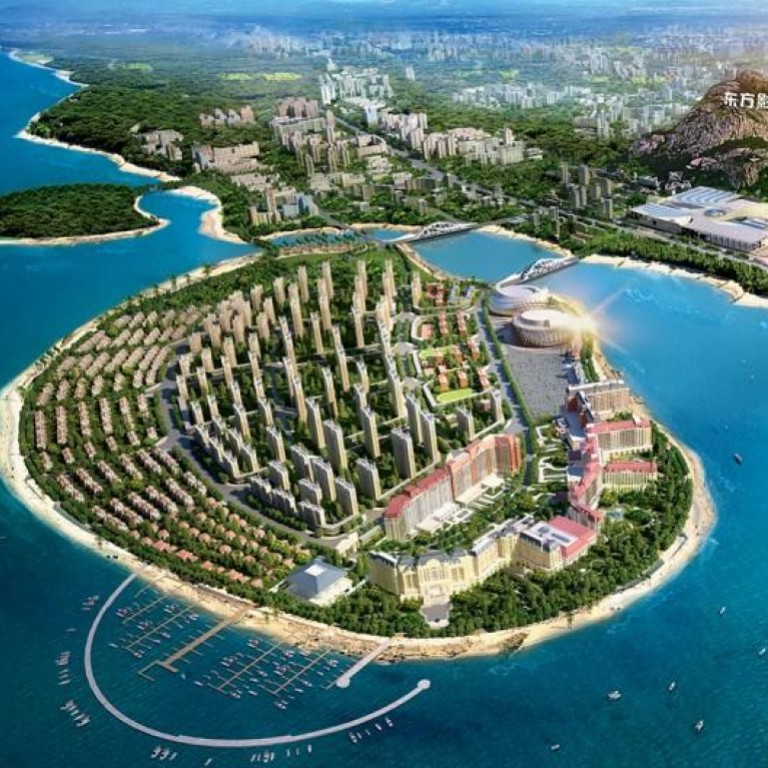 Why China's richest man is building Hollywood of the East in Qingdao
Wang Jianlin is trying to buck a trend by operating both cinemas and the means to create product for them - a film studio. More than that, he's building a giant entertainment complex around the studio in eastern China, with hotels, a yacht club and a theme park, write Willy Shih and Henry McGee
The majority of those people outside China who have heard of Qingdao associate the city with beer. In 1903, German and British settlers founded the Tsingtao Brewery there, and a Teutonic influence can still be seen in some of the architecture in the older parts of town. But the city's temperate climate and coastal setting, almost 560km north of Shanghai, lend it an atmosphere that more strongly recalls southern California, an association lately reinforced by the new buildings going up on the coastline southwest of town.
There, on a steep green hillside that overlooks the Yellow Sea, you'll see a gigantic sign with white freestanding characters: , which translates literally as "Eastern Cinema." It's like the Hollywood sign that has overlooked Los Angeles since 1923, only bigger.
On a sprawling 500-hectare site at the foot of that hill, a gaggle of construction cranes is noisily building Qingdao Oriental Movie Metropolis, a vast development that includes a film studio, a theme park and entertainment centre, a 4,000-room resort-hotel complex, a shopping mall, a 300-berth yacht club, a celebrity wax museum and a hospital. The Dalian Wanda Group, China's biggest commercial real-estate developer and the world's largest owner of cinemas, has committed US$8.2 billion to the project. Wanda Studios Qingdao is the linchpin of the new development and, when it opens its doors in April 2017, it will be one of the largest and most technologically advanced feature-film-production facilities in the world, encompassing 30 sound stages; an enormous, temperature-controlled underwater stage; a green-screen-equipped outdoor stage that's still larger, at 56,000 square feet; a permanent facsimile of a New York City street; and much more.
Last year, we went to see the project and get a better sense of the ambition of the man behind it: Wang Jianlin, the 61-year-old founder and chairman of the Wanda Group, who is frequently described as the richest man in China. As we drove around the rock-strewn, half-constructed site, we came across a set featuring a life-size segment of the Great Wall. A small army of extras was practicing scenes for , starring Matt Damon and directed by Zhang Yimou, the filmmaker who staged the opening ceremony of the 2008 Beijing Olympics. The movie, which will be released in November, is the largest Chinese-American co-production in history, with an estimated budget of US$150 million. Its financiers include the state-owned China Film Group; Universal Pictures; and Legendary East, the Beijing-based division of the Hollywood production company that helped bankroll , Christopher Nolan's Batman trilogy, and more.
Wang wants to make such collaborations routine - and to eventually create one of the world's premier entertainment companies. It may sound like folly. For all the strengths of China's economy, the country has made few successful forays into high-end, globally competitive creative industries. And the government's censorship would seem to limit the creative freedom that the film industry demands. Yet it is hard to dismiss a man with Wang's talent and track record. The enormous bet his company is making in Qingdao mirrors investments made in manufacturing across China in the 1990s and early 2000s. It isn't that hard to envision filmmaking coming to resemble the making of iPhones - with design in California and production in China. But Wang's ambition is larger: he wants to create a cultural platform that is in every sense Hollywood's rival.
The long arc of filmmaking history may not bend inevitably towards China, but it does lead away from Hollywood, whose rise and long dominance of the film industry was predicated on a series of conditions that no longer exist. Like the manufacturing of many products, the making of motion pictures started out as a craft industry. Very early in the 20th century, most films were produced on a small scale, using methods adapted from live theatre. But by the 1910s and early '20s, the mass-market potential of movies had become evident to the leading filmmakers of the time: Cecil B. DeMille, D.W. Griffith, Thomas Ince. Ince in particular envisioned a production process akin to that of the car industry, where Henry Ford had pioneered the moving assembly line and the standardisation of the vast majority of jobs.
Ince, who set up a film studio on Sunset Boulevard, established an assembly-line approach that brought efficiency to film production. His "continuity script" rearranged scenes into the most economical sequence for shooting, minimising downtime. Everything from camera angles to actors' facial expressions was specified. When shooting was finished, editors would piece scenes together in a precursor to what we now call "post-production". Using this process, Ince, sometimes called the "father of the Western", began cranking out as many as two short Westerns a week. He and his fellow innovators set up shop in greater Los Angeles largely to take advantage of the year-round filming opportunities and the vast expanses of open (and inexpensive) land. But once begun, industrialisation favoured scale and drew in talent, lending Hollywood, like Detroit, a compounding advantage.
Like the carmakers of the era, studios sought control through vertical integration. They had their own writers on staff, built their own sets, made their own costumes. Actors and directors were often locked into long-term contracts. In 1944, more than half of all box-office receipts were claimed by theatres owned by the five major studios (Paramount Pictures, RKO Radio Pictures, Loew's, Twentieth Century-Fox Film Corporation and Warner Brothers Pictures) and the film industry employed 33,000 people in greater Los Angeles.
And yet Hollywood's very success in converting creative enterprise into discrete tasks performed by different people foretold the decline of the studios' power. Antitrust suits forced the studios' divestiture of their cinema chains. But over the next two decades, the big studios voluntarily began to pull apart the movie-making process itself. Competition from television pushed them to improve and differentiate their films in order to maintain box-office revenues. To broaden the funnel of projects with strong box-office potential, the studios increasingly turned to independent producers. Likewise, they began working more with freelance specialists in lighting design, set decoration and more. All of these measures reduced costs, as studios could choose suppliers as needed, film by film, rather than employing them full-time. By the 1970s, the studio's role had become that of a system integrator.
That's also about the time that Hollywood's grip on filmmaking began to slip a little. Technological innovations such as the Panaflex handheld camera, which enabled studio-quality results in a more authentic setting, had led to an expansion of location shooting. Directors could achieve a more realistic look. And by avoiding the union work rules of LA and taking advantage of tax incentives offered by other cities - domestic and foreign - producers could save money.
Many industries, from cars to consumer electronics, have followed a similar path towards disintegration and offshoring. But the speed with which large parts of the film industry have recently decamped from Hollywood is striking. According to the Monitor Group, a consulting firm, in 1990 just 14 per cent of film and television productions developed by American studios were shot outside the United States for economic reasons. By 1998, that figure had nearly doubled, to 27 per cent, resulting in the loss of 20,000 full-time jobs in LA. A recent study by FilmL.A., the area's film-production-licensing organisation, found that of the 106 films released in 2014 by southern California's major and "mini major" studios, only 22 were primarily produced in California. New York, with its generous tax incentives, was the most favoured out-of-town location, landing 13 feature films, followed by Britain and Canada, with 12 apiece. As for 2015 releases, the report said, "There isn't a single live-action movie with a budget estimate over US$100 million that shot primarily in California."
Much of the work that comes after filming has also moved on. Post-production used to have a natural home in LA for the simple reason that it involved the manipulation of film. As recently as 2007, most major motion pictures were shot with colour film, and it made sense for the shooting, the film-processing and all the assorted film-doctoring that followed to occur in close proximity. But that's no longer true. Make no mistake, post-production is more important to filmmaking than ever: according to FilmL.A., movies such as , the top-grossing release of 2013, spend between 30 and 40 per cent of their budget on special effects. But special effects now involve the creation and manipulation of computer files, which can happen anywhere. 's special-effects work occurred not only in California but also in New Zealand, Canada, Germany, Britain and Australia.
In 2011, the research firm IBISWorld named post-production one of America's "dying industries", along with DVD, game and video rental; newspaper publishing; and photofinishing. In 2013, Bill Westenhofer's acclaimed visual-effects company, Rhythm and Hues Studios, filed for bankruptcy a couple of weeks before he accepted the Oscar for best visual effects, for . (As he started to explain the filing in his acceptance speech, the ominous theme song from drowned him out.) Digital Domain, another top-end visual-effects studio, had filed for bankruptcy six months earlier. The key assets of that company, which played a major role in films such as and , were acquired for US$30 million by China's Galloping Horse America and India's Reliance MediaWorks.
in the People's Liberation Army and spent 16 years climbing its ranks, before taking a city-government job in the northeastern city of Dalian. He was named chairman of a state-owned residential real-estate company in 1989, at the age of 35. Wang transformed the business into the Dalian Wanda Group, making it one of the first shareholding companies in Communist China in 1992 and then aggressively expanding its activities across regions at a time when that was rare. In 2000, Wanda entered the commercial-property market, building its first Wanda Plaza, in the city of Changchun, Jilin province, with Walmart as its anchor tenant. In the ensuing decade, Wang built Wanda Plazas in prime locations in every major city across the mainland.
In an interview at his Beijing office in August 2014, Wang explained that he is guided by Confucian beliefs, which emphasise the long term. "Over the past 200 years, there have been no big, strong Chinese multinationals," he said. "Most of the multinationals are either American companies or they are European. So one of my dreams has been to develop Wanda into one of the top 100 companies worldwide."
Beginning in 2010, Wang decided to focus his ambitions on what he called "cultural industries", a move that paralleled Beijing's push to increase the nation's non-military influence. Gerry Lopez, the former chief executive of AMC Entertainment, the parent company of the cinema chain, recalls meeting Wang for the first time in May 2011, while on a trip to visit an AMC franchisee in Hong Kong: "So we go see him, and in that meeting, he laid out a vision. He said he was in four different businesses. Commercial real estate was the core of the company, and those Wanda Plazas are anchored by hotels, a department store and a cinema … He wanted to become No1 across all of China in each of those businesses. And upon achieving that status in China, he then wanted to become No1 in every one of those around the world."
Wanda was already the largest operator of cinemas in China, with 86 theatres, and the country was one of the fastest-growing markets for cinematic exhibition in the world. That same year, Wang offered to buy AMC.
The chain was the second-largest in the US but it had been caught in a wave of overbuilding and was owned by five private-equity firms. With the rapid spread of big-screen TVs and the proliferation of home-entertainment options, the future looked bleak. Wang's view was more positive. He saw AMC as "a strong man who just caught a cold" and its acquisition as Wanda's "first step in going global". When he closed the deal in August 2012, he empowered Lopez and the rest of the AMC management to embark on a bold strategy to reignite growth. AMC ripped out two-thirds of the seats in many of its cinemas - they were rarely full anyway - and installed cushy recliners. Then it established bars and dine-in options, allowing customers to order food and get seat-side service with the touch of a few buttons. These changes nearly doubled traffic; revenue per patron also grew.
To further raise his company's visibility in Hollywood, Wang is now building a US$1.2 billion mixed-use development in the heart of Beverly Hills. The development will be anchored by a Wanda hotel. The company's press materials announced that the development "is expected to aid in China's entry into Hollywood's film industry and generally promote Chinese culture abroad".
Meanwhile, in China, Wang has continued to build cinemas rapidly, particularly the sort of world-class multiplexes that spur filmgoing. As it grows wealthier, China is becoming a nation of filmgoers. Box-office revenues grew by roughly a third in 2014, and even faster in the first half of last year. With North American box-office receipts essentially flat in recent years, some analysts expect that within five years, China will be the world's box-office king (it is now No2). The country has more than 28,000 cinema screens. Only the US, with close to 40,000 screens, has more, and Wanda owns more than 5,000 of those.
Wanda's Qingdao Oriental Movie Metropolis was conceived, in part, to capitalise on the deconstruction of the Hollywood business model, appealing to Hollywood studios with its state-of-the-art facilities and low labour costs. Yet, paradoxically, the new studio is very much part of a vertically integrated chain. After Wang announced the studio complex, he outlined his vision in an interview with newspaper: "There's no single company in the whole world that has a big-scale production base and at the same time has screening and distribution channels. Wanda Group is the first one in the world."
That's not really true, of course. Hollywood assembled all the same pieces decades ago, before disassembling them. Wang is trying to buck a very long trend. What's more, he's doing it in a place that does not always appear conducive to creative endeavour. Beijing prohibits films made or released in China from showing nudity, strong violence, ghosts, time travel or other subjects deemed unsuitable by the State Administration of Press, Publication, Radio, Film and Television. The Hollywood filmmakers at Wanda Studios Qingdao will probably become increasingly adept at negotiating their way around the harshest restrictions, but it is unlikely that R-rated films will be shot in Qingdao anytime soon.
Last year, at Wanda's headquarters in Beijing, we met Nancy Romano, then the chief operating officer of Wanda Studios Qingdao and formerly the head of Fox Studios Australia, the largest production facility in the southern hemisphere ( and are among the films that have been made there in recent years).
"We are creating an industry in Qingdao," she told us. As she talked, the vision behind all the odd-seeming pieces of the complex started to take shape. "You are selling a lifestyle, because the cast has to come with their families. And they travel with an entourage. So you have to create a lifestyle for them, not just a film studio. A stage is a stage no matter what country you are in. But it is what they are doing outside of work, and what their families are doing - their children, their mother, their nanny, their hairdresser, their make-up artist. So we also have to create a lifestyle that enables them to commit to spending three to six months in a city."
Qingdao Oriental Movie Metropolis - its hotels, shops, yacht club and other amenities - "lends itself to being really, really attractive", she said.
Wang truly is trying to create an industry essentially from scratch. One reason Hollywood went vertical back in the 1920s was that at the time, there were no well-developed networks of specialist suppliers or independent contractors to do the work that was arising as the industry grew. Wanda's approach is born of similar necessity and the company is not dogmatic about doing everything itself if it doesn't have to. The sprawling production operation at Qingdao, for instance, is being constructed under the guidance of Pinewood Shepperton, a studio-facilities operator based in Britain best known for running the main filming site of the James Bond franchise. And walking around Wanda's headquarters, it is impossible to miss just how many people the company has recruited from overseas.
As for his cinemas, Wang may be ahead of Hollywood rather than behind it. In the US, the Supreme Court forced the separation of filmmaking from cinematic distribution because too much power was concentrated in the hands of the studios. No comparable action has occurred in China, of course. But even in the US, the game today is very different to what it was in the mid-20th century, as is the judicial environment. Many distribution channels, including HBO and Netflix, have moved into creating their own content. In that light, Wanda's global distribution footprint - it owns about 13 per cent of America's cinema screens and about 6 per cent of China's - doesn't look like a trust that needs busting. Still, its cinemas will likely give it at least some leverage in attracting top projects and top talent - a small edge that over time could create a virtuous circle.
The size of the Chinese market is doubtless Wang's greatest source of leverage and the best reason to believe his project might succeed. Like audiences around the world, Chinese multiplex-goers have shown a strong preference for the action-packed, special-effects-laden spectaculars that are developed, if no longer made, in Hollywood. In 2014, the top-grossing film in China was , which took in US$320 million across the country. Last spring, brought in US$391 million in China, eclipsing the film's US take by US$40 million. It remains to be seen how much takes when it opens in China on January 9.
Imported films now reportedly account for about 50 per cent of Chinese ticket sales, but collectively, foreign studios are permitted to distribute only 34 films a year in China. The import limit has spurred great interest in co-productions filmed in China, because those are exempt.
That fact, perhaps more than any other, has put Hollywood's concerns over censorship in the backseat. The event announcing the creation of Qingdao Oriental Movie Metropolis drew Nicole Kidman, Leonardo DiCaprio, John Travolta and the Oscar-winning producer Harvey Weinstein, among many other celebrities and power brokers. Wanda has announced that in addition to commitments from more than 50 Chinese companies to shoot 100 films and TV series at the new facility each year, it has reached preliminary agreements with foreign producers to film 30 productions there.
is one of many recent Chinese-Hollywood partnerships, some of which go well beyond the making of a single film. In September, for instance, China Media Capital, a private-equity firm led by a former government official, Li Ruigang, announced a co-production venture with Warner Bros and other partners. Li was also instrumental in the creation of Oriental DreamWorks, a Shanghai-based studio co-owned by the Hollywood company DreamWorks Animation SKG and three Chinese companies. The company's website explains that it makes films "in China for China and for export to the rest of the world". To underscore its intentions, the new studio replaced the boy with a fishing pole in the DreamWorks logo with a panda and changed the colour of the moon from white to red.
The development in Qingdao of a rich ecosystem that can support the full range of filmmaking - including the high-end creative work that Hollywood is best known for - is no sure thing. Ultimately, the realisation of Wang's vision will depend on his ability to attract and develop top-tier talent - not just actors who fly to Qingdao for a six-month shoot, but sound editors, costume designers, special-effects experts, writers and other creative professionals, in large numbers, who will live there year-round. For all of Wanda's recruiting success so far, the creation of that kind of ecosystem is likely to take decades, not years; that's another lesson from Hollywood. But then, Wang calls Wanda a "centennial company", meaning "we would like to develop our business for over 100 years' time".
Some inkling of the prospects of Qingdao Oriental Movie Metropolis might be found in other industries. In the electronics industry, in the car industry, in so many industries that have moved to China, piecemeal offshoring initially involving the more routine parts of the manufacturing process eventually gave way to a more wholesale relocation once localised supply chains had developed. When companies such as IBM, Dell, Compaq and HP ruled the roost in PCs, most people would never have imagined that Lenovo would become the No1 PC supplier worldwide. Already Apple and its iPhone are facing competition from several Chinese companies, including Huawei and ZTE, which are gaining market share around the world.
The plot's a little different, but we may have seen this film before.
The Atlantic
​
This article appeared in the South China Morning Post print edition as: A thing of Wanda