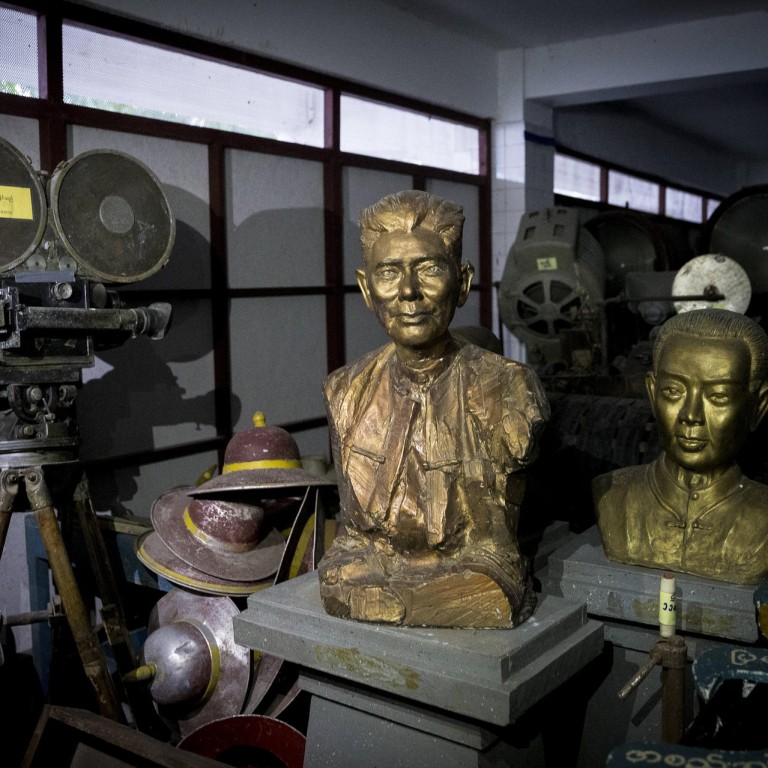 Myanmar's once-booming film industry gears up for act two
A recent spate of productions by fearless Myanmese documentary makers has raised hopes of a renaissance in the country's moribund film industry, finds David Eimer.
The Myanmar Motion Picture Museum, like many buildings in Yangon, has seen better days. Stray cats mooch around the exterior of the dilapidated structure, which dates back to the early 20th century and the time when Myanmar was a British colony. So decayed is it that the few exhibits normally on show - ancient cameras and lights, old film posters - have been removed to a store room, leaving the building empty.
The museum's decline mirrors that of Myanmar's film industry. It used to be the biggest and most vibrant in Southeast Asia. Now, though, there are fewer than 50 working cinemas in Myanmar, a country of almost 54 million people, and most of the feature films made here are shot in a matter of days on shoestring budgets, before being released straight to DVD.
But if Myanmar's once proud movie industry is a shadow of its former self, the country now leads the region in the making of documentary films. Over the past seven years, there has been an explosion in the number of documentaries being produced here. Now, it is documentary filmmakers who are pushing the boundaries of freedom of expression in a country ruled, until very recently, by a junta that imprisoned its opponents, banned protests and tightly controlled all media.
Film festivals screening those documentaries are flourishing, too. The Wathann Film Festival is now a fixture every September and there are specific events showcasing films made on mobile phones and documentaries and movies with lesbian and gay themes. This year's edition of the annual &Proud LGBT Film Festival starts on January 28, in Yangon.
"Documentaries are much closer to real life in Myanmar than mainstream movies are," says filmmaker Thaiddhi, over coffee in one of downtown Yangon's growing number of shopping malls. "Mainstream movies are still heavily censored here: they're not allowed to show poverty. But we want to show the lives of ordinary people and we can do that in documentaries, so they're the best way to reflect on our society."
Thaiddhi shot his first documentary in 2005, making him a veteran by local standards. The 32-year-old has been joined by an ever-increasing number of young filmmakers turning out documentaries on everything from the marginal status of the disabled in Myanmar to the environmental impact of mining, the effect of land grabs on farmers, the lives of ordinary people doing everyday jobs and the country's obsession with football and the English Premier League.
Many of those films get their first public screenings at the Wathann Film Festival, which Thaiddhi founded with his wife and fellow filmmaker Thu Thu Shein in 2011.
" means 'rainy season' in Burmese and in September it's always raining too hard to be able to shoot films, so we thought we would show films instead," says Thu Thu Shein, with a smile.
It was inclement weather, of a truly extreme variety, that really kick-started the documentary movement in Myanmar. In May 2008, Cyclone Nargis slammed into the Irrawaddy Delta region, to the west and south of Yangon, sending huge storm surges rolling across the rice paddies that make up the delta. About 140,000 people died and some 1.5 million were displaced by what was the worst recorded natural disaster in Myanmar's history.
The junta then ruling the country refused to accept international aid for weeks after the cyclone hit, effectively abandoning those affected by Nargis. A group of students at the Yangon Film School decided to record their desperate plight.
"The students felt they had a duty to help, so they went to the delta with their cameras. That was illegal and it was at some risk to them to do the interviews," says Lindsey Merrison, the Anglo-Burmese filmmaker who founded the school in 2005.
Their resulting film, , was released in 2009 and is a moving, powerful and uncensored account of the disaster. It was also the first feature-length documentary ever made in Myanmar.
"We went to the delta one week after the cyclone," recalls Thaiddhi, who was one of the cameramen - Thu Thu Shein acted as production manager. "The local people really helped us. They wanted their stories to be told and they hid us in what was left of their villages."
Unsurprisingly, the generals then running Myanmar were unimpressed by the film and banned it.
"We couldn't show it officially until 2012," says Merrison. And despite the fact the filmmakers hid their identities by using false names on the credits, the junta came after them. "Two of the filmmakers were detained for a month and one went into exile in Thailand."
was shown at 20 film festivals around the world, though, winning awards at a number of them, while DVD copies were circulated inside Myanmar and acted as potent inspiration for many budding documentary makers.
"That film was very important. After it was shown in Myanmar, it had a measurable impact on people," says Merrison. It boosted the profile of the Yangon Film School, too, which remains the only such institution in the country.
For Myanmar's pioneer documentary filmmakers, avoiding the attention of the authorities was paramount.
"When I made my first film, we couldn't shoot on the street unless it was in a location we knew with people we knew," says Thaiddhi. "Even then, the police would sometimes come. We'd tell them we were just practising how to use the camera and not making a film. We couldn't do overtly political stuff, so we had to be subtle. We'd do a day in the life of an artist who'd been in prison, or the residents of an old people's home."
Such was the climate of fear that the Yangon Film School started life as an unofficial organisation.
"We negotiated with the military for a year to hold workshops at first," says Merrison. "It was very difficult. They were very nervous about people filming real life. We were followed everywhere and we were always on the edge of what was allowed. And it was all political, because the moment you turn the camera on and record someone talking about their life, it is political."
Myanmar's film industry had long been moribund when Merrison set up the school as an NGO backed by the German government and the European Union. In 1962, the military had seized power in a coup and for the next four decades, filmmakers were subject to increasingly vigilant censorship, while the country's isolation from the rest of the world ensured that they lacked both outside influences and the equipment needed to make movies.
By the time Aung San Suu Kyi had emerged as the leader of Myanmar's pro-democracy movement, in 1988, the industry was all but dead. Yet, prior to the junta's takeover, film had thrived in Myanmar, and had done so from the moment the first movie was shown in a Yangon cinema, in 1908. In a portent perhaps of the future, the first film made by locals was a 1919 documentary that covered the funeral of an early campaigner for independence from Britain.
A year later, Myanmar's debut feature film was released. was a cautionary tale of the evils of gambling and alcohol. It was followed by many more movies, some of which were censored by the British for being overtly critical of colonial rule. But it was the 1950s, the decade following the country's independence, in 1948, that was the golden age of Burmese cinema. There were almost 250 cinemas in the country then and so popular were Burmese films in India that Bollywood stars would come to Yangon to star in local productions.
While many movies are still made in Myanmar, few arouse any enthusiasm among the teachers and students at the Yangon Film School.
"When I came here I wanted to make my own movies because I never liked any of the Burmese movies I saw," says Kyaw Ko Ko, one of the school's tutors. "They're so-called professional but the standards are really low. They're made in a week with actors from popular soap operas and are instantly forgettable. I think that's why people who really love film in Myanmar are making documentaries."
Many of the students are women, or members of some of Myanmar's 134 ethnic minorities, a deliberate policy of the school. Most are on a mission to record their rapidly changing country.
"Film is a really powerful way of communicating issues to a large audience," says Shunn Lei, a 24-year-old Yangon woman in her first year at the school. "With documentaries, you can mix images with people telling their stories. You can combine reportage with art, so it's entertaining."
Few of the students have the same fear of the authorities that preoccupied the documentary filmmakers who came before them. That is a direct result of the junta stepping down in 2011 and the subsequent, crushing victory by the Suu Kyi-led National League for Democracy (NLD) in last November's historic general election.
"In Yangon, we have more freedom now," says Nway Zar Che Soe, a young filmmaker from Maubin, in the Irrawaddy Delta. "We can talk and make films freely. But in other regions, people are still scared. When we toured our films around the country in 2015, people were frightened to come to the screenings because they thought they might get into trouble."
With so few cinemas left in Myanmar, getting their films shown at all remains perhaps the biggest obstacle to the new documentary makers.
"Most are shown at film festivals, or they're seen on DVD," says Shunn Lei. "We'd like to see our films shown on TV. But that is up to the censors."
At the moment, only the Democratic Voice of Burma TV channel, which beams its programmes from Norway via satellite, will screen independent films, whether documentaries or movies, inside Myanmar. That reflects how the military and their civilian allies - the so-called crony capitalists or cronies, the tiny group of people who profited under the junta - retain huge influence in Myanmar, despite the NLD having swept to power. And with 25 per cent of all seats in parliament still reserved for the army, there is little sign of that state of affairs diminishing in the near future.
"TV channels here are owned by the cronies and ex-generals, or the sons of ex-generals. It's the same with radio stations and TV and radio are the two most powerful media mediums in the country," says Lamin Oo, a 30-year-old filmmaker. "People think TV is free now because they show the Myanmar version of , but they don't have independent news and they don't show documentaries. I don't know if that's going to change under the new government."
Lamin Oo is a rarity among Myanmar's documentary makers in that he didn't attend Yangon Film School. That, though, hasn't held him back. He was name-checked by Barack Obama in a speech when the American president last visited Myanmar, in 2014, and now has his own production company, Tagu Films, based in a tiny office in north Yangon. His documentaries have covered such diverse subjects as the impact of coal mining on rural communities and a football-mad fishmonger in Yangon who makes his employees wear the Chelsea strip.
Despite the positive changes Myanmar is experiencing, Lamin Oo says there are still subjects that are taboo for filmmakers.
"I'd get into trouble if I made a film detailing how TV channels are owned by the cronies," he says. "It's easier to interview ordinary people than it is to expose establishment figures."
Other off-limits topics include the surge in extreme Buddhist nationalism since Myanmar started opening up in 2011 and the future of the Rohingya, a persecuted Muslim ethnic minority in the west of the country who were the target of deadly attacks in 2012.
Along with most of his fellow filmmakers, Lamin Oo earns an income by shooting information films for the many UN agencies and international NGOs operating in Myanmar. Few people are able to make a living from their own documentaries, but more and more of the documentary makers are trying to move into feature films.
, a low-budget, independent 2014 production about a conflicted novice monk, directed by The Maw Naing, who co-directed , has achieved some success. It offers hope that Myanmar's movie industry may yet revive and match the impact of the documentaries coming out of the country.
"We want to make movies, but with characters and stories based on real people and real life. We don't want to make movies that are detached from reality," says Thaiddhi.
If he and the other young filmmakers in Yangon can do that, then in a few years the Myanmar Motion Picture Museum may well have to move to bigger, more salubrious premises.
This article appeared in the South China Morning Post print edition as: Act two