Alimentari, in Melbourne, Australia, was opened in 1998 by two friends who thought their neighbourhood needed a good continental deli. Dolores ("Dee") Napolitano (who died in 2010) and Linda Malcolm (as she was then, before she married Paul Jones) started off small, opening on a shoestring, and with only two tables.
"The idea for an 'alimentari' (which is essentially an Italian grocery store) came about after I'd travelled through Italy and pretty much eaten my way from alimentari to alimentari," Linda Jones writes in the introduction. "The concept of being able to pick out a bread roll and choose from the magnificent ingredients to build my own panini was amazing. Certainly a far cry from the cucumber, shredded carrot and sliced cheese available back home at the time [...] So in 1998, we planned to open a small deli­catessen on Brunswick Street. It would be rustic and cosy with shelves full of Italian and Middle Eastern groceries. It was important our backgrounds – mine Lebanese and Dee's Italian – be well represented."
This vegetarian cookbook can make you forget meat and fish
After a lot of hard work – most of which they did themselves or with the help of friends – and realising only the day before they opened that they'd forgotten to buy plates (they rushed out at 11pm to get some), Alimentari became a success.
"After a while, the two tables turned into a couple more. The deli was slowly becoming known as the place to come for a quick, fresh, delicious meal. It was, and still is, a place you could come to by yourself and feel comfortable, and know that you would most likely end up bumping into a friend."
An Italian cookbook specially written for Hong Kong cooks
To keep up with demand they opened a second branch, near the first.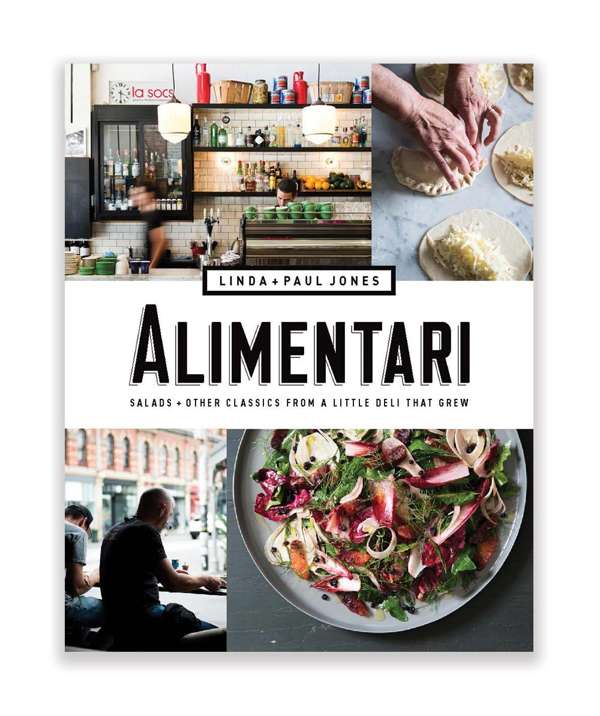 In the book, Alimentari: Salads + Other Classics From a Little Deli that Grew, there are recipes for all hours of the day. For breakfast, there's Spanish tortilla of confit potato, caramelised onion and thyme; and smoked salmon, Persian feta, dill and cherry tomato tarts, while for brunch you can cook up dishes of corn cakes with grilled bacon, avocado salsa and poached eggs; or Persian eggs (cooked with feta, dukkah and spinach, and served on Lebanese flatbread). For lunch, the salad section is particularly enticing, with combinations that include roasted broccoli, sesame and tofu with ginger dressing; grilled figs with burrata, roasted walnuts and prosciutto; pickled beetroot with walnuts, hazelnuts and shanklish; and baharat-spiced green beans with Puy lentils and tomato.
If you want something more substantial, try pan-fried salmon with tahini dressing and walnut tarator; pancetta and pea risotto; eggplant stuffed with walnuts and garlic; or chickpea and coriander fritters.
The From the Woodfire section is, fortu­nately, not to be taken literally (the instruc­tions are to "bake in the oven"). These dishes include wood-fired suckling pig; roasted potatoes with rosemary and garlic; pork and fennel lasagne; roast chicken with harissa and preserved lemon; and coq au vin.