There are many places in the world where you might expect someone to fall in love with spicy food, but north Wales isn't one of them. It is, however, where Stuart Farr went to university – and there he frequented an inexpensive Indian restaurant.
"At first it was just [mild] chicken korma, but we challenged each other to eat the hottest thing on the menu, like vindaloo. After a while I thought, 'I actually like the hottest thing on the menu.'"
After university, Farr, from Macclesfield, in northern England, moved to London's Stoke Newington, an area with a lively Caribbean community. He fell in love with Caribbean food, and the scotch bonnet, a chilli known for its petite bulbous form and immense heat. He also discovered the Encona brand of sauces.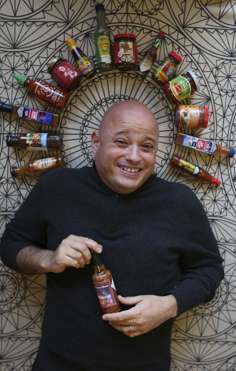 "The father of a friend of my wife, Kate, is from the West Indies, and if he can't make [his own chilli sauce] he uses that. I'm obsessed with it," says Farr, who moved to Hong Kong in 2009 and keeps a few bottles on hand, in particular the Original Hot Pepper Sauce, which he cooks with and uses as a dipping sauce. "It's fruity and spicy and has a good all-round flavour. It's a multi-purpose sauce. It crosses the [ethnicities of cuisines]. Anything you can add chilli to, this will go with it. I put it on pizza, I put it in a curry. It's amazing on cheese on toast. Because it has a sweet flavour, you can use it as a base for other spices. Barring cereal, I'd put that on anything."
Why eating three spicy dishes a week helps you live longer
Unfortunately, Encona isn't yet available in Hong Kong, but visitors from Britain keep his pantry well stocked. He jokes that he wouldn't let his parents through the door unless they had brought some with them.
"My mum and dad live in a rural part of the country, and they can't buy it locally, so they get my brother to buy it in Manchester and bring it back when he comes to visit them," Farr says.
He also uses the brand's Special Reserve Hot Pepper Sauce, which, he says, is essentially the same flavour as the regular hot pepper sauce but smoother, and the Extra Hot Pepper Sauce, which he uses more sparingly.
What you'll find on Hong Kong restaurateur Lau Chun's shelves
"If I'm using it for cooking, I've got to keep the kids in mind, too."
The father of two, and director of a company that provides strategic advice to the IT sector, lives in Discovery Bay, and spends his weekends on what he calls "projects" – tinkering with recipes.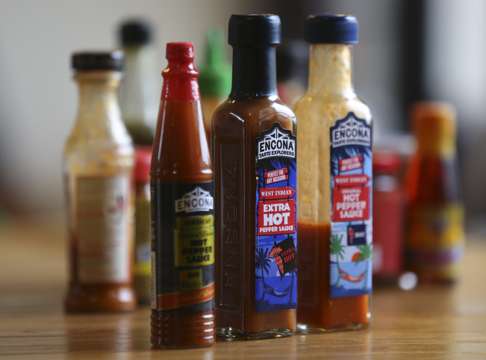 "I'll go away on holiday somewhere, and I'll find something and eat it, and I'll try and replicate it back home."
When he travels he seeks heat, such as sambal ikan bilis, the anchovy chilli condi­ment popular in Malaysia and Singapore.
"Often our helper will make a vegetable [stir-fry] kind of thing with rice so I'll have a teaspoon of that on the side and mix it into the rice."
Farr says he goes to supermarkets and shops near home or work for ingredients, such as the crispy anchovy chilli by Malaysian brand Tean's Gourmet, but visits his fav­ourite shops if he happens to be in their area.
Shichimi togarashi, the perfect spice for casual Japanese cuisine
"If I'm in Causeway Bay, for example, I'll usually pop in and see if there's anything interesting [at the large Indonesian super­markets, such as Indo Market].
"I find the quality of Indian food in Hong Kong particularly poor, so I try and cook my own. The Indian provisions shops here are fantastic, so you can get your own spices."
He prefers to buy spices whole, and toast and grind them himself, he says. His favourite places to shop for Indian groceries include 4 Season Store, on Queen's Road West, Sai Ying Pun – which, he says, "looks like a DVD rental store with posters of Bollywood movies on the outside" – and, closer to home, on Lantau Island, the Tung Chung Indian Store.
Some like it (very) hot: Five Hong Kong restaurants for spice lovers
Farr is already training his children to eat spicy food, and they're mostly given the same dishes as the adults.
"You have to adapt slightly [in terms of heat], but Alex [his older son, who is five] will eat half the chilli sauces. It's about getting them used to the flavours."