Chigae – a Korean dish that is somewhere between a stew and a soup – is flavourful, warming comfort food, and perfect for solo dining. These two recipes are the ones I make most frequently because they're fast and easy, and can be varied according to whatever ingredients you have to hand.
Soondubu chigae
This is a dish I often order at Korean restaur­ants but, until recently, the ones I cooked at home were not as good. There are many versions of this – if you were to try it at five restaurants, they'd all be very different. Some are fiery hot, others are mild; some restaurants add only seafood to the soon­dubu (soft bean curd), while others include small pieces of meat. I was in search of a recipe that could be made quickly, and that rules out making a light stock by simmering dried anchovies and mushrooms, which many other cooks advise.
Susan Jung's recipes for champong (Korean spicy seafood noodle soup) and fried rice
The dish improved immensely when I began using Korean powdered stock. Avail­able at shops specialising in Korean products (such as those on Kimberley Street, in Tsim Sha Tsui), these are powders made from dried fish (such as anchovies and poll­ack) or seaweed – with no other ingredients. They're easy to use: you just mix the powder with hot water. If you like, you can substitute instant dashi (the kind that comes in tea bags) for the powdered fish stock. Using these instant stocks means the soondubu chigae can be prepared in less than 15 minutes.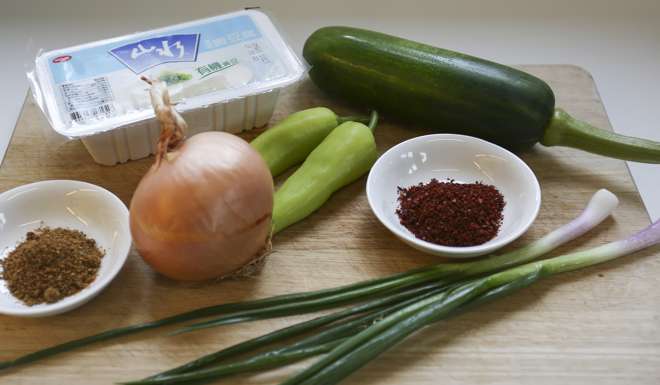 100 grams beef or pork
5ml soy sauce
6-8 clams, depending on size
30 grams onion, chopped
1-2 garlic cloves, minced
½ a Korean zucchini, about 150 grams
About 50 grams enoki or shimeji mushrooms
2 tsp dried pollack or anchovy powder, or 1 teabag of instant dashi
10ml sesame oil
1½ tbsp gochugaru (Korean chilli flakes), or to taste
About 150 grams soft bean curd (soondubu)
1 egg
1 spring onion
1 red or green banana chilli
Fine sea salt, if needed
Cut the beef or pork into small pieces, put them in a bowl and mix with the soy sauce. Rinse the clams then drain them. Cut the Korean zucchini lengthwise into halves or quarters, then slice about 5mm thick. Trim off and discard the root ends of the mushrooms. Put the fish powder (or dashi bag) into a bowl and add 200ml of hot water. Stir briefly, then leave to steep for several minutes.
Susan Jung's comfort food recipe for seafood and chorizo soup
Pour the sesame oil into a pan (preferably a Korean earthenware pot) that holds about 700ml. Set the pot over a medium flame and when it's hot, add the meat. Cook, stirring often, until the meat starts to lose its pink colour, then add the onion and garlic. Cook for about a minute, stirring occasionally, then add the gochugaru and mix for about 10 seconds. Pour in the fish (or dashi) stock and bring to the boil. Stir in the zucchini and when the liquid comes to a boil again, add the mushrooms and bean curd. Use a spoon to break the bean curd into smaller pieces. Simmer and taste for seasonings; add a little salt, if needed. Add the clams, then crack the egg and slide it gently into the bubbling broth. Simmer until the clams are open and the egg is softly cooked. Cut the spring onion into 5mm pieces and the chilli into thin slices, and scatter them over the chigae. Serve immediately, with white rice and banchan. Serves one.
Book: Korean Food, the Originality and Korean Food, the Impression
Budae chigae
This dish tastes much better than it sounds. It was developed in a time of extreme poverty, during the Korean war, when starving citizens in South Korea incorporated into their food the canned meats they received from the American army bases, giving rise to its name, which translates to "army base stew".
Susan Jung's recipe for japchae - Korean sweet potato noodle dish
Buy the Nong Shim brand of shin ramyun (spicy Korean noodles). It's worth searching out the type that's made in Korea, rather than in China. The former will have cooking instruc­tions in Korean only, and is spicier than the Chinese version.
About 5ml cooking oil
1 small can luncheon meat (such as Spam)
2 hot dogs
2 red banana chillies
2 garlic cloves
½ a small onion
100 grams cabbage kimchi
½ tsp gochugaru, or to taste
2 thin slices cooked ham
About 50 grams enoki mushrooms
1 spring onion
1 pack Nong Shim shin ramyun
Slice the luncheon meat about 5mm thick. Cut the hot dogs and banana chillies on the diagonal into 1cm pieces. Thinly slice the garlic and onion. Roughly chop the kimchi. Cut the ham slices into two pieces, and trim off and discard the root end from the mushrooms. Mince the spring onion.
Heat the cooking oil in a pan, add the luncheon meat and hot dogs and cook until the meat is lightly browned. Add the chilli, garlic and onion and cook for about a minute, stirring often. Put the instant noodles in the pan and add 800ml of water. Mix in the contents of the seasoning pack, the gochu­garu and the kimchi. Bring to the boil then use chopsticks to break up the noodles. Cover the pan and simmer for two minutes, then add the ham and mushrooms. Simmer for a minute, then sprinkle with the spring onion and serve. Serves one very hungry eater, or two light eaters.