The secrets to a delicious kidney dish lie in cleaning the organs thoroughly and not overcooking them. They shouldn't have any whiff of "barnyard"; if they do, I've heard that soaking them in milk will rid them of the pong, but it's better to use well-cleaned kidneys in the first place.
Stir-fried lamb kidneys with cumin, Sichuan peppercorns, garlic, Chinese celery and chillies
Lamb kidneys have a much milder flavour than those from full-grown animals. Vendors will often ask if you want them cleaned: if yours does, accept, with pleasure. I buy lamb kidneys – cleaned – from online shop Gonzalo, or from Hong Kong vendors that specialise in fresh lamb.
Once all the ingredients have been pre­pared, this dish takes less than five minutes to cook. If you overcook the kidneys, they will be tough. Serves six to eight, as part of a Chinese meal.
700 grams whole lamb kidneys, or about
450 grams cleaned kidneys
1-2 tsp Sichuan peppercorns
3 garlic cloves
1 tsp whole cumin seeds
6 stalks Chinese celery
4-6 dried red chillies
1 -2 banana chillies and/or red bird's-eye chillies, or to taste
About 15ml soy sauce, or to taste
Fine sea salt, if needed
10ml cooking oil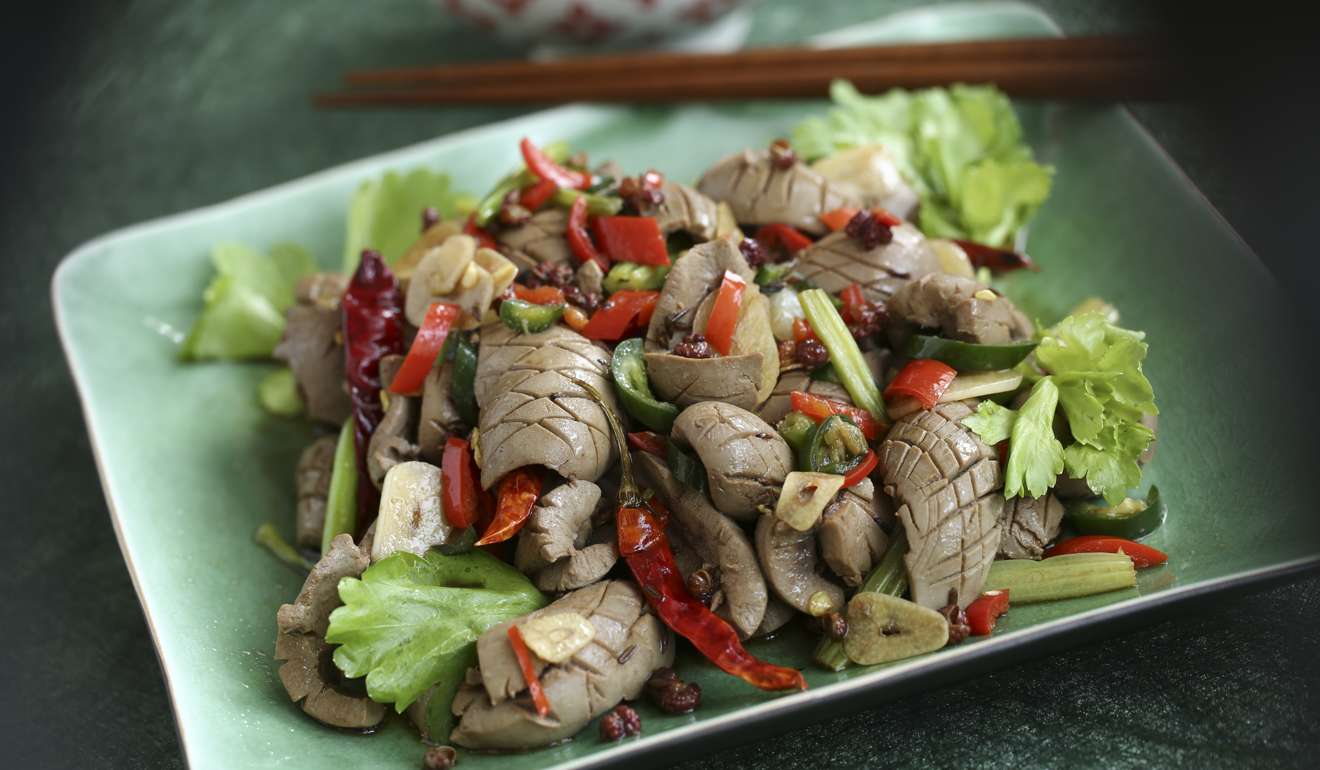 If using whole kidneys, remove and discard any fat and membrane from the exterior. Slice the kidneys in half lengthwise to reveal the interior, then remove the white core and any veins (I snip these parts out with kitchen shears).
Put the cleaned kidneys in a colander and rinse them thoroughly with running water, then dry them as thoroughly as possible with kitchen towels. Lay the kidneys cut-side down on a cutting board and score the exterior in a cross-hatch pattern. Cut the kidneys into bite-sized pieces and set them aside.
Quick recipe for blanched pig's kidney and liver
Put the Sichuan peppercorns in a small, unoiled skillet and place over a medium flame. Stir constantly for about a minute, or until the peppercorns are lightly toasted. Crush them lightly in a mortar. Thinly slice the garlic cloves. Trim the leaves from the Chinese celery stalks and set them aside to use as a garnish. Cut the stalks into 2.5cm lengths. If using bird's-eye chillies, cut them in half lengthwise and scrape out the seeds. Finely chop both types of chilli.
Susan Jung's recipe for seared lamb tongue and fennel salad
Heat a wok over a high flame and, when it's hot, add the oil. Add the cumin seeds and let them sizzle briefly, then add the dried red chillies. Stir them until they darken slightly, then add the celery, garlic and fresh chillies. Cook, stirring often, for about a minute, then add the kidneys. Stir-fry until the kidneys start to lose their pink colour then mix in the Sichuan pepper­corns and soy sauce. Stir-fry over a high flame until the kidneys are cooked – they should still be a little pink inside. Taste for seasonings and mix in a little salt, if needed. Garnish with the reserved celery leaves then serve immediately with steamed white rice.
---
Sautéed lamb kidneys with butter, brandy, mushrooms and cream
700 grams whole lamb kidneys, or about
450 grams cleaned kidneys
8-12 button mushrooms, depending on size
10ml cooking oil
30 grams unsalted butter
15ml brandy
60ml cream
A few chives (don't use Chinese chives, the flavour is too strong)
Fine sea salt and freshly ground black pepper
Half a lemon, cut into wedges
If using whole lamb kidneys, clean them as in the first recipe. Rinse the cleaned kidneys, then drain them and dry them before cutting them into two-bite pieces. Cut the button mushrooms into halves or quarters, depending on size. Snip the chives into 5mm pieces.
Susan Jung's recipes for miang kham, and Thai beef heart
Heat the oil in a skillet placed over a medium flame. When the oil is hot, add the kidneys, sprinkle lightly with salt and sauté briefly, just until they start to lose their pink colour. Immediately remove the kidneys from the skillet and place them on a plate.
Susan Jung's recipes for tripe and chicken hearts
Set the skillet (no need to wash it) over a high flame. Add the butter and as soon as it melts, put the mushrooms into the pan. Sprinkle lightly with salt then sauté until the mushrooms start to brown and then release some liquid. Add the brandy to the skillet (careful, it might ignite) and let it sizzle for about a minute. Stir in the cream, then put the kidneys (and any juices they've released) back into the pan. Simmer for about a minute, stirring often, then sprinkle in some black pepper. Taste for seasoning and mix in some salt, if needed. Transfer the ingredients to a serving plate and sprinkle with the chives. Squeeze some lemon on top and serve immediately. Serves four to six.