I know you shouldn't judge a book by its cover, but it's impossible not to be impressed by the looks of this volume. It's huge (32.3cm x 24.5cm x 4.7cm), heavy (close to 4kg) and bound in bright red, embossed leather. The title page lists nine authors, many of whom seem to have written other cookbooks in Russian.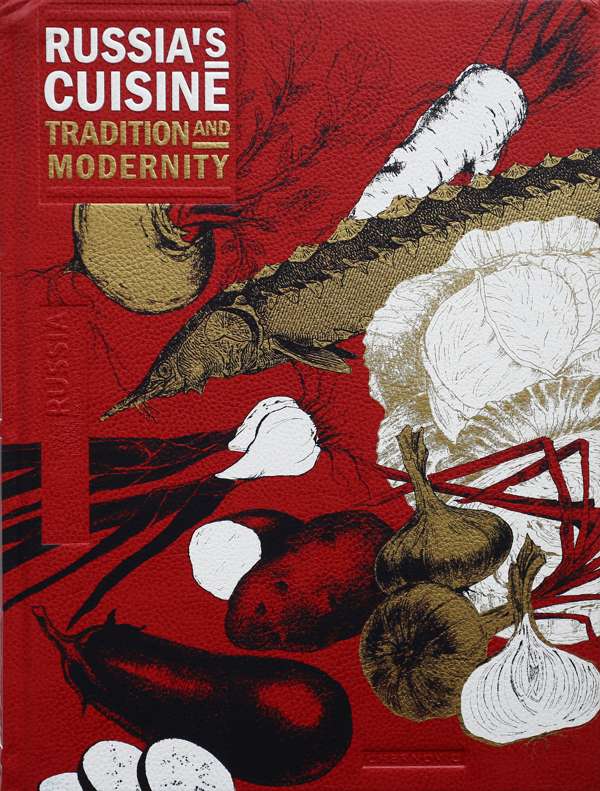 Most of us would be hard-pressed to explain what Russian food is, exactly. We could probably name a few elements of the cuisine: borscht, chicken Kiev, Russian salad, caviar, blini, zakuska and vodka – but that's about it. Fortunately, the authors are aware of our ignorance.
In the introduction, Igor Bukharov, presi­dent of the Federation of Restaurateurs and Hoteliers of Russia, writes, "Modern Russia is a vast country, the largest in the world. One hundred and eighty ethnic groups live on the territory of our country, and each people have their traditions and their own, and often quite unique, cuisine. A detailed description of each cuisine would require a multi-volume encyclopedia. This book does not pretend to be encyclopedic. The authors want to show Russia in all its beauty, richness and diversity, and to show a side of our country that is brought to the spotlight. Russian cuisine is an integral part of our country's culture; it has evolved over many centuries and has a rich and interesting history. It developed against the background of the integration and isolation of different national traditions, on the basis of local and imported products, and with native and borrowed technologies. It always absorbed new tendencies, at first from the gastronomic experience of the different peoples of the Russian Empire and subsequently the Soviet Union, and today from global gastronomic culture [...]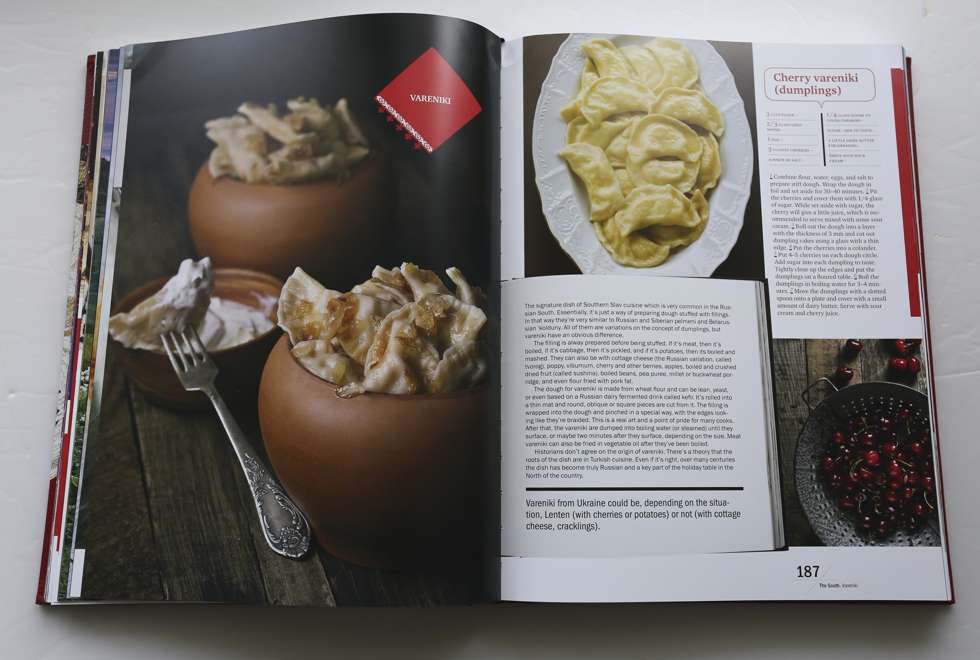 "Over the past decade, many of the world's greatest cuisines have been rethought and refined in view of our fast and ever-changing modern lifestyle. Rethinking traditional cuisine has always involved local products, the authenticity and typicality of which are based on their geographical origin. Russian cuisine should follow the same course of culinary history. As it reaches a new stage of development, we can take a fresh look at our own culinary history, discover our rich resources and learn how to use them. The strength and reserves for further successful evolution of Russian cuisine lies in synthesizing our cuisine's historical heritage with international culinary trends."
The contents of the book live up to the cover. The photos are excellent and the authors give detailed explanations about Russian ingredients, traditions and celebra­tions. There's also a table of Russian mush­rooms – 90 of them! – with a photo, descrip­tion and the best way to cook each one.
The recipes are hugely varied, and include cottage cheese fried pies; Napoleon cake; chicken Kiev; blini; pickled eggplant; honey cake; squid soufflé; pelmeni; chicken breast with chanterelles; and sturgeon gravlax Russian style.