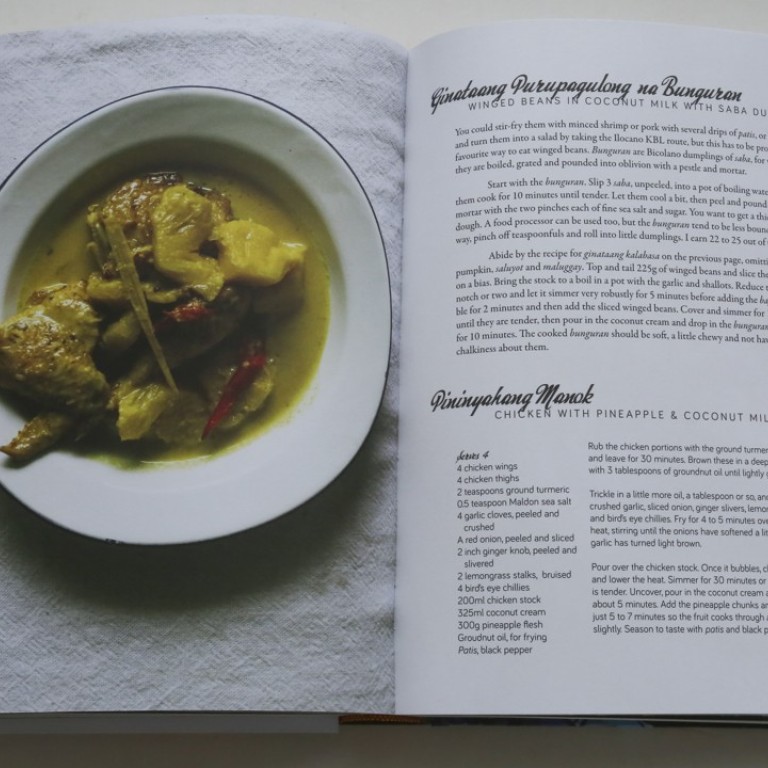 Cookbook: A Singaporean recalls the delicious Filipino food his helpers whipped up
Growing up in Singapore, Bryan Koh remembers how the domestic helpers at home served him delicacies such as sinigang when he got back from school, and more elaborate meals in the evening when the whole family was home
You might have a hard time finding this heavy (more than 600 pages!) 2013 volume, unless you travel to Singapore, where it's available in book­shops such as Kinokuniya. You can also order it on the Kinokuniya website, which ships to Hong Kong. A new edition, called Milkier Pigs & Violet Gold, I'm told, contains even more information.
Author Bryan Koh fell in love with Filipino cuisine through the food prepared by the domestic helpers at his parents' house in Singapore. What they cooked for him after he got home from school was deli­cious, he says, but quite basic: quick and easy dishes that could be made when the helpers "had more pressing things to do, rooms to sweep, dogs to feed, hair to curl, talons to paint, friends with whom to gossip".
There was sinigang, "a kind of soupy stew"; green mung beans "cooked in water to a thick sludge" then fried with other ingredients and eaten with steamed rice; or a tomato and salted duck egg salad served with garlic fried rice.
When Koh's parents were home in the evening, though, "their presence usually spelled a broader selection of dishes. As most chores could be accomplished by mid-afternoon, my helpers had more time to prepare the evening meal, which meant more impressive things could be made."
He admits that "not everybody has had similarly wonderful experiences with Filipino food. Several friends from university whinged about excessive oil and salt, which I think to be more representative of the tastes of those particular cooks rather than the whole country.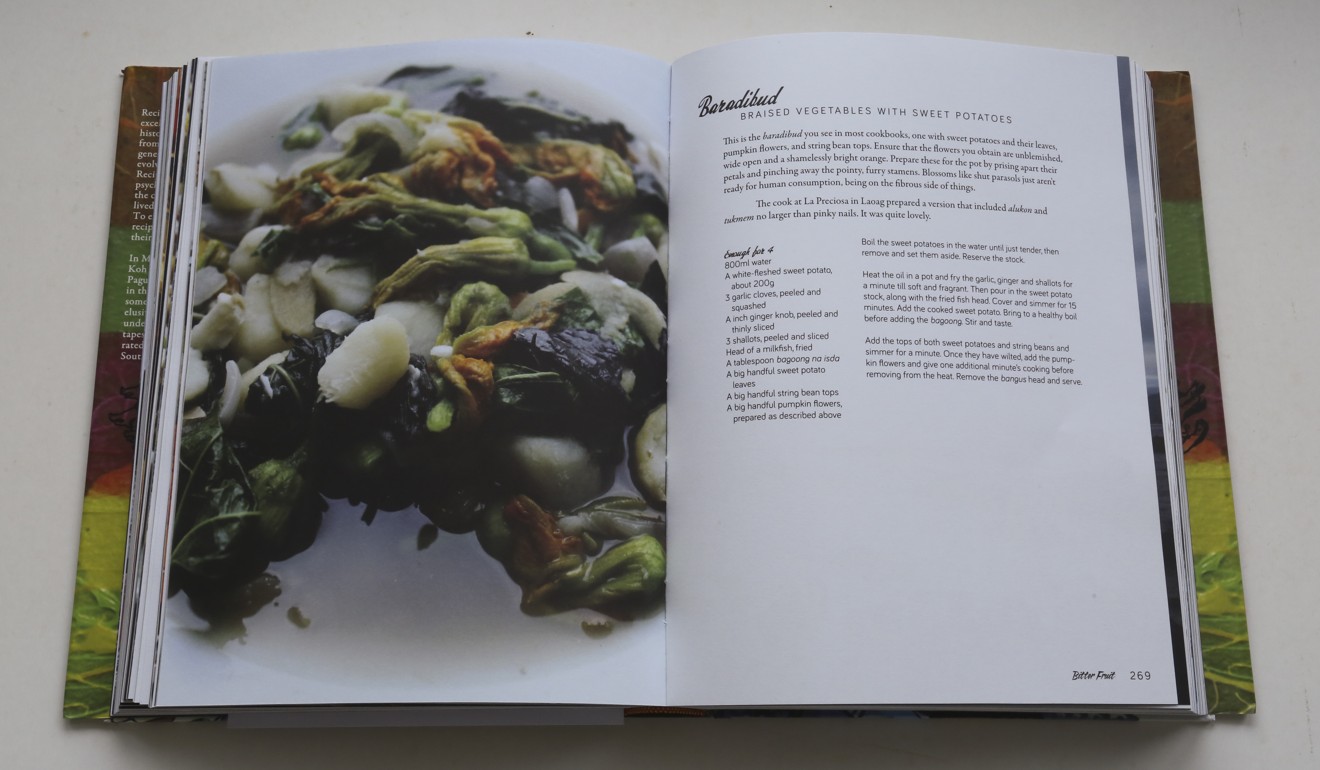 "A close friend derided it for its employment of tinned products. Items like tinned Viennese sausages, corned beef and sweet pickle or hamburger relish found their way into local cuisine because they, being imported and store-bought, were thought to be special, not the stuff one could witlessly harvest from the earth and nearby rivers. Cooking with them was a demonstration of effort, time and money, which is why they are, till this day, often reserved for fiestas and other special occasions."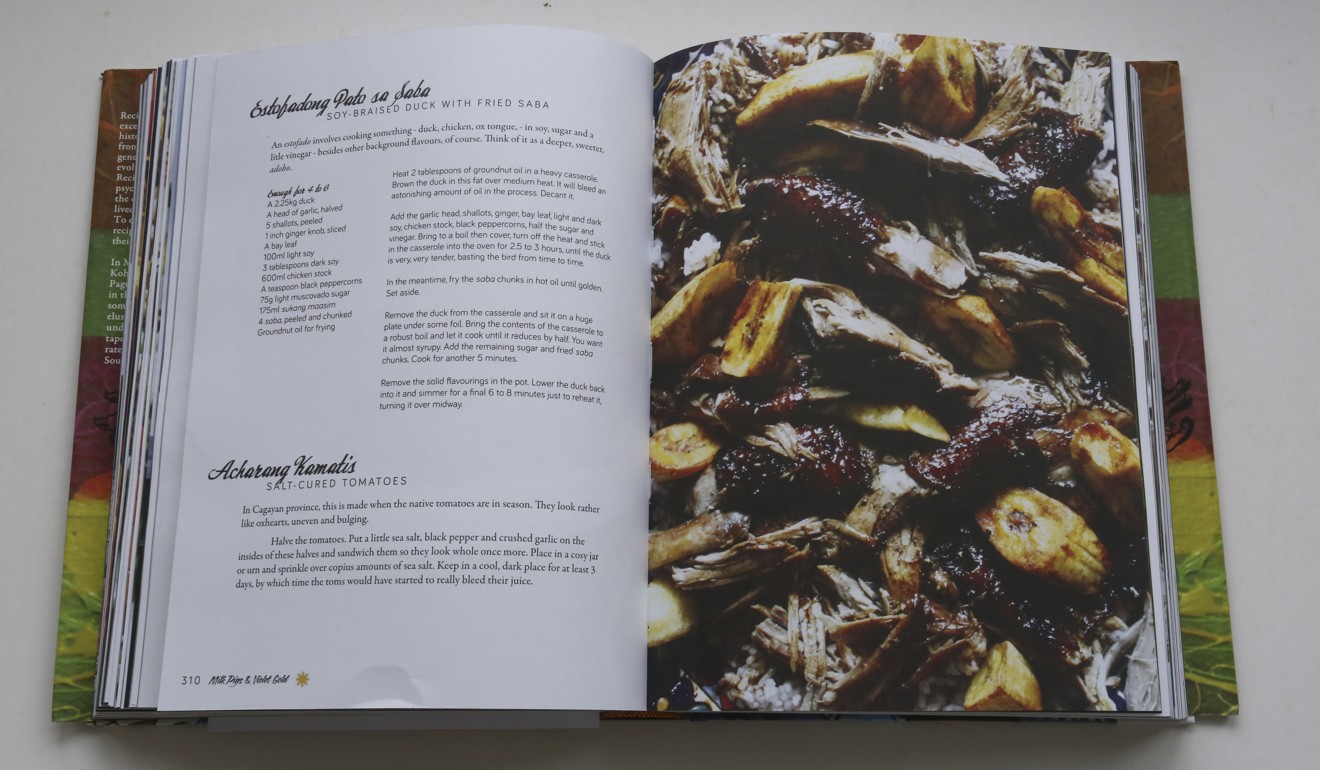 And eating out in the Philippines doesn't guarantee a good meal, either, Koh writes. "Those who make their way to cities or towns in vain hopes of chancing upon some romantic roadside carinderia serving up a cell-shifting experience will likely end up disappointed [...] Finding a good restaurant serving local food, even in big cities, can be quite tricky business [...] There are some very fine things to eat but you have to know where to find them."
The name of the book comes "from two [Filipino] icons: the lechon de leche, a term used to describe spit-roasted suckling pigs – 'milk pigs' being a cute-sounding, literal translation, and [...] ube [purple taro] jam, veritable violet gold from the earth".
There are recipes for several types of adobo (including chicken with coconut milk and turmeric, red adobo with chicken and pork, and eel adobo with young guava leaves); stuffed and steamed milk fish; pork belly with fermented shrimp paste and tomatoes; oxtail stew with ground peanuts and tripe; fiddlehead fern salad; vinegared fish with turmeric; sea urchins stuffed with rice; ube ice cream; and green mung beans and glutinous rice cooked in coconut milk.