There are an embarrassingly large number of fried-chicken recipes in my home-cooking repertoire. It's because I make what I like to eat, but I wouldn't be cooking it so often if others didn't like it, too.
Most people can't be bothered to fry chicken, preferring to go out for it (and I admit to liking fast-food chicken; Popeyes is my meal-of-choice when I'm flying out of Chek Lap Kok because it's better than airline food). So do your friends a favour: invite them over for dinner and cook up a meal of fried chicken.
Thai fried chicken with lemongrass and kaffir lime leaf
This chicken – a recipe from our Thai helper, Kamonwan – is addictive. It's crunchy, flavourful and bite-size, and although it's best when freshly fried, I've been known to eat the leftovers cold.
Leave the meat to marinate for at least 30 minutes, although two hours is better. Be sure to very finely shred the lime leaves; if they're too thick, the pieces will be tough.
600 grams boneless chicken thighs
6-8 kaffir lime leaves
The juicy lower stem (about 10cm) of a lemongrass stalk
3 spring onions
1½ tsp dried chilli flakes
30 grams oyster sauce
10ml fish sauce
For the batter:
180 grams plain (all-purpose) flour
12 grams cornstarch
1½ tsp baking powder
½ tsp fine sea salt
Oil, for frying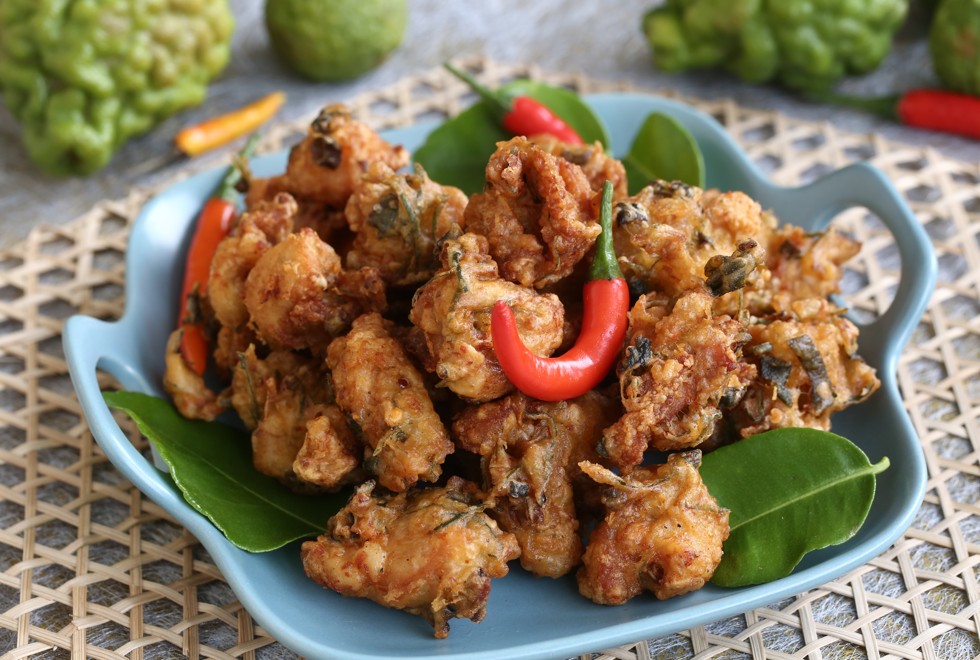 Cut the chicken thighs into bite-sized pieces and put them in a bowl. Stack the kaffir lime leaves then fold them in half. Very finely julienne the leaves. Use the side of a cleaver to lightly crush the lemongrass stalk, then cut it as thinly as possible. Cut the spring onions into 5mm pieces. Put the lime leaves, lemongrass and spring onions into the bowl holding the chicken, then thoroughly mix in the chilli flakes, oyster sauce and fish sauce. Leave to marinate for at least 30 minutes.
Susan Jung's recipes for fried chicken and Cantonese chicken curry
In a clean, dry bowl, whisk the flour, cornstarch, baking powder and sea salt until thoroughly combined. Add about 200ml of cool water to create a batter that thickly coats a spoon. Add the batter to the chicken and mix well.
Improvised recipes: for Thai fried chicken and Chinese roast chicken
Pour oil to the depth of about 6cm in a pan and heat it over a medium flame. When the oil reaches 170 degrees Celsius, start frying the chicken in batches; do not crowd the pan. Fry until the pieces are medium brown and cooked through, adjusting the flame as needed to control the heat. Drain the chicken on paper towels then serve.
---
American-style fried chicken
I like this style of fried chicken so much that I once cooked it for Christmas dinner for about eight friends. This is the recipe I use most often, and it's based on the one in Ad Hoc at Home by Thomas Keller. I've refined it, though. Keller instructs us to wet-brine the chicken pieces, but there's not enough room in my fridge to do this, so I dry-brine it instead. And instead of frying the chicken immediately after dredging it in buttermilk and seasoned flour, I let the pieces air-dry, so the coating sets better and the crust maintains its crunch longer. Then I double-fry the pieces, which makes the chicken crunchier.
This recipe makes a lot, but the chicken is also delicious when cold. It makes great picnic fare.
3 fresh local chickens, each about 1.2kg
Fine sea salt, as needed
The zest and juice (about 45ml) of one lemon
3 fresh thyme sprigs
2 bay leaves, each torn into four pieces
6 garlic cloves, lightly crushed
For the coating:
About 500ml buttermilk (this can be dry buttermilk powder, rehydrated according to the package instructions
850 grams plain (all-purpose) flour
30 grams garlic powder (don't use garlic salt)
30 grams onion powder
8 grams paprika
8 grams cayenne pepper
12 grams fine sea salt
1 tsp freshly ground black pepper
Oil, for frying
Cut off and discard the chicken head. Cut off the neck, feet and wing tips and set them aside in a bowl. Remove the legs, cutting them off where the thigh meets the carcass, then separate each leg into drumstick and thigh portions. Chop off the wings, leaving the drumette and middle joint connected. Cut off the back of the chicken. Reserve the lower back and put the upper back in the bowl with the neck, feet and wing tips (freeze these and use them to make stock). Cut the breast in half through the bone. You will now have nine pieces from each chicken: two each of wings, thighs, drumsticks and breasts, and the lower back. Place the pieces on a cutting board, sprinkle them lightly but evenly with salt, then turn them over and salt the other side. Put the pieces in a large bowl and add the lemon juice and zest, thyme sprigs (broken into smaller pieces), bay leaves and garlic. Mix thoroughly then refrigerate for at least eight hours, occasionally mixing the ingredients so they are seasoned evenly.
Susan Jung's recipes for tarragon chicken with potatoes and tarragon mussels with white wine
About two hours before you plan to fry the chicken, mix the flour with the garlic and onion powders, paprika, cayenne, salt and pepper. Divide half of the seasoned flour between two shallow bowls. Pour buttermilk into a third bowl. Arrange your work station this way: seasoned flour, buttermilk, seasoned flour and racks for air-drying the chicken.
Discard the thyme sprigs, bay leaves and garlic from the marinade. Dredge each piece of chicken in the first bowl of seasoned flour, dip it in buttermilk, then dredge it in the second bowl of seasoned flour, making sure it's completely coated. Shake off the excess flour then place the piece of chicken skin-side-up on a drying rack. Coat the remaining chicken pieces the same way, adding more seasoned flour to the bowls as needed (if you have leftover untouched seasoned flour, store it in an airtight container). Let the chicken air-dry at room temperate for an hour. If it's too warm in the kitchen, turn on the air-conditioner.
Susan Jung's recipe for Chinese braised chicken with pickled young ginger
Pour oil to the depth of about 3.5cm in a skillet and heat it to 170 degrees. (With this amount of chicken, I use two skillets.) Fry the chicken pieces, cooking the "parts" separately (all the thighs together, then the drumsticks, and so on) because they take different times to cook. Turn the pieces over as needed so they brown evenly. Drain the chicken on paper towels.
After frying all the chicken, fry the pieces a second time in the same oil. This second frying takes less time: only a minute or two on each side. Drain on paper towels and serve hot, at room temperature or cold.