Walk down Gough Street in Hong Kong's Central district of a morning and you may notice the alluring scent of hot chocolate. Follow your nose and you'll soon spot its source: at the far end of the street, tucked into a triangle of elbow-room-only space is bean-to-bar chocolate maker Hakawa Chocolate.
The fact the shop occupies just seven square metres hasn't stopped proprietors Sally Kwok Pik-shan and Mandy Wong Ngai-man from churning out an array of decadent treats, from chocolate-covered orange sticks to chocolate bars laced with Sichuan pepper – all made on-site from raw cacao beans.
"We both love cooking and always knew we wanted to be in the food business some day," says Wong, a former marketer for a yacht company.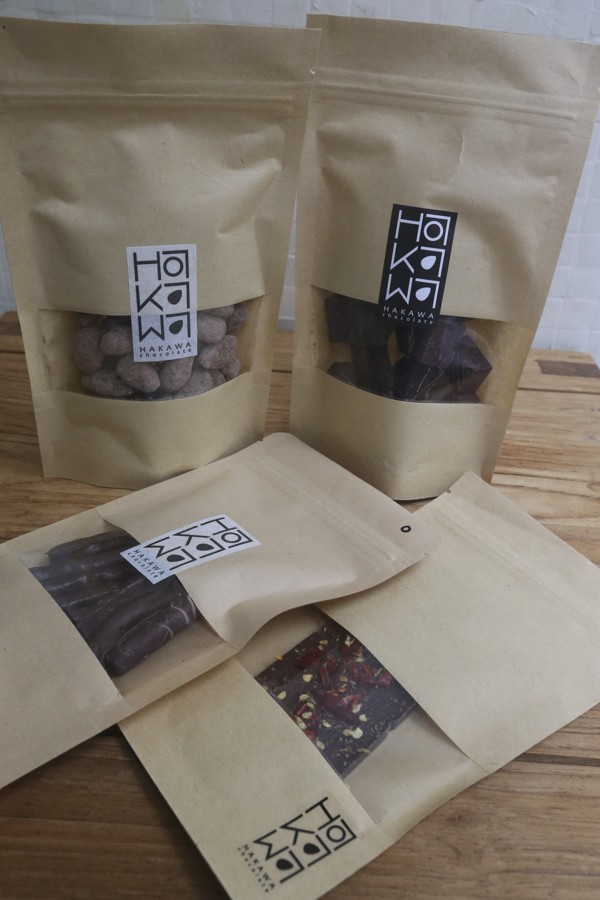 After observing the burgeoning global demand for craft chocolates – particularly the bean-to-bar variety – she and Kwok, a long-time friend, spent two years researching their business idea before launching Hakawa on the eve of Lunar New Year this year.
Bean-to-bar chocolatiers oversee the entire production process, from sourcing raw cacao beans from farmers, to sorting, roasting, winnowing and grinding them, and temper­ing and moulding the chocolate to produce the bars.
We both love cooking and always knew we wanted to be in the food business some day
Hakawa's chocolates are 72 per cent cacao, with the raw beans sourced from farmers in Sri Lanka. Wong spent two weeks travelling around the country's central Matale province, where she visited cooperatives run by foreign non-governmental organisations that help farmers to reach global standards for organic certification.
"We brought back 100kg of beans and experi­mented for six months," Wong says. Because of the limited space at Hakawa, most of the processes have to done by hand.
For this Hong Kong confectioner, chocolate has endless possibilities
"Many European brands have large kitchens that allow them to buy large machines to process the chocolates, but space is a luxury we don't have," she says.
The outer husks of the cacao bean, for example, are winnowed with the help of a device Wong and Kwok cobbled together from wooden boards and plastic panels, based on a template shared online by a fellow chocolate enthusiast.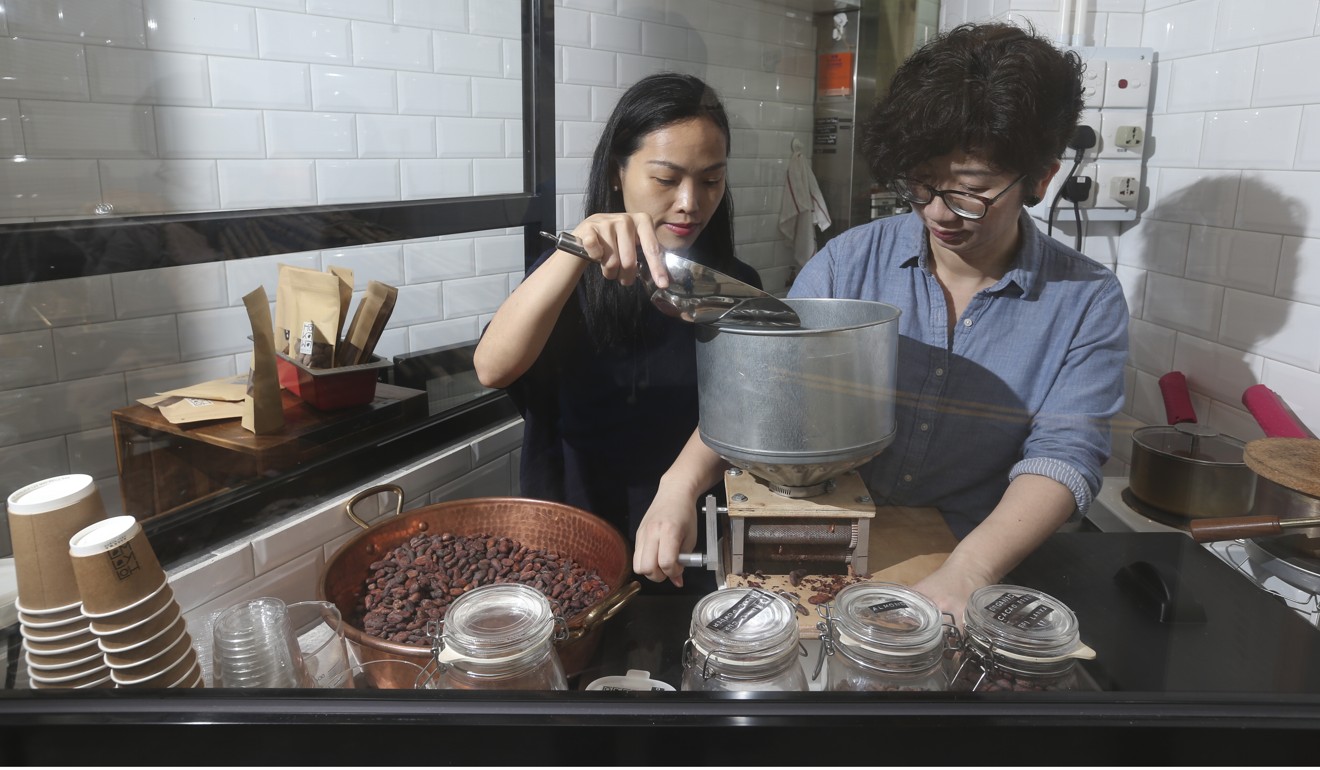 "When we first had the idea to go into this, I guess we didn't have an idea how much effort it would actually involve," Wong says.
It's a time consuming process, too. The cacao beans are roasted in batches of about 6kg and formed into 1.2kg "bricks", which takes three to four days. These are then rested for three to four months, to develop flavour, before being used. Each round of production yields just five bricks, says Wong.
From bean to chocolate bar: a tour of Ecuadorean cocoa farms
Laborious though it is, making chocolates from scratch has its upsides.
"Customers like to linger at our shop door because it smells good," says Kwok. "It's only been a few months, but we've met so many chocolate enthusiasts who have given us a lot of helpful advice."
Siblings Raiz the Bar with Hong Kong's first bean-to-bar chocolate factory
The shop's retail display looks as appealing as it smells: an array of decadent nibbles such as chocolate-covered almonds, cashews and hazelnuts, and chocolate sticks made with strips of organic, candied ginger, lemon and orange from France.
For the purists there are plain dark chocolate bars, while seasonal specials speckled with Himalayan salt, Sichuan pepper, or goji berries and raisins cater to more adventurous palates. The pair are in the midst of experimenting with mint, coconut, passion fruit, Japanese tea and other herbs commonly used in traditional Chinese medicine.
"Chinese culture has a rich culinary history, and by mixing an element of the old and the new, we hope to introduce people to more aspects of our heritage," says Wong, who sources the ingredients from other local businesses, such as the long-established Yuan Heng Spice, just a few streets away, in Sheung Wan. Hakawa, after all, is a fusion of the terms "Hong Kong" and "kakawa", the ancient word for cacao.
If you prefer to sip your chocolate, there's the option of an iced or hot chocolate drink, and summer-friendly additions such as chocolate ice cream are on the way.
Chocolatier Jean-Paul Hévin talks about his 'crazy' creations
Kwok, a former teacher who works part-time with disadvantaged youths, is also working to introduce packaging that show­cases artwork by her young charges.
"Even better if we can showcase their art and our chocolates overseas one day," she muses. "I used to have to apply for funding to support our youths, but by running a busi­ness, I can better serve the community with our space and profits while indulging in my love of food. Isn't that a lot more efficient?"