How did you come up with the Vincent van Gogh-themed menu? Hendrik: "We researched where he got his inspiration from and Japan was one place. Our dessert is based on almonds, sakura [Japanese cherry blossoms] and chocolate. The Sunflower dish is inspired by the painting [and features] steak tartare with cheese, pickled pumpkin and rice vinegar."
Kamiel: "One of the cocktails is based on [the 1890 painting] Wheatfield Under Thunderclouds, and I use almonds, wheat­grass and absinthe. Van Gogh used to drink absinthe and we combine it with gin, apple and almond. It's really balanced."
How did you get into cooking? Hendrik: "Our mother is from Belgium and she cooks traditional Belgian food with a French touch – classic onion soup with fresh vegetables, coq au vin and tomato crevettes. I always wondered how she made those dishes. When I was 12 years old, I knew I wanted to be a chef and enrolled in Ter Groene Poorte, a famous culinary school in Bruges. I learned classical cooking in the French style, as well as service, and did an extra sommelier course when I was 18. During the programme, I did internships in national and international restaurants."
How did you get into cocktails? Kamiel: "I studied event management in Rotterdam. DJ-ing wasn't my main focus but I was always interested in music. I had a job managing a nightclub and, besides that, I worked in a restaurant about 10 years ago, where I learned how to make cocktails. I like combining flavours to create new ones, and then be able to taste all the different flavours again."
Hong Kong's new wave of cocktail bartenders mix it up a little differently
When did you decide to work together? Hendrik: "Two years ago, I finished working in a two-Michelin-star restaurant and Kamiel was working in Antwerp. We were approached to do a project at the Viceroy Bali resort in Ubud. We did our first menu together paired with cocktails. After that we did lots of events in restaurants – national and international – and published our first book. We didn't want the projects to end."
What's the experience been like? Hendrik: "People are interested to know where we are from, and we are really happy to meet them. We get to source new ingredi­ents in other countries and use their cooking techniques.
"When we came back from China, I bought a book with all the provinces and regions because we were excited when we went to the market. I'm impressed by how they preserve things and pickle vegetables with different flavours."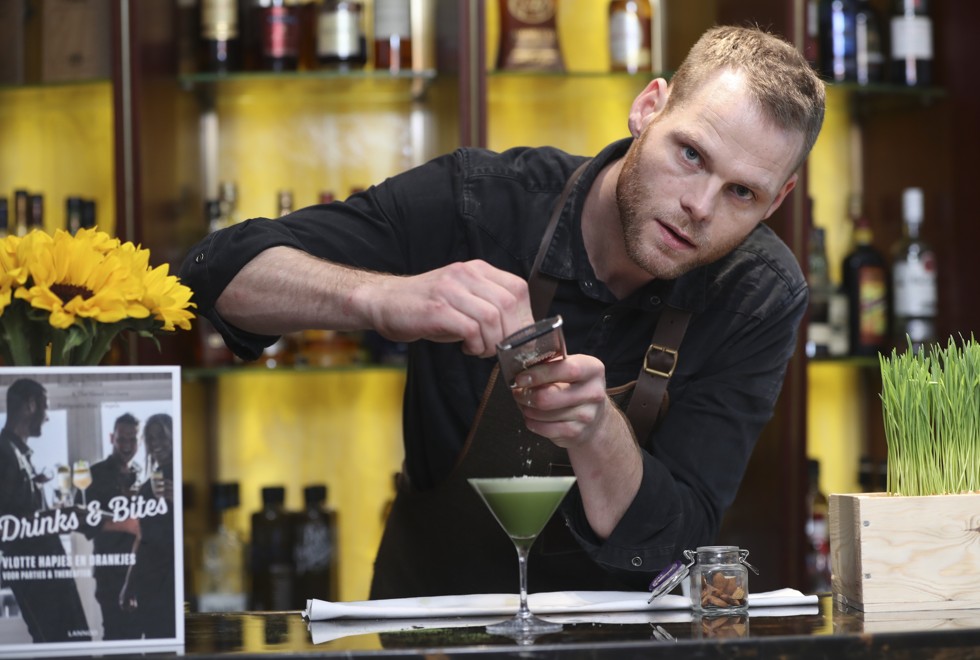 You've travelled all over the world. what are the most memorable places you've visited? Kamiel: "On our first trip to Beijing we went to a hidden cocktail bar called Botany, run by Frankie Zou. Apparently it's hard to import good spirits into China so he made his own whiskies, sake, bitters. Years ago he started doing this and now serves them at his bar. That was really inspiring."
Hendrik: "[Zou] almost makes the spirits better than the real ones. If he can't find the ingredients, he becomes creative out of necessity and that's nice to see.
"In Paris, we like Frenchie, a nice bistro with a natural wine bar. It serves amazing food that is not high end but has a nice atmosphere. In Hong Kong, we love the food at Ho Lee Fook, and at Djapa we really like the fusion of Brazilian and Japanese. The restaurant is nicely decorated with Brazilian and Japanese art."
Restaurant review: Ho Lee Fook, Central - pan-Asian
Would you like to make your own spirits? Kamiel: "We would love to make sake. It's a very nice spirit that has a range of tastes depending on how polished the rice is. It's a unique product and you can do a lot with it. I like to drink sake pure.
"One cocktail I make combines sake, plum wine and vin jaune [yellow wine]. The vin jaune is very dry, plum wine is sweet, there's minerality from the sake as well as a smoky smell from smoked hay."
Do you get more done because you're always together? Hendrik: "For sure. But in February, Kamiel broke his ankle snowboarding. We had some big events to do and I felt handicapped even though he was the one injured. When you need to rush to do things it's frustrating because there are some things he cannot do as fast. But he recovered quickly so that turned out OK."
Bar review: Djapa, Wan Chai – Japanese-Brazilian bar and restaurant is a pleasant spot to chill out
What ingredient inspires you? Hendrik: "I love the Dutch Zeeland oyster; it's one of the best oysters in the world and is still underrated. It is just as good, if not better than, French oysters.
"Another is a wild Peruvian herb called huacatay. We've planted it in our garden. We powder it, and it has a citrus flavour that's light, really green and fresh. Peruvians use it in their fish marinade, guacamole and sauces, and we really like to work with it. In desserts you can use it with white chocolate, and in oyster dishes or in cocktails. It gives a pronounced taste and flavour."