I have a few recipes for quick breads that I make when Ineed something hearty to accompany a main course but don't want to prepare potatoes, rice or another starch. These breads don't contain yeast, obviously, because it would take too long for the dough to rise. The scones and cornbread make a great base for a picnic lunch: pack them along with salads, charcuterie, cheese and fruit for a quick and easy meal.
Cheddar and spring-onion scones
This is a recipe from the first bakery I worked at, in San Francisco. The bakery is closed now but I still use some of the recipes, with the savoury scone being one of my favourites.
Because I like consistency, I really dislike scones (and many other baked goods) that are rolled out before being cut into rounds with a cookie cutter. After cutting out the first batch of scones, recipes will advise you to gather the scraps and then re-roll them. The problem is that the second batch, using the re-rolled scraps – is not as tender as the first. Sometimes this can't be helped – when you're making individual-serving tarts, for instance, because it would be a lot more work to roll out each small shell one by one. But with scones of all types, I make them into squares (by rolling the dough into a rectangle then cutting them into individual pieces) or sectors (by patting the dough into discs then cutting them into wedges). This way, there aren't any scraps of dough left to re-roll, so all of them should be equally flaky and tender.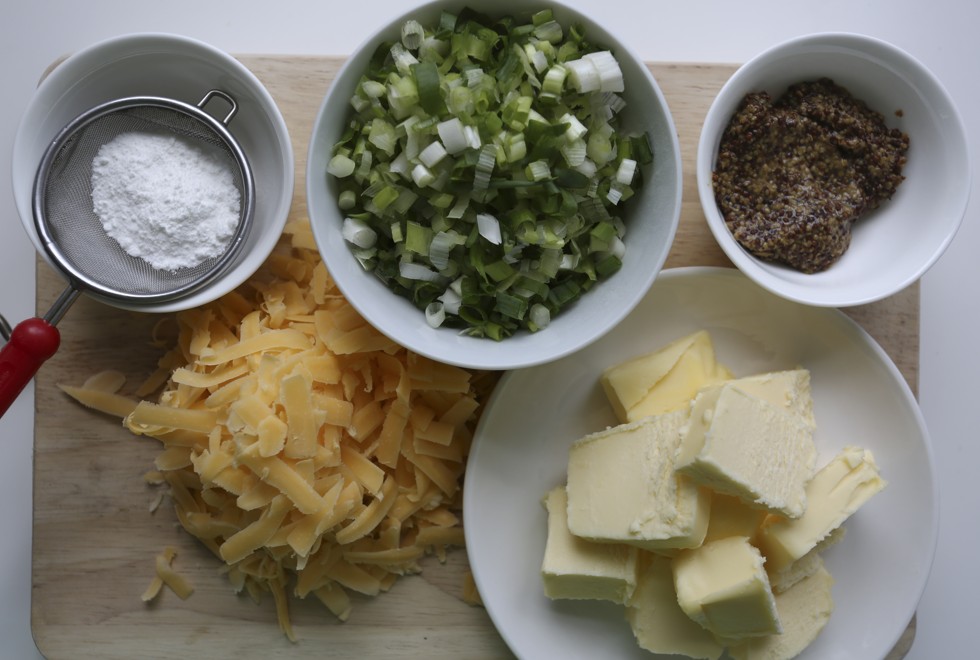 390 grams plain (all-purpose) flour
½ tsp fine sea salt
2½ tsp baking powder
½ tsp baking soda
170 grams unsalted butter, chilled
45 grams grainy mustard
115 grams cheddar cheese, grated
70 grams spring onions, sliced about 3mm thick
245ml buttermilk, chilled (I use 20ml dried buttermilk powder mixed with 225ml cold water)
1 egg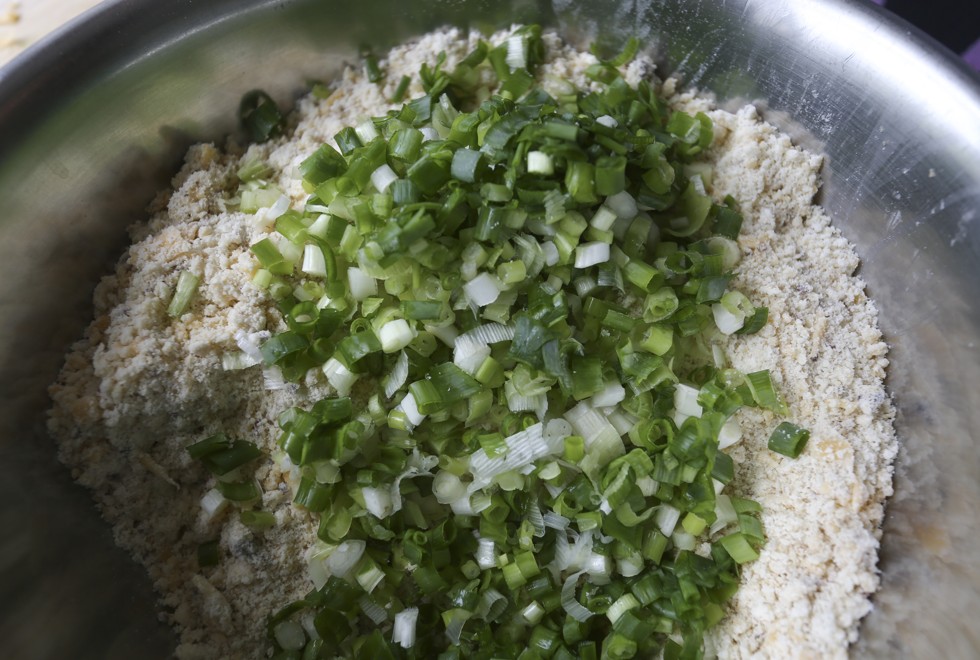 Put the flour and salt into a medium-sized bowl. Sieve the baking powder and baking soda directly on top and mix thoroughly. Cut the butter into 1cm chunks and add them to the bowl. Mix so the flour mixture coats the chunks of butter. Use your fingertips to pinch the chunks of butter into smaller pieces, breaking them up until they are about the size of peas. Mix in the mustard, cheese and spring onions. Add about 225ml of the buttermilk and mix with your fingertips to make a damp (but not wet and sticky) dough with just a few dry patches. If the dough is too dry, drizzle in the remaining buttermilk. Turn the dough onto a very lightly floured work surface and pat it with your hands into a rectangle that's about 30cm x 15cm. Fold the dough in half so it's a 15cm square. Refrigerate for about 15 minutes while preheating the oven to 225 degrees Celsius.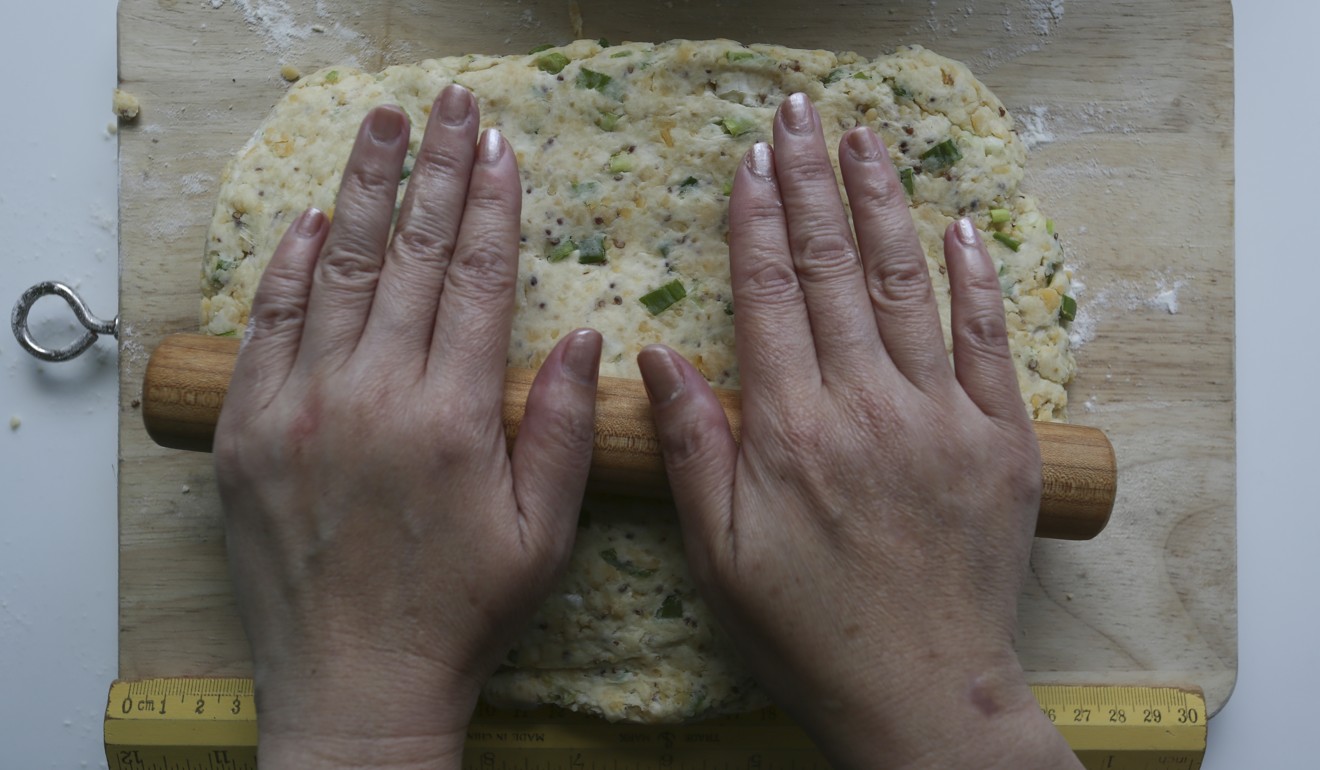 Put the dough on the very lightly floured work surface and sprinkle with a little flour – just enough so the rolling pin doesn't stick. Roll out the dough to a 25cm x 20cm rectangle, trying to make the edges as straight as possible. Use a long, sharp knife to cut the rectangle of dough into 20 squares of 5cm each (I use a ruler to make sure it's precise). If you prefer, you can divide the dough into three or four even pieces, then use your hands to pat each piece of dough into a disc that's about 1.5cm thick. Use a sharp knife to cut each disc into six sectors.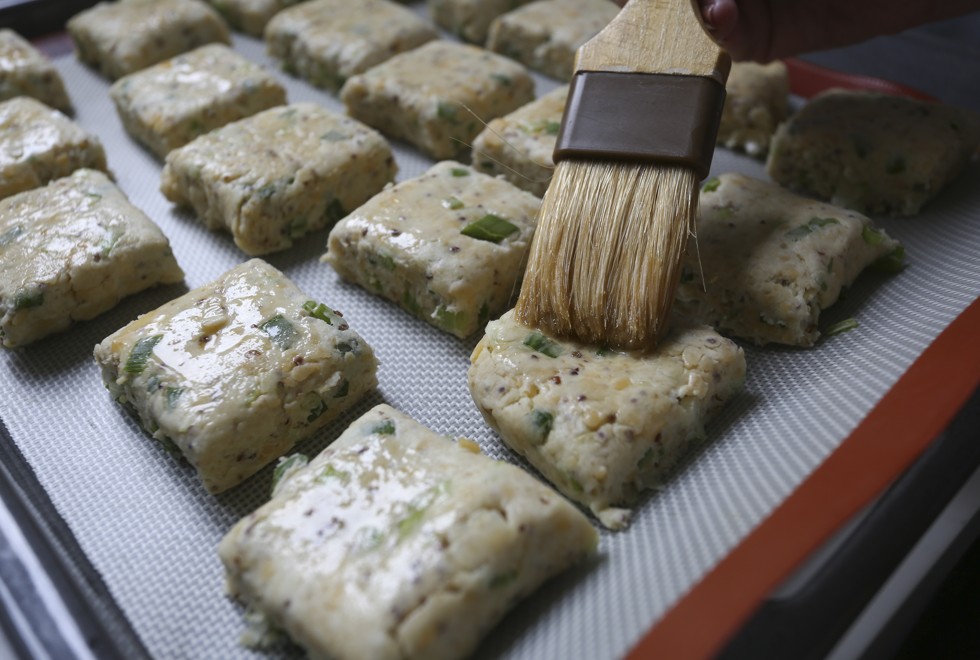 However you shape the dough, lay the scones on a baking sheet that's been lined with parchment paper, leaving about 1.5cm of space between each one. Whisk the egg with 20ml of cold water and brush lightly over each scone. Bake at 225 degrees for 15 minutes, then turn the heat to 200 degrees and continue to bake until done: the scones are ready when they are fragrant, brown on the surface, light and lift easily (without sticking) from the pan.
---
Cornbread with cheddar cheese, corn kernels and pickled jalapenos
Pickled jalapeno chillies are sold in jars or cans at supermarkets such as City'super, Oliver's and Great.
115 grams coarse cornmeal
100 grams plain (all-purpose) flour
15 grams granulated sugar
½ tsp fine sea salt
1½ tsp baking powder, sieved
½ tsp baking soda, sieved
60 grams unsalted butter
15 grams honey
180ml whole milk
1½ tsp fresh lemon juice
1 large egg
50 grams sour cream
60 grams corn kernels (fresh [blanched], frozen or canned)
100 grams cheddar cheese, grated
Pickled jalapenos, to taste, drained, patted dry then roughly chopped
Preheat the oven to 180 degrees. Use pan coating to lightly spray a 15cm-square baking pan (or another with a square area of about 225cm).
Put the cornmeal, flour, sugar, salt, baking powder and baking soda in a large bowl and use a whisk to thoroughly combine the ingredients.
Put the butter in a small saucepan, place it over a low flame and heat until melted. Stir in the honey then cool to lukewarm. Pour the milk into a measuring cup, add the lemon juice and stir – the mixture will curdle. Whisk the egg in a bowl, then add the sour cream and whisk until smooth. Stir in the milk/lemon juice and butter/honey mixtures. Pour the liquid ingredients over the dry ingredi­ents. Use a wooden spoon to stir until the ingredients are just combined – do not overmix; the mixture will be slightly lumpy. Add the corn, cheddar cheese and jalapenos and stir, then scrape the mixture into the prepared pan. Bake at 180 degrees for about 25 minutes, or until the cornbread is fragrant and pale golden; when you touch the surface with your fingertip, it should spring back, without leaving an indentation.
Cool the bread to lukewarm before cutting into pieces.