What did you do before starting the Golden Duck? Christopher Hwang: "We have each done five businesses so far. Some of them have been together, some independently. When we first met, five years ago, I was doing a business in education, and John [Jonathan Shen] in events and marketing. They were very different industries, but we said, 'I really like the way you deal with your partners, your business ethics,' so we felt we should try to do something together. Fast-forward three years, and we did. We did ventures in media, in bars and, eventually, we founded The Golden Duck. And that's the one that took off."
What has the experience been like? Hwang: "It has been a crazy roller-coaster ride. You have huge highs and huge lows. We started with a small kitchen in Singapore and now we run two factories. But it also causes a lot of pressure and responsibility. When you realise you have 50 people on your payroll, you need to make sure you do the right thing."
So, where did the idea of salted-egg-yolk snacks come from? Hwang: "John was the one who said, 'Hey man, you know salted egg is such a popular flavour, parti­cularly in Asia. Why is nobody doing it on a snack?' I said, 'It sounds good, let's try it.' So we sat down with a friend and came up with a recipe for the chips. I had a huge bowl of chips in front of me; within five minutes, that bowl was gone. And I said, 'How are we going to do this? Let's start, let's plan.' From that point, it was six tiring months of [research and development] before we got anything out in the market."
Is this Chinese snack the next big Asian street food in the West?
What are the biggest challenges you've faced? Jonathan Shen: "The main issue is scaling our production while maintaining quality. If you try to go too fast, your quality might drop. At the end of the day we are selling snacks, we have to maintain the quality that people pay for. Chris is in charge of our production and supply chain, so he is the one who is under a lot of stress now, trying to increase our supply to meet demand.
"Last Chinese New Year, we didn't have enough staff, but there was crazy demand in Singapore. We spent New Year working in the factory. The longest hours we worked were 10pm to 9am. That was very tiring. The whole night was just making chips.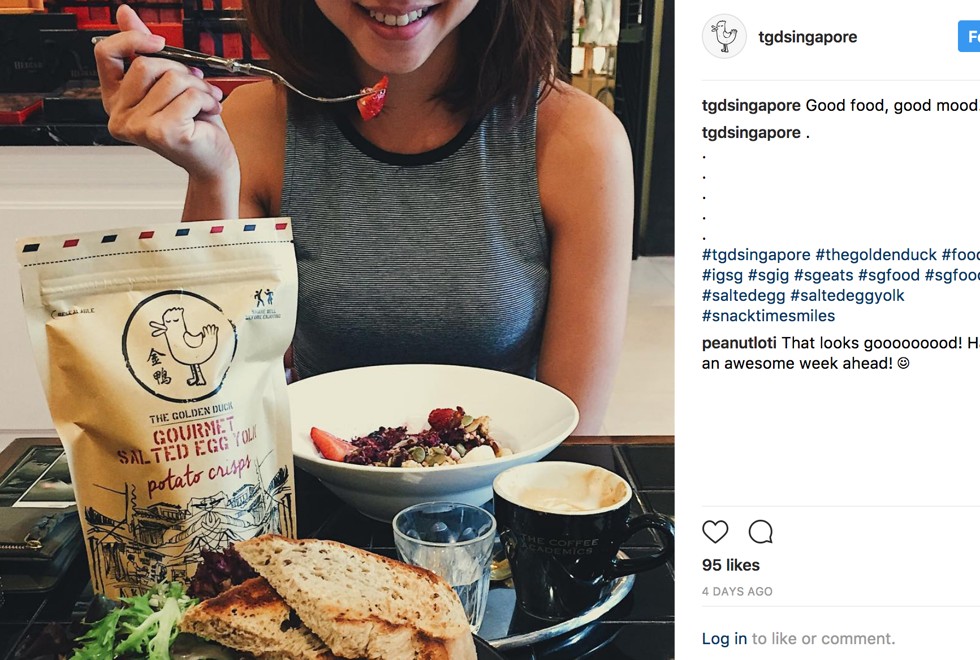 "We pride ourselves on not being the kind of founders that just stay in the office. Everything our staff do, we have done. We used to drive around, delivering our snacks. We have worked in the factories, we have fixed the machines. We know this business inside out because we have done it. That's very important nowadays as entrepreneurs. A lot of new entrepreneurs don't have that grip, to really go down and get their hands dirty."
When we taste something in a restaurant or cafe, the first thing we think is, 'Can we turn this flavour into a snack?' A lot of times, the answer is yes ...
Are you working on new products? Hwang: "Yes, one of the most exciting things at The Golden Duck is that we always have new products in the pipeline. Instead of using food scientists, we use good chefs. That's how we engineer great flavours. We look at flavours that have never been done before. But I can't tell you what the products are."
Shen: "When we taste something in a restaurant or cafe, the first thing we think is, 'Can we turn this flavour into a snack?' A lot of times, the answer is yes. So it's a very exciting time for us. We really want to take the snacking experience to the next level, starting with Asian heritage flavours, which are our roots."
Kei O nut candies, handmade by a Hong Kong family for 30 years and still satisfying sweet tooths in Yuen Long
What are your hopes for the future? Hwang: "It is about finding something bigger than myself, something that is beyond just a desk job, and fulfilling work routines. I want to do something greater, and build a legacy. I think the best way to build a legacy is to earn enough so that you can give back in a meaningful way, in a way that lasts. One of the things I aspire to in the next 10 years is to build towns, infrastruc­ture, to give longevity to projects in third-world countries, so that we can see them rise out of poverty."
Where do you like to visit for food? Shen: "Hong Kong. We often go to Kau Kee [in Central]. That's our comfort food. Whenever we touch down, we go and have a nice bowl of beef noodles."
Classic Hong Kong restaurants: Kau Kee, Central
What else do you like about Hong Kong? Shen: "That each time you walk along a street and see a skyscraper, next to it you see a building that has been there for like 50 years. The whole juxtaposition of cultures, which all come together very nicely. It is such a picturesque society. This is something that always amazes me, because you don't get this in Singapore any more. Singapore is very polished. Even the heritage buildings are repainted with new colours. You never get to see a true 100-year-old building standing next to a skyscraper."
The Golden Duck's products are available in Hong Kong at selected Café Deco outlets.