The origin of the pisco sour is disputed: both Chile and Peru regard the cocktail as their national drink, though neither country attributes its invention to one of their own.
The Chilean theory is that one Elliot Stubb first mixed the drink in 1872, in a bar in the port city of Iquique. The Englishman was a steward on a ship called Sunshine. Documentation for this theory is question­able, however. What's more, Iquique at the time, though it had a sub­stantial Chilean population, was part of Peru.
Stubb was probably an early advocate of the whiskey sour, which he is said to have intro­duced to Iquique, and has been credited with inventing. There is rea­son, how­ever, to believe that a cocktail by that name had currency in North America before Stubb turned up in Iquique.
A more likely story is that the pisco sour was first mixed between 1915 and 1922 in the Peruvian capital, Lima, by American bartender Victor Vaughen Morris, who owned a watering hole in the city called Morris Bar. Being a keen experimenter with cocktails, it's likely his intention was to offer a variant on the whiskey sour using cheap local liquor.
Bar review: TokyoLima, Central – a selection of sakes in a laid-back atmosphere
Pisco, after all, is a South American brandy (made in both Peru and Chile) that was first distilled by Spanish settlers from local wine in the 17th century. A sour is a drink made from a combination of a spirit with lemon or lime juice, with added sugar or sugar syrup. The pisco sour traditionally uses lime and adds egg white and Angostura bitters to the formula.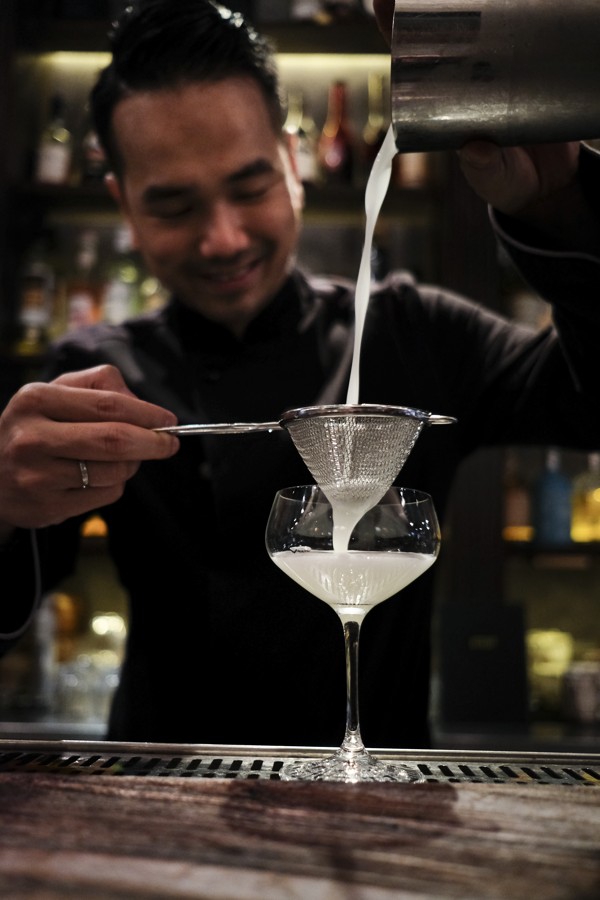 By 1924, Morris' pisco sour was sufficiently popular to feature in newspaper advertise­ments for his bar, and over time it became an international classic. The drink got a boost when championed by Dale DeGroff, one of the most influential bartenders of modern times.
The pisco sour is not a speciality of many bars in Hong Kong, perhaps because the choice of piscos available here is limited, although Latin-themed bar/restaurants such as Picada, in Central, and El Mercado, in Wan Chai, have it on their drinks lists. It is, however, a favourite of Quinary's award-winning bartender, Antonio Lai Chun-nam.
"It's one of our signature drinks, but we have a twist on it," Lai says. "We slow-cook the lime peel, to extract more oils from the skin."
Lai and his team at the Central bar use Chilean ABA Pisco, infused with the lime oils, rather than a Peru­vian pisco as the base spirit, and play around with the proportions of the other ingredients.
World's 50 Best Bars: two from Hong Kong, six from Singapore. The American Bar in London No 1
"Normally for a pisco sour, people use lime juice, but we use half and half lime and lemon juice," Lai says. "We also only put in 10ml of egg white – usually it's 30ml – but we give it a harder shake. You can get the foam with more egg white and less of a shake, but if the drink sits for too long, you get a slight smell from it, which is not good for the taste. If you leave the drink for 20 minutes, you can see layers. The egg white will float to the top.
"We use 50ml of the ABA Pisco, slow-cooked with lime peel, 15ml of fresh lemon juice, 15ml of fresh lime juice and 10 to 15ml of syrup, depending on how sour the lime is. The acidity can vary," Lai says.
Barrel-aged cocktails all the rage in Hong Kong, and this barman's perfected the art
"I went to Peru recently. They put a few cubes of ice in a blender, and serve with crushed ice, which cools it down a little further."
As is traditional for the Peruvian pisco sour, the Angostura bitters are not shaken with the other ingredi­ents but dropped on to the foam, and four dots are added at Quinary. The recipe, in fact, takes elements of the Peruvian and Chilean versions of the cock­tail, which differ significantly. Peruvians use key lime juice, syrup and Peruvian pisco. The Chilean version has Pica lime juice, powdered sugar and Chilean pisco. Confusingly, though lime juice is common to both of the South American interpretations, the International Bartenders Association's version specifies lemon, and that is the juice used in many North American versions.