Chef Chan's Signature Dishes at Celestial Court Chinese Restaurantis not the catchiest title for a cookbook, although, I suppose, it could be praised for being accurate, at least it was when the book was published, in 2009.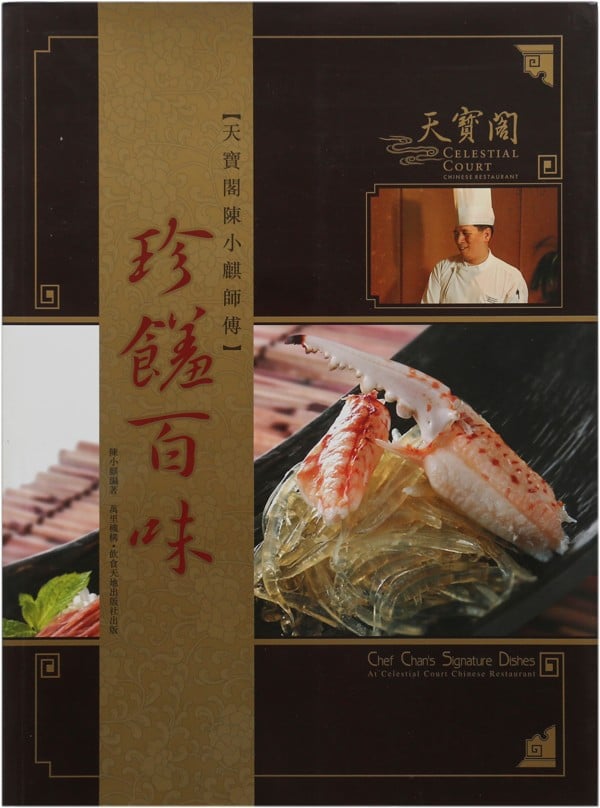 The chef in the title is Chan Sui-kei, who was for many years the chef de cuisine at the Sheraton hotel's Celestial Court Chinese Restaurant, in Tsim Sha Tsui.
Chan started his career at the age of 11, as an apprentice in a Chinese cuisine kitchen, long before child labour laws existed in Hong Kong. He steadily climbed the ranks, and spent time in Japan, learning new cooking styles and techniques.
In the preface, Chan writes: "My life as the apprentice in the Chinese kitchen was never easy, but it was absolutely awarding, parti­cularly for honing and sharpening my culinary tech­niques. From junior cook to assistant to senior chef to cook, I was lucky to have a chance to explore different parts of the kitchen, thus to familiarize myself with all the cooking steps and manage to handle all kinds of circumstances inside the kitchen. The time I spent in Japan as Executive Chef of a fine dining Chinese restaurant was extremely fruitful, when being exposed to the local Japanese dining culture which stimulated inspiration of new ideas. To me, a chef can never cease to learn because the design of a new menu requires not only traditional authenticity but also innovative creation, which comes from knowledge and new thinking."
As you should expect, many of the dishes in this book – some of which have won awards – are not easy. It takes years of practice to perfect the pleats in the steamed shrimp dumplings and the flaky layering of egg custard tarts. Not all the recipes are difficult, though, and the ones within reach include braised chicken with Chinese hua diao wine in casserole; prawns with deep-fried chopped garlic and tea leaves; deep-fried fillet of wagyu beef with spicy salt and garlic slices; poached seasonal greens with fish maw and conpoy; sautéed scallops with morel mush­rooms; and black chicken soup with matsutake and assorted mushrooms.