The Italian words "unico zelo" mean "unique passion", and that's what Australian husband-and-wife team Brendan and Laura Carter hope they bring to their winemaking operation in the Adelaide Hills, in South Australia. The modern, fresh and unadulterated wines the Carters produce under their Unico Zelo label are a pure expression of fruit and soil, with no oak influence.
As well as the Adelaide Hills, fruit is sourced from Clare Valley and Riverina. The latter is one of Australia's largest wine regions – oft-maligned as home to bulk producers and large-volume brands such as Yellow Tail and De Bortoli. Despite this, 27-year-old Brendan sees potential there.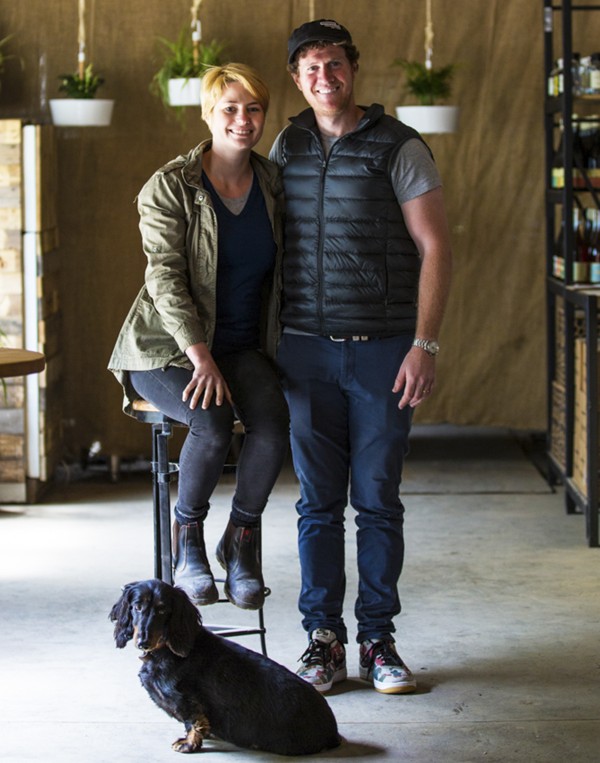 Though Australia has no indigenous grapes, varieties that have performed well in the country's dry climate include some of Italian origin, such as fiano and nero d'avola. Brendan's goal is to use them to make the most Australian of wines.
And while he believes quality wines are made in the vine­yard, he also insists that growers play an essential role, and that quality will improve only if they are compensated fairly. With this in mind, his Harvest portfolio of wines is structured on a cooperative model, whereby growers share in profits, providing motivation to grow the best grapes.
With the Carters' passion not only for wine, but also for the people involved in making it, Unico Zelo is proving that success is possible by breaking rules and disrupting the market.

Jade and Jasper, Fiano 2017
Fruit sourced from Waikerie, in the Riverland region of South Australia (though fiano originates from Campania, in southern Italy). Juice undergoes 24 hours of skin contact before fermentation, followed by short maturation in stainless-steel tanks before release.
Honeysuckle, pear, spicy aromas. Peach and citrus on the palate with mouth-watering acidity. A fresh, zesty and easy-to-drink wine. HK$200

Truffle Hound, Nebbiolo 2017
Grapes sourced from Polish Hill River, Clare Valley (the Carters were married in Barolo, in the Piedmont region of Italy – the spiritual home of nebbiolo grapes). This wine gets its name from dogs used to hunt truffles. Summer-pudding fruits, with cherries, raspberries and strawberries. Juicy with crisp acidity and a clean finish. HK$200

The River, Nero D'Avola 2017
Grapes from sandy limestone soils in Barmera, in Riverland. Grapes have five days of skin contact before fermentation, followed by ageing in stainless-steel vats. Brendan believes the Sicilian nero d'avola grows well in hot and sunny parts of Australia. Minimalist winemaking is practised here, with minimal sulphur dioxide added at bottling. Ripe black cherry compote. Medium-bodied with balanced acidity and soft tannins. A fruit-forward, easy-going wine. HK$200
The wines are available from winenthingshk.com.