The rice cakes in Chinese, Korean and Japanese cuisine are made from pounded glutinous rice, giving them a chewy texture. The fresh ones are delicious, with a soft texture, but they aren't easy to find. I get them from the Korean grocery shops on Kimberley Street, in Tsim Sha Tsui, but supply is intermittent. For recipes such as the first one here, I use the rice cakes sold in the refrigerated sections of most grocery shops.
Stir-fried rice cakes with pork and zha choi
This dish takes less than 15 minutes to prepare and cook, although you do need to soak the rice cakes in advance. If you like, start in the morning and leave them at room temperature (or in the fridge, if it's very hot in your kitchen); by the time you get home for lunch or dinner, they will be ready to cook.
Rice cakes come in different shapes; for this dish, I use the oval-shaped flat ones.
400 grams rice cakes
250 grams skinless pork belly (or use loin)
10ml soy sauce
5ml rice wine
½ tsp sugar
1/8 tsp fine sea salt
A pinch of finely ground white pepper
1½ tsp cornstarch
100 grams zha choi (Sichuan preserved mustard stem)
1 garlic clove, cut in half
1-2 slices of fresh ginger, peeled
2-3 spring onions
About 15ml cooking oil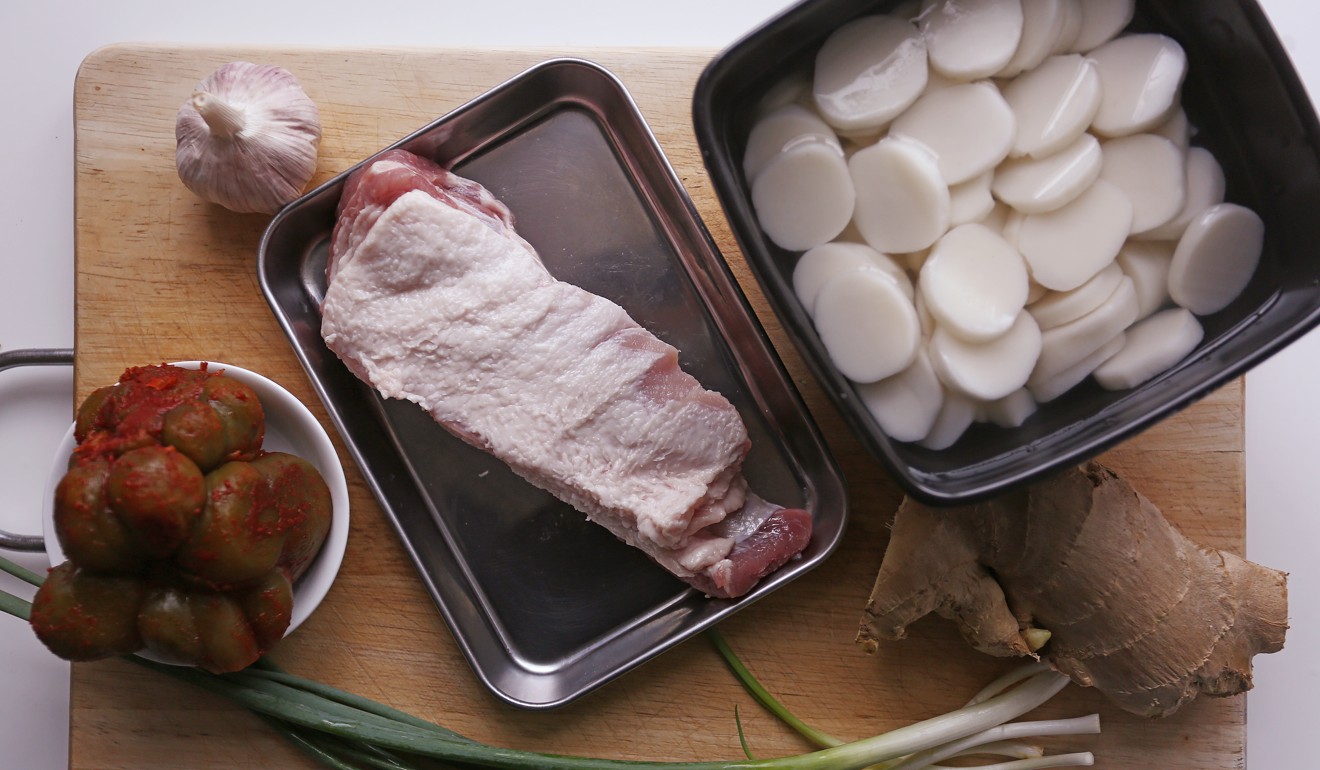 Put the rice cakes in a bowl, add warm water to cover them by about 3cm and leave to soak for several hours. Separate the rice cakes if they are stuck together, then drain in a colander.
Cut the pork belly into thin strips about 8mm wide. Put the pork pieces in a bowl, add the soy sauce, rice wine, sugar, salt, white pepper and cornstarch, and combine well. Rinse the zha choi thoroughly then blot with paper towels before cutting it into thin matchsticks. Cut the spring onions into 2cm lengths.
Place a wok over a high flame and when it's hot, add the oil. Heat the oil until it shimmers, then add the garlic and ginger. Stir fry for about 15 seconds, then add the pork belly. Stir fry until the meat starts to lose its pink colour, then add the rice cakes and zha choi. Cook for about 30 seconds, then add about 60ml of water and push all the ingredients to the centre of the wok.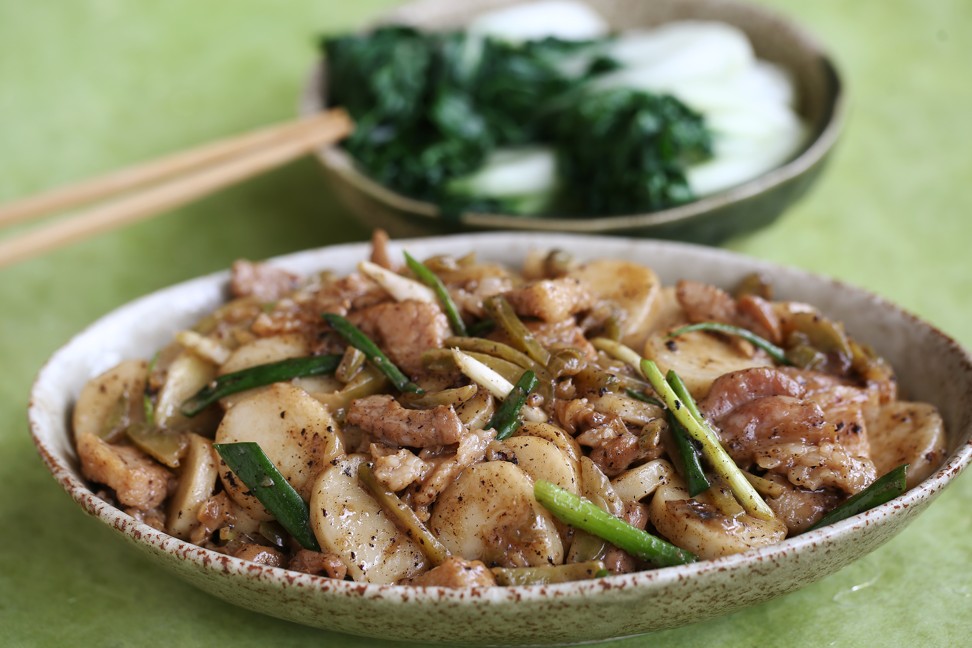 Cover the wok with the lid and turn the flame to low. Cook, stirring often, until the rice cakes are soft (they will still be chewy). Add water as needed, if the mixture gets too dry.
Stir in the spring onions, then scoop the ingredients onto a serving plate. Serve with a dish of stir-fried vegetables.
---
Tong yuen with meatballs, white radish and dried shrimp
Tong yuen are glutinous rice flour balls, so not rice cakes in the strict sense, but the concept is the same. Most people buy the frozen ones filled with black sesame paste or other ingredients, but that won't work for this recipe, because these tong yuen should be plain. Fortunately, they are easy to make.
Chung choi is salted and preserved turnip tops. It needs to be rinsed thoroughly to rid it of the excess salt. It is sometimes rolled into small bundles, or sold flat in larger pieces.
This is a dish to eat with your family on the winter solstice (this year, it's on December 22) because the tong yuen, which are round, represent togetherness.
For the tong yuen:
200 grams glutinous rice flour
About 150ml hot water
For the meatballs:
500 grams minced pork
1 small piece (about 30 grams) chung choi, rinsed thoroughly
2 spring onions
20ml soy sauce
10ml rice wine
½ tsp granulated sugar
¼ tsp fine sea salt
¼ tsp finely ground white pepper
2 tsp cornstarch
5ml sesame oil
For the soup:
30 grams dried shrimp
About 500 grams Chinese white radish (loh bak)
4-5 slices ginger, peeled
About 1.5 litres unsalted chicken stock, preferably home-made
About 10ml soy sauce
Fine sea salt, as needed
Sesame oil, for drizzling
Chopped spring onions and fresh coriander leaves, to garnish
Briefly rinse the dried shrimp then put them in a bowl and add 200ml of warm water. Leave to soak for about 30 minutes.
Put the glutinous rice flour in a bowl, add 150ml of hot water and stir with chopsticks until the flour is evenly dampened. When the dough is just cool enough to handle, knead it until smooth. It should be firm enough to hold its shape and neither sticky nor dry; if necessary, add more flour or water. Shape the dough into balls that are about 1cm in diameter and place them on a baking tray that's been very lightly oiled. Don't let the balls touch each other or they will stick together.
Recipes for Asian rice cakes, from Japanese mochi to Korean ddeokbokki
Bring a large pot of salted water to the boil and cook the tong yuen in batches; they are ready when they float to the surface. Use a large slotted spoon to scoop them out, then place them in a bowl of cool water.
Finely chop the chung choi and spring onions, and mix them with the minced pork, 20ml of soy sauce, rice wine, sugar, salt, white pepper, cornstarch and sesame oil. Shape the mixture into meatballs that are about 1.5cm in diameter and place them on a tray. Refrigerate while preparing the other ingredients.
Peel the white radish and cut it into thick matchsticks about 3cm long. Drain the shrimp but reserve the soaking liquid. Finely julienne the ginger.
Pour the chicken stock, the shrimp-soaking liquid and 10ml of soy sauce into a pot and bring to the boil over a high flame. Add the meatballs, dried shrimp and ginger then lower the flame. Poach the meatballs for two minutes, then add the radish and simmer until tender. Drain the tong yuen, then add them to the pot and simmer for a few minutes. Taste the broth for seasoning and correct, if needed. Ladle the ingredients into bowls, drizzle each portion with sesame oil, then garnish with chopped spring onions and the coriander leaves.