Although only an hour's drive from Melbourne, the Mornington Peninsula is under the radar for most wine lovers. The region is home to more than 200 vineyards and 60 wineries, however, and renowned for elegant, cool-climate-style chardonnay and pinot noir. Although these two varieties make up most of the production, pinot gris is increasing in popularity.
The region is fairly fragmented, with a large number of small vineyards. A study initiated by Government of Victoria concluded that the cost of grape production is very high there due to low yields and high labour costs associated with vineyard management. As a result, Mornington Peninsula wine prices tend to be at the expensive end. The wines, however, should not be overlooked as they are of exceptional quality. Here are three that are well worth sampling.
How Australian wines breached the grape wall of China
Moorooduc Estate, Garden Vineyard Pinot Noir 2013
Moorooduc Estate is a family-owned winery established in 1982 by Richard and Jill McIntyre.
Fruit is hand-harvested and undergoes 100 per cent whole bunch fermentation. The addition of the ripe stems adds savouriness and structure. Wines are aged for 15 months, entirely in French oak, of which 25 per cent is new.
Restrained aromatics with hints of red fruit and cherries. Succulent and intense ripe fruit, with a broader palate. Well-balanced and finishing long. Very approachable and ready to drink.
HK$390, www.ozterroirs.hk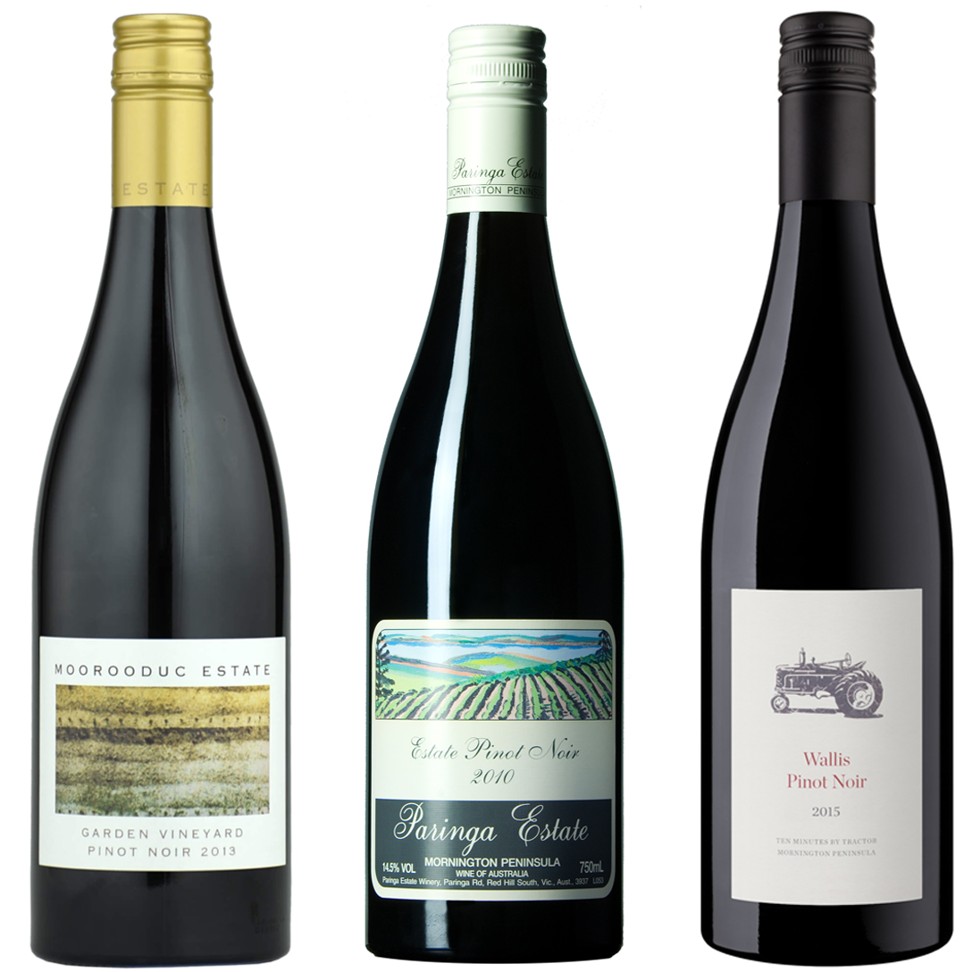 Paringa Estate Pinot Noir 2015
Former schoolteacher Lindsay McCall realised his dream when he bought the erstwhile orchard in 1984. He converted the land into vine­yards and the first vintage was made in 1988. Production has now expanded to 15,000 cases annually.
Fresh, vibrant red strawberries, red currants and raspberries. Medium bodied, showing fruit purity, with ripe fruit, seamless tannins and a clean finish.
HK$448, pontiwinecellars.com.hk
The Hong Kong and China wine lovers who make pilgrimage to remote Australian vineyard
Ten Minutes by Tractor Wallis Pinot Noir 2015
The Ten Minutes by Tractor winery was created with the amalgamation of three family vineyards. The distance between the vineyards – which are called Judd, Wallis and McCutcheon, after their former owners – is 10 minutes by tractor, hence the moniker.
The estate is planted with the MV6 pinot noir clone (also known as Mother Vine), and the Wallis vineyard's northeast-facing slopes enjoy long sunlight exposure, allowing early ripening.
Grapes are hand-harvested and de-stemmed. Fermentation uses indigenous yeast. Wines are aged in 18 per cent new French oak for 15 months. They are unfined and unfiltered.
Summer-pudding fruit with a wide spectrum of flavours, from raspberries and strawberries to mulberries. Quite round on the palate with soft, velvety tannins, well-balanced acidity, discreet oak in the background and finishing very long. A well-made, elegant Burgundian-style pinot noir.
HK$550, www.ozterroirs.hk