In 1949, Luk Kam-lee migrated from China's Zhejiang province to Hong Kong in search of a better life. In the years after his arrival, he sold roasted melon seeds and five-spiced beans from a hawker cart parked outside Tsuen Wan's Grand Theatre, later establishing Shanghai Luk Kam Kee grocery shop, which opened in two locations before settling on Chuen Lung Street, in about 1980.
Luk continued to sell seeds and beans, as well as pastries and dried fruit. Custom­ers at the shop were allowed to taste before buying, the floor was frequently littered with broken shells and the store was regu­lar­ly packed, especially in the run-up to Lunar New Year, when queues to enter would form in the street.
So fragrant was Shanghai Luk Kam Kee's main attraction that Luk was dubbed the "king of melon seeds".
In 2009, however, to the neighbour­hood's surprise, the shop abruptly closed. The founder had died in 2007 and the business was rumoured to be in debt.
It wasn't long, though, before Luk Choi-lung, the eldest of the founder's eight children, reopened the shop in the same location, with the help of investors. Meanwhile, Sunny Luk Choi-chong – the youngest son – struck out on his own, opening Shanghai Luk's Dynasty of Melon Seeds, just blocks away.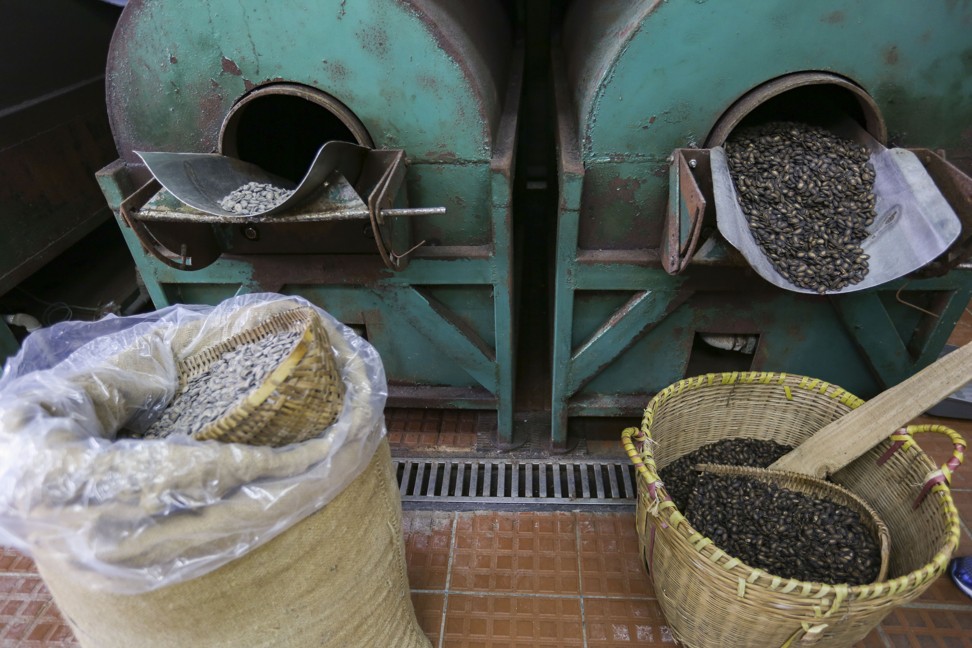 "The new boss didn't have the Luk surname," Sunny Luk says, of his elder brother's shop, which retains the original name. "My brother has shares, I think, but the boss didn't know how things were done, so I left to do this on my own."
Sunny Luk says that, with a new brand and expensive rent to pay, business was difficult at first, but old customers found their way to him. And eventually, he returned to them, moving back to Chuen Lung Street – across the road from his brother's store – in 2014. Nearly 90 per cent of his customers, he says, were regulars at his father's shop.
"They remember me helping out in the store," Luk says. "I practically lived there; it was my second home. And people here tend to be very curious, kind of nosy, and they are picky eaters, so they always manage to find the best of everything."
To cement the brand's reputation, Luk bought factory space in Kwai Chung. "The words 'Made in Hong Kong' go a long way; more than you know," he says. "My father wrote those words. It looks simple, but actually it's very difficult to maintain. But who would I be, and what of my products, if they're not made here at home?"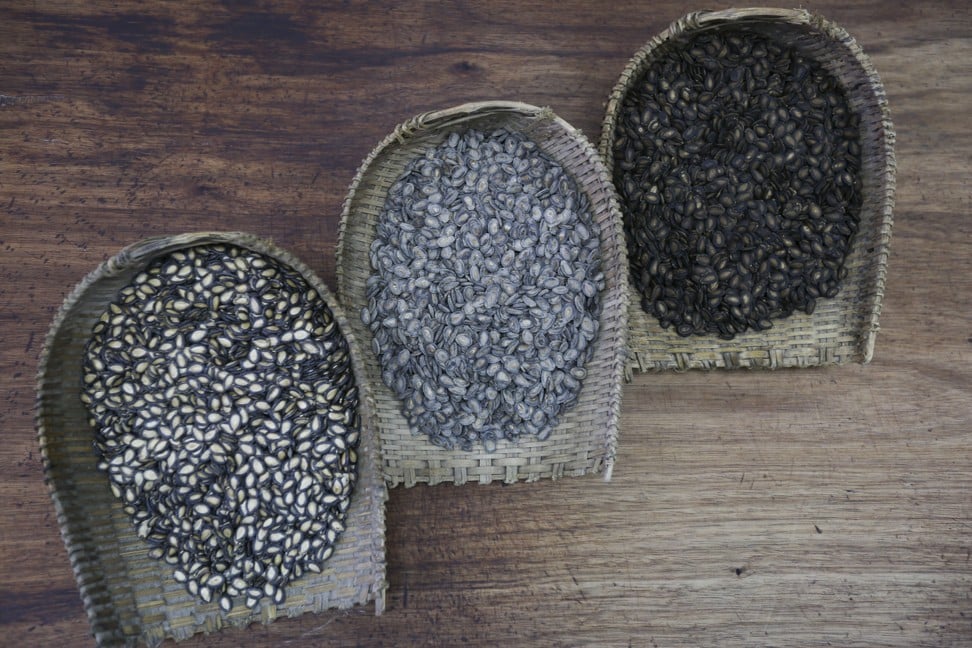 Luk sells both black and red roasted melon seeds. They come from varieties of watermelon grown specifically for the volume of their seeds in Gansu, Xinjiang and Ningxia, in northern China. The flesh can be used as fertiliser.
The black seeds are larger; the smaller ones are dyed red during processing and prove popular during Lunar New Year because of their auspicious hue. Luk also sells pumpkin seeds, sunflower seeds, Shanghai pastries, candy and dried fruit, as well as raw red watermelon seeds that have a subtle bittersweet flavour.
While Luk follows his father's recipes, he has adjusted them to suit the modern palate, so the seeds are 30 per cent less salty, but still full of umami. Both the black and the red watermelon seeds are soaked overnight until plump, and cooked in a mixture of dark soy, star anise and salt before being roasted. The roasted seeds come out clay-white in colour and are covered by a light film of fine powder. They are then dried and roasted a second time, with corn oil.
"Most melon seeds you see have a glossy, almost waxy coating," Luk says. "It's a kind of preservative and increases shelf life. Our seeds are slightly rough to the touch because we don't add this coating, and they last only three months. Most people won't notice these nuances, but people who know their stuff, they can taste it immediately."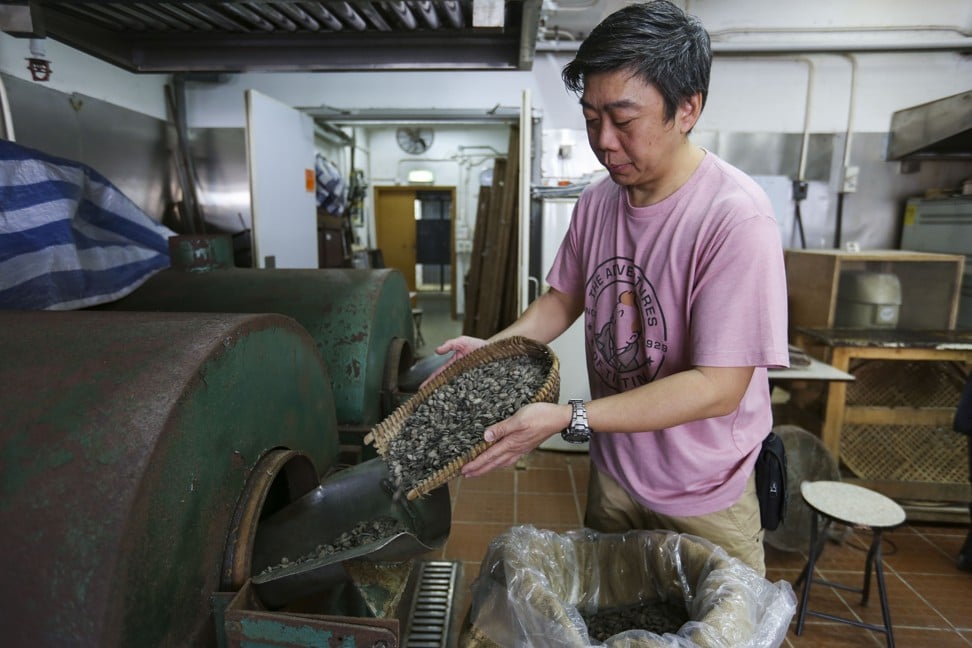 Luk's melon seeds (both black and red) sell for HK$78 for one jin (500 grams) – almost 30 per cent more than much of the compe­tition, suggesting customers are willing to pay for quality.
"Walk down Chuen Lung Street and every shop is selling the same products," Luk says. "You'll find at least 10 to 20 shops selling the same nuts and seeds, so you have to have good connections with the suppliers."
To pick top quality melon seeds, Luk advises, "Bite the shell once or twice, depending on size, at the sides of the tip to crack it open. The flesh should be crunchy but not too hard, and the shell should snap apart easily with a clean sound. The flesh should be a creamy white. If it's dark in the middle, it's possible that it's gone bad."
Business, Luk points out, can be unpre­dic­table. "Chewing on melon seeds is an old habit here," he says. "In the past, people had a lot of time and not much to do. They would like these melon seeds because they took a while to eat. They would buy five to 10 packs at a time. Now, they buy one bag at a time. Hongkongers don't have the time any more."
That said, Luk brushes aside the idea of making his living any other way.
"Of course I've thought about it," he says. "People always ask how I can survive selling melon seeds, how I can still pay rent. If I only did melon seeds, the business would have failed a long time ago, but I can't not have it, especially during the holidays. And how can I own my last name if I didn't sell melon seeds? It was Dad's thing. It was what he built. Otherwise, it would have all been a waste."