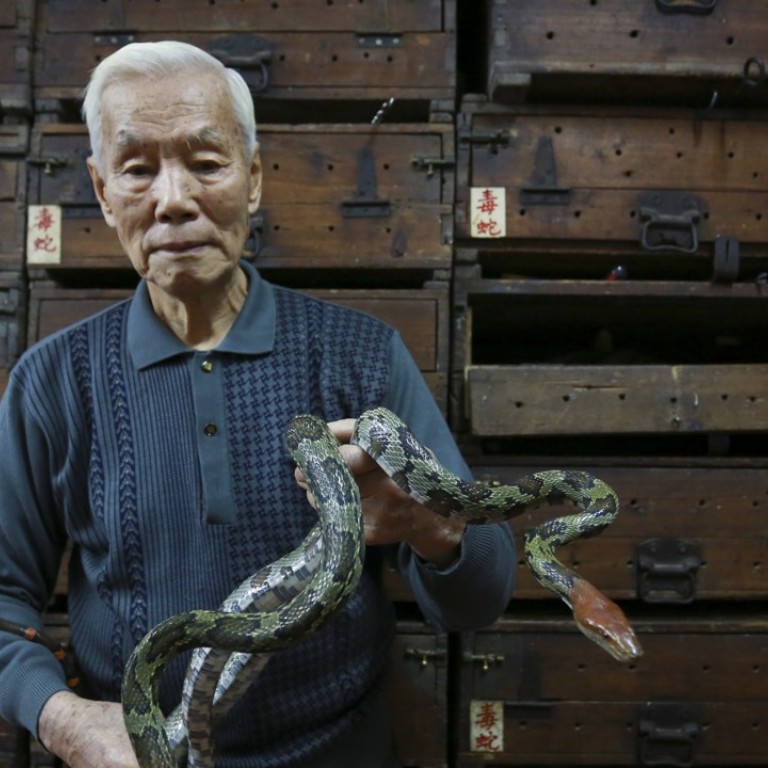 How veteran snake handler overcame his fears to give Hongkongers health-giving soup
Octogenarian Mak Dai-kong, who honed his skills at Sheung Wan restaurant specialising in the Cantonese delicacy for more than 120 years, talks about the benefits of eating snake meat
How did you get into the snake meat industry? "In 1948, three years after the second world war, my body was not in a very good condition. I started looking for work but I had asthma and I was so skinny. 
"The boss of She Wong Lam restaurant saw me and he told me finding a job might be hard because of my weak body. So he said, 'Why don't you come and be my disciple, and I can teach you.' I told him I was afraid of snakes, so he told me I didn't have to work with then, and that I could just help with the transport of the product and admin. He said that when my colleagues made snake soup, I could eat some to make my body stronger.
"After two years, I went from 80 pounds [36kg] to 140 pounds. Actually, the reason Hongkongers have such a long lifespan may be because of the tradition of eating snake soup. Just look at me. My body used to be weak. I always eat snake soup. I am 88, and I started work when I was 18 years old."
How did you overcome your fear? "In the past, when I saw my colleagues handling snakes, they told me I didn't have to be afraid of them. Once their fangs have been pulled out, then they are not poisonous. If it bites you, you just have to release your hand from the snake and it will stop biting you. I remember my first attempts at handling snakes. I got bitten by them but it wasn't painful at all. Since then, I have never been afraid of snakes." 
What's the secret to handling snakes? "Snakes have their own personal­ities, just like humans. If you grab one and cause it pain, it will bite you immediately. Some have more fierce expressions, and some are calmer. They won't bite you if you handle them with care. There isn't a secret behind handling snakes but you cannot be careless. You have to look carefully at the snake you are handling and pay attention to nearby snakes to see if they might attack. 
"They will show angry expressions if they want to attack you. When we handle snakes, we will be very cautious when pulling out their fangs. We have to wear glasses to avoid poisonous liquid getting into our eyes. When I was young, I could de-fang 15 snakes in five minutes. I can only do 12 in five minutes now. My colleague has been working here for 50 years; he can do it even faster than me. He called me master in the past, but now I call him master."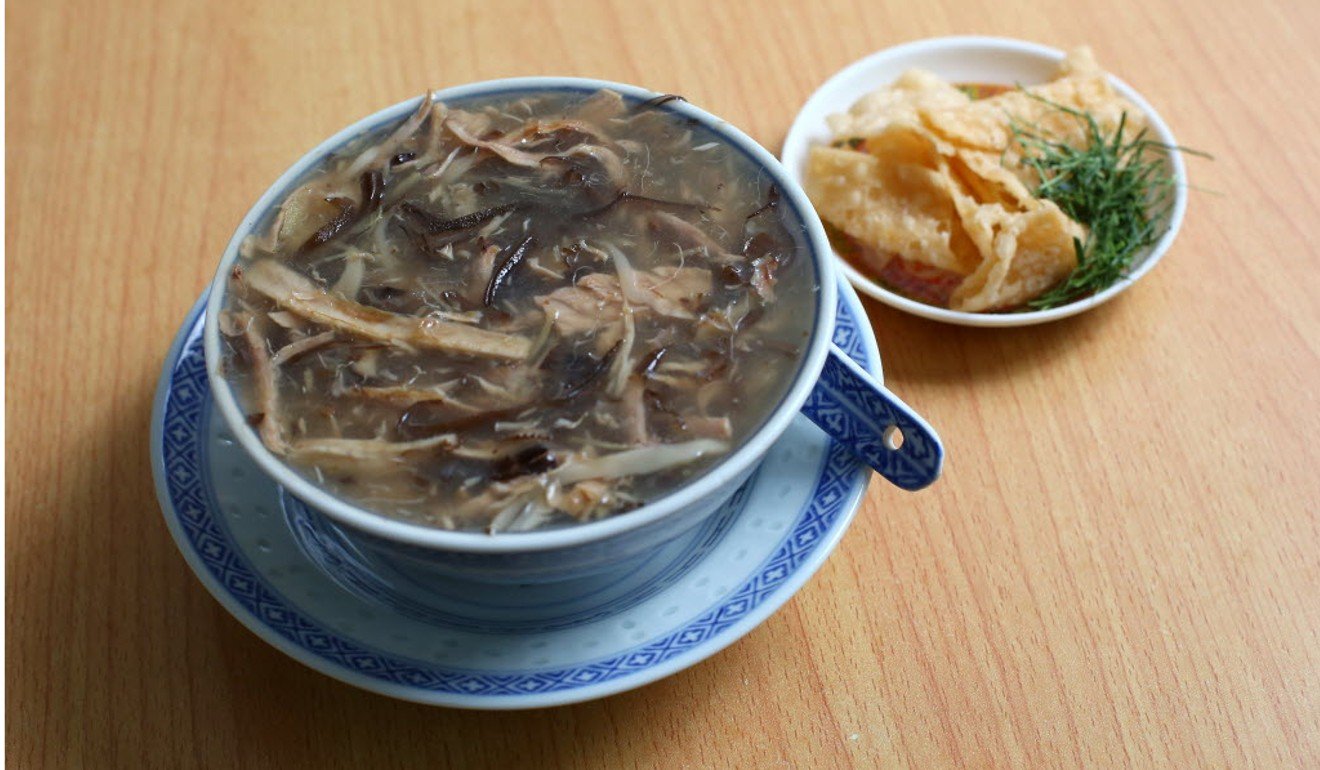 What are the benefits of eating snake meat?
"Not all snakes are good for consumption. Traditionally, we use three types, including python. Snake meat can cure a sore throat if you include dried tangerine peel and the gall­bladder of the snake. Snake meat can also cure arthritis and can keep you warm"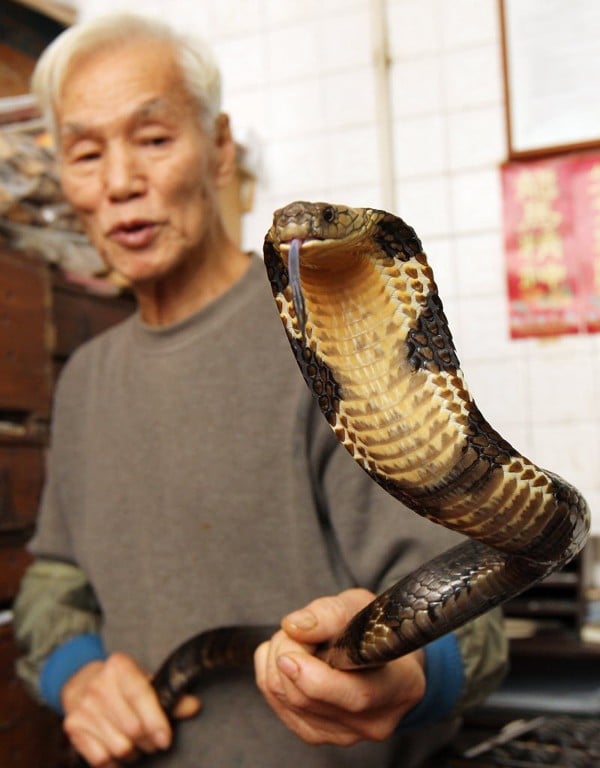 Where do you get the snakes from?
"In the past, my boss got his snakes from the mainland, but snakes can no longer be exported from China, so we only have a very small number of them now. As a result, we only give snake soup to customers who have been coming for a long time, or who have special medical needs. 
"We only sell 100 bowls of snake soup a day. We just close our shop when we sell out."
Does the next generation want to learn the trade? "There are no young people who want to come and  learn. First, the salary is not high; second, there are not a lot of snakes coming to the shop that we can sell. Even if you wanted to expand your business, you couldn't. You can't sell the soup for an expensive price, either. 
"Our boss owns the shop, so he doesn't have to pay rent. He only opens the shop for his older workers." 
Additional reporting by Janet Sun