This recipe for satay soup was inspired by a picture I saw on a friend's Instagram feed; the original dish featured instant noodles (without the flavour pack) simmered in satay broth that had been used to cook hotpot ingredients, so the soup, I imagine (since I wasn't there), must have been very richly flavoured.
I tried making a version by adapting my usual satay recipe, combining both the marinade and the sauce, increasing the amount of some ingredients while using less of others and, to my surprise, it worked.
This a very rich soup that would make a delicious, hearty lunch on a cold day.
Satay soup with poached beef and udon noodles
I like to make the spice paste by pounding it in a large mortar but, if you prefer, you can grind the ingredients in a high-speed blender (such as a NutriBullet). For the peanuts, however, use a mortar, not a blender, so they have more texture; you don't want to end up with peanut butter.
Buy the thinly sliced beef intended for hotpot, sukiyaki or shabu-shabu, using lean or fatty meat, whichever you like.
If you want to make a vegan version of this dish, use vegetable stock instead of chicken stock, and substitute tofu puffs (or pan-fried firm tofu) for the sliced beef.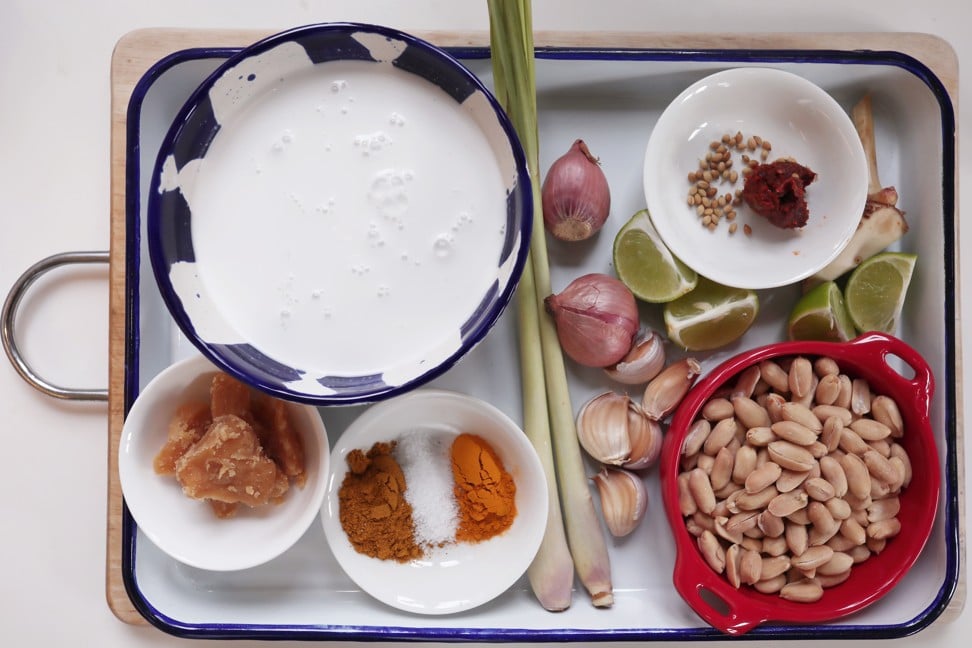 For the spice paste:
2 lemongrass stalks, the juicy lower part only (about 5cm)
10 grams fresh galangal
2 medium-sized shallots
4-6 garlic cloves
¼ tsp whole coriander seeds
50 grams palm sugar, or more to taste
1 tsp ground turmeric
1¾ tsp curry powder, or more to taste
5 grams fine sea salt, or more to taste
30ml cooking oil
For the peanut mixture and other soup ingredients:
200 grams toasted peanuts
20 grams Thai red curry paste
300ml coconut milk
1 litre unsalted chicken broth, preferably home-made, divided
4-6 packs of udon noodles
24-36 very thin slices of beef (or more, for a more filling meal)
For the garnishes (use as many as you like):
Fried shallots
Cucumber, cut into thick matchsticks
Fresh pineapple, cut into thick matchsticks
Fried pork cracklings or fried fish skins, broken into smaller pieces
Fresh coriander leaves
Chopped spring onions
Fresh lime or calamansi juice
Lay the lemongrass stalks on a cutting board and crush them by hitting them sharply with the flat side of a cleaver. Finely chop the lemongrass, galangal, shallots and garlic. Put these ingredients with the coriander seeds in a mortar and pound to a rough paste. Add 25 grams of palm sugar, the turmeric, curry powder and salt and pound again to combine. (Or put all the ingredients in a high-speed blender and grind to a rough paste.) Scrape the spice paste into a medium-sized soup pan.
Put the toasted peanuts into the same mortar (no need to wash it). Pound the nuts so they are roughly crushed. Add the Thai red curry paste and pound again.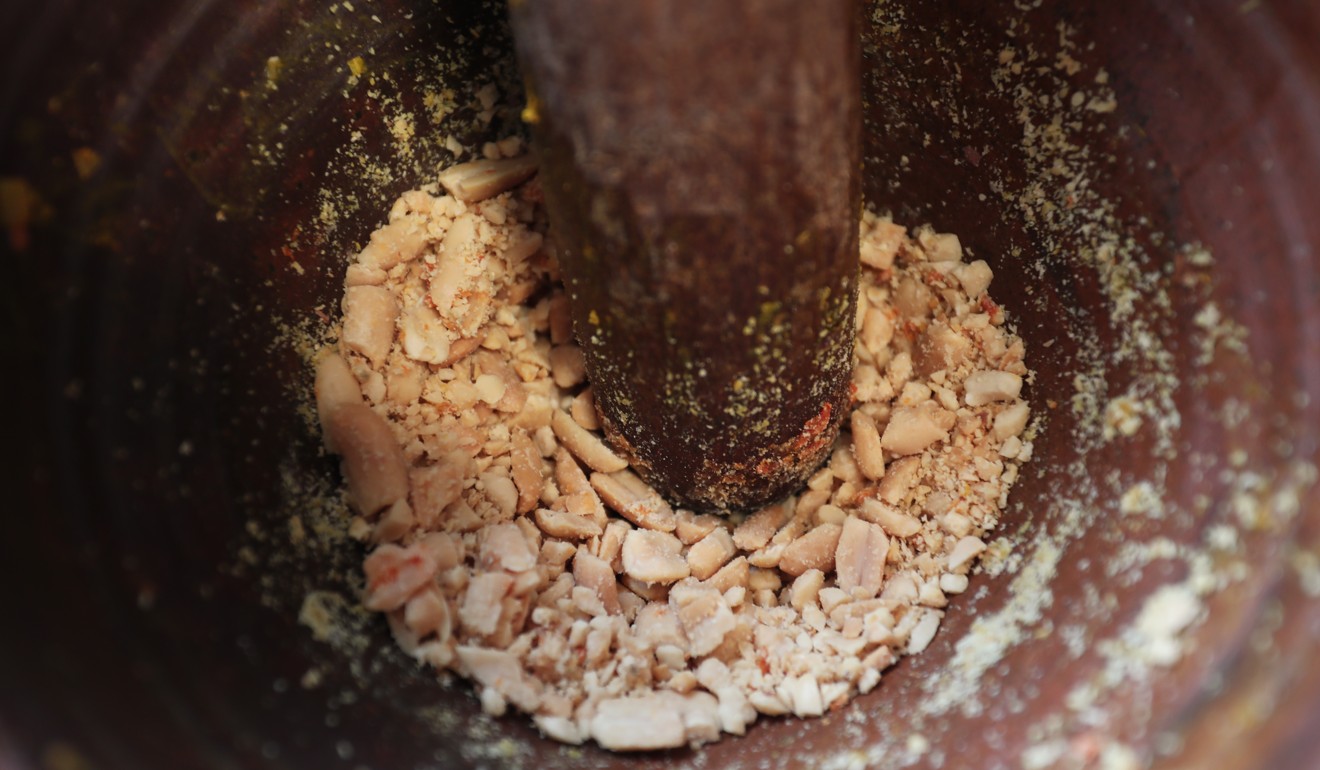 Pour the cooking oil into the pan holding the spice paste. Place the pan over a medium flame and stir constantly until the paste starts to sizzle. Continue to cook, stirring constantly, until the paste starts to stick to the bottom of the pan. Add the peanut/curry paste mixture and stir for about a minute. Mix in 800ml of the chicken broth and bring to a simmer. Turn off the flame and set aside while preparing the other ingredients.
Heat a large pot of water and, when it boils, add the udon. Separate the strands of noodles with chopsticks, then drain through a colander (udon doesn't take long to cook).
Susan Jung's recipes for two hearty winter soups
Put the soup pan back on a medium flame and bring to the boil, then stir in the coconut milk. When the mixture begins to simmer, taste the soup and correct the seasonings, if needed. It should taste slightly sweet and spicy. If it needs more palm sugar or curry paste, it's best to ladle some of the hot soup into a bowl, then add the sugar or curry paste and stir until dissolved (if you add these ingredients straight into the soup pan, they might not dissolve entirely). If the soup is too thick, thin it out by stirring in the remaining chicken broth.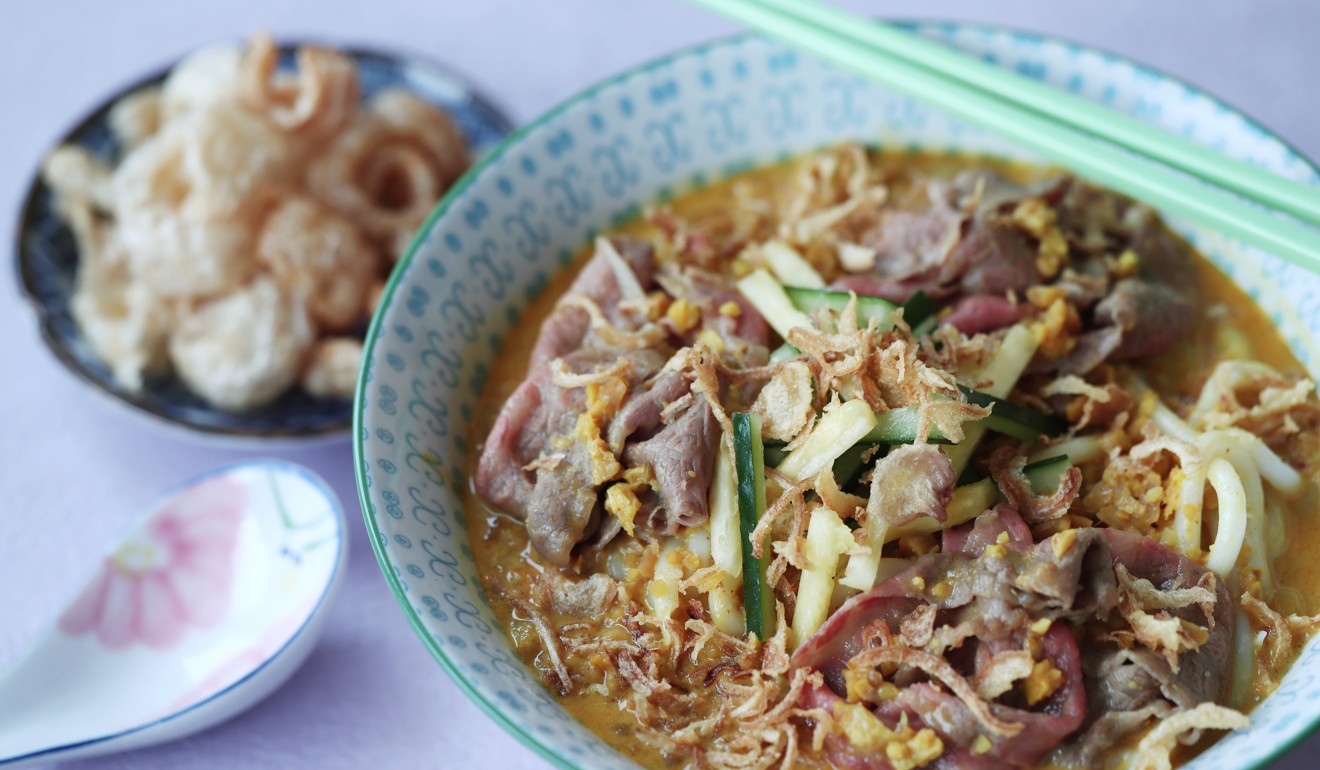 Rinse the udon noodles with hot water, then divide between four to six bowls. Lay the sliced beef over the noodles (using six slices per portion), then ladle the soup on top; because the beef is sliced very thin, the heat of the soup will poach it to a nice medium-rare. Serve the soup, letting your guests add whatever garnishes they want.