Hong Kong's position as awine hub was cemented in 2008, when duty on imported tipples was cut to zero. Since then, boutique importers have expanded the local drinking experience by bringing in esoteric, hard-to-find wines.
Alan Kwok, of Deco Wines, is one such innovator. When you tire of well-known, large-volume brands, Kwok recommends trying a new grape variety, an unusual region or wines made using ancient techniques.
Jean Vesselle, Oeil de Perdrix, Brut NV, Bouzy, Champagne, HK$380
Located in Bouzy, Domaine Jean Vesselle is a récoltant-manipulant – a grower that makes champagne under its own label, from grapes sourced from its own vineyards. Its 15 hectares are planted with 90 per cent pinot noir and 10 per cent chardonnay, and cultivated by lutte raisonnée ("the reasoned struggle"), a sustainable form of agriculture. No herbicides are employed and the winery relies on solar energy.
What you need to know about champagne (and other sparkling wines) before you buy
Bouzy is renowned for its pinot noir-based champagnes, and the Oeil de Perdrix is made from that grape. The name, meaning "partridge eye", refers to the colour of the wine, which is neither white nor rosé, but somewhere in between. A rosé de saignée, the wine derives its pale salmon colour from the short period of skin contact at pressing. This method of rosé champagne winemaking had almost disappeared, but was revived when a few bottles of old wine were discovered in 1972.
A blend of strawberry, cherries and raspberries on the nose, with some floral notes. Succulent, round with a soft acidity. Well-balanced with a fine bead. Delicious and drinking well.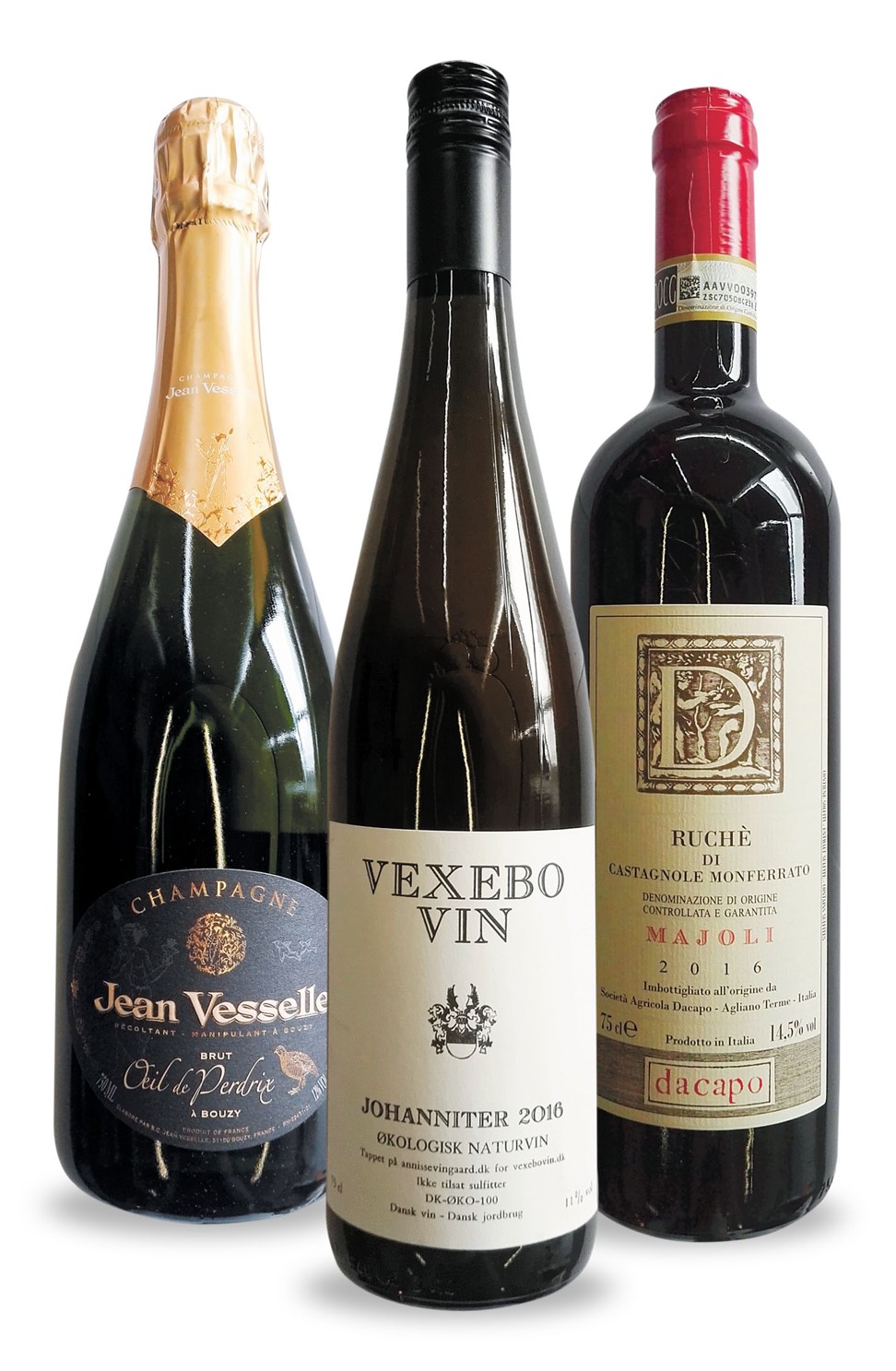 Vexebo Vin, Johanniter 2016, Fredensborg, Denmark, HK$460
Vexebo is situated about 25km north of Copenhagen, and it was here that the family of Daniel Milan purchased 10 hectares of farmland, handing one hectare over to him in 2007, to create a vineyard. The first vintage was in 2010, and the volume produced annually is a tiny 1,000 bottles.
Vines are cultivated organically and Milan does not use inoculated yeast or add sulphur. His wines are the epitome of natural.
Natural wines, made without chemical fertilisers, pesticides, filters, machinery, wood barrels or added yeast, are gaining popularity in Hong Kong
Johanniter is a modern white-grape variety created in 1968 by Dr Johannes Zimmermann, former director of vine breeding at Freiburg Institute of Viticulture. It is a hybrid – a cross between riesling and freiburg 589-54 – and known for its fungal-resistant properties. Reminiscent of riesling, it has delicate floral, citrus and melon notes. It is light-bodied with soft acidity.
Restrained citrus, peach and fruity notes. Round bodied, with light fruit intensity, soft acidity, a medium finish. A neutral, delicate wine.
Dacapo, "Majoli", Ruchè di Castagnole 2016, Monferrato DOCG, Piedmont HK$280
Dacapo was founded in 1997 by two wine professionals on a mission to create wines of elegance and authenticity while ruchè is a rare Piedmont grape variety. The wine is pale in colour, with fruity, floral aromatics and some spice. It is also light on the palate, with soft acids and silky tannins, and comparable to pinot noir.
Forward, fruity nose with raspberry and perfumed floral notes. Medium-bodied, with light fruit intensity, balanced tannins and a clean, refreshing finish. An attractive, easy-drinking wine, with simple fruits. Clean and pure.

The wines are available from Deco Wines .