How did you get interested in bartending? "When I was 17 years old I worked in a bodega – a local small bar that served wine and beer. I was studying medicine at the time, but I was fascinated with drinks and loved talking to customers. I just wanted to know how to work in a bodega, which meant having a strong foundation in classic bar work."
When did you try your first martini? "I was 18 years old when I tasted a martini, in one of Barcelona's oldest bars, Boadas Cocktails. When I walked into the bar, I likened it to a church, it had the tranquillity of a place like that. At the end of the day, it's not just about the drink itself, or the flavour, but the whole experience. It doesn't matter if the bar is big, in a luxury hotel, or small, in a town. It's the experience you create for your guests."
How did that first one taste? "A martini is a very dry drink. When you start drinking alcohol, it's mostly sugary drinks. A martini doesn't have sugar. So you focus on the perfumes and the subtle flavours. When I tried it, it felt like an initiation, the whole experience, from the drink itself, with its subtle notes, to everything happening around me. The dry martini to me is not just a drink, but a lifestyle and glamour."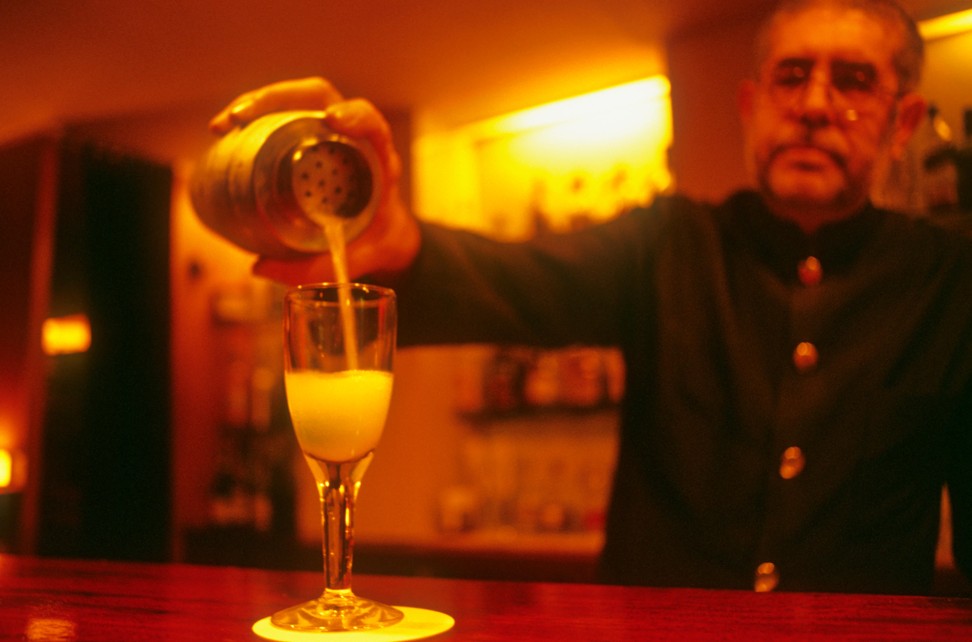 When did you open your first bar, Gimlet? "I opened it on December 31, 1979, when I was 23 years old. I liked the sound of the name; in Spanish we pronounce it 'jim-let'. I wanted the bar to have a classic look, with the staff wearing jackets done up with gold buttons. This contrasted with the music, which was The Pretenders, The Ramones, The Clash. Famous people who came to the bar included the B52s, Bryan Ferry, David Bowie, Dolly Parton, politicians, writers and painters. I liked the mixture of people in one environment."
You bought the Dry Martini bar from Don Pedro Carbonell. What was he like? "He was a very humble person who became my mentor. We spent a lot of time together. He created an impression on me of what a bar should be like. Dry Martini had so many bottles of gin placed along the three-metre bar.
"I went to Dry Martini often but I was really shy and so it took me a while to tell him that I would like to continue running the bar after he retired because he didn't have any children. Two years later, Carbonell said now was the time, and that I was the only person who could continue running the bar. If I didn't want it, he would close the bar and sell the space. A week later we went to the notary public to sign the purchase agreement. We celebrated with drinks in the office – I brought gin, vermouth, ice and glasses. Even though it was raining hard we had martinis that were very dry."
How did you change bar culture in Spain? "When I opened Gimlet, I didn't have a lot of money, or many tables. I only had one cocktail shaker, so to clean it, I would turn the music volume up because I had to bang the shaker on the counter, and then turn the volume back down. At the time, bars were such that you couldn't see inside from the outside. Young people and especially women didn't want to go in because they couldn't see inside.
"But Gimlet was an open bar that everyone could see from the outside. As a result young people and women started coming in. Women brought energy and changed the culture of the bar. Slowly the idea of the fat man with a cigar [as the typical customer] changed to women and having a nice conversation. This happened in the early 1980s."
Then what happened? "I took a business course and created a business plan for putting my bars into hotels around the world. I did this step by step, promoting the concept at bar shows in Spain, Europe and Asia. Dry Martini was already well known in the bar community so I saw the potential of expanding it in different places, serving the same cock­tails the same way.
The bar doesn't depend on a star bartender. Good bartenders at some point vanish, but good bars stay. I'm still around because I'm not just a bartender, but a businessman and a writer and an artist
"In 2010, we opened a bar in Madrid. It took three years to [repeat the success of the first but] it proved my business idea worked. Now we have Dry Martinis in places like Bali, Taiwan, Singapore and Hangzhou. The bar doesn't depend on a star bartender. Good bartenders at some point vanish, but good bars stay. I'm still around because I'm not just a bartender, but a businessman and a writer and an artist."
You've also developed products? "I wanted to work with non-alcoholic ingredients, so I developed Droplets – essences of various flavours. They don't change with time or temperature. These can be used in not only our bars, but other bars as well. They can be added into non-alcoholic drinks like tea, or even dishes from salads to steak tartare."
What do you drink these days? "I like to try things. I actually don't drink that much. I drink water, tea, dry martini, negroni, pisco sour. For special moments, I like to have a cocktail but in general I like to watch people working the bar and enjoy the atmosphere."