Burgundy's 29,067 hectares under vine represents a mere 3.7 per cent of all the vineyards in France. Despite its relatively small size, the market is highly fragmented. Of the region's 3,901 wineries only 1,089 sell more than 10,000 bottles a year. The remaining estates are made up of 16 coop­erative cellars and 288 wine merchants. Burgundies can be breathtakingly expen­sive but here are three that offer value for money.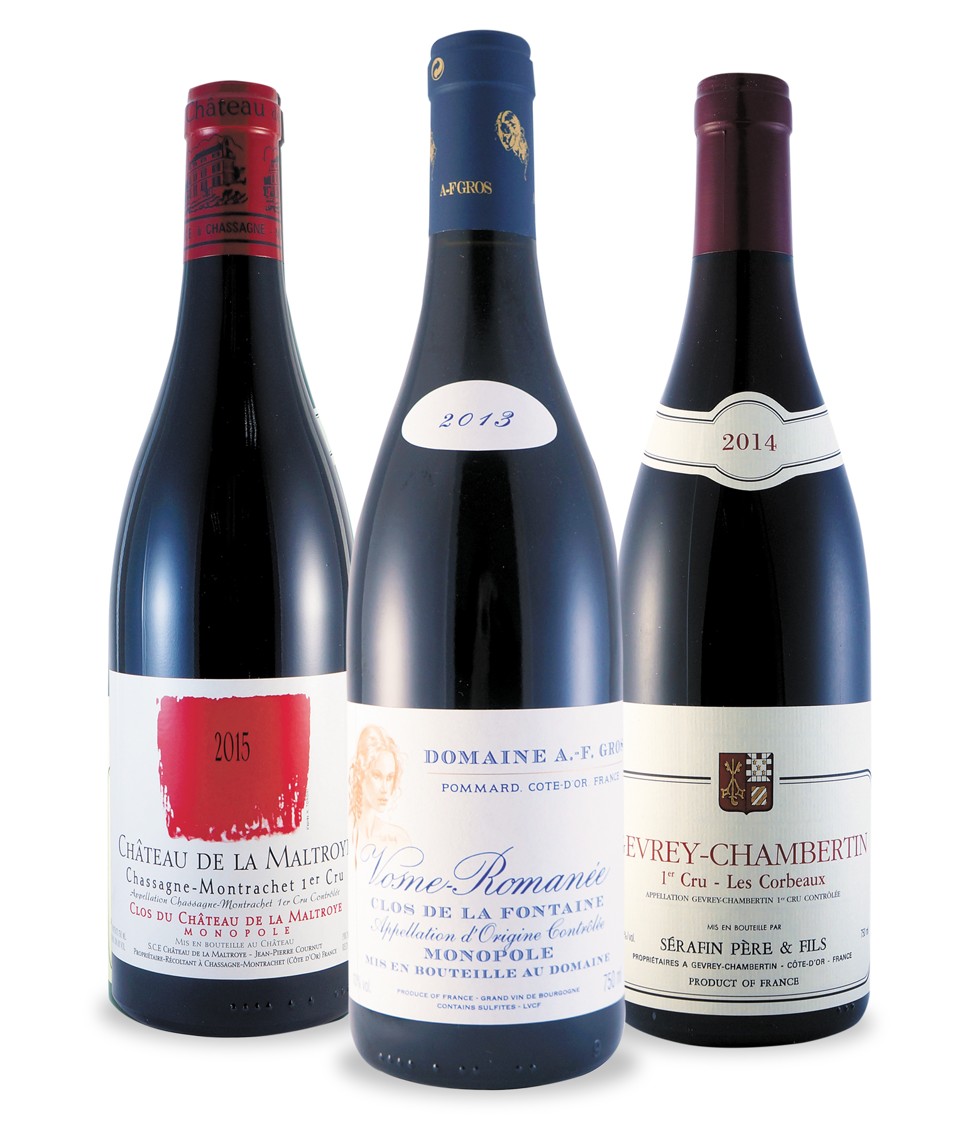 Château de la Maltroye, Chassagne-Montrachet (Rouge) 1er Cru, Clos du Château de la Maltroye Monopole 2015. HK$430
Established in 1940, with 13 hectares of vine­yard in Chassagne-Montrachet and two hectares in Santenay, Domaine Château de la Maltroye is now managed by third-generation family member Jean-Pierre Cornut.
Chassagne-Montrachet is famed for its white wines and its reds are often over­looked. The trend is for pinot noir vines to be replanted with chardonnay, which fetches higher prices. At Château de la Maltroye, 40 per cent of the vines are pinot noir. Reds from Chassagne-Montrachet still offer value for money as prices are on the lower side compared with the Côte de Nuits. In terms of style, the wines are on the lighter side, with more delicate fruit aromatics.
In the vineyard, bunches are removed to keep yields low. Red wines undergo oak ageing for 14 to 18 months with a light filtration.
Restrained red fruit, still quite tight on the nose. Fresh, fruity on the palate, medium bodied with crisp acidity and some grippy tannins. Finishing medium long. Approachable and ready for drinking.
Vosne-Romanée, Clos de la Fontaine Monopole, Domaine A.F. Gros 2013. HK$495
Anne-Françoise Gros is the sixth-generation of her wine-producing family. The current Domaine A.F. Gros was established in 1988. It represents an amalgamation of two properties, Anne-Françoise's Domaine Jean Gros, and her husband's, Domaine Parent. Domaine A.F. Gros' wine labels, with the illustration of a girl, are feminine and whimsical, encapsulating the wine style of Vosne-Romanée.
In the cellar, grapes are de-stemmed, and not crushed. Grapes receive a short cool maceration and are fermented with pumping over to extract tannins. Wines are aged in oak, of which 35 per cent is new, for 12 to 18 months.
On the nose, fragrant compote of red fruit, with a touch of savouriness and black truffle. Round on the palate with high fruit intensity, balanced acidity with velvety tannins. Elegant, delicate and a joy to drink.
Sérafin Père et Fils, Gevrey-Chambertin 1er Cru Les Corbeaux 2014. HK$650
The domaine was founded by Stanislaw Sérafin, an immigrant from Poland, who acquired vineyard holdings in 1947. His son, Christian, inherited the vineyard in 1988.
The vines undergo strict pruning, de-budding and green harvesting to maintain low yields and increase fruit concentration. De-leafing increases the fruit's exposure to the sun and improves ripening. Fruit is harvested late, with higher ripeness levels and sugar content.
In the cellar, the grapes are fermented at high temperatures to extract colour and fruit. Wines are matured in new oak for 14 to 18 months. The wine style tends to be big and powerful with a distinctive oak presence and firm oak tannins. Generally, they benefit from bottle ageing, to better integrate oak tannins with the fruit.
Savoury and meaty with smoky, spicy notes. Medium bodied, with some red fruit showing through, framed by some spicy oak tannins. Finishing very long and complex.
The wines are available from Onereddot Fine Wines (onereddot.com).