One dish I always seek out when I visit Taiwan is xian dou jiang, hot salted soy milk, lightly curdled with vinegar and flavoured with preserved vegetable and tiny shrimp. It would be a light, healthy breakfast, except I can't resist eating it with shao bing (puffy sesame bread) stuffed with spring onion-flecked scrambled egg and yau ja gwai (Chinese fried doughnut, or you tiao, as they are known in Taiwan). It's not easy to find xian dou jiang or shao bing in Hong Kong, so you'll need to make your own.
Shao bing
I make these in batches of 10 and freeze any I don't use. Reheat them (from frozen or defrosted) like you cook them, in a cast-iron skillet over a medium-high flame.
This recipe is adapted from one in Florence Lin's Complete Book of Chinese Noodles , Dumplings and Breads (1986). It's out of print, unfortunately, and copies in good condition fetch high prices on eBay.
For the roux:
70ml cooking oil, plus extra for coating the pan
100 grams unbleached plain (all-purpose) flour
½ tsp fine sea salt
For the hot-water dough:
260 grams plain (all-purpose) flour, plus extra for rolling
½ tsp fine sea salt
210ml hot water (at 75-80 degrees Celsius)
Untoasted sesame seeds
To serve:
1 egg per person
1 spring onion per person
Yau ja gwai, as needed
1 Make the roux at least an hour in advance, to give it time to cool. Pour the oil into a small pan and heat over a low flame until hot. Add the flour and salt and cook for five minutes, stirring constantly. The mixture should be smooth and cohesive, without any oil floating to the surface. If any oil separates out, stir in a little more flour. Allow to cool to room temperature, then divide into two portions (85 grams each). Refrigerate one portion for future use.
2 Make the hot-water dough. Mix the flour and salt in a bowl, then add the hot water and stir the ingredients. When the dough is cool enough to handle, turn it out onto a work surface and knead it into a smooth, cohesive mass. Invert the bowl over the dough and leave to cool to room temperature.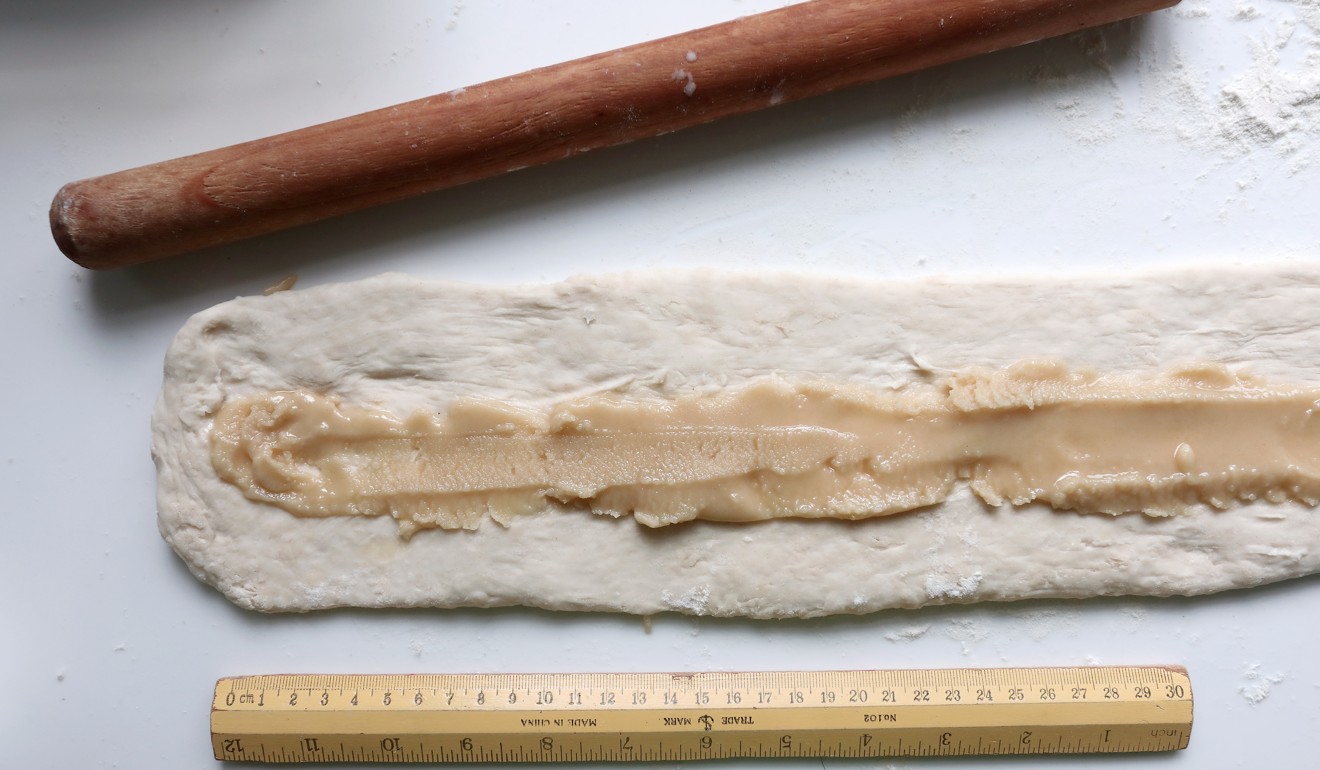 3 Using a small rolling pin, roll out the dough into a rectangle, about 50cm by 8cm. Spread the roux (85 grams) down the centre of the rectangle, lengthways, and bring up the edges of the dough, pinching them together so the roux is enclosed along the entire length. Slice into 10 even portions.
4 Place a piece of dough on the work surface with a cut side facing you. Use the rolling pin to flatten the dough, rolling it back and forth from one cut side to the other; do not widen the piece of dough. Once it's about 6cm to 8cm long, bring together the two short sides so they meet in the middle, then fold it in half to create a fourfold turn. Repeat with the other portions.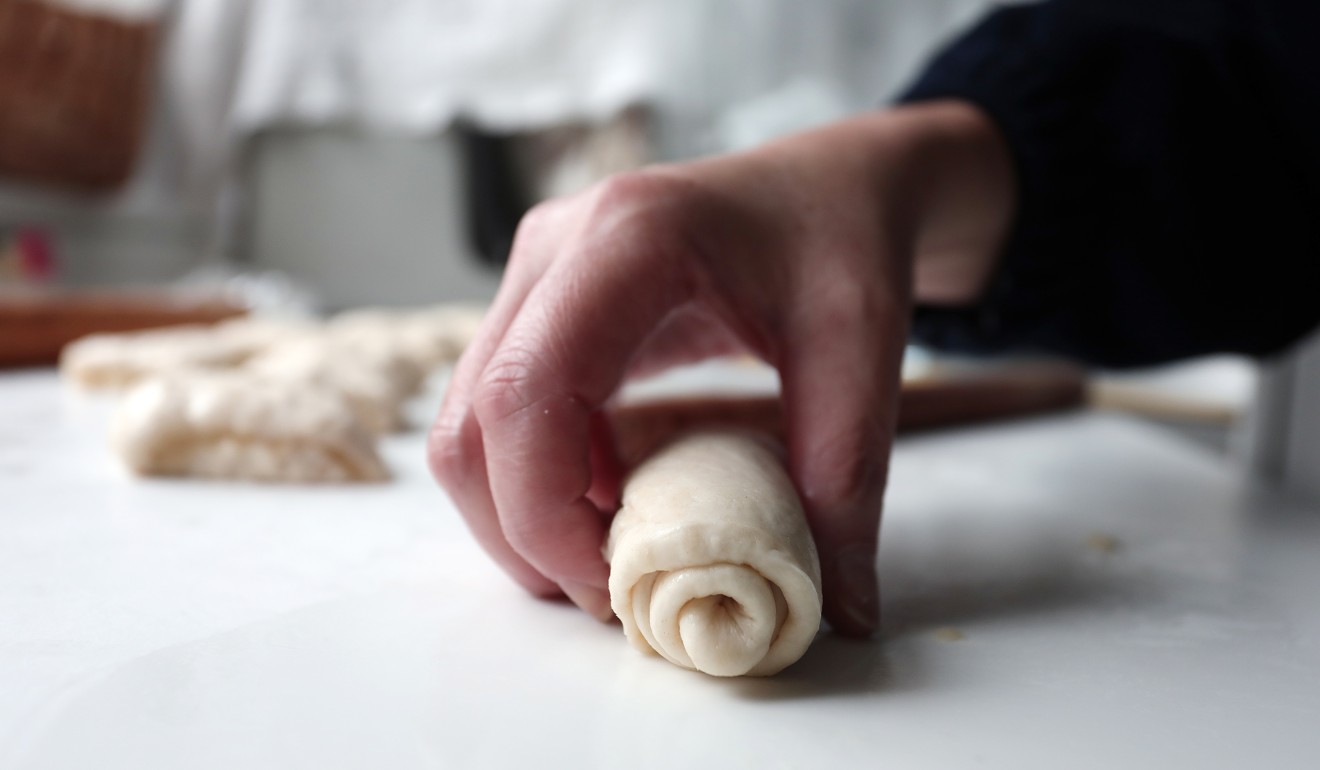 5 Place a piece of dough with one short side facing you, and the fold to your right. Roll the dough so it's about 24cm long, then use the rolling pin to thin out the far end. Starting with the side of the dough nearest you, roll it into a tight cylinder, then place it, seam side down, on the work surface. Shape the other pieces of dough the same way.
6 Pour some sesame seeds onto a small plate. Taking each dough cylinder in turn, dip the top into the sesame seeds, coating it well. Then place it sesame-seed-side up on the work surface and roll it into a rectangle, about 12cm by 6cm.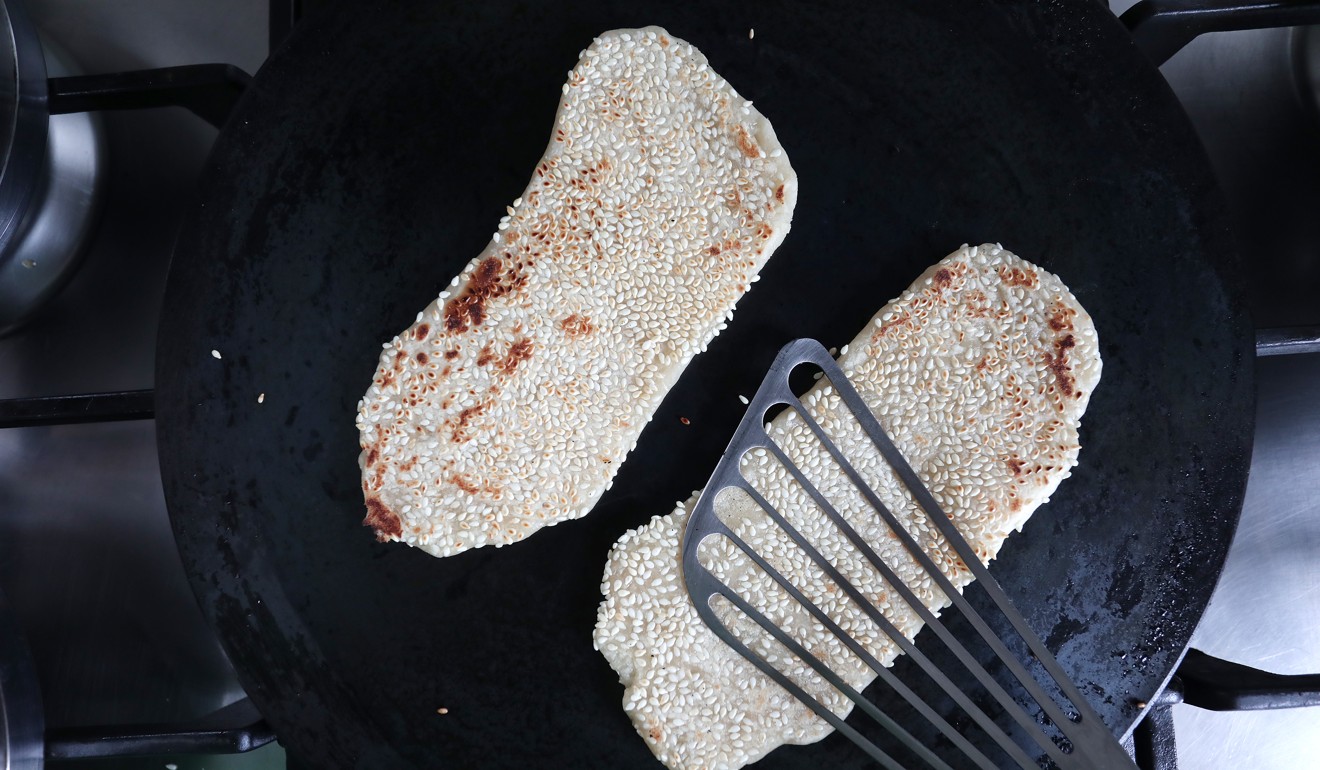 7 Place a skillet (preferably unglazed cast iron) over a medium-high flame and coat it very lightly with oil. Heat the pan to 250 degrees. Place three or four dough pieces in the pan, sesame-seed-side down and cook for one minute. Flip over the shao bing, cook for another minute and flip again. Cook for one more minute then flip, and press the dough with a flexible spatula to help it puff up. Each shao bing takes a total of four to five minutes to cook. They should be puffy, and mottled brown on both sides. Oil the pan as needed between batches.
8 For the stuffing, scramble eggs (one for each shao bing) with minced spring onions. Cut open the shao bing along three sides and stuff with the eggs. Pull apart a pair of yau ja gwai, separating them along the length, then cut them in half and add one piece to each shao bing. One pair of yau ja gwai is enough for four shao bing.
Xian dou jiang
With this recipe, the quality of the soy milk matters. If possible, buy it from a shop that makes its own. I also like the versions made in-house at City'super and by local brand Tofulism, which is sold at some super­markets. Check the label to make sure the soy milk doesn't contain sugar.
The dried shrimp should be tiny and delicate. I use Japanese dried shiro ebi (white shrimp), sold in packets at Apita, in Taikoo Shing, and City'super.
700ml unsweetened soy milk
5 grams tiny white salted shrimp
Fine sea salt
½ tsp soy sauce
1 tsp rice vinegar, divided
About 20 grams zha choi (Sichuan preserved mustard stem)
1-2 spring onions
1 yau ja gwai
A little chilli oil

1 Briefly rinse the shrimp under running water. Drain and put them in a saucepan with the soy milk. Add a pinch of salt and the soy sauce, then heat until simmering. Taste the mixture and add more salt, if needed.
2 While the soy milk is heating, prepare the other ingredi­ents. Finely chop the zha choi and mince the spring onion. Split the yau ja gwai in half lengthways (they come in pairs), then cut into 5mm slices.
3 Divide the zha choi between two bowls, top with the hot soy milk and add half a teaspoon of rice vinegar to each portion. Stir once, then leave for a couple of minutes to curdle slightly.
4 Add several pieces of yau ja gwai to each bowl and sprinkle with the spring onion. Drizzle with chilli oil, then serve immediately, with more yau ja gwai on the side.