If you ask almost anybody outside Mexico what that country's most popular cocktail is, they will almost certainly nominate the margarita. They will be wrong, however. For most Mexicans, the preferred agave-spirit-based drink is a concoction called La Paloma.
"It's much more popular in Mexico, but outside the country – in the United States or Hong Kong, for example – general consumers are not very aware of it," says Jay Khan, co-founder and beverage director of Mexican-inspired craft cocktail bar Coa, on Central's Shin Hing Street.
"Although, internationally, La Paloma is not as popular as the margarita, to me it tastes much better. It's more refreshing, simple and straight to the point. There's no romantic story behind it, but if you go to Guadalajara, it's the favourite cocktail mixed with tequila. It may be that the name comes from pomelo – there's a resemblance between the words – but we're not exactly sure."
The lack of a backstory may be one reason the Paloma has been slow to catch on globally, although Khan says awareness is increasing and many bartenders in Hong Kong now have their own versions. The basic formula certainly has the virtue of simplicity.
"Traditionally, La Paloma is just tequila with a grapefruit soda, such as Squirt or Fresca – those two brands are very popular in Mexico – with a bit of fresh lime juice, and salt round the rim," Khan explains.
"The first reference to a Paloma cocktail was seen in the book Cowboy Cocktails [by Grady Spears and Brigit Binns] in 2000, and that was a reference to a virgin La Paloma – without the spirit. However, the combination of tequila, grapefruit soda and salt goes all the way back to the 1970s, when Squirt was being promoted."
Usually when a cocktail is created, the starting point is a spirit, but in this instance it seems to have been the mixer. Squirt grapefruit soda was introduced in 1938, originally under the name Citrus Club, and was a popular mixer in the US by the 1950s.
It was introduced to Mexico in 1955, and it seems likely that some enterprising bar­tenders would have spiked it with mescal or tequila back then. If so, however, the experiment went unrecorded.
"In 1970, Squirt had a campaign saying, 'This will do wonders for your spirits,' and it suggests gin, vodka, whisky, rum or tequila. That's the oldest reference cocktail historians have found," Khan says. "La Paloma could even have first been mixed in the United States. That's where Squirt was launched, and tequila was certainly there by the 50s."
Whatever its origin, by the 90s, the cocktail had caught on in Mexico, and now, Khan believes, it is ready to take on the world.
This could take off in the same way as the gin-and-tonic revival. The most important thing is the grapefruit soda
The reason for this is the advent of arti­sanal mixers, which, he says, add another dimension to a drink, and a little more interest than the mass-produced grapefruit sodas to which La Paloma owes its existence.
"This could take off in the same way as the gin-and-tonic revival," Khan says. "The most important thing is the grapefruit soda. If you get a good brand, it will be very nice. If you use a rubbish brand, it won't taste as good. Some people mix grapefruit juice with club soda, and that can work, but it's a completely different drink.
"We use a brand of grapefruit soda called Three Cents. It's made in Greece, but we've had bartender visitors from Mexico who say that this is by far the best tasting Paloma they've had outside Mexico."
Khan's twist on the basic formula is called the Oaxacan Paloma, and it contains both blanco tequila and mescal.
"I wanted to make a cocktail using mescal, but for some people it can be a bit overpower­ing. It can be quite aggressive. The tequila balances it. The mescal we use is Montelobos Joven and the tequila is Cabeza – both are excellent, premium products," he says.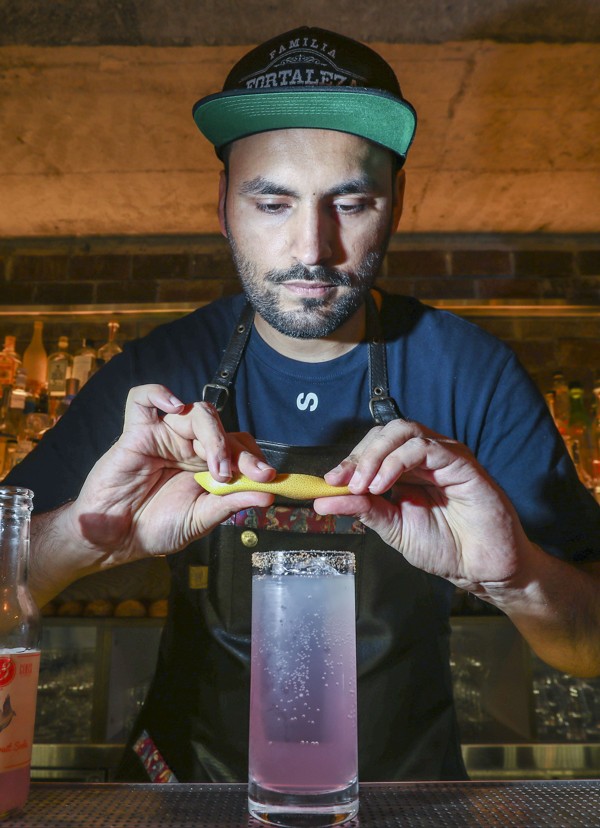 The two spirits are poured in equal parts and topped up with the grapefruit soda and a splash of fresh lime juice. The glass is half-rimmed with spicy worm salt called sal de gusano, which Coa imports specially from Oaxaca, a state in southern Mexico.
"It's not really from a worm – it's the larva of a moth that likes to eat agave roots and the agave plant from the inside out. What the Mexicans do is dry it, crush it into powder and mix it with chilli and salt. Different brands have different flavours depending on the type of flavouring and the proportions, but we've been using the same type since day one," Khan says.
"Worm salt is a Oaxacan thing. You won't easily find it if you go to Guadalajara, say. Eating bugs in Mexico is a pre-Hispanic practice. People were eating a lot of insects before Christopher Columbus arrived in the Americas.
"If you drink this Paloma with the salt, it's a bit salty, a bit spicy, a bit savoury. It's almost an umami explosion in your mouth. If people don't like the flavour of the salt, they can try it from the other side, but that salt makes a big difference. It adds heat, but the drink itself is refreshing, tangy and sour."
For a summer drink, it is indeed a refreshing alternative to a regular margarita. Any Mexican-themed bar, including those listed below, should be able to serve a good Paloma and, Khan says, bartenders in other outlets are also experimenting with the drink.
Coa, LG/F, Wah Shin House, 6-10 Shin Hing Street, Central, tel: 2813 5787
Agave, 93 Lockhart Road, Wan Chai, tel: 2866 3228
Mezcalito, 27/F, 18 On Lan Street, Central, tel: 2668 8444
Los Sotano, B/F, 21 D'Aguilar Street, Lan Kwai Fong, tel: 2970 3887