Pinot grigio, a grape that originated in Burgundy, France, may be the basis of the most popular white wine in Italy these days, but the country has a deep repository of indigenous white varieties, which are packed with flavour and pair well with food.
Verdicchio, whose name is derived from the Italian word verde ("green") and references the grape's skin colour, can be used to make a broad range of wines, from dry to sparkling to sweet. The variety, which originated in Marche, central Italy, tends to be minerally, with citrus fruit and high natural acidity, giving the wines long cellaring potential.
Another white variety, "pecorino" is probably better known as a cheese made from sheep's milk (pecorais Italian for "sheep"). It is also the name of a white grape variety from Marche and Abruzzo, along Italy's eastern coastal area. According to local legend, the grape was named for the sheep that grazed on the sweet fruit.
Family winery Umani Ronchi makes good examples of verdicchio and pecorino. Founded in 1957, the winery has grown to encompass about 210 hectares of vineyards in Marche and Abruzzo. Its wines are modern, pure and showcase the quintessential style of the grape varieties and their place of origin.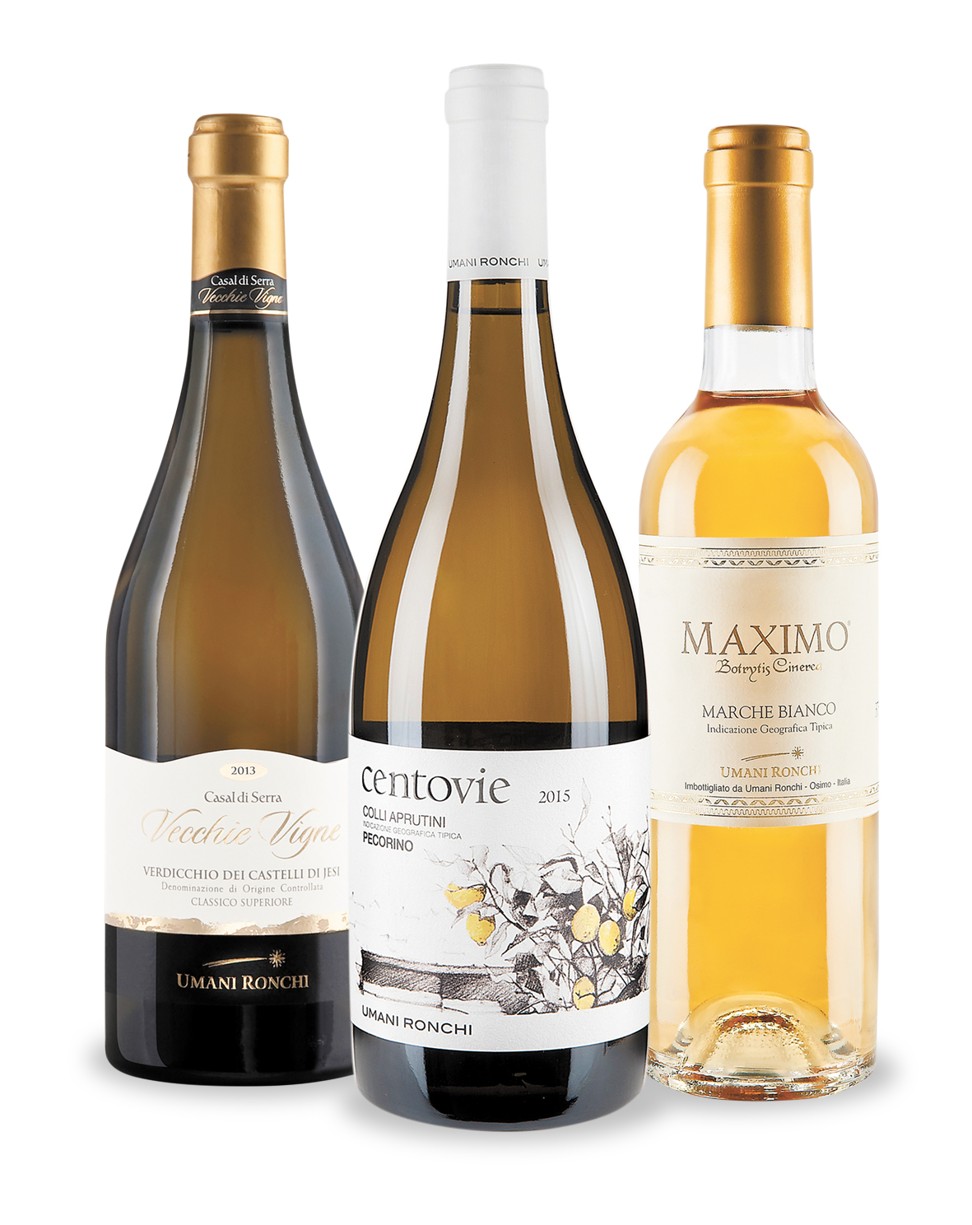 Umani Ronchi, Vecchie Vigne, Verdicchio dei Castelli di Jesi DOC Classico Superiore 2015. HK$240
Made from 100 per cent verdicchio vines planted in the 1970s. The vineyards are on clay-based soils planted 250 to 300 metres above sea level. The grapes are fermented in stainless-steel tanks and don't undergo secondary fermentation, which helps retain freshness and acidity levels. They are further aged in concrete tanks for 10 months on lees and bottle-aged for six months before release.
Mineral, stony, restrained nose with some citrus fruit. Medium body, good fruit intensity with some notes of almonds. Crisp acidity and finishing long with a phenolic edge. Vibrant and refreshing.
Umani Ronchi, Centovie, Colli Aprutini IGT Pecorino 2015. HK$220
Made from 100 per cent pecorino. The two-hectare vineyard is located between the mountains and the Adriatic coast, lending moderating effects from the maritime climate. The grapes are harvested earlier to retain acidity and are fermented in stainless steel. Half of the wine is aged in stainless steel and the remainder in neutral large oak for 12 months. The wines are bottle-aged for five months before release.
Umani Ronchi chief executive Michele Bernetti says that compared with verdicchio, pecorino has "less structure, more aromatics. The salty flavours often found are derived from the soil and the climate."
Floral, citrus, salty notes. Round, approachable and refreshing, with softer acidity, ripe fruit and medium finish.
Umani Ronchi, Maximo Marche Bianco IGT 2014. HK$298
Umani Ronchi initially experimented with a dry sauvignon blanc but discovered that the climate and soil conditions were more suited to the making of sweet wine. For this, the grapes are late-harvested at high humidity and low temperatures when they have been infected with Botrytis cinerea, or noble rot.
In the cellar, primary fermentation takes places in stainless steel and the wine undergoes ageing for a year in small stainless-steel containers.
Marmalade, orange peel and honey citrus notes. Lighter bodied with crisp acidity balanced with sugar. Clean and refreshing on the finish. The wines are available from sinovantagewines.com.