When my Ah Ma (paternal grandmother) cooked, she did so lavishly. With the help of my father and me – once I had grown tall enough to reach the counters – she prepared meals for 20 or more of our extended family every Saturday and Sunday. Her Sunday lunches were simpler than the Saturday dinners but they were equally delicious.
If she was planning to make sui gau (water dumplings) or wonton, she would phone my mother the night before to ask how many of the dumplings my brothers and I would eat, so that she could make enough. My mother would tell her to cook about 20 each for my brothers and 10 for me. Until I moved from New York to Hong Kong, I didn't realise you were supposed to eat sui gau or wonton with noodles, because my Ah Ma didn't believe in taking up stomach space with noodles when you could eat extra home-made dumplings instead.
Pork and watercress sui gau with chicken broth
This recipe is enough for four or five normal eaters (or two if you're feeding my brothers). If you're serving fewer and want to save the sui gau for another occasion, put the filled dumplings on a foil-lined baking tray and freeze until they are solid, then transfer them to a ziplock bag.
If you don't like watercress, substitute with the more conventional Chinese (napa) cabbage.
For the pork and watercress sui gau:
2-3 dried shiitake mushrooms (about 10 grams)
600 grams slightly fatty minced pork
10 grams peeled ginger
4 water chestnuts
30ml soy sauce
20ml rice wine
10ml sesame oil
5 grams granulated sugar
5 grams fine sea salt
5 grams cornstarch
1/8 tsp finely ground white pepper
125 grams Chinese watercress, leaves and thin stems only
3-4 spring onions
15 grams fresh coriander
About 50 sui gau wrappers (9cm in diameter)
To serve:
About 800ml unsalted chicken broth, preferably home-made
A small handful of fresh coriander leaves
2-3 spring onions
Soy sauce
Chilli oil or chilli paste
Shanghainese brown vinegar
Sesame oil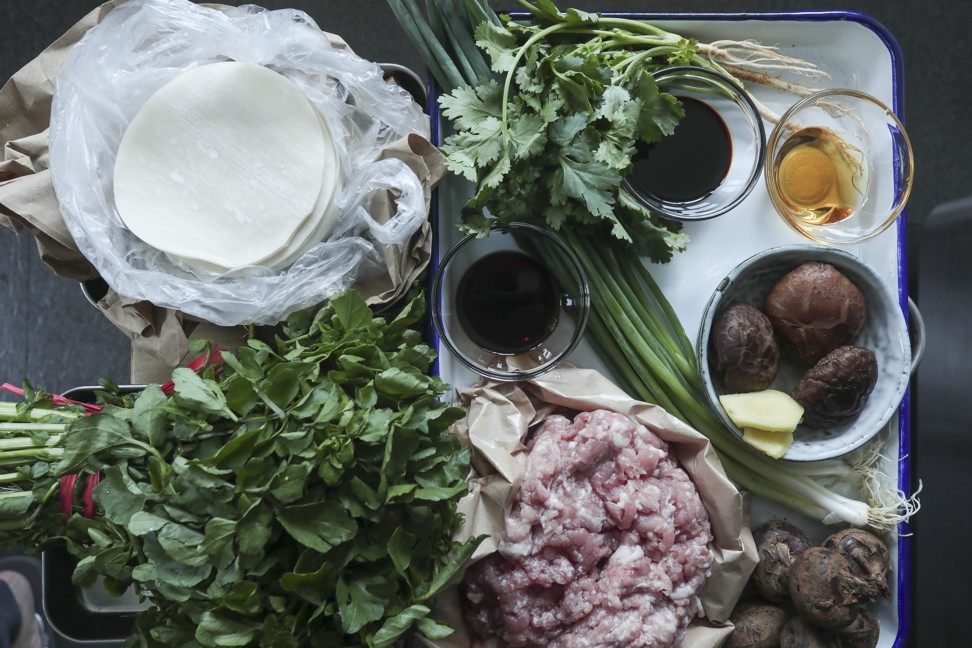 1 Briefly rinse the mushrooms, then put them in a bowl and add enough hot water to cover. Soak until the mushrooms are soft and fully hydrated. Squeeze as much water as poss­ible from the mushrooms (save the soaking liquid), then remove and discard the stems.
Finely chop the caps, then put them in a bowl with the minced pork. Finely mince the ginger. Peel the water chestnuts and cut them into small dice. Add the ginger and water chestnuts to the mushroom and minced pork, then mix in the soy sauce, rice wine, sesame oil, sugar, salt, cornstarch and white pepper.
Combine thoroughly, then pan-fry a little of the mixture and taste it for seasonings; correct, if needed. Finely chop the watercress, spring onions and coriander, then add them to the pork mixture and mix well. Refrigerate for about two hours.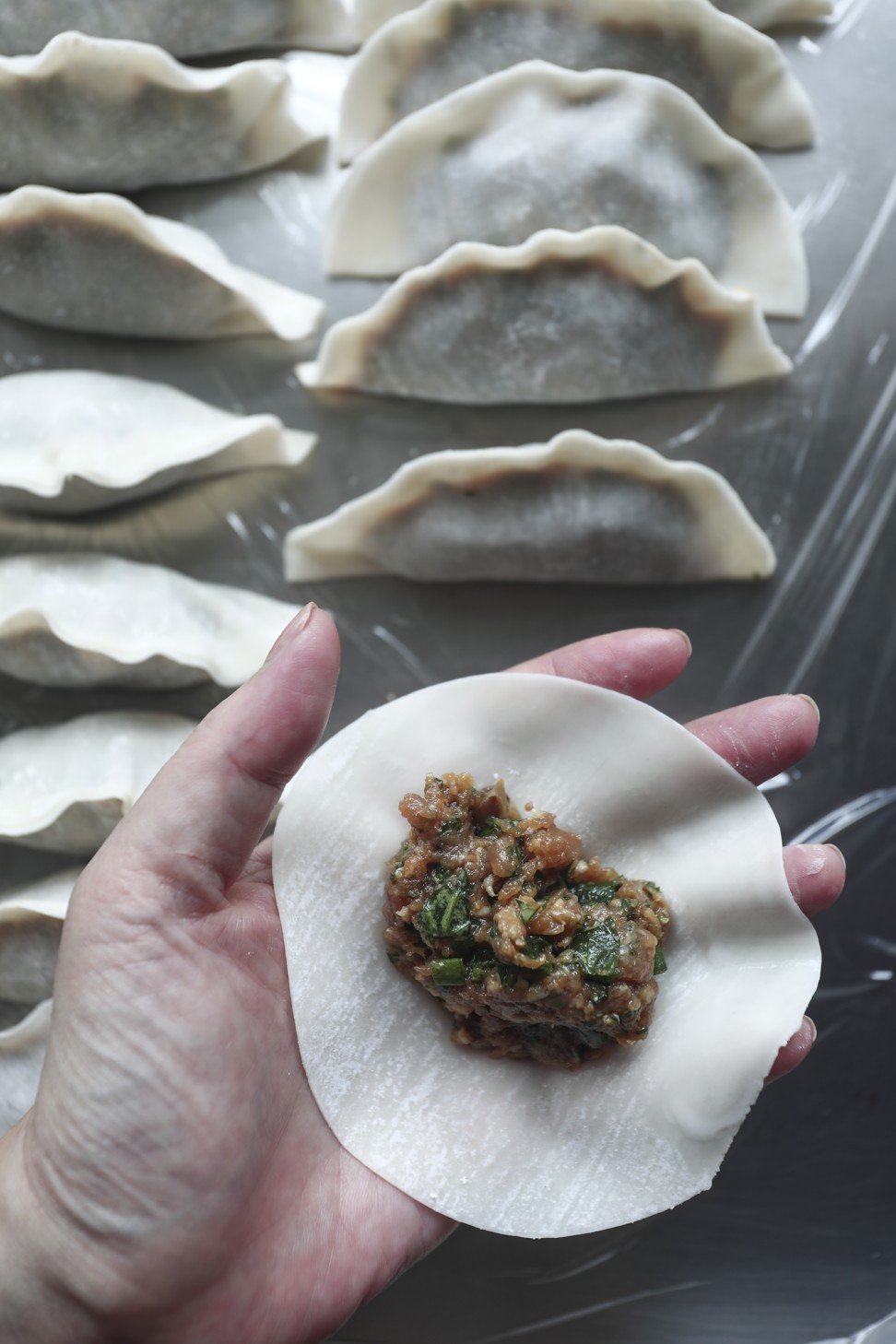 2 Make the sui gau. Line a baking tray with cling film or foil. Half-fill a small bowl with water and set about one-quarter of the sui gau wrappers on a plate (keep the rest covered until needed so they don't dry out). Use your forefinger to lightly dampen half of the perimeter of a wrapper.
Put a heaped teaspoonful of the meat mixture slightly off-centre on the wrapper, then fold up the dry side of the wrapper to meet the dampened side. Press firmly on the edges to seal in the filling. Place the sui gau on the baking tray and repeat with the rest of the filling and wrappers.
Once you have finished making the sui gau, they can be boiled imme­diately, or covered with cling film (so they don't dry out) and refrigerated.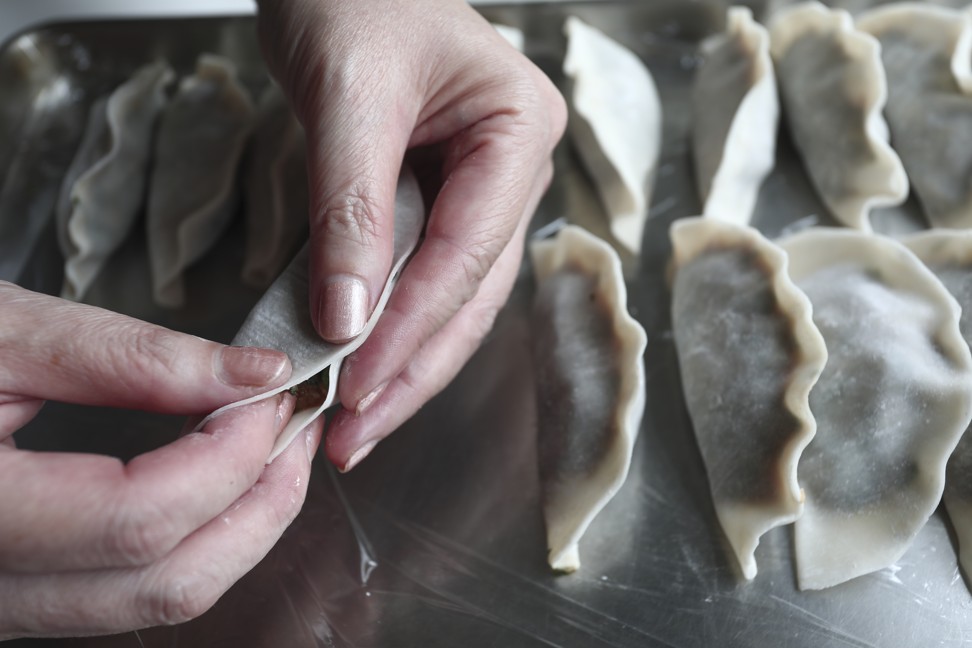 3 When it's almost time to eat, bring the chicken broth to a simmer and mix in the mushroom soaking liquid, then season to taste with a little soy sauce and salt. Place a large pot of water over a high flame and bring to the boil.
Add the sui gau in batches, leaving plenty of room for them to swim. When the water boils again, cook the sui gau for about three minutes, or until done.
4 Remove the sui gau from the water with a large slotted ladle and place them directly into serving bowls. Ladle the chicken broth over the dumplings. Chop the spring onions and scatter them over each portion, adding some coriander leaves and a drizzle of sesame oil. Serve the sui gau and let each diner mix a sauce using the soy sauce, chilli paste and vinegar.