A recent news story claims that "the secret weapon in the $63 billion wine market is often an eye-catching label", adding that in a saturated marketplace, producers need to grab any opportunity to catch people's attention. Here in Hong Kong, one local wine importer says that, with the ubiquity of social media, "Instagrammable labels", coupled with tasting notes, can help fuel sales.
In short, while an attractive or intriguing label will not make a wine better, it can make people more interested in trying a drop, as Gabriella Rallo of Sicily's Donnafugata winery knows full well.
Rallo has captured the Italian island's history and culture with her wine labels. Inspired by the art and literature of Sicily, and the Arabic influences that made an impact on its unique culture, she commissioned artist Stefano Vitale to create whimsical and eye-catching paintings conveying the wines' personality.
Donnafugata's reds employ nero d'Avola, the signature red grape of Sicily. The name means "black of Avola" and refers to a town in Sicily's southeast. In the past, nero d'Avola was used primarily as a blending component, adding colour and body to thin wines from northern Italy, but Donnafugata has been a pioneer in making modern wine styles of international quality using indigenous grapes.
Nero d'Avola possesses a dark, inky colour, firm tannins and high acidity, and it is growing in popularity with producers focusing on sustainable viticulture in light of climate change and extreme weather conditions. The grape ripens after summer's peak, is resilient to heat and drought, and retains acidity.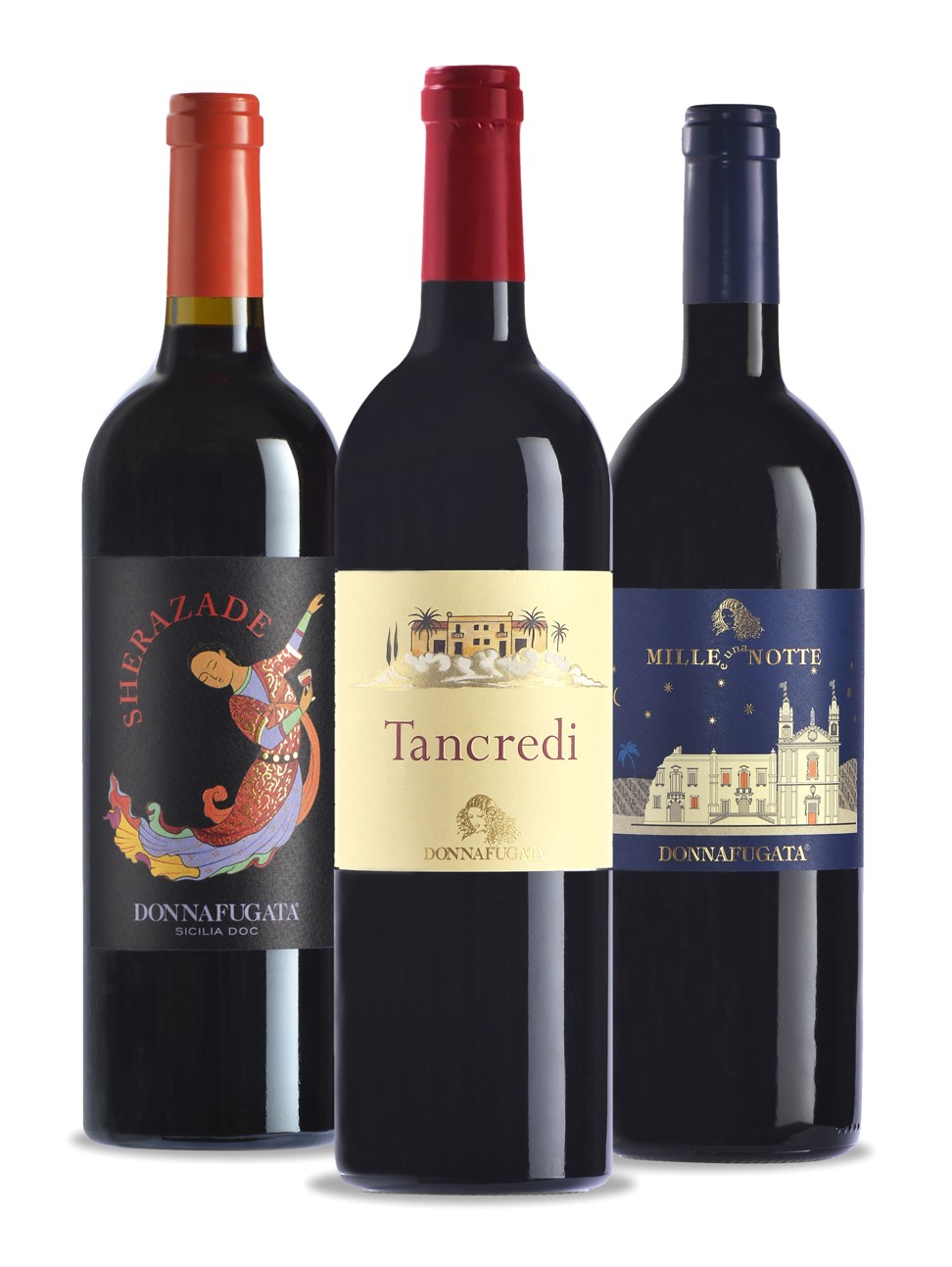 Donnafugata Nero d'Avola Sherazade, Sicilia DOC 2015. HK$178
Sherazade (or Scheherazade) is the heroine in One Thousand and One Nights, a collection of Arabic folk tales. She marries the sultan, who has married a succession of women, executing them at dawn so they do not have the chance to be unfaithful. To stay alive, she tells the sultan a new story each night. By the 1,001st story, the sultan has fallen in love with her.
Vinified in stainless-steel tanks at 25 to 28 degrees Celsius, with two months' ageing in vats, followed by five months of bottle ageing before release. Vibrant black morello cherry, with some savoury notes. Full-bodied and meaty, with ripe fruits, soft tannins and a clean, refreshing finish. A cheerful, attractive wine.
Donnafugata Tancredi 2012. HK$350
The label is inspired by The Leopard (1958), a classic Sicilian novel by Giuseppe Tomasi di Lampedusa – one of its characters is named Tancredi. The artwork refers to Donnafugata's wineries at Contessa Entellina. (In the novel, Donnafugata is a fictional place based on an area near Contessa Entellina.)
A blend of cabernet sauvignon, nero d'Avola and tannat. Fermented in stainless steel, followed by maturation for 14 months in oak barri­ques, and 30 months of bottle ageing. Black cherry, plummy, chocolate and licorice. Opulent and round on the palate. Savoury with ripe black fruits, fine tannins, balanced acidity and a long finish.
Donnafugata Mille e una Notte 2012. HK$650
The wine is named after One Thousand and One Nights and is made from a blend of nero d'Avola, syrah (to impart primary fruit) and petit verdot (to add elegance). Dense, ripe blackcurrants and cherries. Full-bodied, elegant with intense fruit and spicy, firm tannins. Still youthful, with long ageing potential.
The wines are available from sinovantagewines.com