How did you get interested in cooking? "When I was young, I liked to create things with my hands, so my mother taught me drawing, piano, calli­graphy and taekwondo. I like to make things, but my motor skills aren't very good. When it comes to cooking, though, the taste is more important."
Where did you learn to cook? "My parents were not rich enough to send me to culinary school abroad. So after vocational cooking school in Korea, I looked for internships overseas. About 10 years ago, when I was 22, I went to a Ritz-Carlton in Florida, to intern at a new American restaurant. I couldn't speak English well so I was a bit nervous but once I started the job it was fun. I only had a one-year visa and I worked 40 hours a week unpaid, though I got to work in different parts of the hotel."
You also went to Spain. Why? "While I was still in Florida, I was trying to line up another job, so I contacted Nobu Miami but didn't hear back, so I went to Spain. I hadn't tried chef Martín Berasategui's food, but when I checked online reviews, I discovered his cooking style was classic but presented in a modern way, not avant garde. I interned with him in San Sebastian for three months."
And then you joined Nobu Miami as a junior sous chef. Why was it important for you to work at Nobu? "I wanted to see how Asian chefs did Western-style cooking. After one year at Nobu Miami I became head chef; because I'm Asian I gave my opinions of how the food should taste. Then I went to Nobu Bahamas for 1½ years, when I was 27 years old. We used Japanese products but the dishes weren't authentic. It didn't matter – for the guest, the most important thing is enjoying the food and having a good time."
Why open your own place? "Ever since I had worked at the Ritz-Carlton, it had been my dream to introduce Korean food to the world. When I was in Florida, there weren't many Korean restaurants and people didn't know much about Korean food. So the cuisine had a lot of potential because it's tasty, healthy and everyone likes it, but it was not so famous at that time. In the US, only big cities like New York, Los Angeles and San Francisco have good Korean restaurants. My dream was to open a restaurant in Korea so I saved lots of money before going home."
Can you explain the importance of jang in your food? "Jangs are the funda­mental sauces for Korean cooking. There's doenjang [soybean paste], gochujang [chilli paste] and ganjang [soy sauce]. If I have these three jang, I can make Korean food with local fresh ingredients wherever I am. The first year after I opened Mingles, in 2014, I used jang, but in recipes I had learned abroad, substituting the ingredi­ents with Korean ones. The food was tasty but I had to find my own style, so I started to learn more about Korean food."
How has Buddhist nun and chef Jeong Kwan influenced your cooking? "Jeong Kwan is my muse. For the past 1½ years, I have visited her every weekend at the Baekyangsa temple [in Korea's South Jeolla province], staying for one night. We go to the market and cook together. Many of the dishes I have made with her are on the Mingles menu.
"She visits Mingles once every two months. Whenever she comes, I create something new; sometimes it works, sometimes not. She enjoys the food we make for her because she usually cooks and eats the same things. I would like to open a vegetarian or even a vegan restaurant in Seoul but there is no market for this kind of cuisine."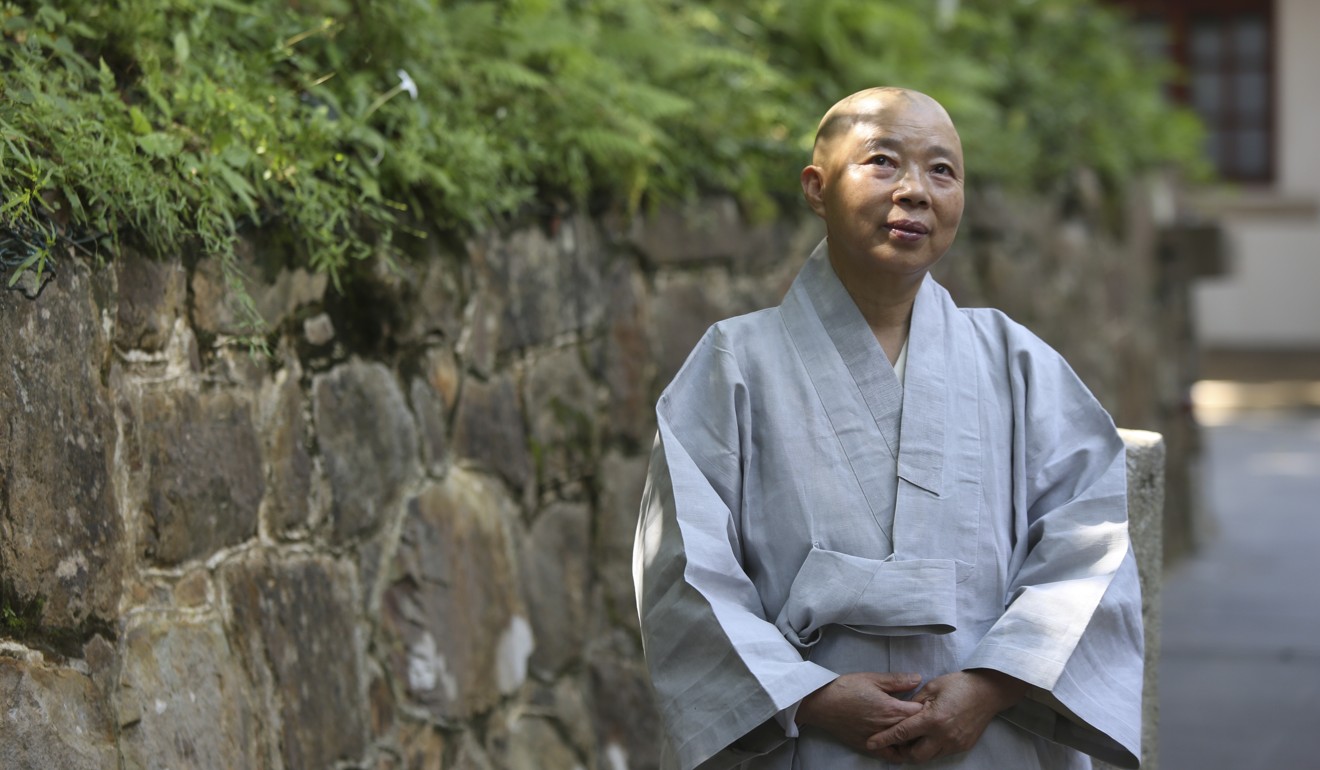 How do you feel about having a Michelin star and being no 11 on the Asia's 50 Best Restaurants 2018 list? "When we first got on the Asia's 50 Best Restaurants list, in 2016, it was a burden because at the time we had only been open for 2½ years and there were only three other restaurants in Seoul on the list. Our restaurant is not luxurious, it's casual. We don't belong to a restaurant group, and I don't have partners helping me. I'm honoured to have been recognised by Michelin [since 2016]. There are now 20 restaurants with Michelin stars in Seoul, so I feel less pressure. I will try to get another star but it's pretty hard."
What do you do when you're not working? "When I'm not in the kitchen, I'm at the gym. I lost 8kg last year. I had knee and back pain and I drank too much, so my health was bad. My doctor said I should lose weight." Kang Min-goo was in Hong Kong for a four-hands dinner with Richard Ekkebus at Amber, in the Landmark Mandarin Oriental, in Central. On October 18, Michelin announced its 2019 guide for Seoul, in which Mingles was awarded a second Michelin star.