Located in the northeast of Italy, Veneto is the country's largest wine-producing region. And the province of Verona, in Veneto, is home to the famed valpoli­cella and amarone wines. Historically, there has been a regional tradition of drying grapes, to concentrate the flavour and produce richer wines. The autumn months, with their low temper­atures and cool winds, create ideal drying conditions, while cold winters allow for slow maceration and fermentation over an extended period of time.
With a winemaking history dating back to the 1630s, the Bertani family are masters of their craft. The age­ability of their wines is reaffirmed by the discovery of a 1928 recioto, a sweet wine. During the second world war, a batch of wines was hidden behind walls on the family farm, to conceal it from the Germans. It was redis­covered in 1984 and about 2,500 bottles remain. The 90-year-old wine, named acinatico (derived from acinaticum, the Latin word for grape or grape stone), is mellow, rich and still has incredible freshness.
This is a milestone year for the family business, Tenuta Santa Maria di Gaetano Bertani, marking the 80th anniversary of its amarone produc­tion. The family has claimed it takes inspiration for its wine from William Shakespeare's tragedy Romeo and Juliet, which is set in Verona. Family conflict nearly cost them their historic vineyards and villa, when some members sold two-thirds of the shares to a corp­oration.
Fortunately, the family has re-emerged, phoenix-like, with Gaetano Bertani and his sons, Guglielmo and Giovanni, producing wines in the style of their forefathers. The new generation has eschewed the trend of making concentrated wines with a high alcohol level. Their wines stay true to the traditional style, using only indi­genous grapes with fresher fruit, elegance and lower alcohol levels.
Tenuta Santa Maria di Gaetano Bertani, Valpolicella Classico Superiore DOC 2017. HK$238
A blend of 70 per cent corvina, 15 per cent corvinone and 15 per cent rondinella. The wine is aged in large old barrels for 14 months before bottling.
Vibrant sour cherry and floral notes of violets. Medium body with crisp acidity and soft tannins. Easy drinking wine with great purity of fruit.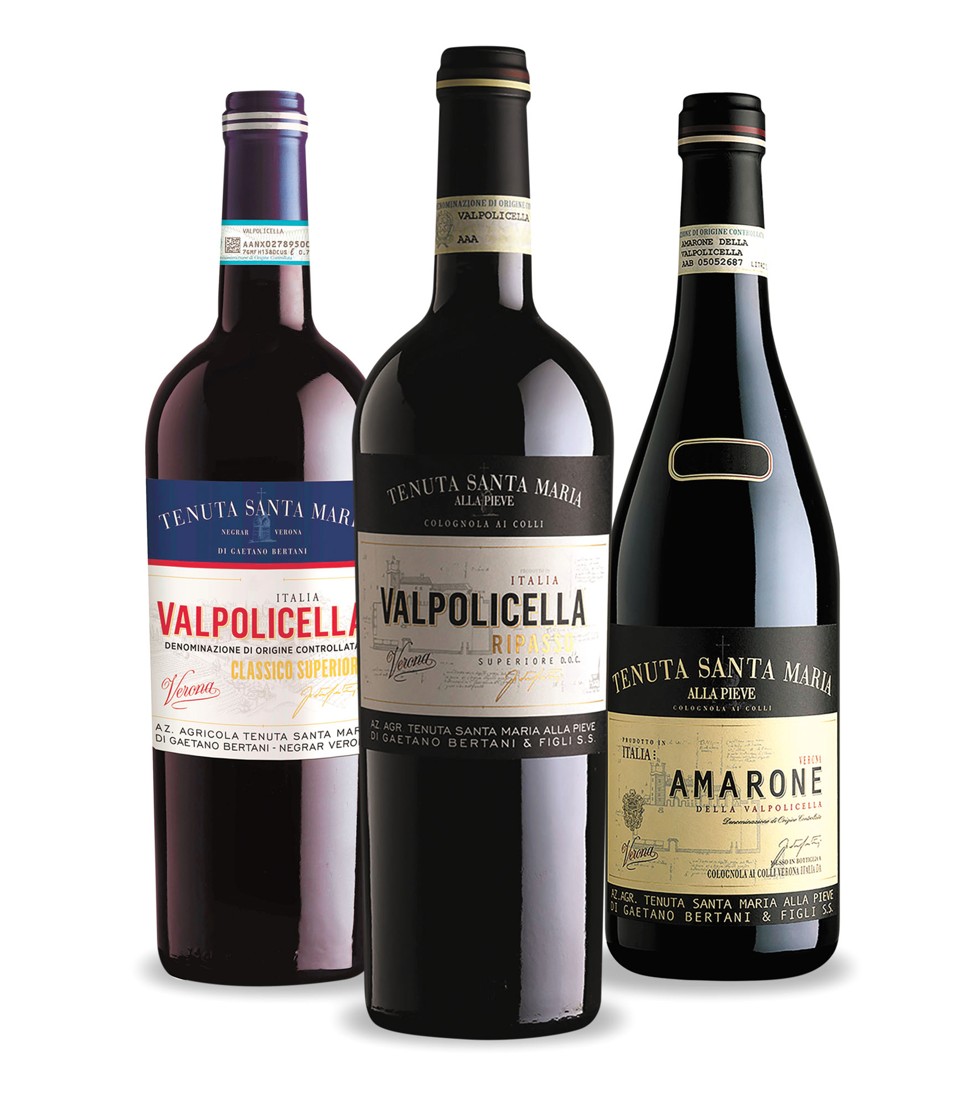 Tenuta Santa Maria di Gaetano Bertani, Valpolicella Ripasso Classico Superiore DOC 2015. HK$318
Also made from 70 per cent corvina, 15 per cent corvinone, 15 per cent rondinella. After the first fermentation, the wines are treated using the ripasso method, a second fermentation on skins of amarone grapes. Alcohol levels increase slightly, between 0.5 per cent and 0.8 per cent. The wines are aged for a further 24 months in large oak barrels before release.
Succulent black raisins, black plums, floral and some chocolate. Rounder on the palate with good fruit intensity, soft acidity and well-integrated tannins. Very long and refreshing.
Tenuta Santa Maria di Gaetano Bertani, Amarone Classico della Valpolicella Riserva DOCG 2012. HK$818
A blend of 75 per cent corvina, 15 per cent corvinone, 10 per cent rondinella. Grapes are dried naturally using the appassimento method. After three to four months, the grapes lose 40 per cent to 50 per cent of their water content. They then undergo a long, slow fermentation lasting about 35 days. "Riserva" indicates that the winehas undergone five years of ageing before release.
A brooding wine that shows restraint, with savoury dried fruit, licorice and spice. Powerful yet elegant, with beautifully balanced and concentrated dried fruit and velvety tannins. Finishing very long. Still youthful with cellaring potentially of at least 20 years.
The wines are available from Cottage Vineyards.