A popular dinner-party game among oenophiles is to blind taste wines and try to guess what they are. The best-known blind-tasting event was the 1976 Judgment of Paris, which pitted Californian chardonnay and cabernet sauvignon against burgundy and bordeaux, respectively. To everyone's amazement, a Californian wine won first place in both categories, proving that the American state – despite its short wine history and culture – was capable of producing wines that could surpass those of France.
The winemaker behind one of the winners, the 1973 Chateau Montelena Chardonnay, was Croatian American Miljenko "Mike" Grgich, now 95. After his momentous achievement, the newly anointed "King of Chardonnay" created the Grgich Hills Estate winery in partnership with Austin Hills and Hills' sister, Mary Lee Strebel, of the Hills Bros coffee family, in 1977.
Grgich Hills Estate Chardonnay 2014, Napa Valley, HK$490
All Grgich Hills vineyards are farmed organically. The chardonnay fruit is sourced from the southern part of Napa Valley, close to Pablo Bay. Maritime conditions, with morning fog and cooling breezes, allow time for grapes to reach optimum ripeness while retaining acidity levels. California suffered a severe drought in recent years but July 2014 was relatively cool, giving grapes time to develop and mature.
Fermentation in oak takes place spontaneously using indigenous yeast. To maintain acidity levels, wines do not undergo malolactic (secondary) fermentation. Wines are further aged for 10 months in French oak barrels of which 40 per cent are new.
Restrained citrus, stone fruit, minerally with a touch of smoki­ness. Medium bodied, with a core of ripe fruit. Shows harmony with crisp acidity and discreet spicy oak. An elegant, Burgundian style of wine.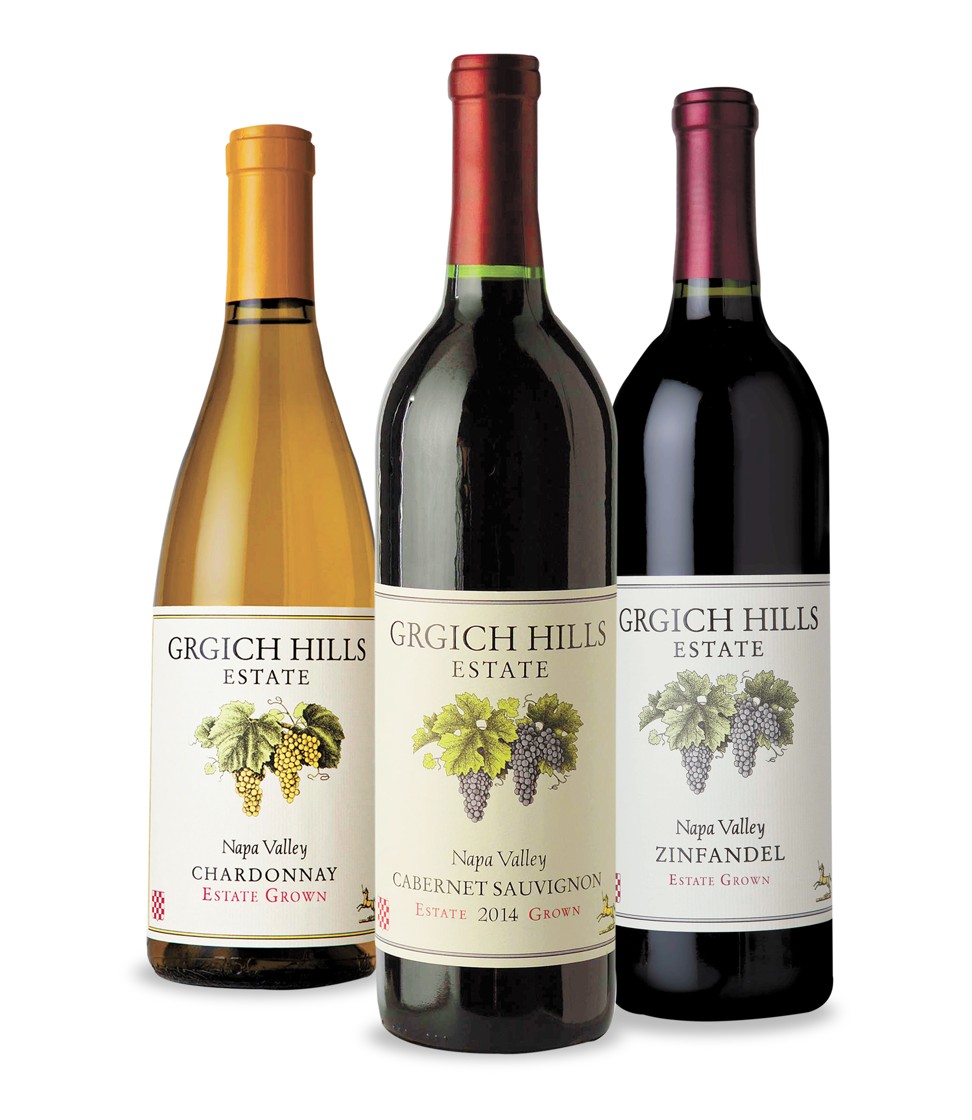 Grgich Hills Estate Cabernet Sauvignon 2014, HK$750
With warm and dry growing conditions, the 2014s are approachable with ripe fruit and are perfect for early drinking.
A blend of 79 per cent cabernet sauvignon, 14 per cent merlot and 7 per cent petit verdot and cabernet franc. Wines are aged for 21 months in French oak of which 60 per cent is new.
Ripe blackcurrant, cherries, black olives with some licorice. Quite round with succulent fruit, fine and integrated tannins with a long finish.
Grgich Hills Estate Zinfandel 2014, HK$420
Drought conditions in 2013 led to an early harvest with small berries, intense colour and a ripe flavour profile. The zinfandel grapes are co-fermented with 3 per cent petite sirah to add complexity and structure. Wines undergo ageing in large French casks for 15 months.
Blueberries, some red fruit with raspberries. Elegant with harmonious balance between acidity and soft tannins. Approachable and drinking well, showing purity of fruit without being too heavy.
The wines are available from Ponti Wine Cellars.