Russian author Anya von Bremzen has observed how the cuisine of Spain has changed over the many years she has been returning there.
"The first time I visited the country was in the early eighties, as it was awakening from the isolation and destitution of the Franco years," she writes in the introduction to The New Spanish Table (2005). "I was instantly smitten with the regional rigour, the immense pull of traditions, the purity and warmth of the food culture […] When I visited Valencia and Alicante expecting to find only one kind of paella, I stumbled upon whole cults devoted to rice. In the Basque country, I went crazy for pintxos, the ornate local version of tapas. In Catalonia, I marvelled at the Mediterranean grace of the coastal cocina and at the intriguing island combinations like salt cod with honey or rabbit with chocolate […]
"Over the years, I have watched as Spain transformed itself from an almost archaic Mediterranean culture into a European capital of style and design. Yet despite its thrust into modernity, the country has kept globalisation at bay, retaining the authenticity that seduced me in the first place. And something truly extraordinary has happened – fostered by a desire to break with the past. The boom that gripped Spanish cultural life after Franco, producing figures like filmmaker Pedro Almodóvar, has taken hold in Spanish kitchens."
Von Bremzen attributes the birth of new Spanish cuisine to chefs in San Sebastián in the late 1970s.
"Impressed by the vibrant delicacy of revolutionary nouvelle cuisine across the border in France, a group of Basque chefs that included Juan Mari Arzak [of Arzak] and Pedro Subijana [of Akelarre] decided to stage their own revolution. The result was nueva cocina vasca, or new Basque cuisine – a lighter, fresher, prettier, unapologetically modern style, both cutting edge and solidly grounded in Basque ingredients and traditions […] Nueva cocina soon spread across Spain, giving rise to new modern regional styles.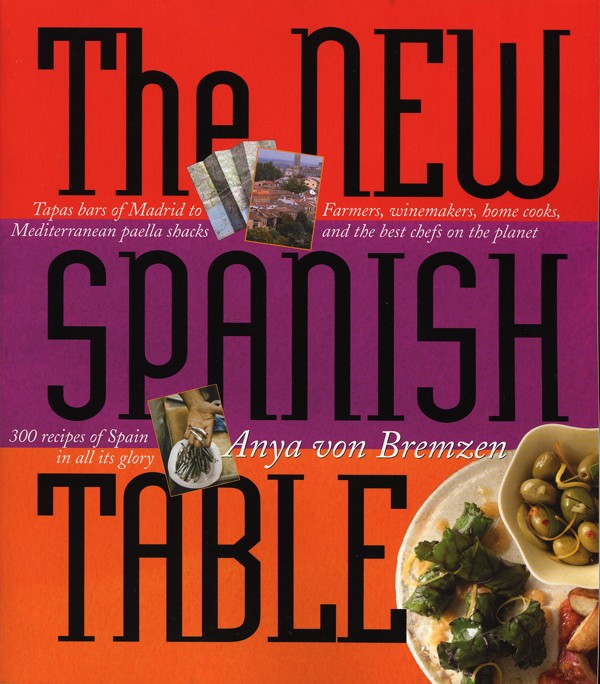 "And then something radical happened. A self-taught Catalan genius named Ferran Adrià arrived on the scene. I had my first meal at Adrià's restaurant, El Bulli, in 1997, the year that he was awarded his third Michelin star and hailed by the great French chef Joël Robuchon as 'the best cook on the planet' […] Though Adrià was already creating a stir in the food circles, El Bulli's whitewashed dining room was nearly empty when I arrived for lunch." How different it was then: by the time the restaurant closed in 2011, it was getting a reported 800,000 requests each year for tables.
But there is no need to fear that the recipes in The New Spanish Table are the complicated "molecular" dishes that require a kitchen full of esoteric, expensive ingredients and equipment, and a staff of 60 to make faux peas and spherical olives. The dishes are hearty and flavourful, and while they may be modernised, there's still enough classic recipes in here to satisfy tradition­alists.
They include salt cod and green pepper tortilla; olive oil and saffron pastry; monkfish with eggplant allioli; clams in olive oil with jamon and pine nuts; salt-baked pork in adobo; Catalan meatballs; Ferran Adrià's rotisserie chicken; grilled T-bone steaks with cabrales butter; Valencia orange tart; and chocolate custards with a citrus cloud.