Pineapple bun, milk tea, French toast, red bean, caramelised char siu and egg tart – these are a few of the iconic Hong Kong flavours that have inspired a new gift box of 3D-printed chocolates by Australian artist Ryan Foote. (Thankfully, fish balls and stinky tofu didn't make the cut.)
Foote, a ceramicist with a background in sculpture and spatial practices, splits his time between Hong Kong and Melbourne, and wanted to create two collections that represented the food cultures of both cities; his Australian box features flavours such as eucalyptus and dark chocolate, lemon myrtle and macadamia ice cream, and avocado smash. A third collection, suitable for vegans, features single-origin chocolate from across the world, produced in Foote's kitchen in Ap Lei Chau.
"I love creating desserts; every­one's willing to be a bit more adventurous when it comes to shape," the 34-year-old says. "Eating a com­plex shape made of steak is a bit more challenging than a dessert, where you can be much more adventurous."
The peculiar, jagged forms of Foote's chocolates would be too complicated for traditional, mould-based confectionery, but 3D-printing technology widened the creative scope. Spiky shapes work well with sharp citrus tastes while creamier fillings lend themselves to smoother, spherical structures, Foote reveals.
The shapes draw inspiration from the natural world and architecture – from crystalline geodes and bubbly botryoidal formations, to the Harbin Opera House and a Dutch tower block. Making choco­late using 3D technology isn't new to the confectionery world, but Foote's hand-finished technique produces a smoother, more intricate result than the heavily lined designs found elsewhere.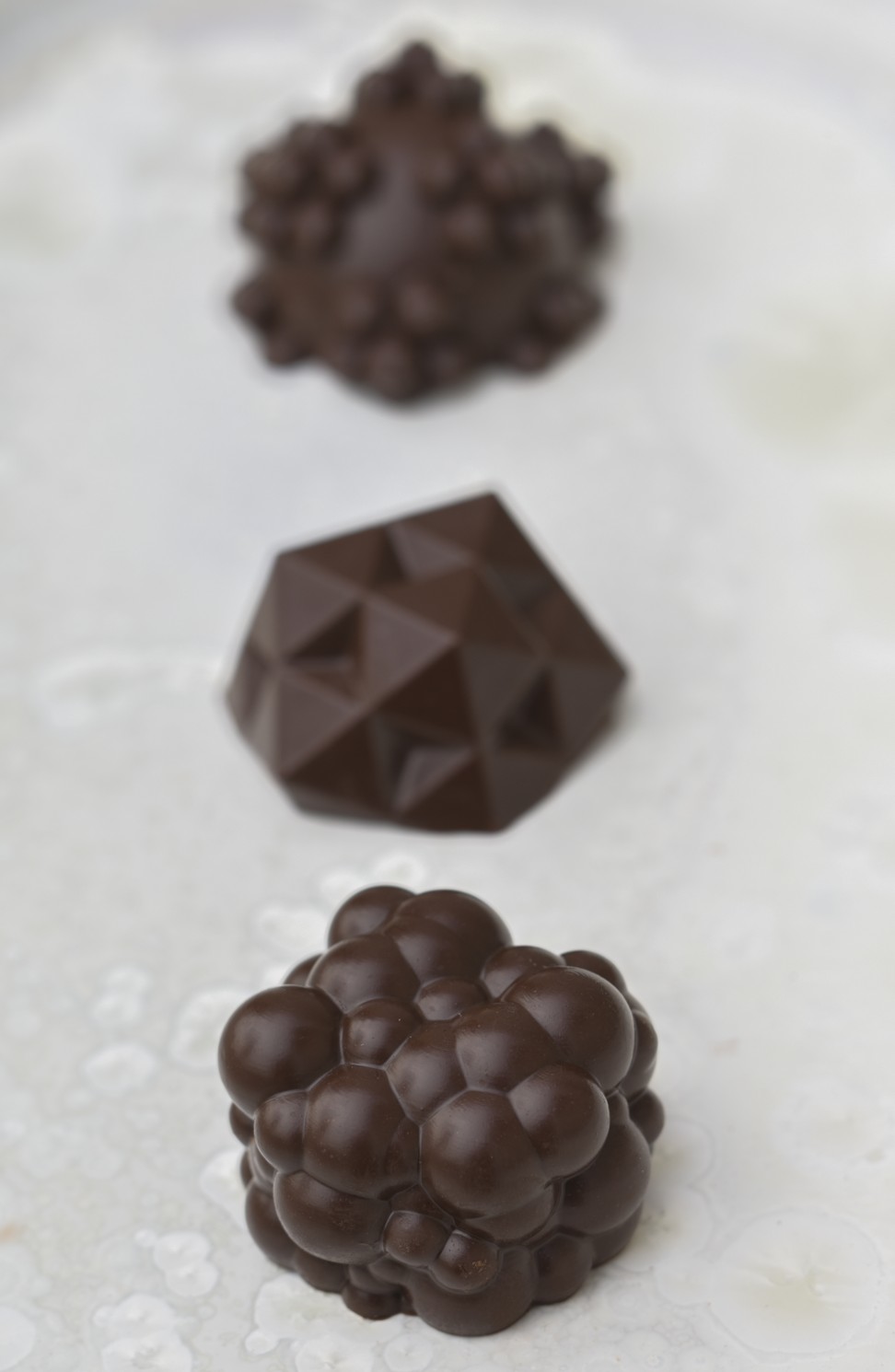 Priced higher than your usual supermarket selec­tion box, the chocolates, Foote says, are "for people with an appreciation of design who are adventurous with their food.
"I wanted to create something that was reflective of Cantonese food culture."
Financed by a Kickstarter crowdfunding campaign that ends on November 11, Chocolates by Ryan L Foote are available to order for pre-Christmas delivery. A four-piece box will retail for HK$268 and a nine-piece box will be HK$415.
For more details, visit chocolatesbyrlf.com.