A natural wine is a subcategory of wines made using specific methods. While there is no legal definition for natural wines yet, Decanter magazine has come up with a broad list of conditions that need to be met: the vineyards must be cultivated organically or biodynamically, and grapes hand-harvested; minimal intervention in the cellar; fermentation only with indi­genous yeast; no additives allowed except for a tiny amount of sulphur; the wines may undergo light filtration before bottling.
Natural wines are made in both the new and old worlds. Georgia, with its 8,000-yearhistory of winemaking, still uses tradi­tional methods, which involves the use of qvevri – egg-shaped clay containers that can hold up to 2,000 litres. The grapes are pressed and the juice, skins, stalks and pips are put into the qvevri. During fermentation, usually done with indigenous yeast, the contents of the qvevri are stirred four to five times a day. At the end of fermentation, the container is sealed with a wooden or stone lid, lined with clay and left to mature.
The wine is usually orange or amber in colour and may look like a rosé, but the flavour and structure more resemble a red, with firm tan­nins and savoury notes.
Cristobal Huneeus, co-founder of La Cabane, a French-style wine bistro on Hollywood Road, Central, is a pioneer in the local natural-wine movement and has exacting standards when it comes to his selection. He relies on a network of winemakers to ensure the bottles in his portfolio meet specific standards in the vineyard and the cellar.
So who is drinking natural wines? Huneeus says everyone from hipsters to financiers.
Here are three natural wines from Georgia to try.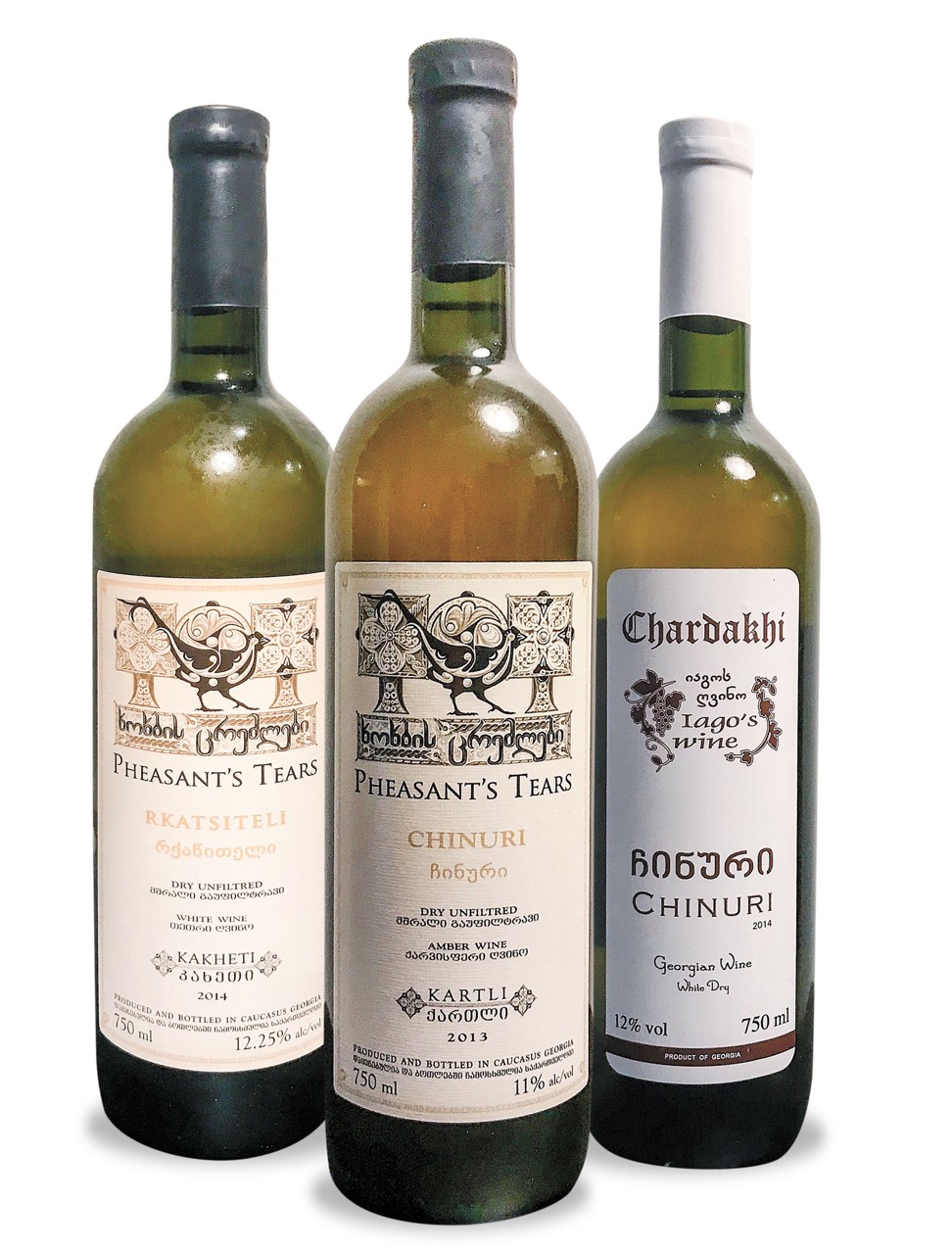 PHEASANT'S TEARS RKATSITELI 2014, KAKHETI, HK$245
Pheasant's Tears' vineyards are located in Kakheti, eastern Georgia, and are farmed biodynamically. Rkatsiteli, which means "red stem" in Georgian, is an indigenous white grapethat is known for its thick skin. To extract flavour, the grapes receive six weeks of skin contact before fermentation. They are fermented using indigenous yeast and aged for nine months in qvevri.
Notes of apricot and tea leaves. Medium bodied with balanced acidity and firm underlying tannins, savoury notes and a long finish.
PHEASANT'S TEARS CHINURI 2013, KARTLI, HK$230
An amber wine made from the chinuri grape, which is named for the colour of olive-tree leaves in eastern Georgia's Kartli wine region.
Earthy, notes of the forest floor and dried fruit. Austere, with some minerally savouriness backed by tannins and with a slight phenolic finish.
IAGO'S WINE CHARDAKHI CHINURI 2014, MUKHRANI VALLEY, HK$270
With two hectares of vineyards, Iago Bitarishvili, the founder of Iago's Wine, produces about 5,000 bottles a year. The vineyards are located in the Mukhrani Valley, Kartli. Grapes are fermented and aged for six months in qvevri. Intervention is kept to a minimum, with low sulphur additions.
Peach, apricot and stone fruit. Round with ripe fruit, some meaty notes, chewy tannins and finishing long.
The wines available from La Cabane.