The country's cuisine is popular around the world but mention Thai wine and you will most likely be met with a blank look. Good Thai wine is hard to come by but one producer that has risen to the challenge is GranMonte.
The family-owned winery is located in the Khao Yai National Park, in central Thailand, and its 15-hectare vineyard is planted with syrah, cabernet sauvignon, chenin blanc, viognier, semillon, verdelho, durif and grenache. Winemaker Nikki Lohitnavy, a second-generation family member, graduated from Australia's University of Adelaide with a degree in oenology, and her winemaking experience has been earned in Bordeaux, the Loire and the Rhône in France, South Africa, Venezuela and Brazil.
GranMonte is situated at 350 metres, and the elevation helps preserve acidity in the grapes. The challenges winemakers in tropical climates face include humidity, heat and fluctuating yields. Plus the cost of production is higher than in traditional wine regions.
"The work is double in tropical vineyards because we have to prune the vines twice a year for only one harvest," Lohitnavy says. "Finding skilled workers is also a challenge.
"Thailand doesn't have a strong wine culture and it has been a challenge to sell Thai wines locally," she adds. "GranMonte does well within our niche of wine lovers, five-plus star hotels and restaurants, and young professionals seeking new gastronomic experiences."
In terms of style, the winemaker says she aims to produce wines that are "versatile, elegant, fruit-forward, expressive of tropical wine characteristics". GranMonte wines are food-friendly, embodying "Thai culture, a melting pot of many different cultures".
GranMonte has won awards in Europe and Asia, proving that non-traditional wine regions are capable of producing wines of international quality.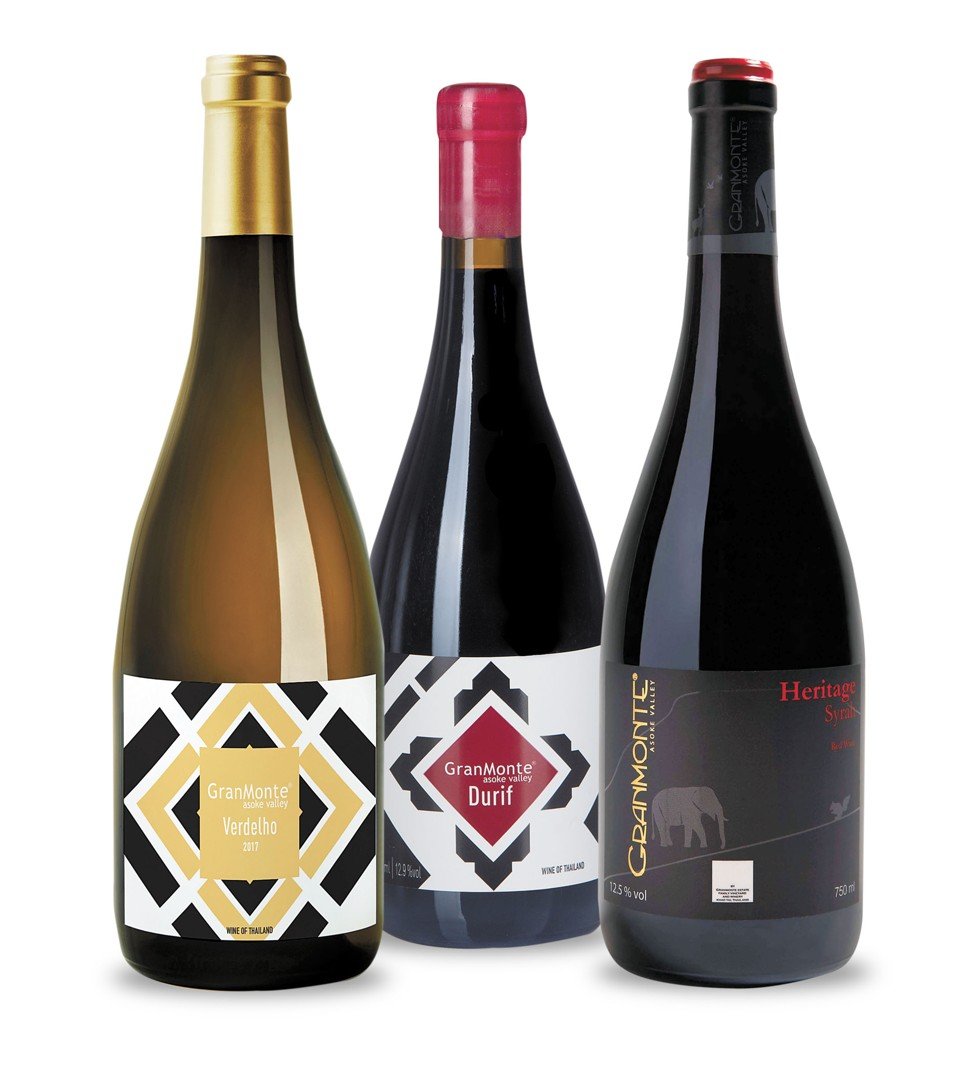 Granmonte Verdelho 2017, Asoke Valley, HK$170
Lohitnavy's experiments with verdelho have produced excellent results. "It has an upright growth, making the canopy easy to manage, and moderate but high-quality yield with loose bunch morphology, making it a hardy variety," she says. "When micro-vinified for the first time, everybody loved it."
Fresh and vibrant, notes of apple, melon and tropical fruits. Lighter weight, with crisp acidity and finishing quite clean. Easy drinking and approachable.
Granmonte Durif 2016, Asoke Valley, HK$190
Durif, originating from Montpellier, in France, is a cross between syrah and peloursin grapes. It is characterised by its rich, black primary fruit, a robust structure and firm tannins.
Savoury, earthy, with black cherries and plums. Full-bodied, rich and concentrated, with spicy ripe fruit, fine tannins and finishing long.
Granmonte Heritage Syrah 2015, Asoke Valley, HK$170
"Syrah is an adaptable variety, which is why you can see it in many wine regions of the world," Lohitnavy says. "Syrah gives a good yield, good quality and has growing characteristics that fit our two-pruning, one-harvest cycle."
Savoury notes of smoked bacon, and floral interlaced with black fruit. Medium-bodied, balanced acidity, elegant, with good fruit intensity. A style that veers towards the Rhône Valley.
The wines are available from Wine 'n' Things.