I love old cookbooks because they give us a glimpse of what the cuisine was like in a particular time and place.
"An Encyclopedia of Chinese Food and Cooking" was first published in 1970 and is subtitled "1000 Recipes Adapted to the American Kitchen", so you'd be correct in assuming that the recipes call for canned water chestnuts and bamboo shoots – fresh versions would have been hard to find back then in the United States, as would Chinese rice wine, for which sherry is substituted.
Unlike some Chinese cook­books written around that time, the cuisine isn't dumbed down for its American audi­ence; instead, the authors try to educate them on the cuisine's vast array of dishes, describing regional differences, ingredients and their preparation, and cooking methods and utensils.
They also give sample menus, including some for banquets (which you probably wouldn't want to cook at home unless you have a lot of help).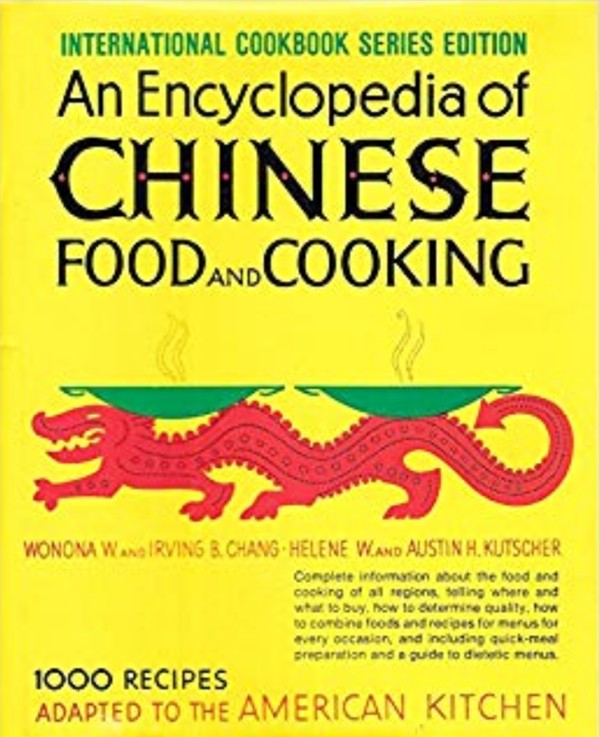 Unfortunately, they have an odd way of presenting the recipes: each ingredient is given a letter. In the instructions for diced chicken with chillies, the recipe reads: "Preparation: I. Bone B and dice, mix with C, D, E. II. Wash and discard stem and seeds of G, H; dice. III. Mix M, N, O. Cooking: 1. Heat A, add B-E mixture, stir-fry 1 to 2 minutes, remove to dish. 2. Pour excess A back into frying pan and heat. Add F, G, H, I, stir-fry 1 to 2 minutes, add J, K, L, stir until done (1 to 2 minutes). 3. Return B-E mixture to pan, add M-O, mix well and serve".
It's not the easiest recipe to follow.
The dishes include shrimp toast, lion's head meatballs; ginger pigs' feet; braised sea cucumber; salt-roasted chicken; steamed porkspare ribs with salted black beans; steamed eggplant with minced meat; stuffed bean curd; sweet and sour pork; roast pork; steamed fish; and caul fat shrimp rolls.