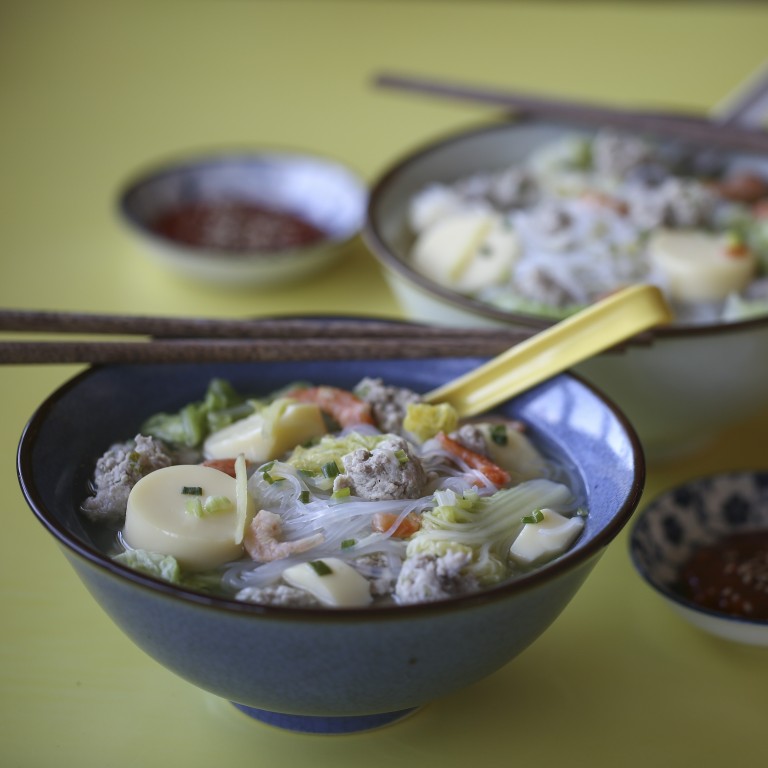 How to make Thai-style sukiyaki, a one-pot twist on a Japanese winter warmer
Thai and Japanese cuisines have been blended into an easy-to-make meal that is perfect for the cooler weather
I was first served this dish by a Thai friend, when I was feeling under the weather. She called it "suki" and when I looked at her quizzically, she said, "Thai suki", which didn't clarify things. Finally, she called it "sukiyaki", and, after I started eating it, I realised it's a Thai version of what, in Japanese cuisine, is a dish with sliced beef, vegetables (leeks, Chinese cabbage, mushrooms) and glass noodles in a savoury-sweet dressing.
Thai sukiyaki uses similar ingredients, but is a lot more freewheeling. Yes, it has the vegetables (at least the cabbage and mushrooms) and glass noodles, but the protein can be meatballs, fresh shrimp or sliced pork, beef or chicken, it usually contains thick discs of egg tofu, and everything comes swimming in a light, clear broth. It is served with nam jim suki – a spicy sauce that you can mix into the broth or use as a dipping sauce for the meat.
Suki/Thai sukiyaki
This dish doesn't take long to prepare – everything (apart from the sauce ingredients) is just boiled together in a pot. If you dislike pork meatballs, substitute fresh shrimp or sliced pork, beef or chicken (or you could use a combination of meats and seafood). Shrimp and sliced meat don't take long to cook, so stir them into the broth just a few minutes before removing the pot from the heat.
I like to season the meatballs with the tougher stems from fresh coriander stalks (or even better, coriander roots), and use the leaves and thin stems to garnish the suki.
Glass noodles are also known as mung bean noodles (or vermicelli) or fen si. They are usually soaked in water until they soften slightly, but that's not necessary for this dish – you can put them straight from the packet into the simmering broth.
Egg tofu is sold in tubes or rectangles. If possible, buy the tubes. If you can't find egg tofu, use plain soft tofu, instead.
For the nam jim suki:
100 grams sriracha (Thai chilli sauce)
50 grams tomato paste
15 grams Thai soybean sauce (or light soy sauce)
15 grams oyster sauce
10 grams granulated sugar
5ml sesame oil
1 medium-size garlic clove, peeled
About 10ml fresh lime juice
Toasted sesame seeds
For the meatballs:
200 grams minced pork
10ml fish sauce
¾ tsp granulated sugar
½ tsp fine sea salt
1/8 tsp finely ground white pepper
10 grams fresh coriander stems or roots
10 grams spring onions
For the rest of the dish:
30 grams dried shrimp
800 grams unsalted chicken stock, preferably home-made
10ml fish sauce
60 grams glass noodles
250 grams small Chinese cabbage
About 150 grams egg tofu
100 grams enoki mushrooms
Fresh coriander leaves
Minced spring onions
1 Make the nam jim suki first, so it has time to cool. Put the sriracha, tomato paste, soybean sauce (or light soy sauce), oyster sauce, sugar and sesame oil in a small saucepan with 50ml of water. Bring to a boil, then taste – if it's too spicy, add more sugar. The consistency should be quite thick; if necessary, simmer for a few more minutes.
2 Mince the garlic clove and add it to the sauce and simmer briefly, then turn off the flame and leave to cool.
3 Briefly rinse the dried shrimp, then put them in a small bowl and add 50ml of warm water. Set aside to soak.
4 Put the minced pork in a bowl, add the fish sauce, sugar, salt and white pepper and mix well.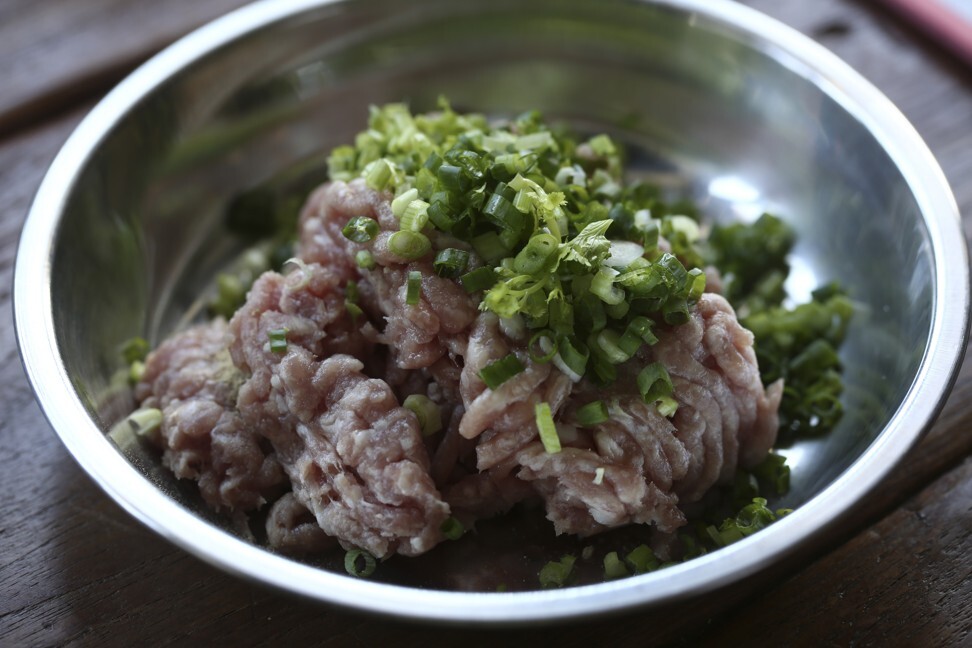 5 Finely mince the coriander stems or roots and the spring onions. Add them to the bowl with the pork and mix.
6 Pour the stock into a medium-sized saucepan, add 10ml of fish sauce and bring to a boil. Add the shrimp and the soaking liquid, then reduce the heat to a simmer.
7 Use a teaspoon to scoop the pork mixture into roughly shaped meatballs and add them to the simmering liquid.
8 Add the glass noodles to the pot.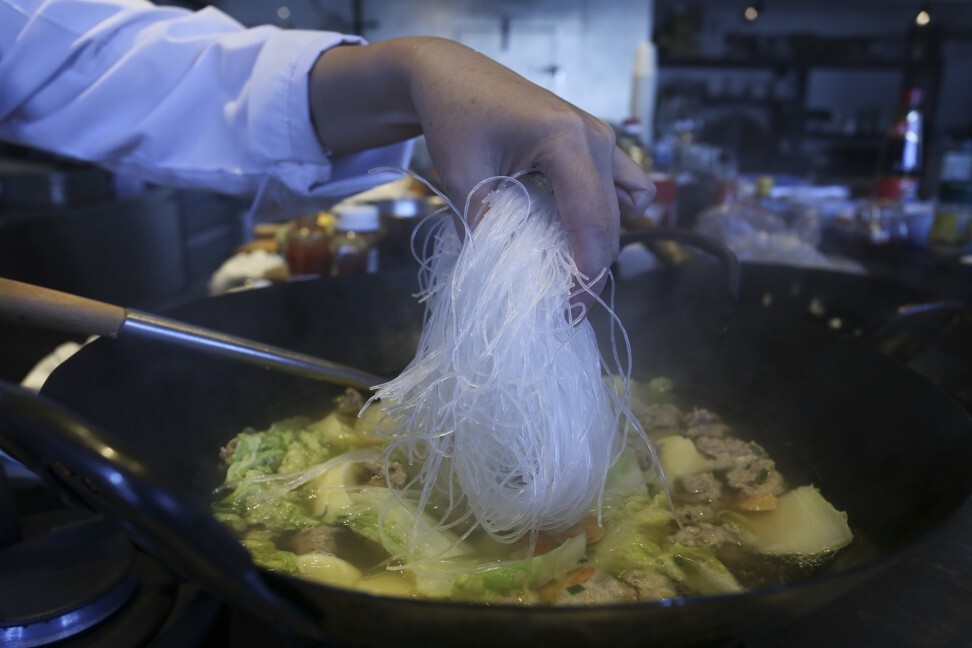 9 Cut the cabbage in half and remove the core. Cut the leaves into bite-size pieces and add them to the pot.
10 Cut the egg tofu into six to eight discs and add them to the pot, stirring them in gently (they are delicate).
11 Trim off and discard the base of the enoki mushrooms, then break them into clumps before adding them to the pot. Simmer for a couple of minutes, or until the vegetables are cooked through. Taste the broth, and if necessary, add salt.
12 Stir about 10ml of lime juice into the nam jim suki and taste – it should be spicy yet balanced. Add more lime juice, if necessary. Spoon the sauce into two small condiment bowls and sprinkle with the toasted sesame seeds.
13 Divide the suki between two large soup bowls, then garnish with coriander sprigs and minced spring onion. Serve immediately.