A recipe for vegan san choi bao, because plant-based people deserve Lunar New Year prosperity, too
Festive feasts feature foods that are said to bring wealth, luck and happiness to those who enjoy them
The superstitious should avoid tofu because of its white colour, which is considered bad luck
Lunar New Year has many traditions and nowhere are these more apparent than in the food served during the holiday. Certain ingredients are eaten because they bring wealth, luck and happiness, and others avoided because they are considered inauspicious.
One of the more popular dishes for a
Lunar New Year
feast is san choi bao, or lettuce cups. Lettuce is thought to bring wealth and the fresh, crisp leaves are filled with a savoury mixture that often includes dried oysters (symbolising prosperity), water chestnuts (harmony) and bamboo shoots (long life).
But vegetarians want wealth, luck and happiness, too, so for them, I've developed this dish of vegan lettuce cups.
Vegan san choi bao
This is a dish that invites improvisation. Add different types of fresh mushrooms and vegetables, and if you're vegetarian but not vegan, ribbons of thin egg crepe for more protein. Lotus root – diced or cut into thin matchsticks – is a delicious crunchy addition or can be used in place of the bamboo shoots.
Golden thread mushrooms, or Cordyceps militaris, grow on caterpillars infected with a fungal parasite and are very expensive and used in traditional Chinese medicine. Now, though, these mushrooms are grown on "farms" without the need for the caterpillars. They have a delicious flavour and slightly chewy texture. If you can't find them, substitute enoki or shimeji mushrooms.
If you are superstitious, you might want to avoid the pressed tofu. Bean curd is avoided during Lunar New Year because it's white – a colour worn for funerals and considered bad luck. Pressed bean curd, also called seasoned bean curd, is brown (at least on the outside), so I don't mind adding it to this dish.
And the superstitious will also want to break up the fen si (mung bean vermicelli) before soaking it, instead of cutting it with scissors; noodles represent long life, but if you cut them, you're symbolically cutting life short.
It takes about three hours to soak the dried Chinese mushrooms; it may be more convenient to soak them over­night in the fridge. The other dried ingredients rehydrate quickly. Once all the ingredients are prepared, the dish takes less than 10 minutes to cook.
30 grams dried Chinese mushrooms
50 grams fen si
1 sheet (about 30 grams) dried bean curd skin
6 dried bamboo pith
100 grams golden thread mushrooms
1 medium-size carrot, about 150 grams
1 medium-size red bell pepper
4 fresh water chestnuts, peeled
1 medium-size fresh bamboo shoot, or 150 grams peeled fresh bamboo
3 small squares (about 30 grams each) seasoned, pressed bean curd
30 grams (about three squares) fermented bean curd (fu yu)
15ml light soy sauce
15ml rice wine
15 grams vegetarian oyster sauce
½ tsp granulated sugar
¼ tsp finely ground white pepper
About 20ml cooking oil
Fine sea salt, as necessary
To serve:
2 heads of iceberg lettuce
Hoisin sauce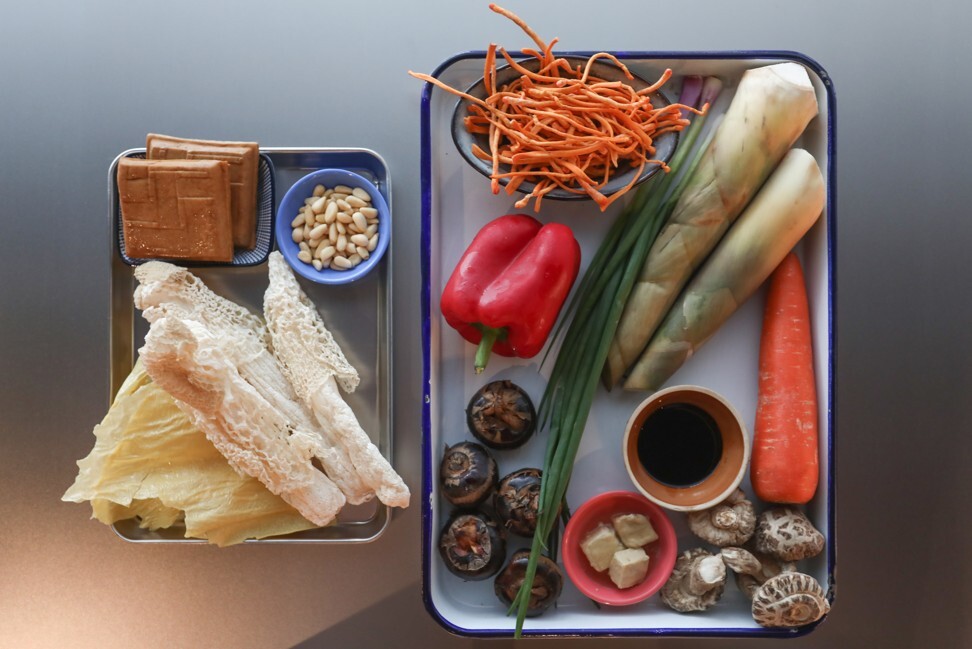 1 Briefly rinse the dried mushrooms, then put them in a bowl. Add enough room-temperature water so they "swim" freely. Leave to soak at room temperature for three hours (or refrigerate overnight), or until they are completely hydrated.
2 About 30 minutes before you want to cook the dish, start preparing the other ingredients. Break the fen si into shorter lengths; to prevent the brittle noodles from flying all over the place, place them into a loose, clean plastic or paper bag before breaking them up.
3 Put the fen si, dried bean curd skin and bamboo pith in a wide, shallow bowl and add cool water so the ingredients are submerged. Leave to soak for about 10 minutes until fully hydrated. Drain the ingredients in a colander.
4 Squeeze the water out of the fen si and pile the pieces onto a plate. Squeeze the water out of the bean curd skin, cut it into strips about 5mm wide, then put the pieces on a plate. Squeeze the water out of the bamboo pith, cut it into 5mm-wide rings and put them on a plate.
5 Rinse the golden thread mushrooms, then drain them in a colander. Squeeze the water out of the dehydrated mushrooms (reserving the soaking liquid), then cut off and discard the stems. Cut the caps into small dice.
6 Peel and shred the carrot. Cut the bell pepper in half, then remove and discard the stem and seeds, and cut the pepper into small dice.
7 Dice the water chestnuts.
8 If using a whole bamboo shoot, remove the tough outer layers to reveal the tender flesh.
9 Cut the tip of the bamboo into thin rounds, about 2cm in diameter. Cut the remaining bamboo into thin slices, then into batons about 2.5cm long.
10 Bring a medium-sized pot of water to the boil. Add the bamboo pieces, simmer for five minutes, then drain.
11 Slice the pressed bean curd in half, cutting parallel to the cutting board so the bean curd is in two even squares, then slice into thin batons.
12 Put the fermented bean curd in a small bowl and mash it with a fork. Mix in the soy sauce, rice wine, vegetarian oyster sauce, sugar, white pepper and 60ml of the mushroom soaking liquid.
13 Heat a wok over a high flame. When it's hot, add 20ml of cooking oil and swirl the wok so it's evenly coated with oil. If, at any time, the ingredients start to stick, drizzle in more oil around the edges of the wok.
14 Put the Chinese mushrooms and golden thread mushrooms into the wok, sprinkle lightly with salt, then cook, stirring often, for about 90 seconds.
15 Add the bean curd skin, bamboo pith, bamboo, water chestnuts and pressed bean curd and stir-fry for a minute.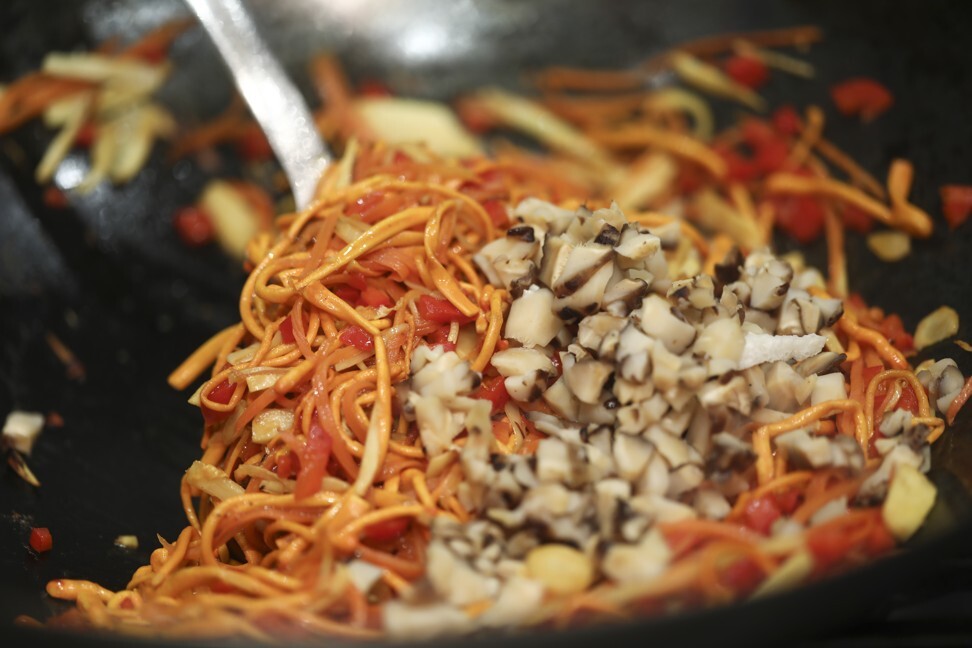 16 Add the fen si, carrot and bell pepper and mix well.
17 Drizzle in the fermented bean curd mixture and mix thoroughly so the ingredients are evenly seasoned. Turn the heat to low, then cover the wok with the lid and cook for about three minutes, stirring occasionally.
18 Remove the lid and stir well, then taste the mixture and correct the seasonings, if necessary. If it seems dry, add some of the reserved mushroom soaking liquid. Put the mixture on a serving plate.
19 Remove the core from the heads of lettuce, then separate them into individual leaves. Pile the leaves on a plate and put some hoisin sauce in a small bowl.
20 To serve, smear a small amount of hoisin sauce in a lettuce cup and add the vegetable mixture. Roll loosely before eating.