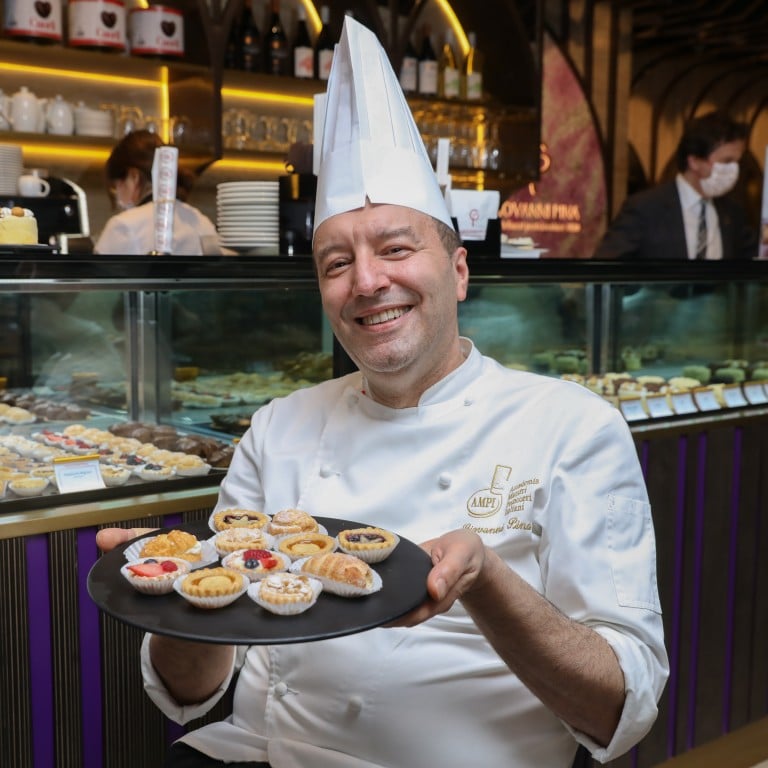 Italian pastry chef Giovanni Pina on moving from medicine to baking and why he will never use margarine
The owner of century-old Pasticceria Giovanni Pina, which has opened a branch in K11 Musea mall, Hong Kong, talks about why bakers must listen to their cakes
He first studied medicine before changing career, which gave him an understanding of the chemistry behind cooking
Tell us about the history of your shop. "Our company was founded by my grandfather in 1920. His name was Giovanni, like mine, because it was the tradition for the firstborn son to take the name of the paternal grandfather. We lived in the same building as the cafe, which was in Bergamo, 50km from Milan.
"I started [at the cafe] as a child, helping by cleaning strawberries. I wasn't very interested at the time, but for me it was a job. After high school I went to university and wanted to become a doctor, so I worked at the cafe to make money."
When did you decide to join the family business? "I studied four years of medical school because I wanted to help people, then changed my mind and, in 1983, became a pastry chef. I was lucky to choose to be a pastry chef instead of a doctor – I felt it in my heart and blood.
"Before I became a pastry chef I did mandatory military service for a year. When I decided to become a chef, my father knew that my studies were finished while my mother cried for months because I was their only son and I was not going to become a doctor. My father was very happy I became a pastry chef because I have two younger sisters and two cousins – all female. I am the last [male] Pina remaining. I have three daughters. Did you watch the movie Highlander? Just one remains – me!"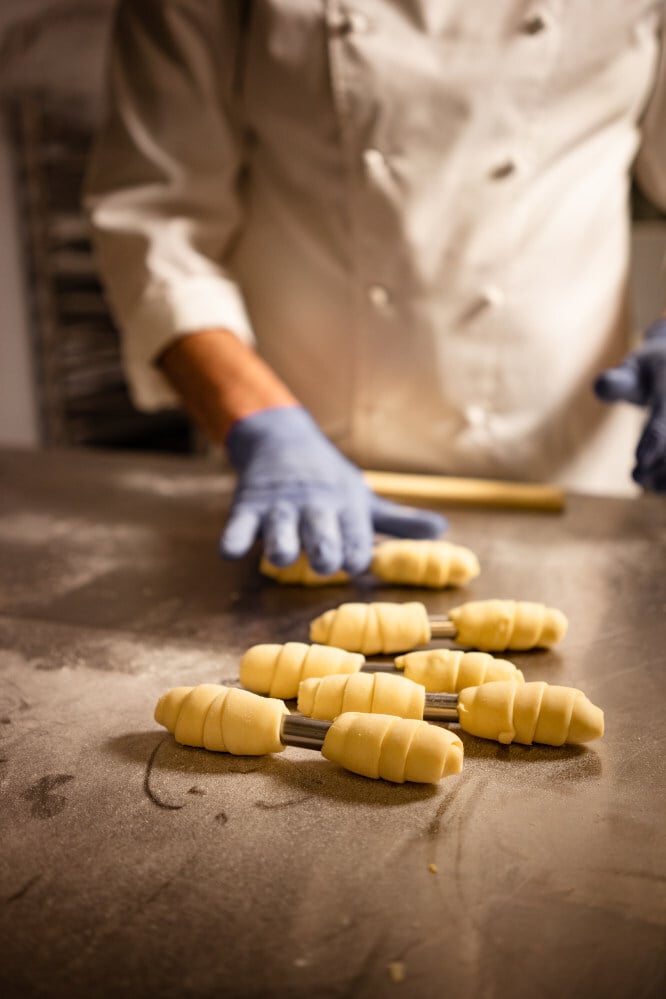 Was it hard for you to adjust to being a pastry chef? "When I studied medicine, I also studied physics and chemistry so I understand how carbon affects the body, and sugar is made of carbon. I don't want to blindly follow recipes. Every time I teach people, I always say it's not important to know how you make something; it's important to know why you make it. Every action has a reaction. I always tell people a cake can speak to you – you have to be able to hear her voice. I can see and hear her telling me, 'I need sugar, I am burned, I am underbaked.'
"You need experience, but you also need to have a good feeling about what you are doing. So my job is my life. I don't think about what time I start and finish work. For me to stay in the kitchen 14 to 15 hours is not a sacrifice. It's something that gives me joy and energy."
What kinds of pastries did your grandfather make? "When he opened his bakery, in 1920, there was no refrigerator or freezer, so he made pastries like cookies and bonbons because they didn't need refrigeration. When the refrigerator arrived, in the 1960s, everything changed. These days when I bake we use a thermometer, but my father told me my grandfather would check the temperature of the oven by sticking his arm in it! Unbelievable now.
"At the end of the 1960s, my father and uncle took over the business and worked together. My father did some training in Milan while my uncle stayed in Bergamo. They become known through­out the region and people from Milan came to eat their pastries."
How did you develop your pastries? "When I started, in the 1980s, I learned from my father and uncle, items like Santorini mimosa cake. At the time, people wanted more sugar and fat, but now they don't. I had to rebalance every recipe and change a lot of them. I am best known for my cannoncini crema [puff pastry filled with cream] that has 144 layers, St Honoré and Sacher cakes, and ice cream."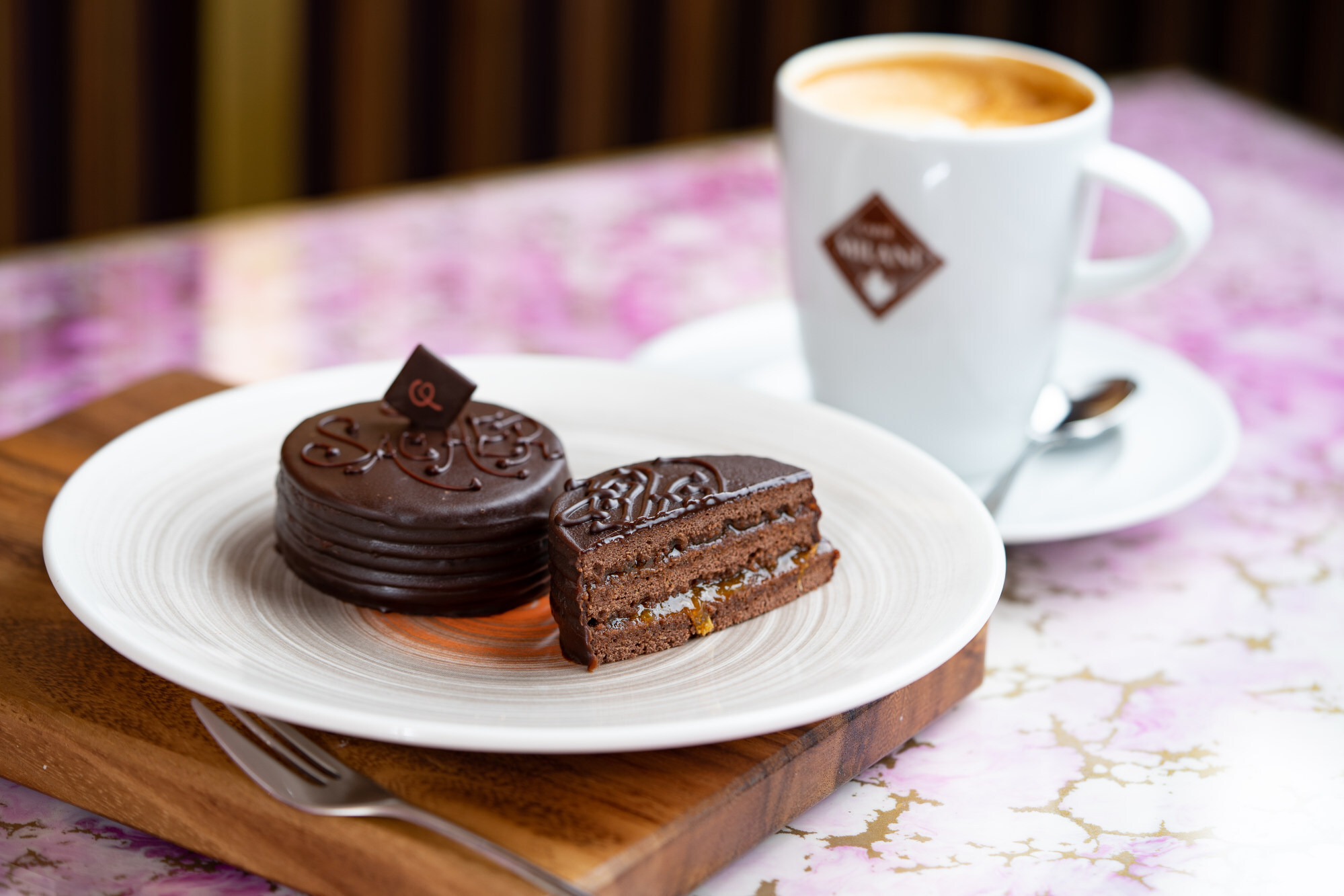 What is your favourite thing to make? "My first love in pastry was ice cream. I was about 14 years old and in the summer I made ice cream for the cafe. I liked making it because you are bound by chemical rules, but in between you can express yourself with new tastes and this is a great joy. My second love is making chocolate. With chocolate you can make everything, but if you don't respect it, you'll make a mistake, and end up with nothing."
What do you like about making pastries? "I love this job because you give joy to people. For me this is very important. If you think about it, when you have a birthday party, an important date, you take something sweet, and when you are sad, you have something sweet to feel better. I am always near people who are happy, or they want to be happy. I can give joy to my customers. Most important for me is the joy I get from looking at people's eyes. You see the same joy in their eyes as in a child's."
How do you keep motivated? "For me every day it is a challenge. I'm an Aquarius; I want to be free, but I'm never satisfied with what I do. Whenever I make something, it's good, but I think about how I can make it better – I never stop. Before the pandemic, I toured around the world to learn. In 1989, I did an internship at Le Cirque, in New York, to learn restaurant pastry. It was for three weeks, but the owner, Sirio Maccioni, asked me to stay and I ended up staying there for two years."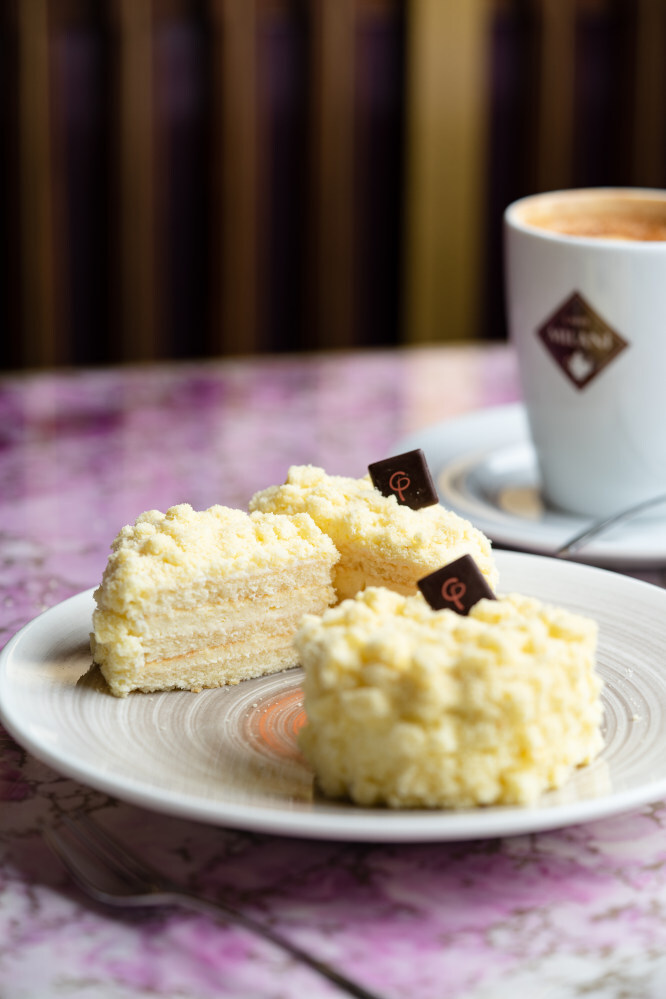 What are your favourite ingredients? "Vanilla and butter. I like vanilla for flavour, and only pods from Madagascar. For pastry I use the best chocolate and butter – no margarine! We don't use chemical preservatives."
Your ice cream tastes different from other types. How do you make it? "When I came to Hong Kong recently [to open Pasticceria Giovanni Pina 1920 at K11 Musea] we decided to offer ice cream, but I didn't know what kind of milk and cream could be found here. In the end I made powdered ice cream from Italy that can be rehydrated here. In Italy you can find mixed powder for ice cream, pastry cream and custard. It's normal, but they use a lot of chemicals.
"For strawberry ice cream, I can either use fresh strawberries or use chem­i­cal flavours and colours. The second choice doesn't exist in my mind. So how can I have the same taste in Hong Kong as in Italy? I use an expensive machine to dehydrate the strawberries, then freeze them at minus 200 degrees Celsius. This is known as sublimation, where water becomes a gas immediately and then you have a dry product. It has the same taste as real strawberries when you add water."