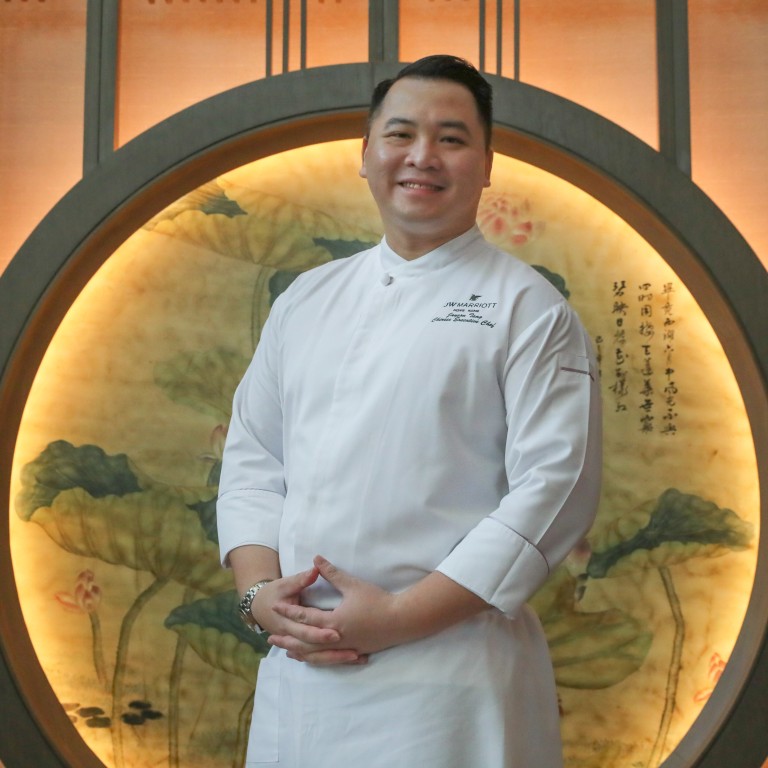 Chinese chefs are like musicians who can't compose, says Jayson Tang – 'we aren't creative either'
The 34-year-old executive chef at Man Ho Chinese Restaurant laments the lack of what he calls 'a proper training system' for Chinese cuisine
That hasn't stopped his restaurant earning its first Michelin star, which he celebrated with tears in his eyes and a fist bump
How do you envision improving Chinese cuisine? "Chinese cuisine doesn't have a proper training system. We in the industry should have ideas of how to prepare young people. In Chinese kitchens it's a master chef and apprentice relationship, so it's limited in training many people. We aren't creative either: a Chinese chef is like a musician who can play music, but can't compose.
"People know dishes like Peking duck and sweet and sour pork, but we should have others, too. [The late French chef] Joël Robuchon could open restaurants around the world and make French cuisine in his own style, and diners would accept it. Why not the same with Chinese fine dining?"
How did you get into cooking? "When I was 10 years old I saw how hard my parents worked at their dai pai dong so I felt compelled to help out. I washed dishes and brought food to customers. I could hold four cups of hot milk tea in one hand. By the time I was a teenager I was working on the weekends, making HK$100 each Saturday and Sunday.
"At 15 years old, I told my parents I wanted to cook. In the mornings my father made breakfasts and in the evenings his partner served hotpot and I prepared the ingredients. When I started studying at the Chinese Culinary Institute [CCI], at the age of 18, the instructors were impressed that I already knew how to fillet fish and chop meat and that I was fast.
"From 8am to 5pm, I went to culinary school in Pok Fu Lam. Then I took the bus to Hung Hom to prepare hotpot ingredients until 11pm. I didn't sleep much. I would clean two big bags of chicken intestines and cut up small fish before making thousands of fish balls, shrimp balls, beef balls as the orders came."
What did you learn at the CCI? "They taught us how to cook Cantonese food and northern cuisine, roast meats, make appetisers including dim sum and xiaolongbao, and about history and cooking techniques. I sat in the front row, taking notes, otherwise I would fall asleep. Now I can clearly explain every step for my staff to understand.
"The problem with Chinese kitchens is many chefs can do only one thing – they can stir-fry but can't chop, or make dim sum or roast meats. In the Western culinary system you work in different sections, peeling potatoes, making desserts. At CCI we learned a bit of everything, and after I graduated at the age of 20 I continued to learn."
Tell us about one of your first jobs. "I worked at Lei Garden when I was 23 years old as a wok chef. They have very high standards. You had to be at work by 9am, but really you needed to be there by 7.30am otherwise you couldn't finish preparing everything on time. Lei Garden never had a fully staffed kitchen; I didn't take a day off for a month because maybe the person next to me didn't show up, or in the afternoon someone quit.
"If you didn't cook a dish well, you had to eat it and explain why it didn't taste good. One time I had to eat four plates of stir-fried rice noodles with beef. Every day around 3pm we cooked dishes for the owner to taste, but he would criticise us for 40 minutes while the food sat there. He explained that a guest may not eat your food right away, they might discuss business before eating. So we had to cook food well to still taste good after 15 minutes, 30 minutes, 45 minutes."
Why did you leave after a year? "I started as the sixth wok chef, but within six months I became the second wok chef. Then six months later they wanted to promote me to head chef. But was I really that smart? The first three months I lost 40 pounds, it was so much pressure. They criticised you to the point of being terrified. There was a microphone in the kitchen so everyone could hear. One time the chef stood next to me with the microphone criticising me. I joked he didn't need to use the microphone because I was right there, but he insisted. That's their culture. That's why the system needs to change."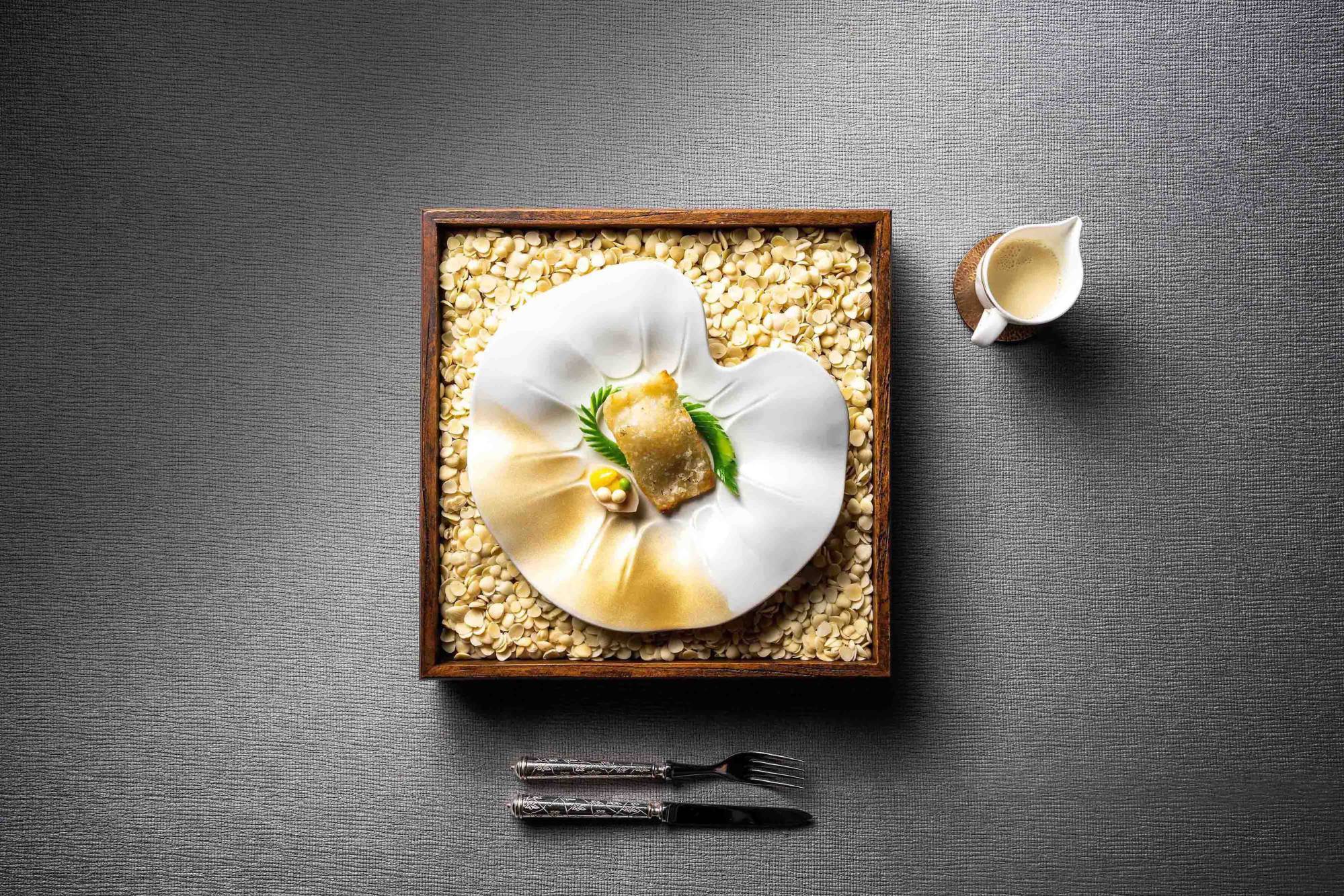 Where did you go after that? "When I was 25 years old I worked at Tin Lung Heen, at the Ritz-Carlton Hong Kong, for five years. I started work at 12pm but never knew when I would finish. Because I didn't start until noon, I came in at 6am to learn how to make dim sum. Some people are surprised I became an executive chef at 29 years of age but I started cooking professionally at 20.
"One of my mentors there was Dicky To Kwok-kim, who is now at The Peninsula Paris. During my two-hour job interview he asked me, 'Why do you want to cook Chinese food?' This question motivates me every day.
"His master chef, [culinary director] Paul Lau Ping-lui, liked me but also criticised me no end. One time I was on holiday in Beijing, at the Temple of Heaven, and he gave me a dressing down on the phone so loud I had to hold it away from my ear. But if you corrected yourself, he wouldn't get mad again.
"When you cooked, you needed to keep up with him. Our wok stations were next to each other. If he cooked faster, I had to catch up. If I cooked a bit faster, he would cook even faster. Then he started chatting with me non-stop, but I couldn't stop cooking because he would say, 'Watch out your food is getting burnt.' I said, 'Please don't talk to me, I need to concentrate on cooking.' He said, 'When you are managing a kitchen you need to know what is going on all the time.' So I realised he was training us to multitask."
How did you get to Man Ho? "I was at The Mira Hong Kong's Cuisine Cuisine for a year. The previous chef of Man Ho was retiring and they had hired a two-Michelin-starred chef, but he quit before he started. The food and beverage manager at JW Marriott used to work at Tin Lung Heen and asked me to help out.
"That day turned into a job interview. The Marriott management asked me to cook my signature dishes, and then another round. They said cook six dishes for six people, but they had 13 people. I cooked 16 dishes in an hour and a half. After I left, the phone rang and they asked me to recruit other chefs to help me. I said, 'What? I haven't even had a job interview.' The next minute HR called me for a job interview. The whole process was backwards because the hotel owner was at the table and wanted me to be the chef."
How did you celebrate your first Michelin star? "The evening we got the Michelin star, the owner happened to be having dinner at Man Ho. He came into the kitchen and gave me a fist bump. We didn't say anything but we had tears in our eyes. I told the restaurant staff, 'It's like we are a football team. At first we were just playing in the street, but now we are playing in a stadium.' Everyone was so emotional and understood why we all need to work hard together."