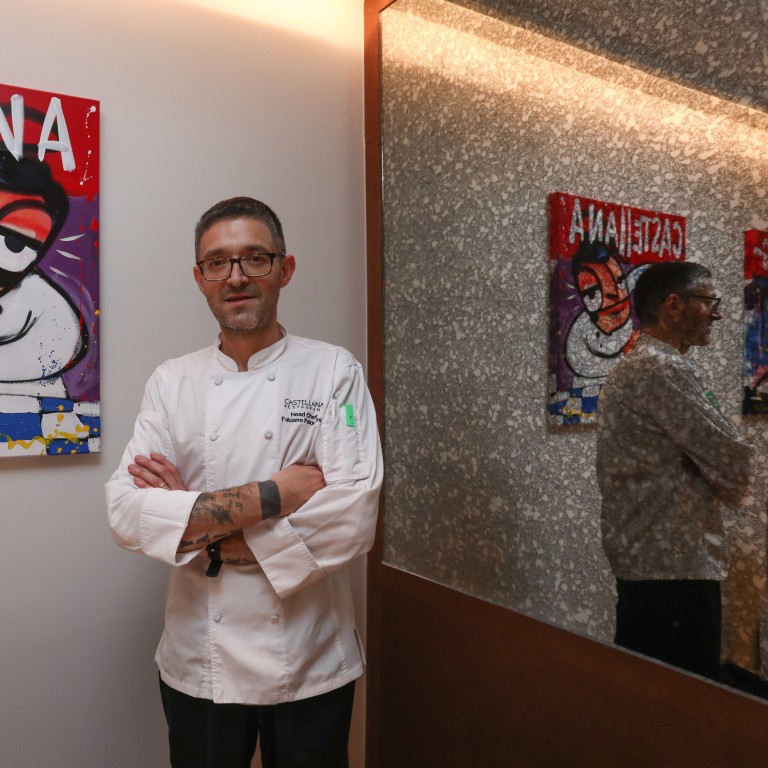 'Hong Kong is the best place to be a chef,' says Fabiano Palombini, although he doesn't like Chinese desserts
The executive chef of Castellana, a Piedmontese restaurant in Causeway Bay, talks about falling in love with food
He moved to the city in 2018 and admires the culture and tradition of Chinese cuisine
Tell us some of your childhood memories of food. "I grew up by the sea near Rome. Since I was a child, I have always been inside the kitchen. My grandmother was always baking and my mother cooking. Every Sunday I was in the kitchen making bread, pizza, cookies and pastry dough. Taking out the pie and bread from the oven, there was this beautiful smell, something I always remember. I look for the same feeling even now; it connects me with my roots.
"When I went to culinary school, from 1990 to 1995, it was easy and super fun, as cooking is something I love to do. Up until that point I had cooked with my mother and grandmother, but I didn't know the techniques, the chemical reactions going on. It was interesting to know the cooking process from a technical perspective and how everything connected together."
What do you love about cooking? "Everything. When I am cooking I feel free. I don't think about anything else and I feel creative. For me the best feeling is being the first person to arrive in the kitchen and nobody is there and you are alone with your food, and the smells from products like truffles."
Why did you go to the United States? "Around 2006, I went to New York for a few months to work in some small restaurants, as well as at Eleven Madison Park. Then I went to Chicago, for an internship at the Alinea Group, and learned molecular cuisine. Afterwards, I went back to Europe, to Oslo. My mother is from Norway and my father from Italy. They met when my mother was in Italy on vacation."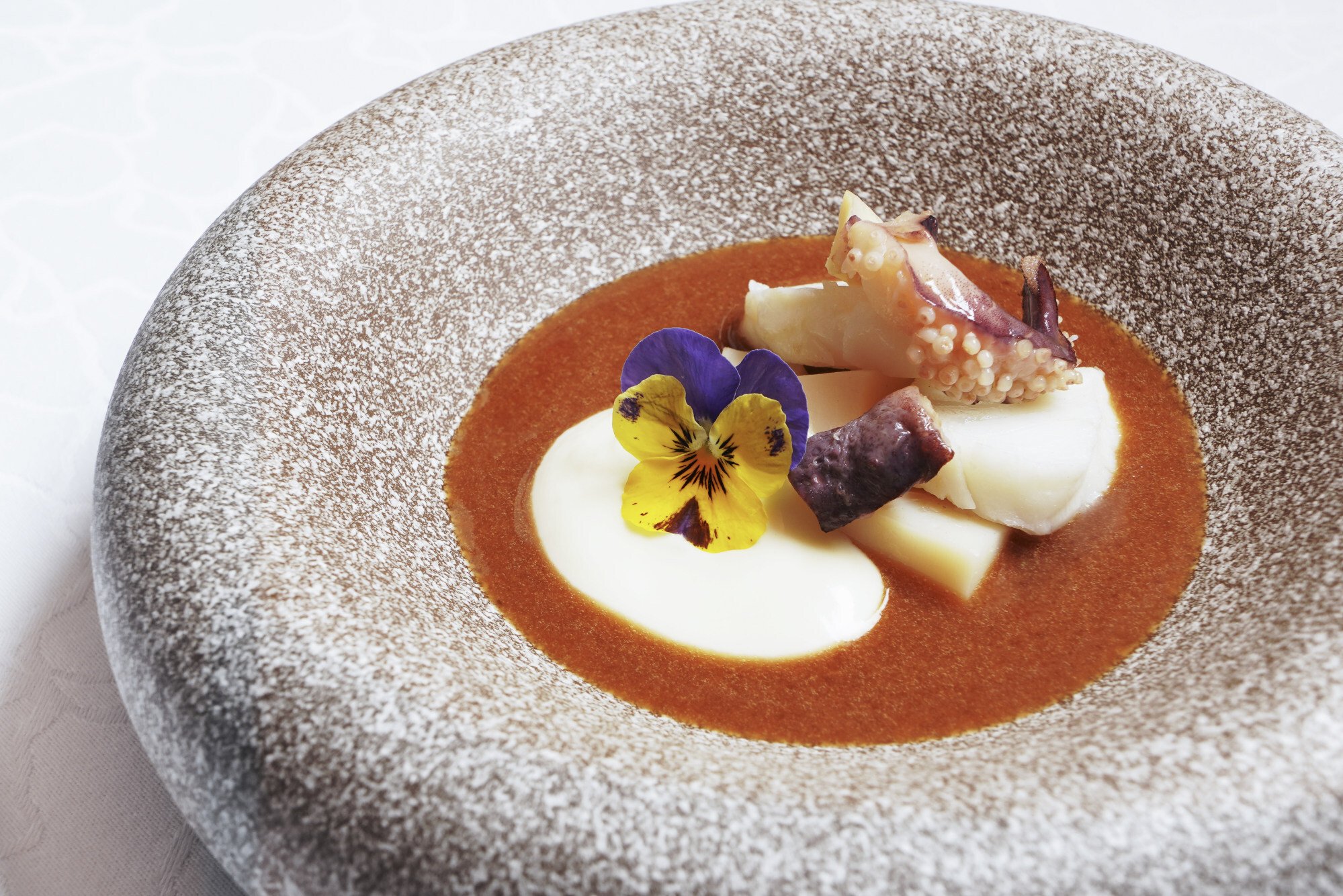 What do you like about Nordic food? "Norway has great food, among the best in Europe. I was there in 2010 and again in 2015. Nordic-style food has lots of vegetables, like beetroot, as well as meat and fish. It is one of the most complete cuisines. It's also traditional in that they preserve and pickle food because of the seasons, especially in the winter when you cannot find fresh food, so you eat preserved food."
In which country did you learn the most? "The experience I enjoyed the most was at Tantris restaurant in Munich, Germany. I was there starting in 2004 for two years and then I went back in 2012 for three years. I learned about German food but more the basics of Western food, like how to make sauces, to use spices, how to balance flavours."
What do you like about working in Michelin-starred restaurants? "You can gain much more knowledge about what you want to make because there are many more techniques involved and there is respect for the products. When you work for a Michelin-starred restaurant it's like a mission – you work 18-hour days, with no days off, but it inspires you every day, everyone around you is motivated. You study new foods, products, aromas and spices.
"If you work in a regular restaurant, you will never improve, your life will be like living in a square, always the same thing, no creativity. In a Michelin-starred restaurant you use your mind, and when you give food to people, you have to give them a dream, something they have never eaten before, something they cannot make at home, or cannot make every day. For chefs it's a lot of sacrifice, but it's a beautiful experience."
How did you get to Hong Kong? "I moved to Hong Kong in 2018. I met my wife 20 years ago while working in Germany and she brought me to Hong Kong for Christmas vacations and then we moved here. My son is 16 years old and loves to cook, so he might become a chef, too. It would be easy for him because he speaks Cantonese. I prefer he learns this kind of cuisine because the best food in the world is here. I have a daughter who is 10 years old but she hasn't started cooking yet."
What do you like about Chinese food? "China has a long history and culture. The best flavours are here, the best way to cook chicken, pork belly –you can't find it elsewhere. If the Chinese roast a pig today, the skin is still crispy the next day. If we Europeans roast a pig we can make the skin crispy, but in two or three hours it's not. It's because of the Chinese technique and tradition, which we don't have, including cooking duck. I would never put [Chinese-style] duck on the menu here. It would be stupid as you can't compare. We make duck, too, but differently.
"If you eat vegetables in Europe, you just use oil, garlic, salt and pepper, but here the vegetables are bright, shiny and flavourful. However, there is one thing I don't like – Chinese desserts. We [Italians] have much more beautiful desserts."
What kind of food do you serve at Castellana? "We present the food of Piedmont, Italy. It's a region with a great food tradition, influenced by French cuisine. It has great products, like Barolo wines, cheese and truffles. We take the traditional dishes of Piedmont and twist them to suit Hong Kong; it is like Alice in Wonderland – everything you want you can find here."
How do you come up with new dishes? "I think about it all the time but mostly when I walk. I live in Tuen Mun and I walk part of the way to Mong Kok, then take the MTR to Causeway Bay. Along the way I like to see people cooking, especially in the summer when they prepare chicken, chicken feet, duck, tofu, roast meats. I like to see old people prepare food on the street. You can tell they have a lot of knowledge. Watching people wrap dumplings – they are so fast! And making scallion pancakes. They have been doing this for 50, 60 years.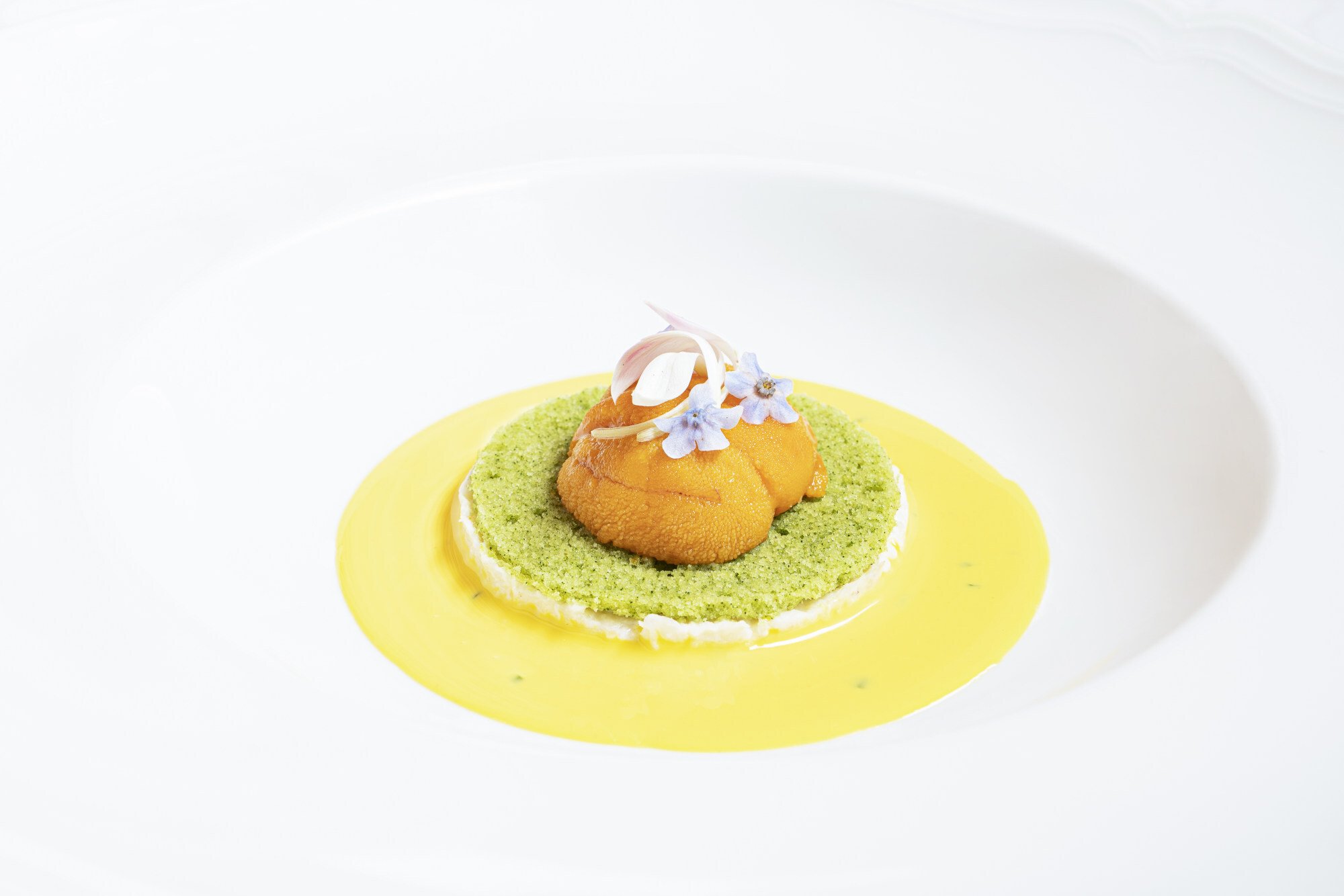 "I cannot communicate with them, but they know I am interested. I see what they make and the smells and think how to mix and match, how you can adapt your food with this kind of flavour. Hong Kong is the best place for a chef."
Have you tried to make Chinese food? "I have tried to make handmade noodles, and radish cakes with dried shrimp, that's easy. I like the steamed pork buns, steamed grouper and sticky rice."
What do you like to cook? "Fish, any kind of fish because it's from the sea. I like to pan fry it, grill over charcoal, or smoke it."
You have so many tattoos. Do you have any stories to share about them? "They remind me of how stupid I was when I was young. When you are young, you believe you are a 'bad boy' if you have a tattoo. But when you grow up, you understand how stupid you were when you were young. I don't even see them any more. They are from 30 years ago."