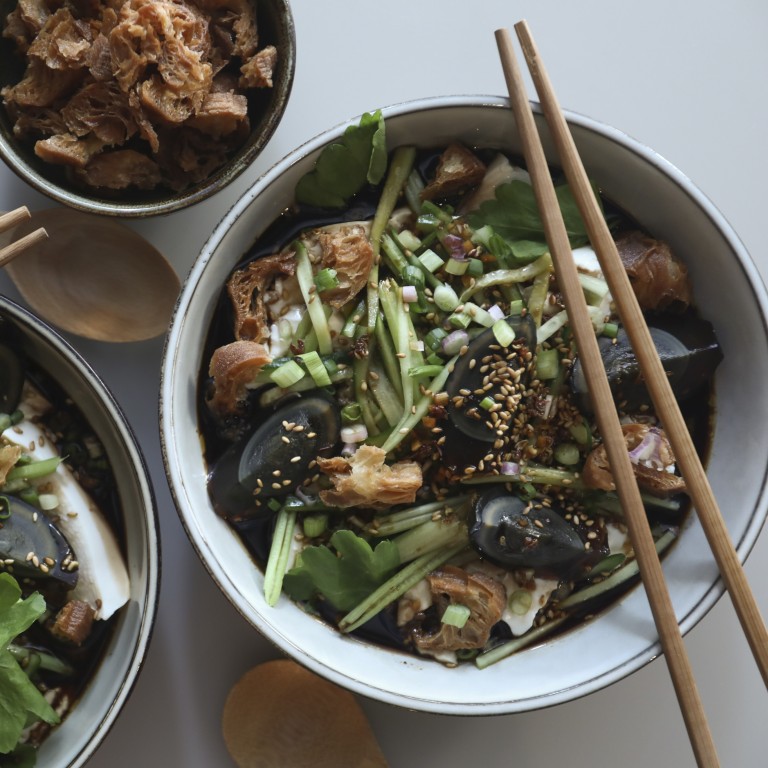 How to make Sichuan-style soft bean curd with century egg - cooling and delicious
Full of flavours and textures, this dish marries century egg with bean curd, crunchy cucumber, celery and Chinese savoury doughnuts
Sichuan peppercorns add a numbing sensation to the sauce, which can keep for weeks
This vegetarian dish of soft bean curd with century egg and Sichuan spicy sauce is a light and cooling main course. I love it because it has a lot of flavours and textures: the soft bean curd, tender but resilient century egg, crisp Chinese celery, crunchy fried yau ja gwai (Chinese doughnuts or crullers) and cooling cucumber drenched in spicy sauce with numbing Sichuan peppercorns.
Sichuan-style soft bean curd with century egg, Chinese celery, cucumber and yau ja gwai
Century egg, or pei dan in Cantonese, is also known as 1,000-year-old egg and preserved egg, but should not to be mistaken for salted egg, which is another type of Chinese preserved egg. In the West, people not familiar with pei dan look on it with horror, and it has been featured in television programmes such as Fear Factor and Bizarre Foods, which I never could watch because of the judgmental titles.
That revulsion is probably because the egg is dark instead of white and orange or yellow: the egg white ranges from light amber to dark grey, and the yolk often has a greenish tinge. But a century egg can be a thing of beauty – some of the best have a pattern of snowflakes or pine on the translucent white. The eggs are some­times sold with a light clay and rice husk coating that is easily scraped off with a butter knife.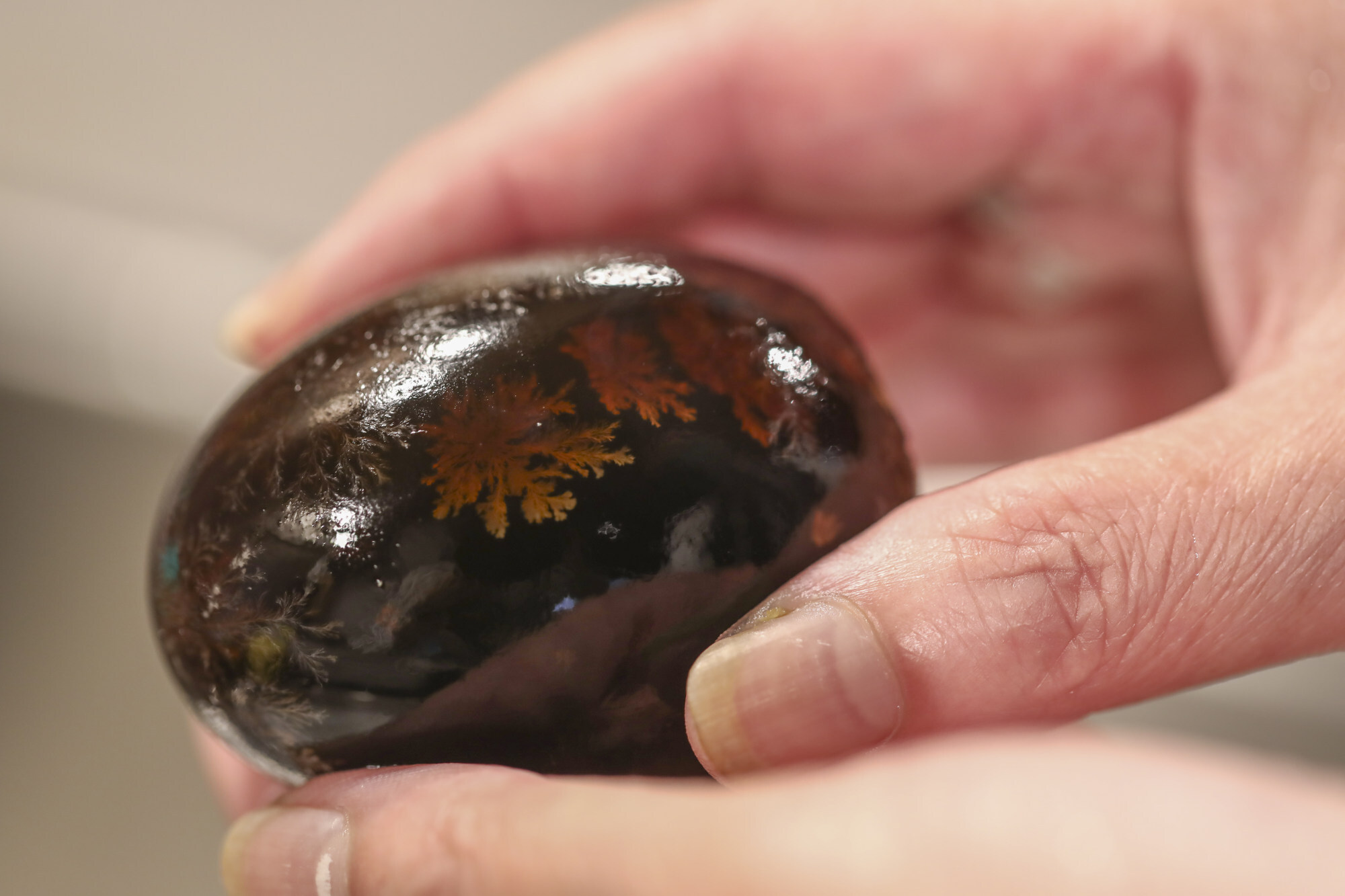 Chinese celery is long and slender, with a softer crispness than the Western variety, and it's a lot more fragrant. It is worth seeking out, but if you can't find it, use two stalks of Western celery, sliced lengthwise into thinner pieces, before using it in the recipe.
Yau ja gwai, also called you tiao, come in pairs and are savoury, not sweet. They are often used as a topping for congee or savoury soybean milk, and are also good as the base for shrimp toast.
For this dish, the yau ja gwai are cut into pieces then fried until crunchy.
Any leftover sauce will keep in the fridge for several weeks and is delicious with cold noodles – I use thin egg noodles or Korean sweet potato noodles – and julienned cucumber, shredded cooked chicken and crushed peanuts.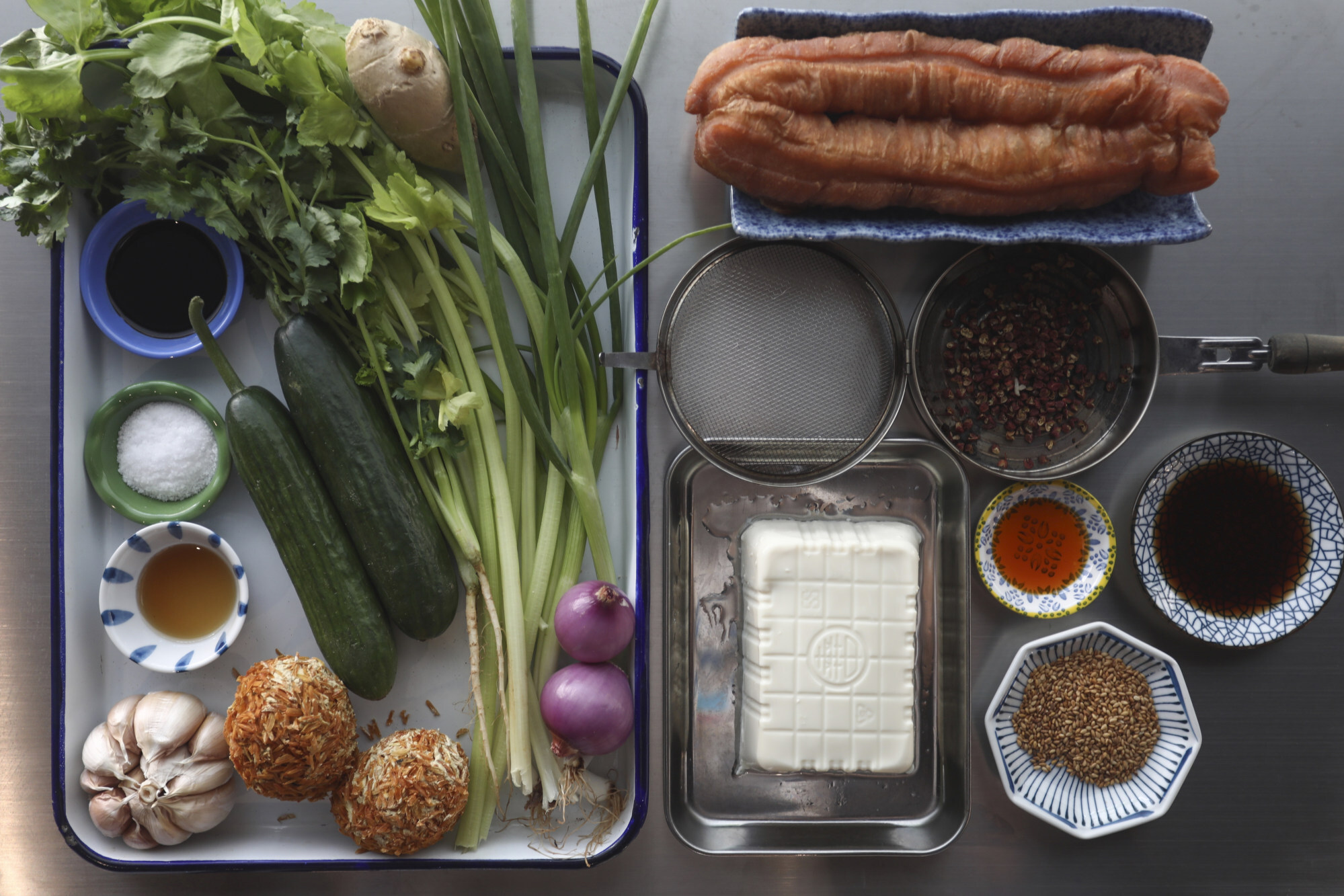 For the sauce:
1½ tsp Sichuan peppercorns
1 large garlic clove, peeled
1 small shallot, peeled
2-3 thin slices peeled ginger
20ml sesame oil
15 grams (½ oz) granulated sugar
30ml (2 tbsp) light soy sauce
30ml (2 tbsp) regular soy sauce
20ml (4 tsp) Zhenjiang vinegar
Chilli oil, to taste
For the bean curd and other ingredients:
400-600 grams (14-21 oz) soft bean curd
2 century eggs, clay coating removed
1 small Asian cucumber
6-8 Chinese celery stalks
2-3 spring onions
A small handful of fresh coriander
1 pair yau ja gwai
Cooking oil, as necessary
Toasted sesame seeds
1 Make the sauce. Put the Sichuan peppercorns in a small unoiled pan over a medium flame. Shake the pan almost constantly until the peppercorns are lightly toasted. Pour the peppercorns into a mortar (preferably a Japanese suribachi) and leave to cool to room temperature.
2 Grind the peppercorns into a rough powder.
3 Mince the garlic, shallot and ginger and place them together in a small heatproof bowl.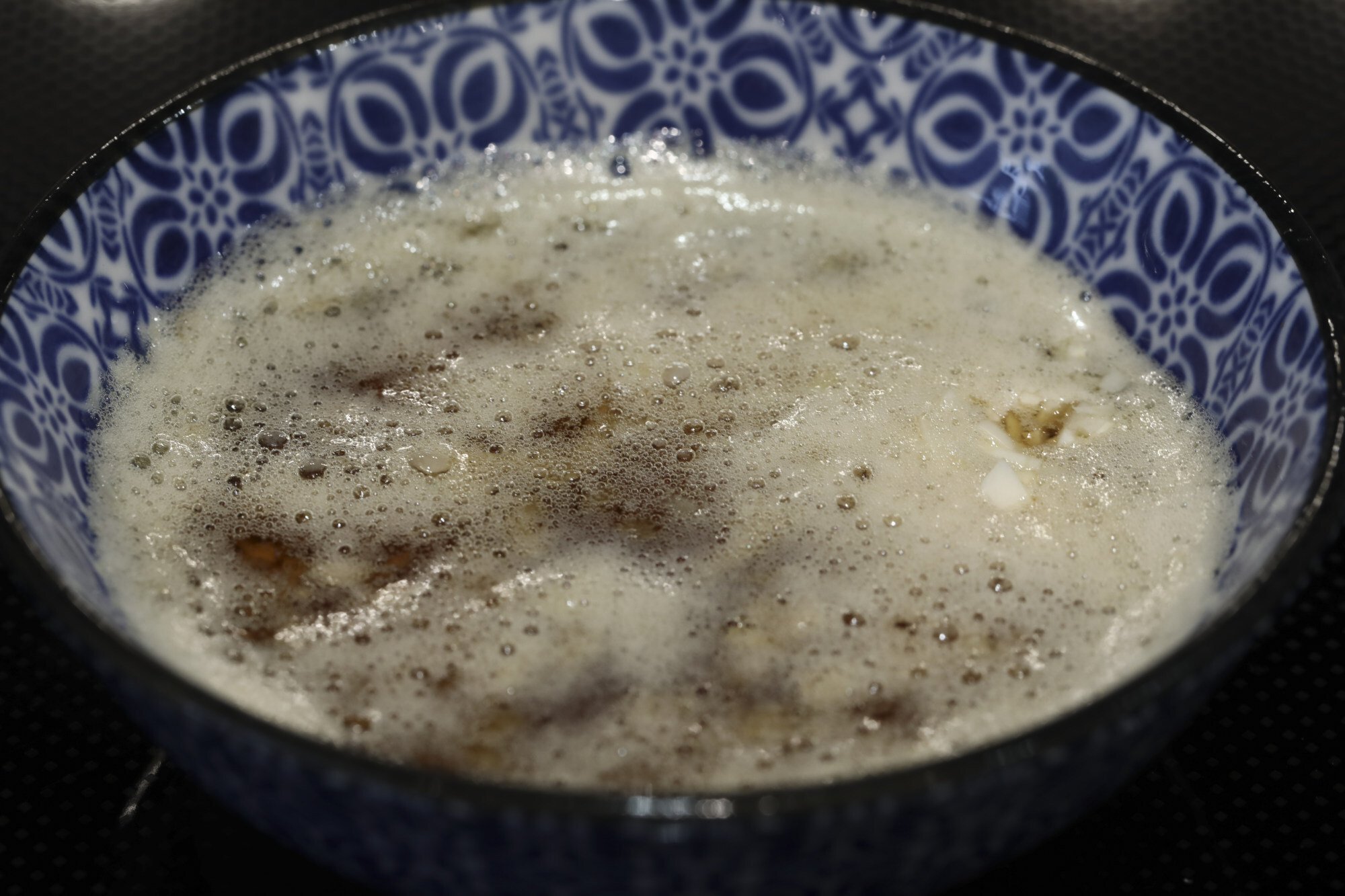 4 Heat the sesame oil until hot, then pour it into the bowl with the garlic, shallot and ginger – it will sizzle and foam. Cool to room temperature.
5 Put the sugar in a bowl, add both soy sauces and stir until the sugar dissolves.
6 Add the vinegar, ground Sichuan peppercorns and the garlic/shallot/ginger mixture to the soy and sugar. Add a few drops (or more) of chilli oil and mix thoroughly. Set aside.
7 Cut the cucumber in half widthways, then slice both halves into thin julienne.
8 Remove the leaves from the Chinese celery and set them aside for a garnish. Using your hands, tear the stalks into 2.5cm lengths.
9 Mince the spring onions and roughly chop the fresh coriander.
10 Thinly slice the yau ja gwai. Pour some oil into a pan and heat to 180 degrees Celsius.
11 Fry batches of the yau ja gwai pieces until brown and crisp. Drain them on paper towels, then crush them into smaller pieces.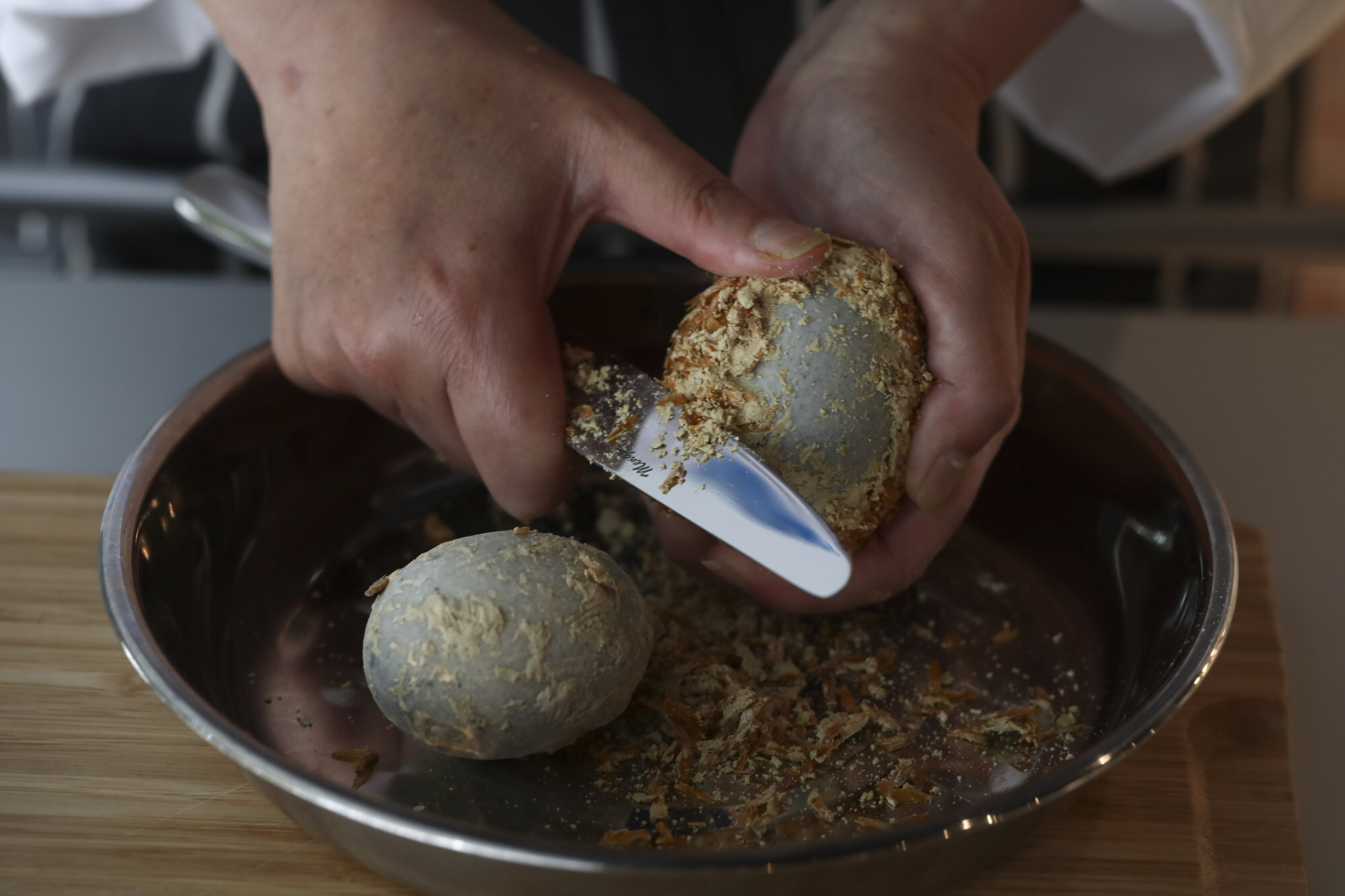 12 Peel the century eggs and cut each one into four pieces.
13 Dip a piece of Chinese celery into the sauce and taste, then correct the seasonings, if necessary.
14 Briefly drain the bean curd on paper towels. Use a spoon to scoop it in large pieces into two individual shallow bowls.
15 Top with the shredded cucumber and celery stalks. Drizzle with a couple of spoonfuls of sauce, then add the Chinese celery leaves, spring onion, fresh coriander, some yau ja gwai and a sprinkling of sesame seeds.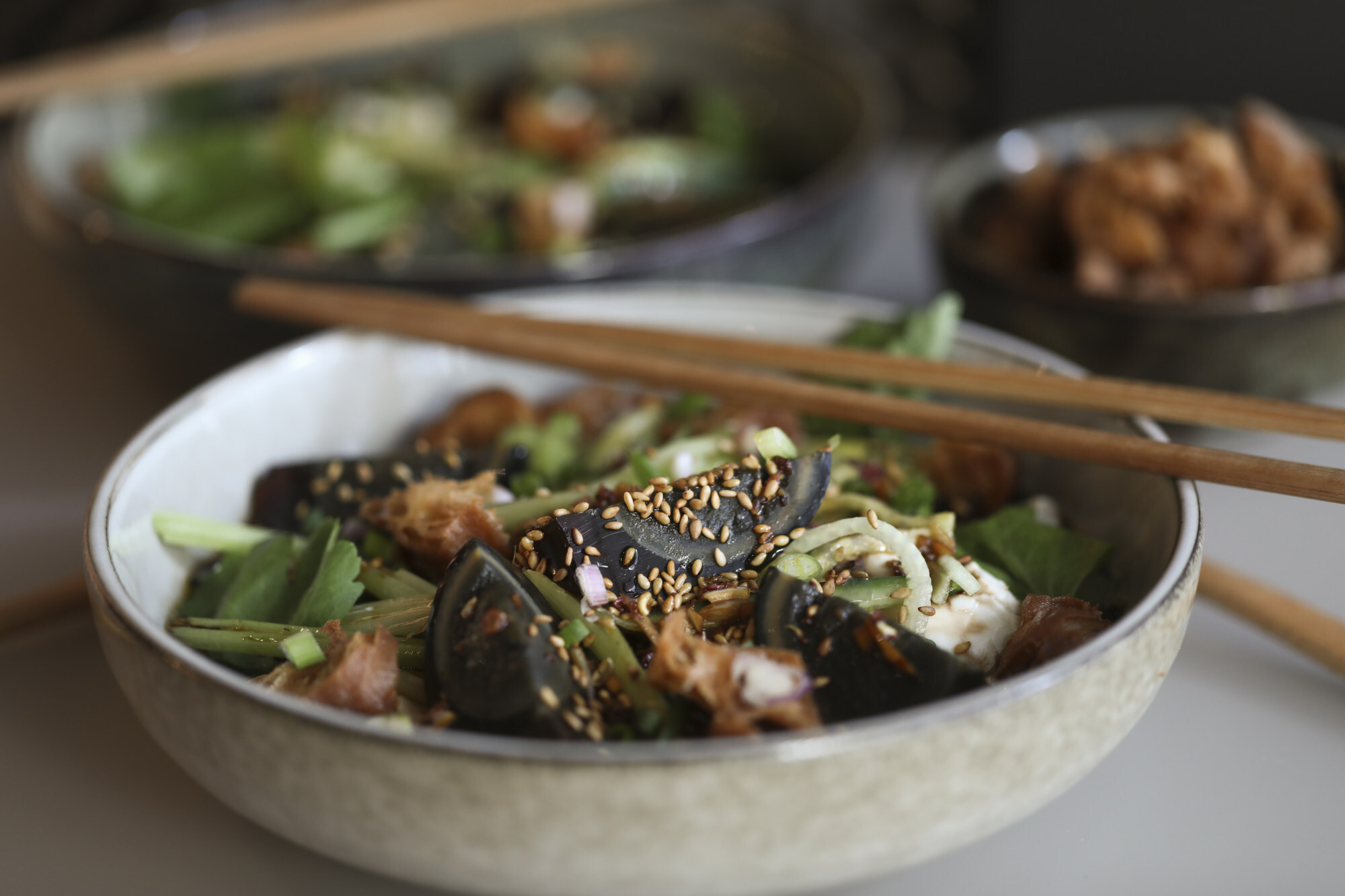 16 Serve immediately, with extra sauce and yau ja gwai on the side.