How to make larb moo, a warm meat salad from Indochina with bright flavours and a hint of heat
Larb has as many different recipes as spellings; this larb moo is made with minced pork and rice powder
You can make your own toasted rice powder to give your larb moo some crunch
Larb, also spelled larp, laap, lahb or laab, can be made from all different types of protein. I've had it with fish, mushrooms, chicken, duck and, of course, pork.
In Luang Prabang, Laos, I had a version made from minced water buffalo meat with small cubes of water buffalo blood.
Larb originated in Laos, but has spread across the border to Thailand and other neighbouring countries.
Larb moo (pork larb)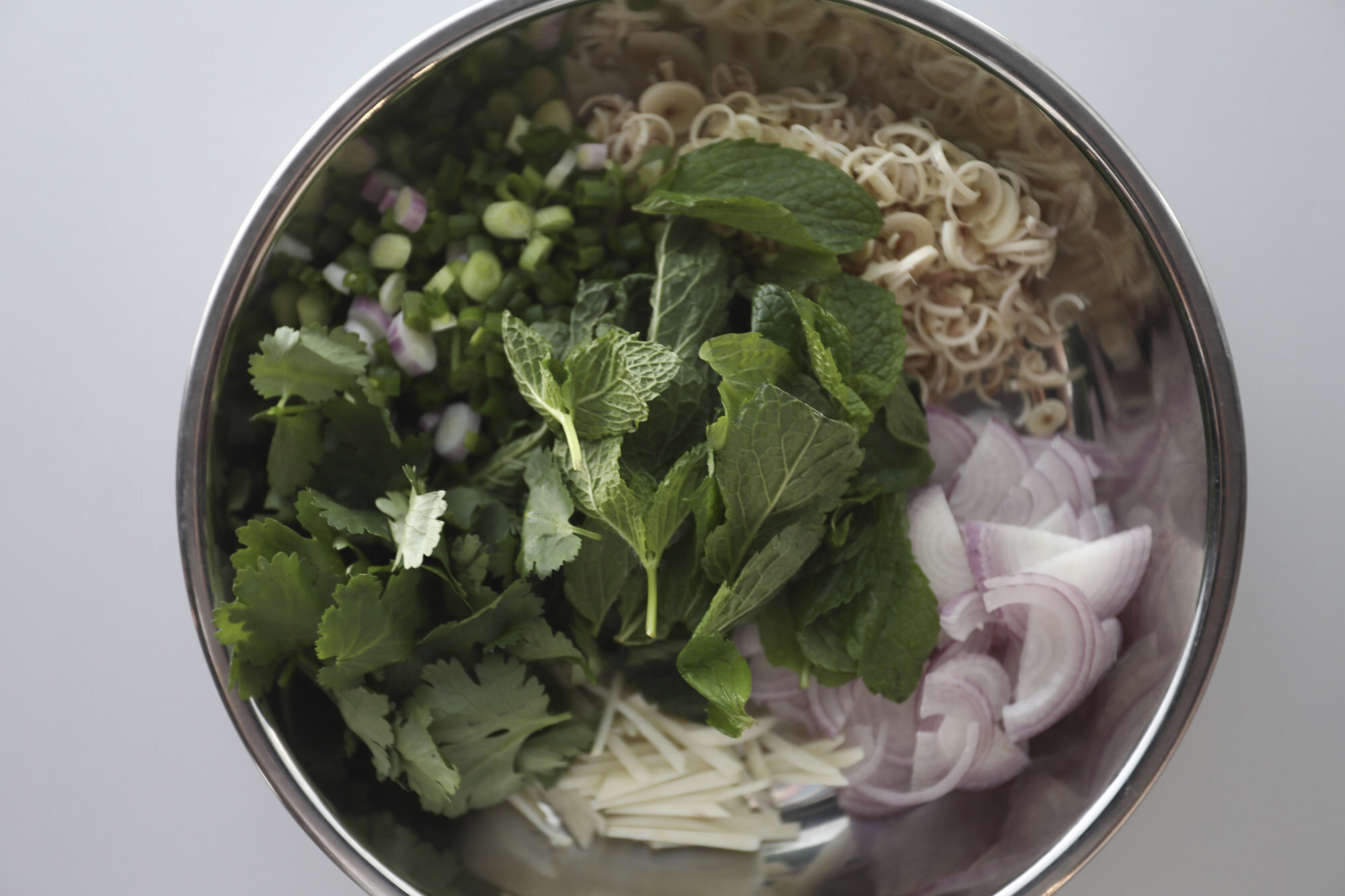 A shop specialising in larb will (or should) vary the seasonings according to the type of protein used, so one made with strongly flavoured meats such as water buffalo or duck will be seasoned more assertively than one made with more subtle fish.
Larb is served warm or tepid, not hot. There are many variations and the dish changes according to where the cook is from. For this version, the minced pork is cooked without being browned, before it is cooled slightly. Then the seasonings are mixed in, with the most fragile leaves added last so they don't wilt too much. It is a light, brightly flavoured dish with plenty of fresh herbs, tartness from the lime juice and a hint of spice from the chilli flakes.
Khao khua, or toasted rice powder (sometimes called roasted rice powder) is made from glutinous rice grains. It's used to slightly thicken watery sauces and adds a subtle, toasted flavour and a gentle crunch. You can buy it – look in the Thai section of shops – but it is also easy to make.
Put about 50 grams (2 oz) of raw glutinous rice in an unoiled skillet placed over a medium-low flame. Shake the pan almost constantly until the grains are pale brown, then cool to room temperature. Grind to a rough powder, using a spice grinder (this works best), a food processor or blender, or a mortar and pestle (which takes the longest).
Put the leftover rice powder in a small airtight jar for up to a month at room temperature, or in the fridge for longer storage.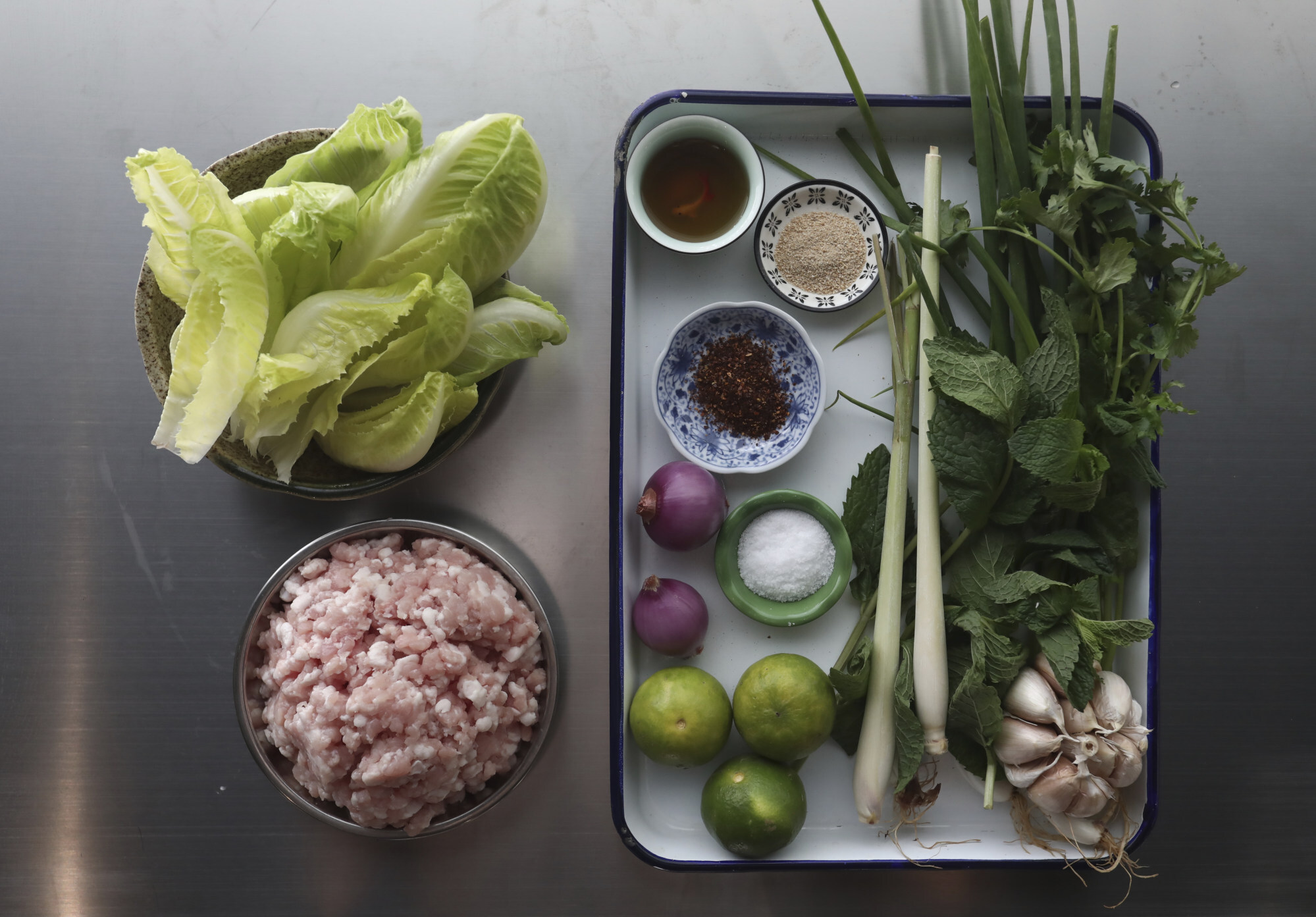 2 medium-sized shallots, peeled
1 large garlic clove, peeled
1-2 spring onions
2 lemongrass stalks, the lower 8cm (3 inches) only
About 15ml (1 tbsp) cooking oil
500 grams (18oz) minced pork
1 tsp Thai chilli flakes
1½ tsp granulated sugar
45ml (3 tsp) fish sauce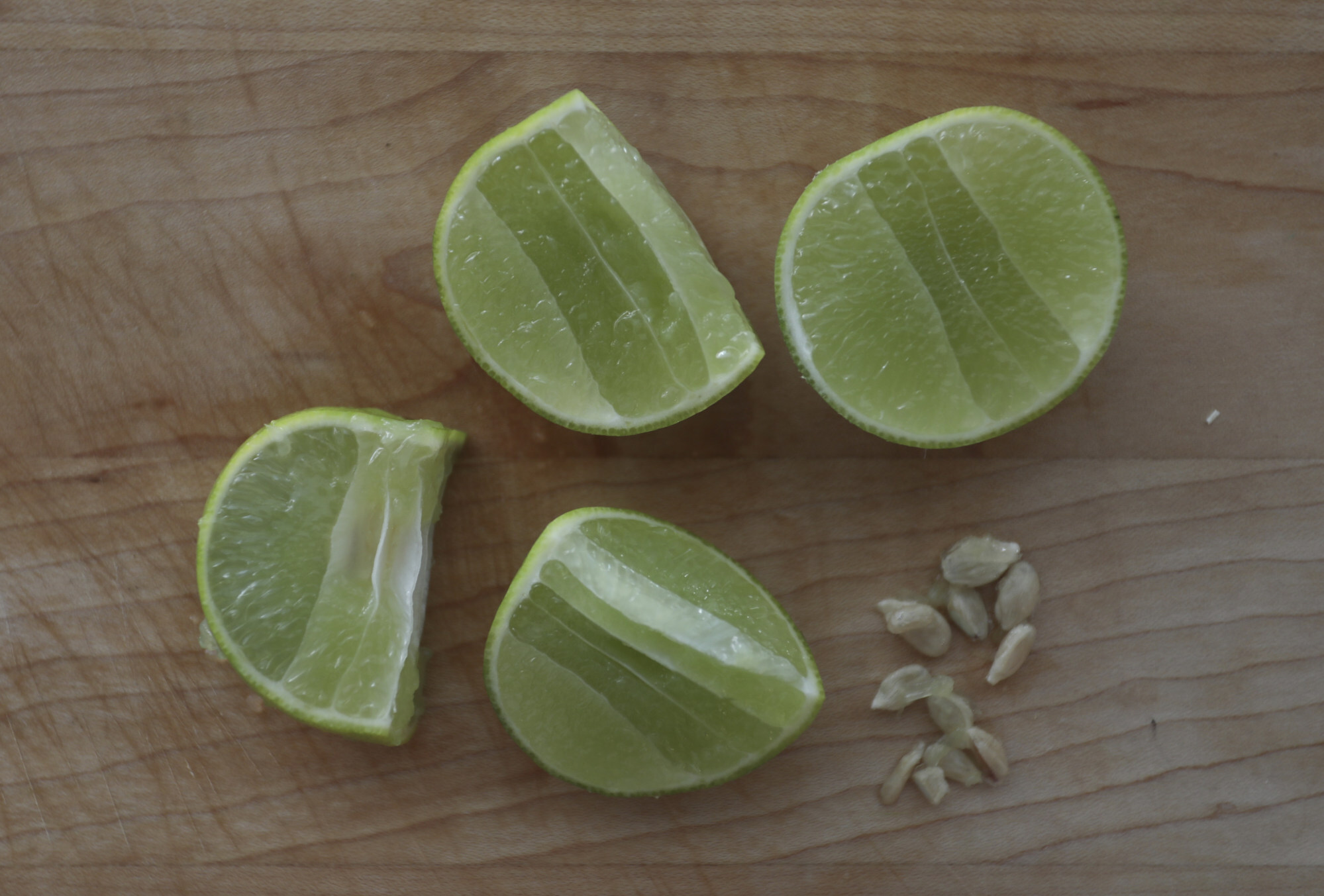 60ml (4 tbsp) fresh lime juice
2 tbsp toasted rice powder
10-15 grams (2-3 tsp) fresh mint leaves (preferably smaller ones), plus a few small sprigs to garnish the dish
5-10 grams (1-2 tsp) fresh coriander sprigs
Romaine lettuce leaves, as necessary
1 Cut the shallots in half, then slice them as thinly as possible.
2 Cut the garlic into thin, small matchstick pieces. Mince the spring onion.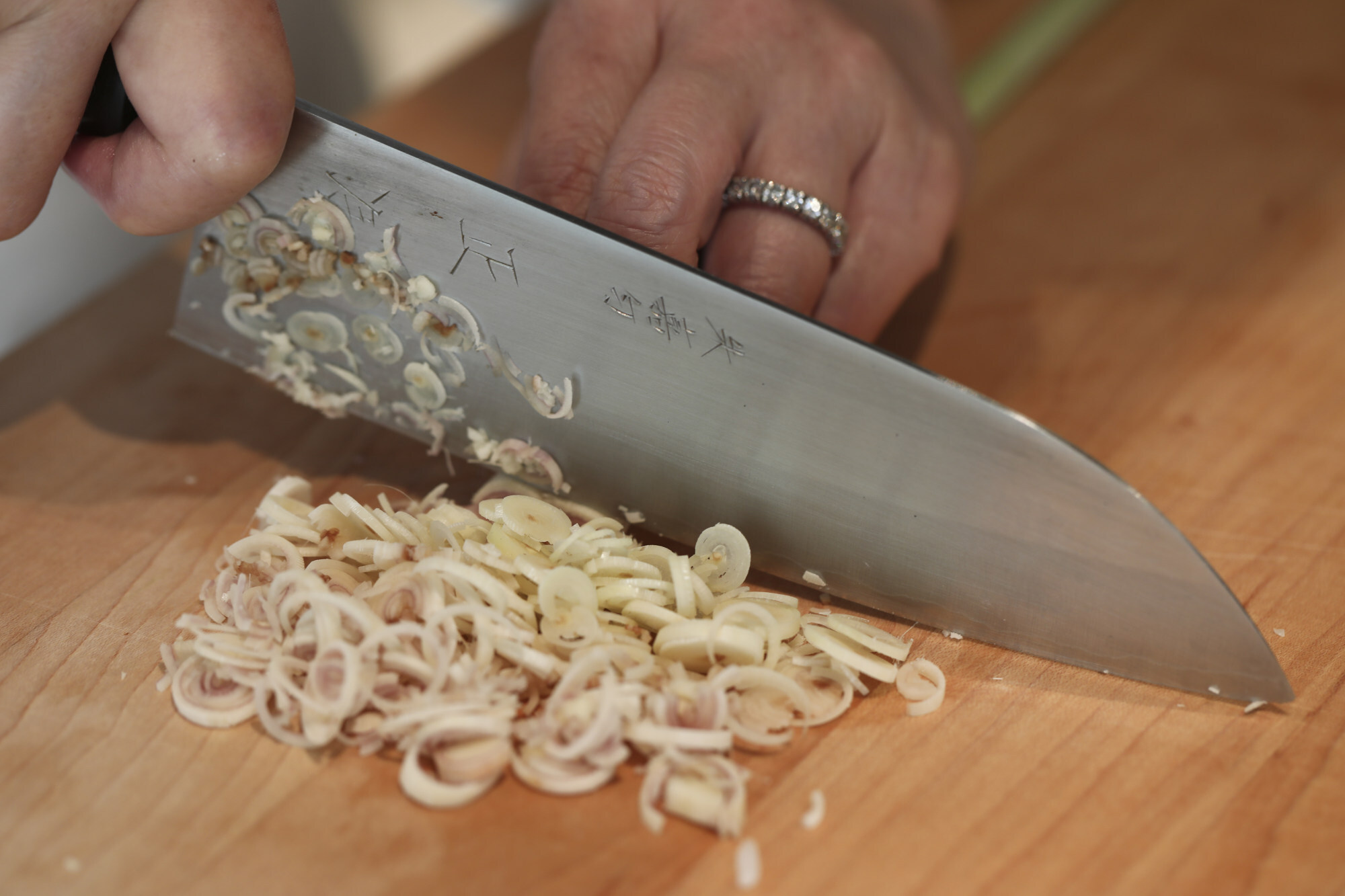 3 Remove the tough, loose outer leaves of the lemon­grass to reveal the tender core. Use a meat mallet or the flat side of a cleaver to lightly crush the entire length of the lemongrass stalks. Trim off and discard the stem, then cut the stalks as thinly as possible.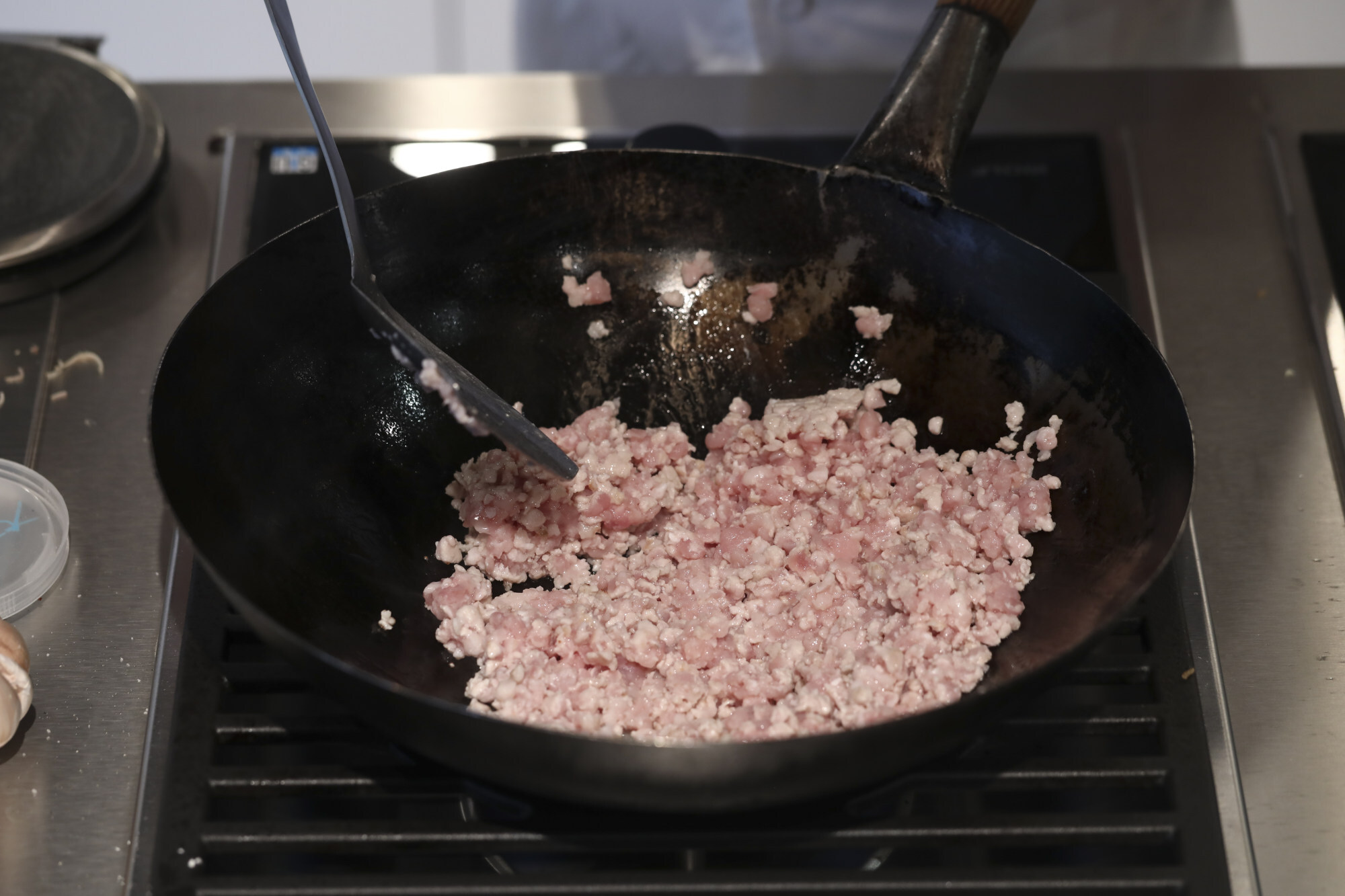 4 Place a wok or skillet over a medium flame. When the pan is hot, add the cooking oil. Add the pork and use the wok spatula or a wooden spoon to crumble the meat into small pieces. Stir constantly to cook the meat without browning it.
5 Transfer the meat to a medium-size bowl and let it cool slightly, stirring occasionally.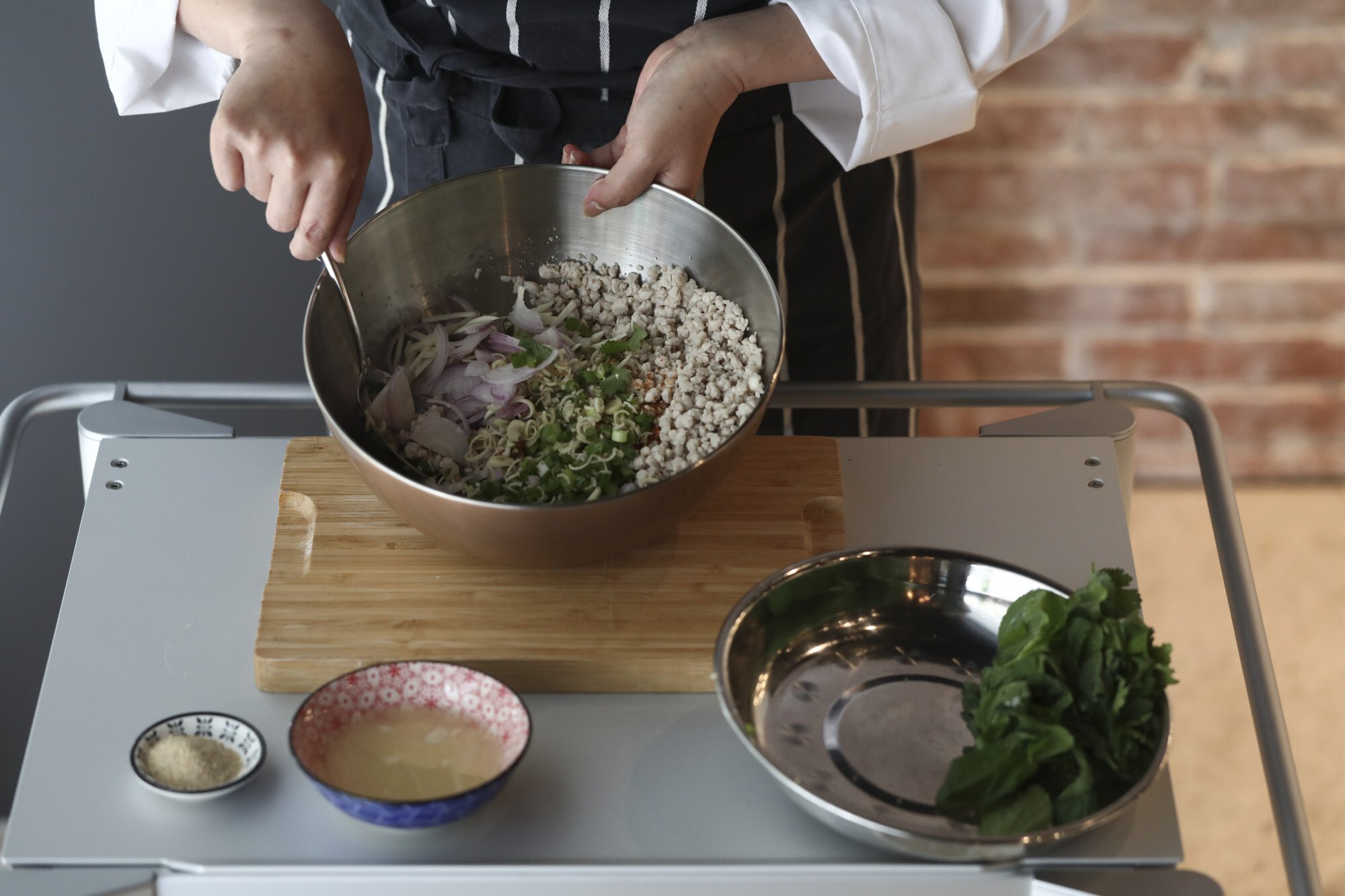 6 While the meat is still warm, add the chilli flakes, sugar, fish sauce, lime juice, lemongrass, shallot, garlic and spring onion.
7 Mix thoroughly, then taste the larb. Correct the seasonings, if necessary.
8 Sprinkle in the toasted rice powder and mix well.
9 Add the mint leaves and coriander sprigs and mix gently.
10 Scoop the larb into a serving dish and garnish with the mint sprigs. Serve the larb with the romaine lettuce leaves. The crisp lettuce can be eaten between bites of the larb, or it can be scooped into the leaves.