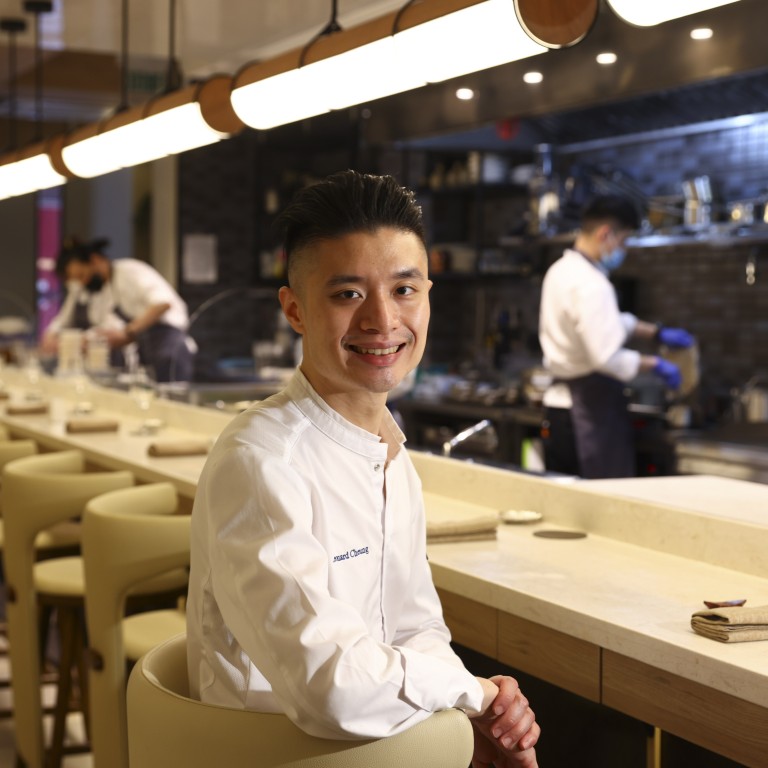 Profile
How chef-owner Leonard Cheung of Cultivate got his start as a teen with no experience at 'demon chef' Alvin Leung's three-Michelin-star Bo Innovation
At the age of 28, Leonard Cheung has opened his own restaurant in Hong Kong, an idea he had eight years ago while training at the Culinary Institute of America
He learned fine-dining cuisine at Eleven Madison Park and NoMad in New York, discovered Southern cooking, and made a name in Hong Kong catering private events
How did you get into cooking? "I started baking Rice Krispies squares and cereal bars when I was around six years old growing up in Los Angeles. My sweet tooth came from eating stuff like Pop-Tarts, but my parents didn't buy them for me, so this was my way of having them, by making it. By the time I was 10 years old I was making cookies, biscuits and cornbread from scratch. I still use the same recipe for buttermilk biscuits in my strawberry picnic dessert at Cultivate.
"After high school I wanted to be a pastry chef. My parents did not want me doing this at all. My dad had me when he was older; after having three daughters he finally had a son. He wanted me to take over the family business but I wasn't interested."
How did you end up at Bo Innovation? "I wanted to go straight into pastry school or culinary school, but I managed to get a job at Bo Innovation for a year with no previous work experi­ence. Chef-owner Alvin [Leung] always smoked a cigar outside his Wan Chai location and I would bother him, asking, 'Do you have a job for me?' And every time he'd say, 'Who the f*** are you? Get out of here! How old are you? Do you have any experience?'
And then one day he wasn't sitting out there, it was just the chefs and they said, 'Come in, do a trial,' and the next day Alvin sees me and says, 'What the f*** are you doing here?'"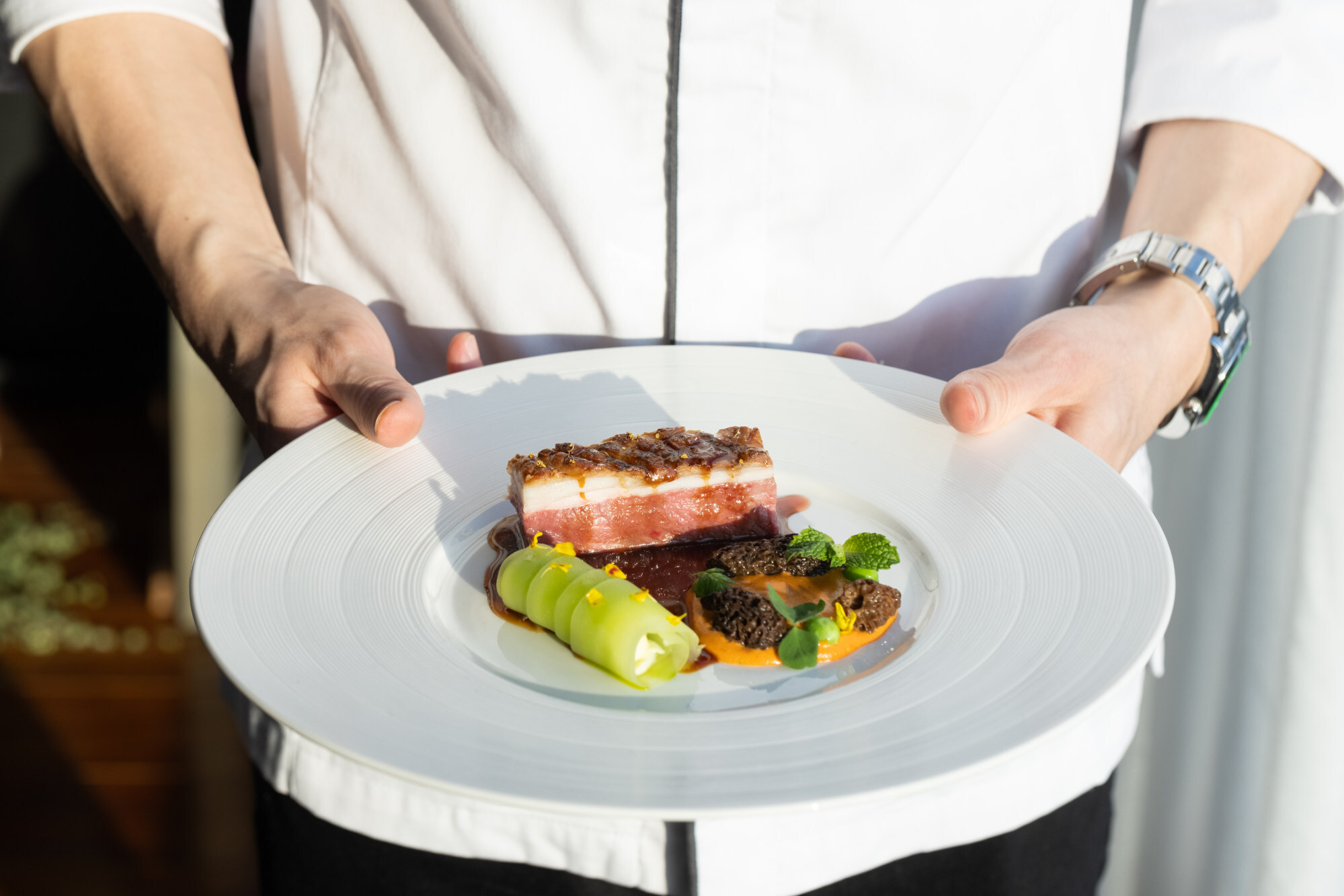 Why did you want to work at Bo Innovation? "I was 18 at the time. I knew that Bo Innovation had three Michelin stars and they were doing something inventive and avant-garde. Even before I set foot in the kitchen I already knew the ratios and formulas for spherification [to make edible pearls], and avant-garde modern techniques. When I was in high school, instead of studying physics I was reading how to do tricks with liquid nitrogen and how to set agar-agar. At Bo Innovation I learned these avant-garde techniques before I knew how to make chicken stock; I highly recommend [aspiring chefs] to not take that route.
You still have to learn the basics and everyone told me that. But when you're young you don't have patience for anything. The less you know the more you think you know, right?"
Where did you go afterwards? "Alvin sent me to Otto e Mezzo Bombana because he and Umberto Bombana are good friends. I worked in the pastry department, as I also made desserts and pastry at Bo Innovation. The first time I applied to the Culinary Institute of America [CIA; in New York] I was at Bo Innovation and didn't get in because I applied for a scholarship. After working at Otto e Mezzo for a year, I asked Umberto and Alvin to write letters of recommendation and then I got a scholarship for the CIA in 2012.
"The CIA got me an internship [in New York] at Eleven Madison Park and then at NoMad when it opened. NoMad was harder because in the beginning they wanted to be like Eleven Madison Park. But Eleven Madison Park served 70 to 80 people a night while NoMad had 400 guests and they didn't drop their standards, process or techniques. Imagine doing tweezer work for 400 people. That was hell for 15, 16 hours a day. Everything freshly made."
Where else did you work? "Before I came back to Hong Kong, in 2016, I went to Charleston, South Carolina, for six months because I wanted to try something other than fine dining, as that had been my entire career up to that point. I worked at Husk, a modern, country-style eatery where I learned more about the culture."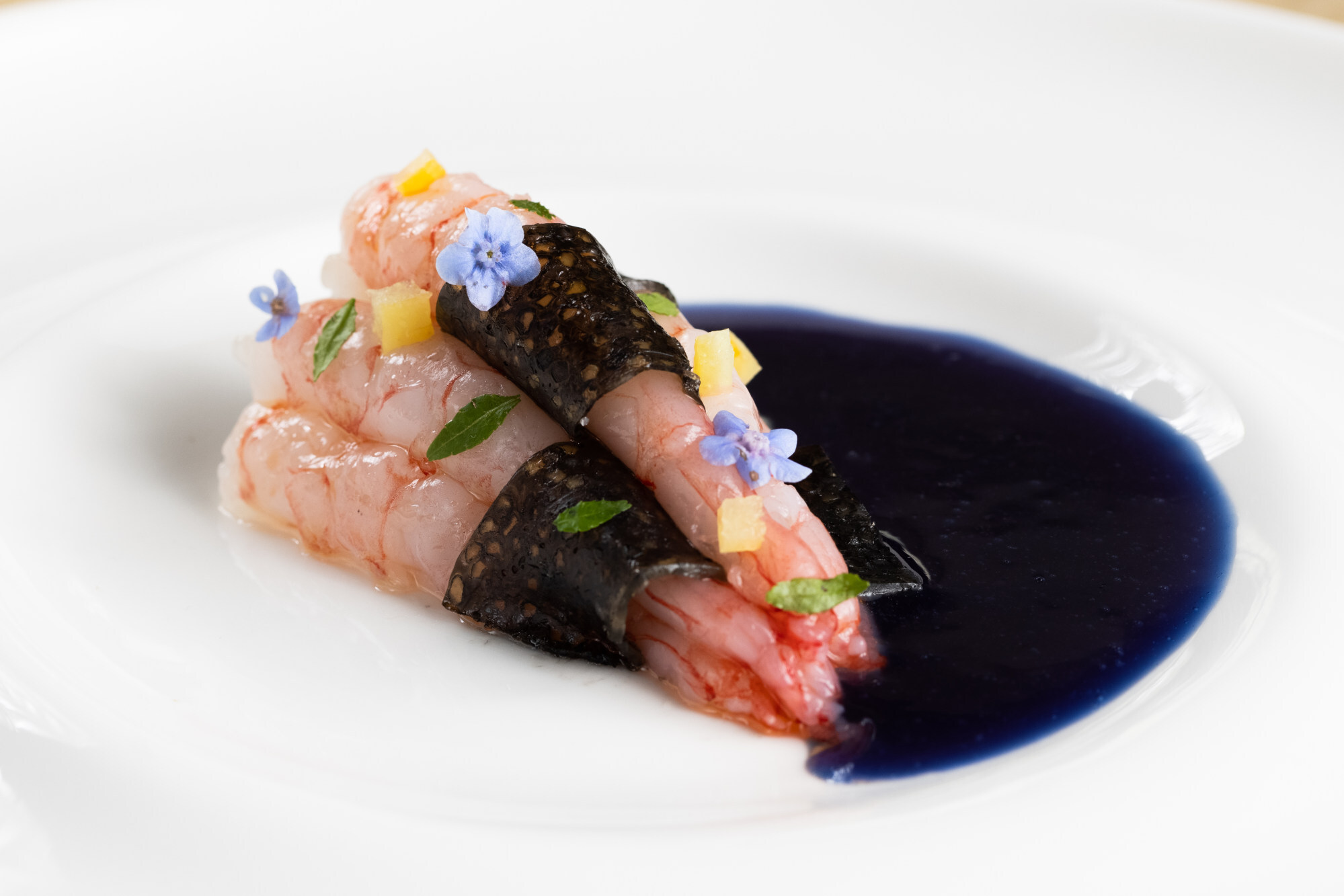 "I had always thought Southern cuisine was one of the most delicious in the world. I would rather have a buttermilk biscuit than a brioche. I should have learned this style of cooking first and that's why I made such a huge, drastic turn. I learned how to make food delicious instead of how to put microgreens on a plate."
Where did you work in Hong Kong? "I came back in mid 2016 and worked at Twenty Six by Liberty and Liberty Exchange, taking over from chef Bjoern Alexander for a year. Then I helped open a bar called Blue Supreme, where I made high quality food at a very unexpected location at very low prices. I worked in the tiniest kitchen I've ever worked in. But when you're in such a limited space, that's when you get the most creative."
What did you do before opening Cultivate? "In 2019, I consulted for different businesses and thought I would do that for a while. Then my father passed away in early 2020 so I had to take over his business. After half a year I wanted to cook again, but instead of applying for a restaurant job, I invited some friends and industry people over and cooked for them and they covered the food costs. After the second time, pictures of my food were all over Instagram, and then everyone was messaging me asking me to cook for them. This was when restaurants closed at 6pm. In the beginning I did an average of 10 to 12 events every month and that increased to four per week."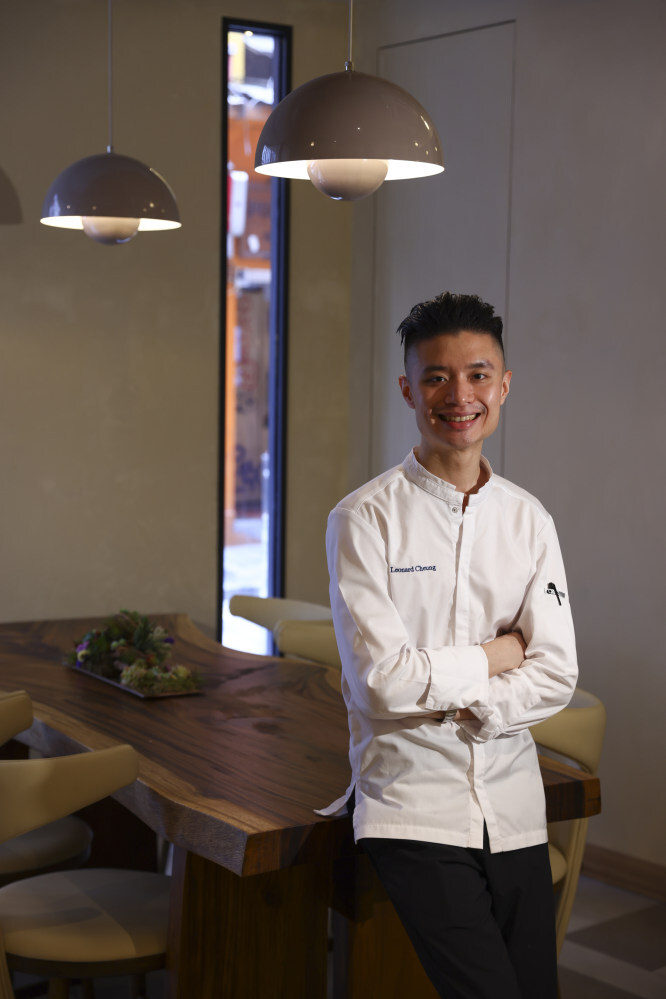 How did the idea of opening a restaurant come about? "When I was in culinary school we had a business seminar class where you had to come up with your own restaurant project, business plan, marketing and concept. I chose a restaurant named Cultivate in 2013 for this course. Six months ago, when I was approached for this location, I went through my notes and found this PowerPoint. I looked at my ideas from eight years ago and saw they were not outdated at all, and I hadn't deviated from what I wanted to do then. But the menu I wrote then was horrible."
What was your concept back then? "It was my idea to cook season­ally because that's the whole point of new American cuisine, which is all about vegetables. You should cook things light, not hide the ingredients behind cream, cheese, butter, salt. If you do, that just shows you're not confident with what's underneath. You have to make the vegetables the star. If your product is good, your technique is good, you don't need to hide it."
What's your menu like? "We've just opened and what we're doing now is what we're capable of with the equipment, the current team situation, the 10pm curfew. In the future, the menu will be more complex, with more inter­action.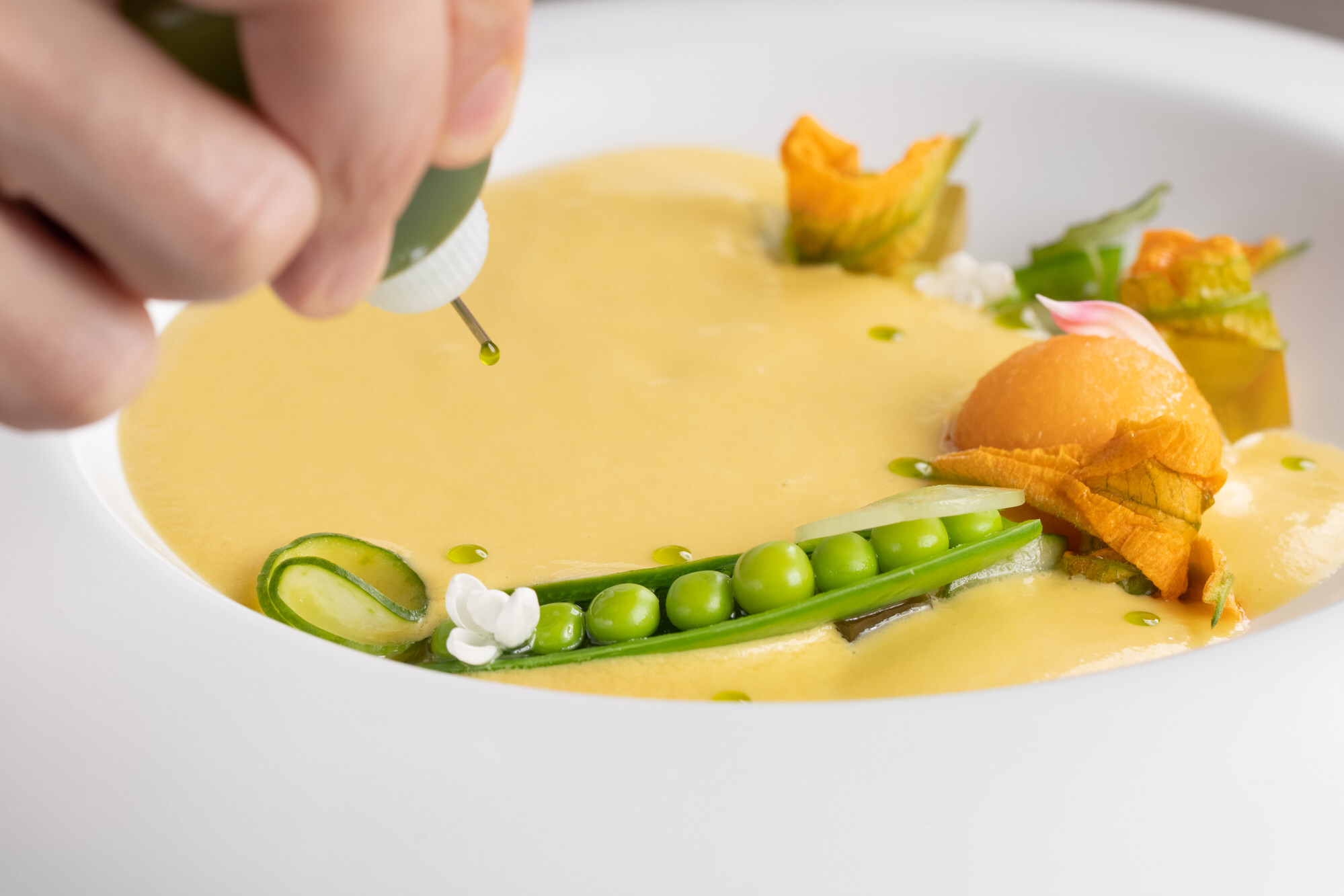 My ultimate vision is to have an entire tasting menu where dishes link to the next one like a chain. An example would be we serve you a pile of smoking hay with smoked oysters on top, and by the time you're done eating it, instead of taking it all away, we take away half of it, and something else has been smoking underneath the whole time. Then eventually that straw will be used to infuse a sauce that will be used in the next course, and so on."